Brandywine Battlefield Driving Tour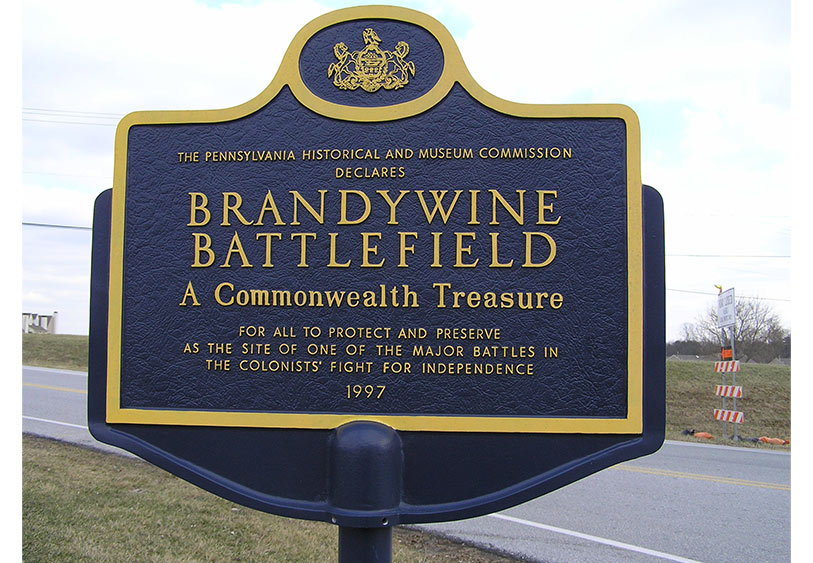 Delve into the Battle of Brandywine, one of the largest battles of the Revolutionary War, as we explore this National Historic Landmark and learn about the Brandywine Conservancy's efforts to protect these historic grounds.
Historian and teacher Thomas McGuire will join the Conservancy's Associate Director, David Shields, to provide an overview of the battle and highlight maps of the area that show march routes, river crossings, and major engagement sites. Maps will also show the extent of permanently protected land in and around the Brandywine Battlefield National Historic Landmark and updates will be provided on recent preservation activities. Following the orientation, enjoy a guided bus tour that follows the march route (in reverse) of General Knyhausen forces from Kennett Square to Chadds Ford and the route of General Howe's flanking march from Kennett Square to Birmingham Meeting House, where British engaged part of Washington's Continental army. Stops will be made along the way to view key sites and learn about significant events that took place.
The Brandywine Battlefield Tour will meet at 9 a.m. at the Brandywine Conservancy building (located on the same campus as the Brandywine River Museum of Art). Following the orientation at the Conservancy, we'll board a small bus for the guided tour. The bus will return to the Brandywine River Museum of Art parking lot by 12 noon. 
---
This event is for members only. Not a member? Click here
Tickets for events hosted by the Brandywine Conservancy & Museum of Art are non-refundable.