Art, Nature and Yoga at the Brandywine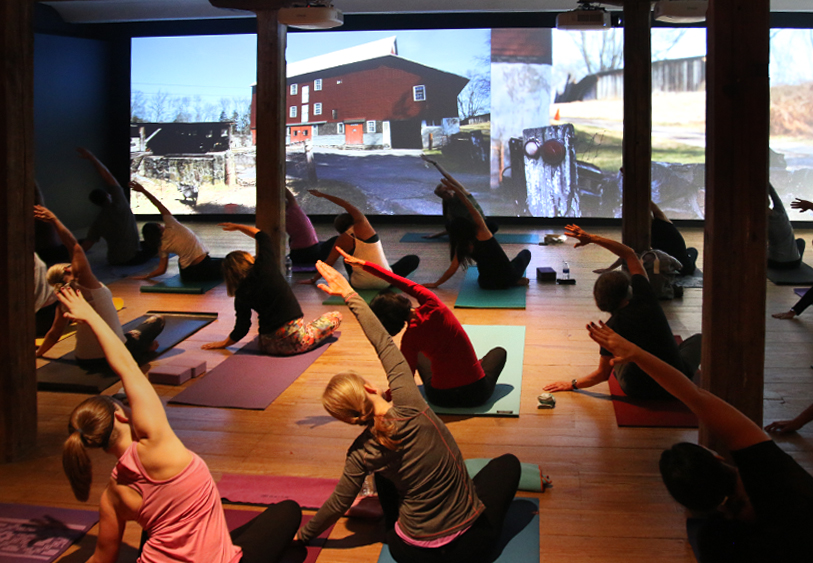 A Restorative Day of Art, Nature and Yoga
Join us for a special day of yoga, art, hiking and good food at the Brandywine River Museum of Art on December 3.
Schedule:
8 a.m.  Restorative yoga class led by local yoga instructor Megan Van Riet of Bikram Yoga Chadds Ford. The class will be held in the Dylan Gauthier: highwatermarks exhibition—a relaxing and immersive video experience with soothing sounds and images of the four seasons on and around the Brandywine River.
9:30 a.m.  Light breakfast featuring coffee/tea/juice, fresh cut fruit, and pastries.
10 a.m.  Guided hike through the Brandywine Conservancy & Museum of Art's campus and Wyeth Artist Studio trails where your tour guide will explain the history of Brandywine Conservancy and the legacy of the Wyeths.
10:30 a.m.  Arrive at the N. C. Wyeth House for private tour.
11 a.m.  Walk to the Andrew Wyeth Studio for private tour.
11:30 a.m.  Guided hike back to Brandywine River Museum of Art.
12:00 p.m.  Lunch at the Millstone Café featuring Artisanal Green Salad with house-made vinaigrette, homemade soup, choice of two wraps (one vegetarian), iced tea and lemonade, freshly baked cookies, coffee, decaf and a selection of assorted hot teas.
After lunch enjoy a visit at your own pace at the Brandywine River Museum of Art during Brandywine Christmas, featuring the Brandywine Railroad, festive decorations and a wonderful collection of American art highlighting the accomplishments of the Brandywine Valley and Wyeth family of artists.
---
Note: this is a rain or shine event. Please watch the weather and dress appropriately for hiking on wet and uneven ground. Hike is approximately 2 miles round trip on moderately flat ground.