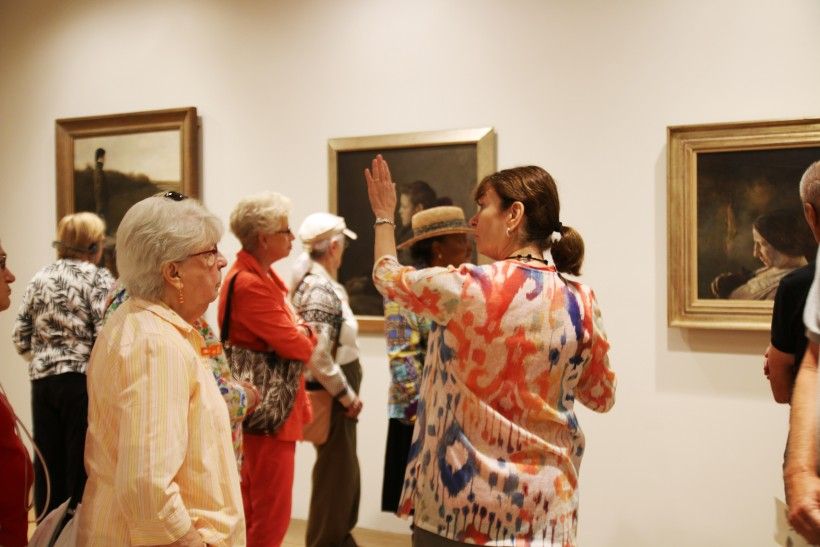 Discover the history and artistic legacy of the Brandywine Valley through one of our many guided group tour options. Choose from one of our three tour types to spend a full or half day in the museum. With our Millstone Café, groups have the convenience of dining on-site with a remarkable view of the Brandywine River.
Guided tours are available for groups of 10 or more year-round and include a complimentary tour for one group leader. Reservations and advance payment are required for all guided groups. Groups must contact our office at least a month in advance of their visit date to make a reservation.  A 10% deposit is required at the time of booking to hold your reservation. Final group numbers and payment are due at least 7 days in advance of your tour.
Please complete the above Reservation Form to book your group visit. A member of our team will then be in touch to help you arrange all the details. If you have questions about tours and would like to speak with someone first, please contact our Group Tours Office at 610.388.8333 or [email protected].
Guided Museum Tours
Offered: Wednesday–Monday between 9:30 a.m. and 3 p.m.*
Length: Approximately 1 Hour
Price: $16 per person
Capacity: Minimum of 10
Download Guided Museum Tour Sheet
*Some tours offered seasonally or during exhibition dates.
---
Guided Artist Studio Tours
Offered: Wednesday, Friday, Saturday & Sunday between early April through late November at 10:15 a.m., 11:30 a.m., 1:15 p.m., & 2:30 p.m.*
Length: Approximately 1 Hour
Price: $24 per person for one property, $34 per person for both properties
Capacity: Minimum of 10, maximum of 40*
Download Guided Artist Studio Tour Sheet
*Schedule of which tours run at each time varies. Please reach out for specific offerings.
Each tour time slot can accommodate up to 10 visitors. Larger groups can reserve additional time slots.
---
Tour Packages
Current pricing is for the 2021/2022 season.
Check our hours and admission page for current hours of operation.
Complimentary admission is provided for one group leader.
You must pay as a group to receive the group rates. No other discounts, promotions, passes, or museum memberships can be applied to the group rate.
Groups who do not meet the minimum may still purchase their tickets in advance online at the regular admission rates.
A wheelchair-accessible entrance and elevators are available. Please disclose any special needs or disabilities to the Group Tours Office when making your reservation so we can best plan and advise you on your visit.
Download our Group Visit FAQ Sheet
Due to the COVID-19 pandemic and the safety of our guests, lunches for groups will be accommodated on a case-by-case basis. We are unable to offer any buffet lunches for the foreseeable future.
Our cafeteria-style restaurant seats approximately 80 people. The kitchen is open Wednesday–Monday from 10 a.m. to 3 p.m.
Groups looking to dine on their own in our café can choose from a variety of menu items including:
freshly prepared sandwiches
homemade soups
fresh salad platters
daily specials
beer and wine available
---
Prepaid Group Lunches
Groups also have the opportunity to preorder either a boxed lunch ($12 per person) or buffet lunch ($14 per person) in advance. We highly encourage this for groups with limited time—or that are larger than 20. The Group Tours Office must be notified at least two weeks in advance if your group would like to add this option onto their reservation.
All buffet lunches include the following menu:
An assortment of three sandwiches**
Brandywine Mushroom Soup or Garden Salad*
Cookie
Fruit Cup
Beverage – coffee, tea, iced tea, lemonade
All boxed lunches include the following:
Sandwich (preselect up to three options)**
Bag of Chips
Clementine, Apple, or Banana
Chocolate Chip Cookie
Beverage – Iced Tea or Lemonade
*The Brandywine Mushroom soup is offered to groups seasonally between October 1–March 31, while the Garden Salad is offered seasonally between April 1–September 31.
**Sandwiches are to be chosen at least two weeks in advance of the group's visit. Please select three options from the list. All sandwiches can be made Gluten-Free upon advance request. The Group Leader must inform the Group Tours Office of any special dietary concerns as soon as possible. A detailed list of ingredients and potential allergens is available upon request.
---