Hydrologic Unity: 02040205 is a sculptural installation and the first artwork produced by the artist Dylan Gauthier during his residency at the Brandywine River Museum of Art.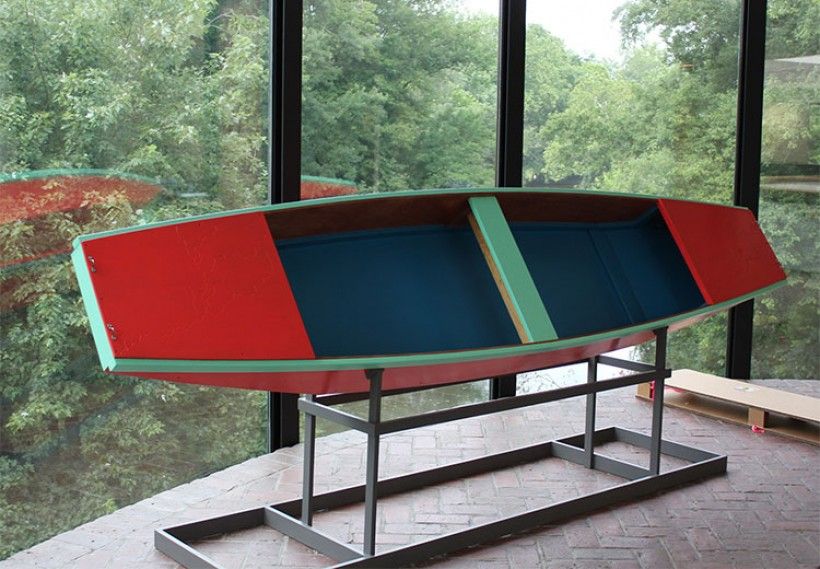 As the Museum's inaugural Artist-in-Residence, Gauthier is creating a fascinating dialogue between the Conservancy's acclaimed group of riparian restoration, mapping and easement experts, and the Museum's curators and educators. During his residency, Gauthier made use of this boat to produce his work that explores the Brandywine River, which included a number of interpretive trips with a variety of experts, and in which the public was invited to participate.
Writes the artist:
My artwork engages with ecology and the relationships between waterways and their surrounding communities. Regional waterways were once the lifeblood of cities and towns across the country. Rivers powered industry, acted as a connective fabric between distinct communities and were a source of food, drinking water, transportation and recreation. I am inspired by the work that the Brandywine Conservancy is doing in local watersheds to help ensure cleaner drinking water (the Brandywine River is the major source of drinking water for Wilmington, Delaware) and raise awareness of the fragility of area waterways.
The installation Hydrologic Unity 02040205 features a small punt–a flat-bottomed boat that I constructed along with the public here at the Museum on June 11, 2016. The accompanying neon references the concept of "hydrologic units," a system that geologists use to categorize and classify bodies of water, while pointing to the Brandywine River's former use as a source of power. During the Industrial Revolution, this region was home to numerous mills that were activated by the Brandywine—including Hoffman's Mill, now renovated as part of the Museum. The code in the title of the piece precisely situates the Brandywine River within the Mid-Atlantic water-resources region (02), the Delaware sub-region (0204), the Lower Delaware accounting unit (020402), and finally, within the watersheds of the Brandywine-Christina rivers (02040205). I also make a play on the words "unit" and "unity," which speaks to the Brandywine as a connector of the diverse populations of the surrounding region.