observationhouse is a temporary and moveable structure designed and built by artist-in-residence Dylan Gauthier.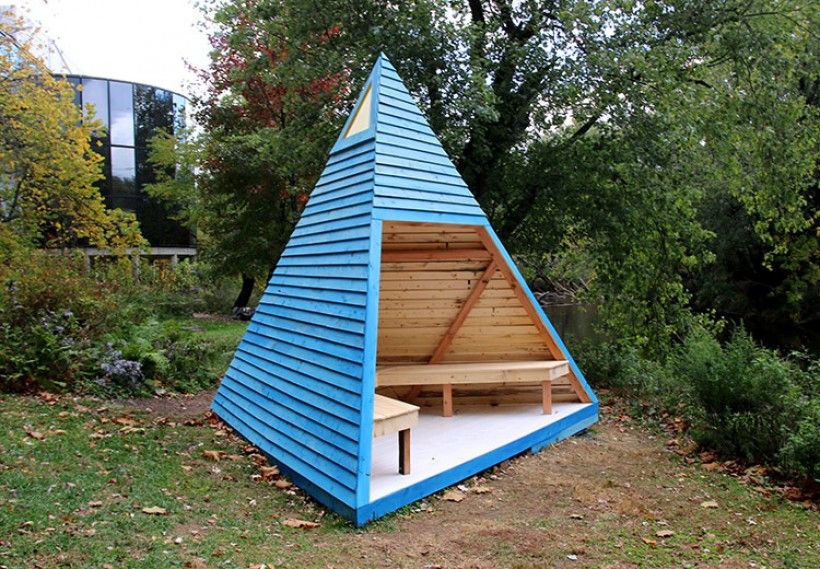 The artist has designed and constructed observationhouse as an outdoor sculptural installation and mobile field studio that served as Gauthier's workspace as well as a visual anchor for his residency. On days when the artist was on-site, Gauthier invited the public into the studio, providing them with a new framework through which to see the landscape and river, and the opportunity to view and discuss his artistic practice and work-in-progress. 
Writes the artist:
For observationhouse, I was inspired by the tetrahedral studio that inventor Alexander Graham Bell employed to support his experimentation with environmental sensing, atmosphere, sound and flight. Bell believed that architecture frames our experience of the landscape, and that the shape and construction of buildings make them more or less conducive to certain kinds of work. In this case, the shape and structure of observationhouse is oriented to frame the landscape, while serving as a platform and studio for art-work and experimentation with environmental sensing technologies, a weather station, water quality monitoring instruments, and live data from the U.S. Geological Survey shed nearby. I have outfitted the structure with vibrational speakers that play a series of compositions and field recordings that I am producing on land under the management of the Brandywine Conservancy.