Going Back to Our Roots—New Route 1 Garden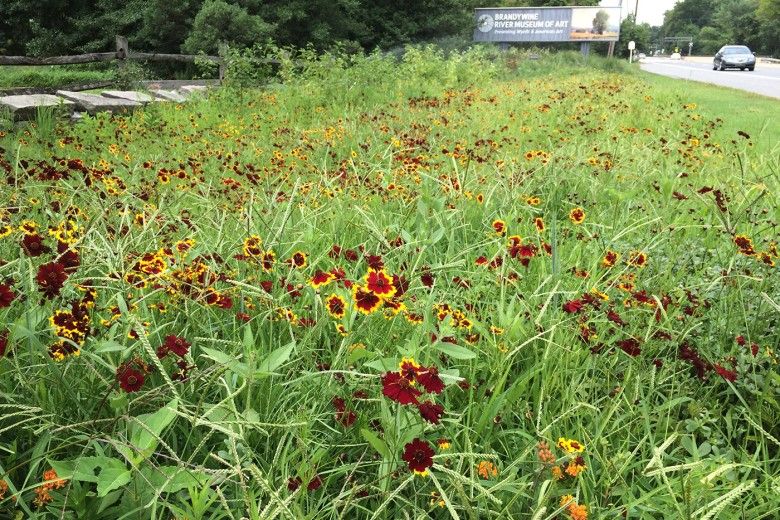 Since 1974  many visitors to the Brandywine River Museum of Art have noticed the use of native plants within the landscaped spaces surrounding the museum and parking lots.  Regular visitors and members love the changing seasonal displays that take place within these same spaces, but our newest project brings our artistic and ecological approach to landscape plantings right up front and out onto the "front yard" of our Chadds Ford campus.
Now, no longer reserved for the more intimate parts within, this new project is completely open to the driving public - nearly the entire length of our Route 1 frontage - where no alert driver could fail to take notice that we're doing something different with our landscape. 
Going Back to the "Roots" of the Region
This new installation is approximately 8,000 square feet and the first of its kind in our history, and quite possibly, in our region.  It is a mix of landscape artistry and ecological savvy that has come about through our collaboration with Jonathan Alderson Landscape Architects, of Wayne, PA.  We met with Jonathan in the late winter of 2014 with design criteria that were deceptively simple enough in outline:
Big color display in all four seasons
Big color display in the first year of installation
Plant species native to our region, only
Image

Rendering of route 1 garden

Color in Every Season
Jonathan and team proposed a planting scheme that utilizes shrubs, perennial herbaceous plugs and a custom seed mix put together from our own collection program and two other commercial seed producers Ernst Conservation seeds, in Meadville, PA, and Everwilde Farms in Bloomer, WI. The shrubs and herbaceous plugs would be placed to establish design integrity while the seed mix would further support the design intentions and provide the necessary species richness required in an ecological planting.  The proposal also included a very useful color graph showing the matrix of colors which would appear, when they would appear, and provided color photos of the primary species.  
Image

Route 1 garden in bloom

All the Rain Can Be a Good Thing
Site preparations and installation of the shrubs and plugs was very smoothly performed by Cotswold Gardens of West Grove, PA, on June 12.  Perhaps it was a sign from Mother Nature that during the first five weeks we were blessed with ample rainfall enabling all plants and seeds to get growing.  Recently, with the drop-off in rainfall and the temp's rising, we've begun irrigating the space in order to keep all of those native species growing deeper and deeper roots - their key to longevity, drought tolerance and the ability to outcompete the myriad of non-native species that are always present in a planting of this type.
Honk If You Love Flowers
Many perennial plugs have already flowered and each day the annual species become showier.  Already the flowers are atracting nectar seekers – butterflies and bees of all sorts.  The planting is off to a terrific start - give us a honk when you drive by and we'll know you're watching.  Better yet, come on into the campus and take a look at this planting from the parking lot side (safer).  While here, please feel free to take a stroll through some of our other campus spaces—there's lots to see and experience whithin.