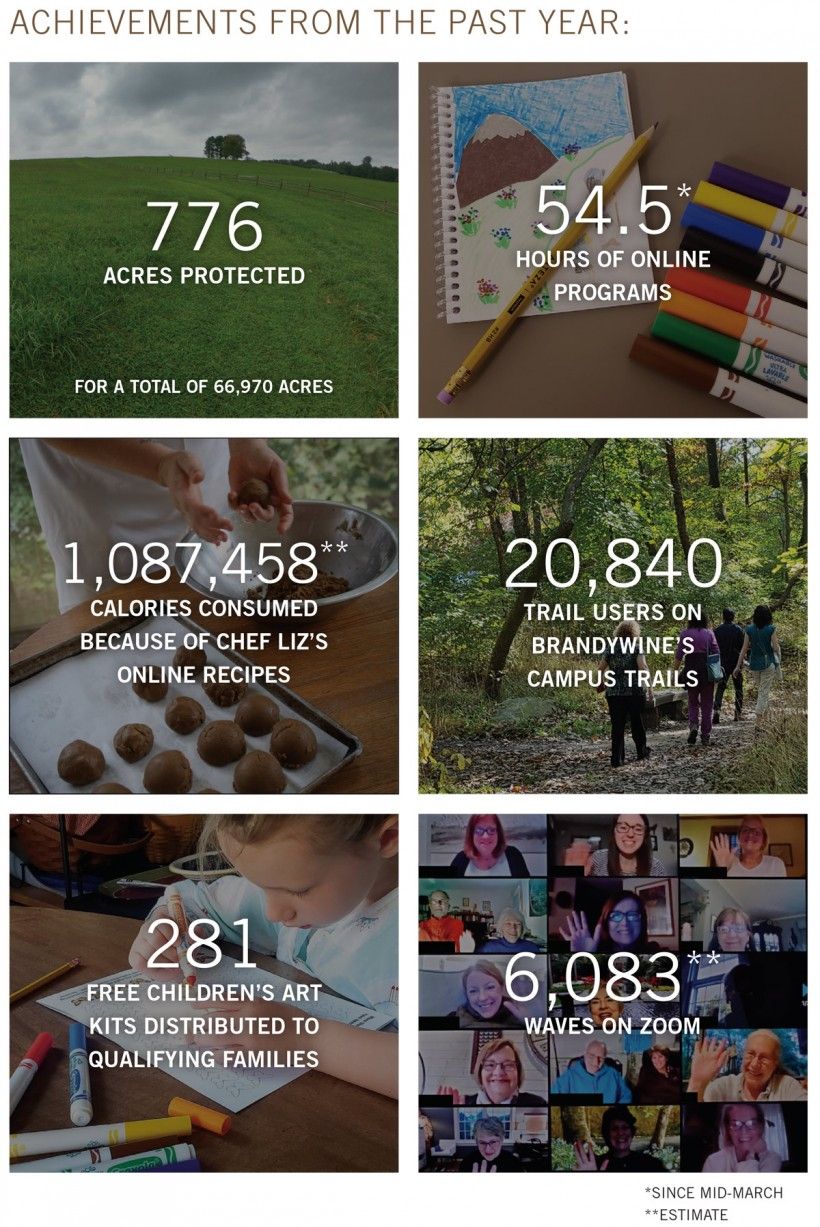 In January, none of us could have imagined the challenges this year would bring. At Brandywine, we jumped into 2020 eager to share our exciting roster of exhibitions with our members and visitors and to permanently protect even more of our region's precious natural resources. We looked forward to celebrating the accomplishments of an indefatigable group of activists working many decades apart in two exhibitions, Votes for Women: A Visual History and Witness to History: The Selma Photographs of Stephen Somerstein. And, we anticipated collaborating with landowners committed to preserving the lands they love, enhancing the experience for our Preserve visitors and working with municipal officials and residents on conservation-based community services.
Like all other organizations, many of our hopes and plans for the year were upended in mid March because of Covid-19. Very quickly, we retooled. Staff members set up offices at home and moved programming and community services online. Conservancy staff readied our Preserves to welcome more members than usual and developed a protocol that enabled our preservation and stewardship work to continue unabated. Curators and educators figured out how to share our collection when our galleries were closed, and the facilities team installed protective measures to keep staff and guests safe. At the same time, Brandywine's leadership figured out how to make it all happen with a budget that no longer included admission and program revenue.
In short, we rose to the challenge, and so did our members and donors. Some gave more than usual. Some gave again. Many sent words of encouragement. Others sent their sincere thanks for our Brandywine at Home programming that one donor described as "the one thing I look forward to every day." Another offered part of their property for parking so more members could enjoy the Laurels Preserve, and many of you took to the trails there and at our Waterloo Mills Preserve for the first time. Still others reactivated plans to ease their properties or sent us photos of the art projects their kids learned online from our education staff. You waved to each other and to us on Zoom and took polite steps to the side to socially distance on our trails and in our galleries. Lastly, in a move that took our breath away, a local foundation challenged us to secure more gifts for general operations by matching new and increased contributions to Annual Giving.
We also spent time deepening our commitment to integrate diversity and inclusion into every facet of our organization. Though we have always been committed to welcoming people from all communities, we're redoubling our efforts to ensure that our properties and programs are as accessible as possible.
To say we've been busy is an understatement! We're very proud of what we've accomplished in addition to our usual work, and we're grateful beyond words for the ongoing support from friends like you. Your unwavering enthusiasm for our mission inspires us every day, and I hope you'll give now, if you can, to help us continue our important work. Our future—like our past—is bright...because of YOU.
 
Morris Stroud
Chairman, Board of Trustees