N.C. Wyeth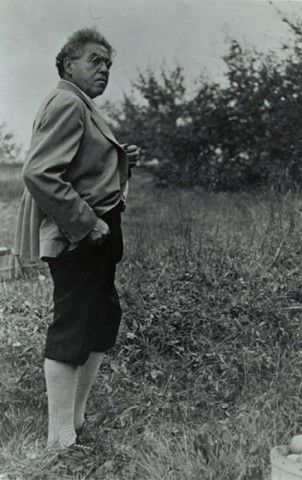 N.C. Wyeth (1882-1945) was one of America's foremost illustrators in the 20th century. His renowned images of swashbuckling pirates, armor-clad knights and hard-riding cowboys fired the imaginations of readers for generations.   
In 1902, twenty-year-old Newell Convers Wyeth, from Needham, Massachusetts, joined the Howard Pyle School of Art in Wilmington, Delaware. Pyle's influence was a vital catalyst, and after several years of study, Wyeth quickly became one of the period's most popular magazine illustrators. In 1911, the publisher Charles Scribner's Sons commissioned Wyeth to illustrate a new edition of Treasure Island.  Skillfully blending romance and realism into his pictures, he gave form to Stevenson's characters and settings, creating vivid, dramatic images. Ten years later—with a series of "Scribner's Classics" to his credit—Wyeth was as famous as the authors whose stories he illustrated.
Wyeth was sought after for book and magazine commissions throughout his career; at the same time, however, and like most illustrators of the period, he was troubled by the distinction made between illustrators and artists. To escape what he felt were the pejorative connotations of being merely an illustrator, Wyeth sought recognition in other spheres of art. His private work includes still lifes, portraits and landscapes of Chadds Ford as well as his summer property in Port Clyde, Maine. Wyeth also enjoyed a reputation as a muralist and painted advertising images. In every area, he proved himself to be an expert draughtsman and colorist. Wyeth explored various styles and mastered techniques which range from the broadly brushed to the near photographic. 
N.C. Wyeth settled in Chadds Ford in 1907, where he later built a house and studio that are now part of the Brandywine Museum of Art and open seasonally to the public. He and his wife, Carolyn, raised five talented children: three grew to be artists (Henriette, Carolyn and Andrew), one a musician (Ann) and the fifth a mechanical engineer (Nathaniel). Wyeth died suddenly in 1945, but his imagination and larger-than-life personality helped shape the next two generations of artists in the Wyeth family.
---
Henriette Wyeth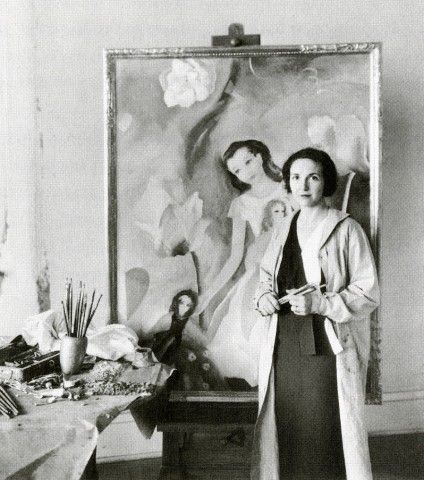 Henriette Wyeth (1907–1997), N.C. Wyeth's eldest child, used subtle melding of color and texture to create portraits and still lifes with lyrical beauty that combine aspects of realism and abstraction. Wyeth received artistic training with her father followed by formal studies at the Massachusetts Normal Art School in Boston and the Pennsylvania Academy of the Fine Arts in Philadelphia. As a young artist she followed N.C. Wyeth's advice to "paint the light and air around the subject—paint the mystery" through a series of fantasy paintings that drew on her interest in the theater and ballet. Many of these works, as well as her portraits of society figures and family, were exhibited and won awards at juried shows at the Wilmington Society of the Fine Arts and the Pennsylvania Academy of the Fine Arts.
In 1929, she married artist Peter Hurd, who had also studied painting with N.C. Wyeth. They initially established their home and studio in Chadds Ford; in 1940, the couple permanently settled in Hurd's home state of New Mexico. There, Henriette was newly inspired by life in the arid Southwest. Her still life paintings of New Mexican objects are rendered in brilliant colors, and her portraits often feature the expansive desert mountains as backdrops.
---
Peter Hurd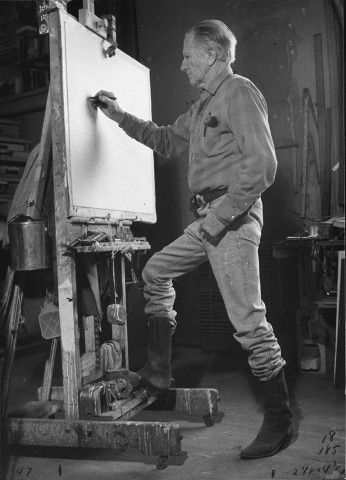 New Mexico-born artist Peter Hurd (1904-1984) left military training at West Point to pursue a career as an artist. Following studies in art at Haverford College and the Pennsylvania Academy of the Fine Arts, Hurd came to Chadds Ford to study painting with N.C. Wyeth in the 1920s. Wyeth encouraged Hurd to create drawings and paintings for use as illustrations in publications.
Although trained in oil painting, Hurd began experimenting with egg tempera, an ancient painting medium that experienced a brief revival in the United States during the 1920s and 1930s. Hurd first utilized egg tempera in his landscapes depicting the Chadds Ford region and for mural work. The artist taught the technique to both N.C. Wyeth, who used it only for a short time, and to Andrew Wyeth, who became a master of the medium.
After Hurd's marriage to Henriette Wyeth and their relocation to New Mexico, he moved away from painting in finely brushed detail for which tempera is best known. Instead, the artist applied the pigmented egg wash in a looser and more broadly handled manner that captured his impressions of the sweeping desert landscape.
---
Carolyn Wyeth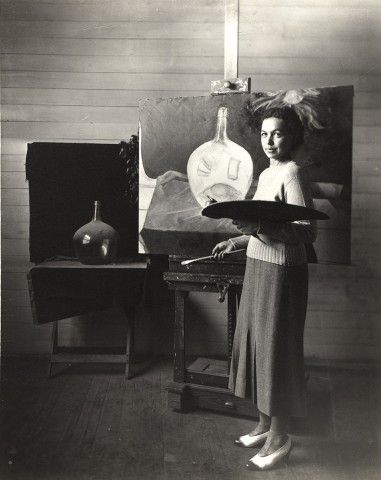 Carolyn Wyeth (1909–1994), the second child of N.C. Wyeth, was trained by her father and later taught art classes in Chadds Ford and Rockland, Maine, for over 30 years. Unlike other artist members of her family, Carolyn Wyeth seldom painted figures, focusing almost exclusively on landscape and still life. Like her father, and especially her brother Andrew, she drew visual sustenance from her immediate surroundings and memories, to create paintings that focused on her studio, interiors and vistas.
Wyeth developed a highly reductive approach to her subjects and pared down forms to simple but bold, flat shapes often placed in tilting perspectives. Her muted palette, punctuated by bright accents and dramatic contrasts of light and shadow, evokes a sense of solemnity and sad reverie. These imaginative renderings reveal the artist's deep connection with the Wyeth family home and Chadds Ford where she lived all her life.
---
Andrew Wyeth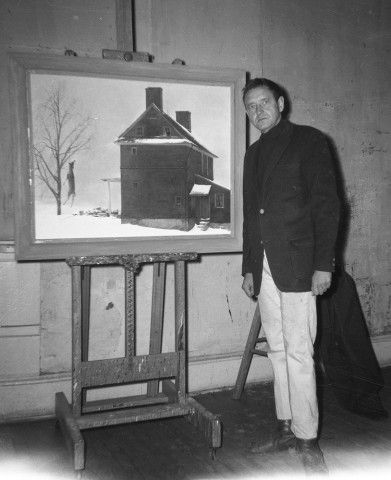 Andrew Wyeth (1917-2009) is recognized as one of the most important American artists of the twentieth century. For more than seven decades he painted the regions of Chadds Ford, Pennsylvania, where he was born, and mid-coast Maine, where he spent most of his summer months. 
Wyeth was the youngest of five children of N.C. Wyeth. At age fifteen he began several years of intensive artistic training under his father, who encouraged Andrew to work as both an illustrator and painter. His career as a watercolorist was launched in 1937, when the artist's first one-man show at Macbeth Gallery in New York drew critical acclaim.
In addition to achievements in watercolor, Andrew Wyeth became a master of egg tempera, a medium introduced to him in 1936 by his brother-in-law, artist Peter Hurd. Egg tempera is an ancient painting method that blends dry pigments with egg yolk and distilled water. In contrast to the spontaneity and translucency of watercolor, tempera is a time-consuming process of mixing and painting in layers that yields opaque, lustrous color and richly varied surfaces.
Wyeth was an astute observer who once noted that meaning "is hiding behind the mask of truth" in his work. He freely manipulated his subjects, transforming them in order to evoke memories, ideas, and emotions. Through a process of reduction and selection, he created mysterious undercurrents in his landscapes, interiors, and portraits.
---
John McCoy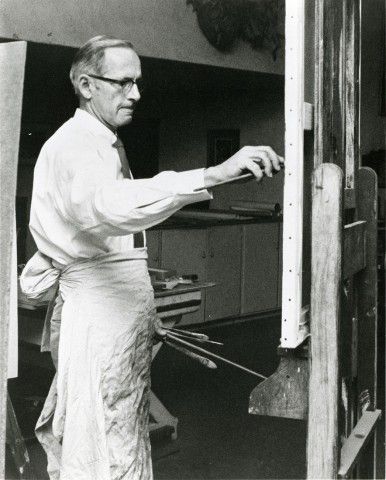 John McCoy (1910–1989) studied fine arts at Cornell University and at the Ecole des Beaux Arts in Fontainebleau, France. In 1933, alongside Andrew Wyeth, McCoy began private art training with N.C. Wyeth. Like Wyeth, McCoy conveyed his fascination with the light, color and varying mood of the landscape in his paintings. He also, like Andrew Wyeth, developed an approach that, while rooted in the visual world, freely abstracted elements of the landscape.
In 1935, he married Ann, the youngest daughter of N.C. Wyeth, and learned the egg tempera technique from his brother-in-law, Peter Hurd. McCoy found tempera the ideal medium to create detailed textures of the landscape. Alternatively, he also worked in watercolor, sometimes with an oil paint as a base coat, to capture subtle atmospheric aspects of the landscapes in the Brandywine valley and in coastal Maine, where he and Ann spent summer months. McCoy was also a distinguished teacher at the Pennsylvania Academy of the Fine Arts for almost three decades.
---
George A. Weymouth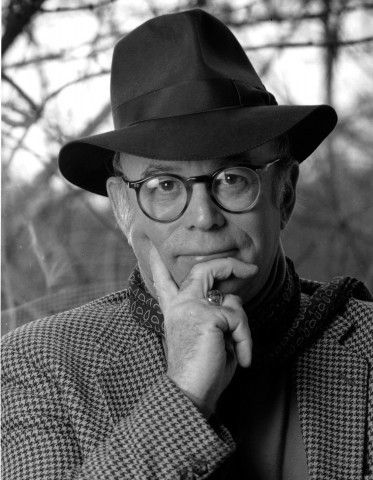 George A. Weymouth (1936–2016) continued the American realist tradition of the Wyeth family through his painted landscapes of the Brandywine valley and portraiture. As a youth at St. Mark's School in Massachusetts, he pursued his serious interest in painting under artist and teacher, Kleber Hall. While a student at St. Mark's, Weymouth, whose family was close friends with N.C. Wyeth, was introduced to Andrew Wyeth, who encouraged Weymouth's use of the tempera medium. Following his art training at Yale he returned to Wilmington and was married for several years to Anna Brelsford McCoy, herself an artist and daughter of Ann and John McCoy. Inspired by the art of the extended Wyeth family, Weymouth made egg tempera his primary medium.
Weymouth's paintings demonstrate a broad artistic range, from the tilting perspective in August, with its detailed rendering and palpable sense of hazy light and summer heat, to the central focus, earth-tones, soft light and ominous mood found in Eleven O'clock News.
---
Jamie Wyeth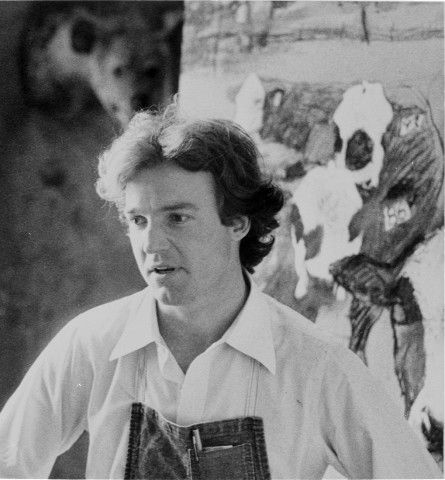 Over a period of five decades, Wyeth has created a body of work that clearly speaks to his evolution as an artist. Familiar subjects—whether they be people, animals, landscapes or found objects—are often transformed by the artist's hand and dexterous imagination.
The youngest child of Andrew and Betsy Wyeth, Jamie Wyeth (b. 1946) demonstrated precocious drawing ability and was given formal art training as a child by his aunt, Carolyn Wyeth. By his early 20s he had achieved attention for his portraits, including that of John F. Kennedy. Those early oil portraits are characterized by precise detail and a dark, earth-tone palette, and his exuberant landscapes in watercolor at times recall those of his father, with whom he shared a studio space until 1968.
Wyeth continued the family legacy of painting the Brandywine region and mid-coast Maine and found inspiration in the people and landscapes of these two distinctive locales. While embracing the longstanding realist tradition, the artist has developed a singular approach. Throughout his career, Wyeth has experimented in his use of drawing and painting mediums. He freely mixes media and applies them to a variety of painting surfaces, creating complex effects of surface and texture.
---
Wyeth Family
Artists