Arrival
A family's experience at Brandywine begins the moment you get out of the car. There is plenty to explore around the campus. As you approach the Museum, walk toward the riverside to discover native plant gardens and animal sculptures. On a nice day, stroll down the River Trail, a dirt path along the creek that leads under Route 1, continues with a boardwalk over wetlands, and ends in the meadow behind the Chadds Ford Historical Society.
Entering the Museum
The Museum is accessed through the wooden gate leading into the courtyard (toward the left as you approach the Museum). Stroller and wheelchair access is available through this entrance. Elevators may be accessed on all floors.
Check in at the Admission Desk, in the first floor lobby. An unattended coat room is available to store bulky items.
---
During Your Visit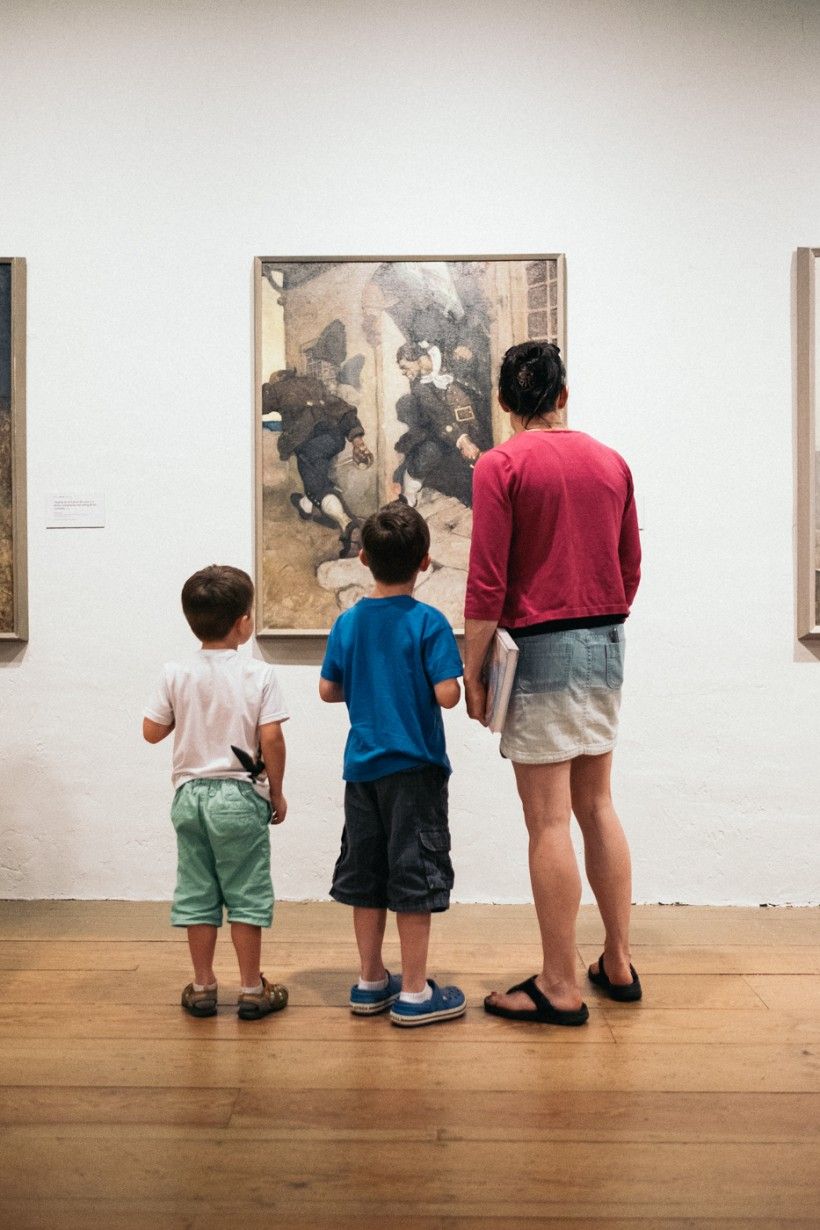 Bathrooms
Bathrooms with changing tables are located on the second floor.
Eating
Grassy space is available for picnics outside along the creek. (Be aware there is no fence at the water's edge.) The Museum's child-friendly cafe features a scenic view of the river, high chairs and a children's menu.
What to See
Three floors of galleries feature the Museum's collection, rotating special exhibitions, and galleries dedicated to the three generations of Wyeth artists. Throughout the Museum families will find many works appealing to children including paintings and sculptures of animals, illustrations of pirates and characters from classic adventure stories, and colorful landscape and still life paintings. In the third floor hallway alongside the river, artwork by students from local schools is on view in a rotating exhibition, Imagine Brandywine.
In the first, second, and third floor lobbies, visitors can enjoy expansive views of the river from varying heights throughout all seasons. The Museum Shop features many items for children such as picture and art-related activity books, Folkmanis finger puppets, native plant seeds, postcards, and more.
Ideas to Engage Your Children
Imagine a story based on a painting. What is happening, and what might happen next?
Use all of your senses to describe how things in a painting might feel, smell, taste or sound.
Search for colors, shapes, or animals. How many can you find?
Take a break from viewing art by observing nature outside the large lobby windows.  Notice the color of the water, birds in the trees, and canoers and kayakers rowing downstream. 
Most importantly, know your family's limit. The artwork and views at the Museum are always changing, so plan to visit again soon!
---
Special Family Programs and Events
Attending a family program is a great way to introduce younger children to art and the Museum. See what fun events are coming up.
I would like to thank you for the opportunities and resources you provide to the members of our community--especially our children!
-parent of a child attending PNC First Sundays for Families program