Coffee with a Curator: Sarah Cash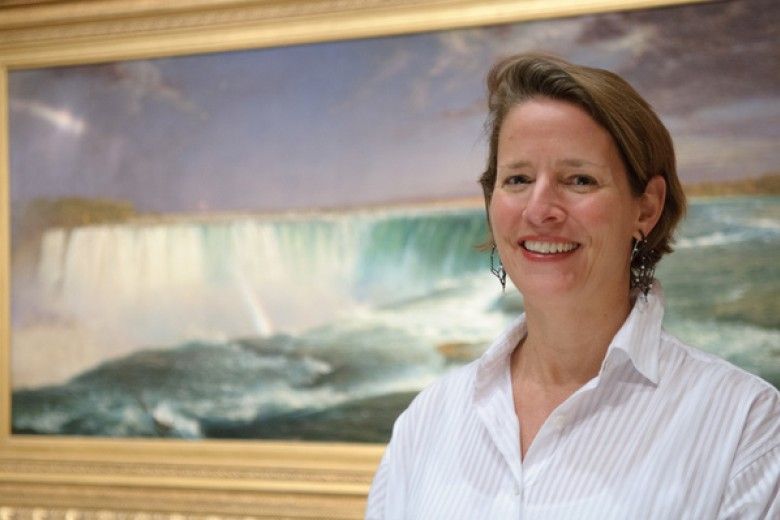 Working in the communications department allows me to interact with the wonderful people who bring together the exhibitions, programs, musical performance and special events of the museum. Many of those people work behind the scenes. Some work on flower arrangements for an event, while others may guide a group of children in an art-making activity. Curators are at the heart of every museum and although you may have seen a memorable exhibition they have organized, read their work in catalogues and labels next to paintings in the museum, or heard them give a talk, most of the work they do goes unseen. 
Today's post is the first in an exciting blog series we are launching called Coffee with a Curator, a peek behind-the-scenes at the lives of our curators here at the Brandywine River Museum of Art and curators who visit as a part of our programs. For our very first post I had the unique opportunity to interview Sarah Cash, Associate Curator at the National Gallery of Art in the Department of American and British Paintings, as she prepares to give a talk here at our museum on collectors of the Hudson River School of Painters during our exhibition The Poetry of Nature: A Golden Age of American Landscape Painting.
What was your first job?
SC: My first museum job (also my first "real" job—right after college) was as Assistant to the Curator of Exhibitions at the National Portrait Gallery, Smithsonian Institution.
What aspect of your job might surprise someone who is not a curator?
SC: That curators don't spend as much time in the galleries as people might think! Like most people with "office" jobs, we spend a lot of time at our computers and in meetings of various sorts (but happily, also in libraries and in the galleries).
What part of your job do you find most satisfying?
Research (detective work!), writing, and spending time with actual paintings (in the galleries and in the conservation lab!)
What inspired you to become an art historian/curator?
SC: My (late) parents were very aesthetically oriented—my mother was a graphic designer and my father an architect—but I didn't really know anything of art history until I was an undergraduate at Smith College, which has a fantastic art history department. As soon as I took my first course I fell in love with the discipline! I had a bit of a circuitous path to becoming a curator, but the investigative and writing aspects—that is to say the creative aspects—very much appeal to me.
How do you take your coffee?
SC: I drink a large home-brewed café latte every morning, over the course of the morning—which is why you see me with a thermos mug in the photo! I like my coffee very hot!
We'd like to thank Sarah Cash for joining us for our inaugural post. Meet her in person June 9 at Collecting the Hudson River School, our final talk in a fascinating lecture series about the art movement that developed a distinctly American vision of our national landscape. We'll see you there!