Happy Anniversary, Wyeth House and Studio!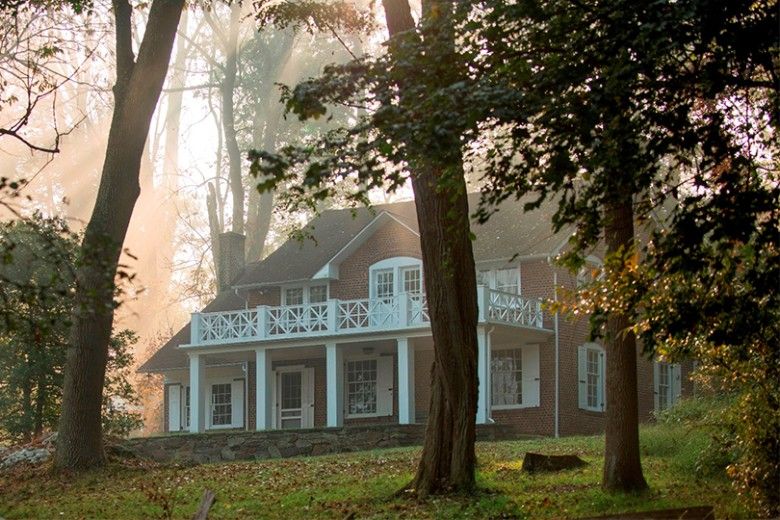 In the Brandywine River Museum of Art's archives is the black and red ledger book that N. C. Wyeth used to document the purchase of his Chadds Ford property and the construction of his house, studio and barn. The first date on the ledger?  March 1, 1911.  
On March, 1, 1911, N.C. Wyeth paid Charles Davis, the previous owner of the site on "Rocky Hill," a down payment of $1,000.00 for the 18 acre plot. The book goes on to note all further transactions, an invaluable repository of information, some of which exists nowhere else. The book provides a chronology and accounting of the construction as it progressed throughout the spring and summer.  
From these entries, we learn the names of the architect, general contractor, and other vendors from whom Wyeth purchased services and goods. Also included are notes on what the family needed to set up housekeeping. Among the interesting entries are: the purchase of the Glenwood Range for the kitchen; the purchase of telephone poles (yes, telephone in the country in 1911!) and a private line; $25 for "dynamiting 220 holes for trees and shrubs"; and $246.80 for the purchase of a "pony, harness, saddle, and wagon"—the latter was the means of transportation to and from town and the railroad station.
Although the book doesn't include photographs, there are a few photographs in the Wyeth Family Archives of the construction of the house, such as this one taken later in the summer.
The Wyeths were able to occupy their home by mid-October and shortly thereafter N. C. began work in the studio.
In the early 1980s, the sons and daughters of N. C. and Carolyn Wyeth entrusted all 18 acres of Wyeth's original purchase, the house, studio, and barn to the Brandywine River Museum of Art.  A visit to the studio, with its collection of books, props such as firearms, helmets, and a full size canoe, and still life objects—contributes to a detailed understanding of Wyeth's artistic process. In the house, the furnishings and decorative arts present an intimate picture of family life over the course of nine decades.
 Both the N. C. Wyeth house and studio open for public tours the first week in April. While on our campus you can also visit the Andrew Wyeth Studio and Kuerner Farmer, the setting of many of Andrew Wyeth's most famous paintings.
---
Photo credit for header image: Carlos Alejandro