Inspire Your Heart with Art Day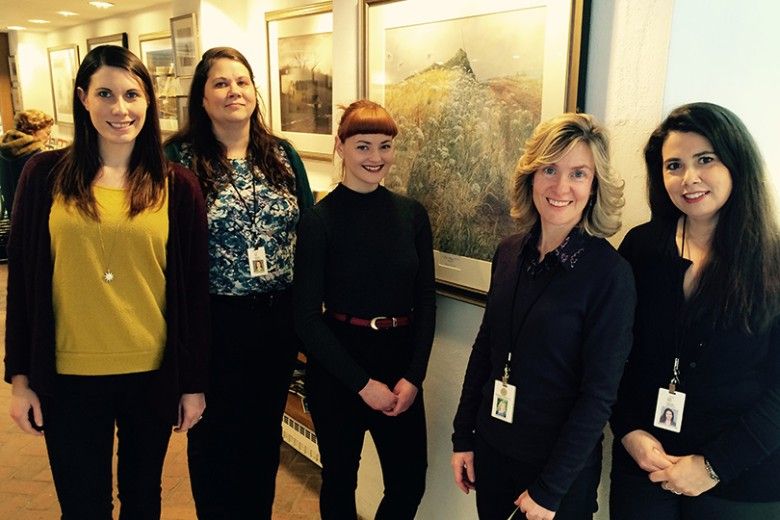 This Sunday, January 31 will mark one of the first and most engaging holidays of the year - Inspire Your Heart with Art Day. Every year people take this opportunity to celebrate the art that moves them, from taking a pottery class to attending a concert. We thought we'd check in with the staff of the Brandywine Conservancy & Museum of Art to see what type of art will inspire their hearts this weekend:
The museum shop staff is inspired by one of our customer favorites-- August, by our founder George "Frolic" Weymouth. We love the beautiful colors and it makes us long for the warm summer days in August. (Pictured above)
– Cheryl Stolis, Manager of Visitor Services, Admissions & Retail
---
One of my favorite works of art is John Singer Sargent's El Jaleo (1882) at the Isabella Stewart Gardner Museum in Boston. It's more than 11 feet wide, but sadly no photography is allowed. So when I came across this study for it called Spanish Dancer (which lives in a private collection but was out on loan to the Smithsonian American Art Museum) I had to pose with her. Sargent doesn't just make a beautiful and elegant work, he really captures the excitement and sound of flamenco.
– Amanda C. Burdan, Associate Curator
---
As an educator I am continually inspired by the creativity and eagerness I see among students who are often trying an art technique for the first time. I get to watch ideas bounce around and people connect with one another.
– Laura Westmoreland, Associate Educator
---
My favorite work of art is Carnation, Lily, Lily, Rose by John Singer Sargent.  I love it for the flowers, for the light, and for the name which I think is particularly beautiful.  When I saw it in person at the Tate in London, it was more stunning than I could have imagined.
– Suzanne M. Regnier, Assistant to the Chairman & Director of Development
---
I just love the non-digital way Mix It Up by Herve Tullet inspires a love of color and imagination in children.  Love both this and Press Here.
– Kathy Smith, Associate Director of Development for Corporate Relations & Coordinator of the Young Friends
---
I will be spending Inspire Your Heart with Art Day by looking at the artwork at Grounds for Sculpture as they sit covered in snow, which is very exciting as I have only ever seen these sculptures in the warmer months.
– Liesl Reimann, Education Assistant
---
Needless to say, after twenty years of working with the N. C. Wyeth studio (and with the museum's other historic properties—the Andrew Wyeth Studio and the Kuerner Farm), I am still inspired and energized by these remarkable sites and their outstanding collections.  Studios like these can provide great insight into the lives and creative processes of those artists who have enriched our personal and collective cultures.  
– Christine B. Podmaniczky, Curator, N.C. Wyeth Collections and Historic Properties
---
Whether you celebrate every year or this will be your first time, here are some great ways to make the most out of this day to focus on the beauty, skill, passion and inspiration all around you.
Go see a musical, dance performance or concert.
Sign up for an art or sculpture class at your local museum.
Read your favorite book out loud with someone special.
Make collages with your kids.
Visit the home or studio of one of your favorite artists.
Make a photobook out of your own photos and give it as a gift.
Go see a play by a new playwright.
Indulge in some adult coloring books.
Watch a movie by your favorite director with someone who has never seen it before.