Concerts in the Courtyard: Rob Curto and Fish Harmonics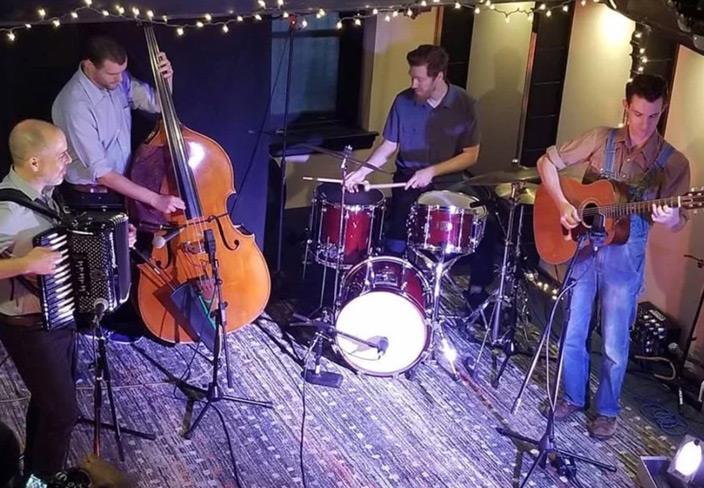 Enjoy a concert under the stars in the Museum's outdoor courtyard featuring Rob Curto and the Fish Harmonics. Based in Philadelphia, the group plays adventurous American roots music, influenced by modern bluegrass, old time and Celtic sounds.
Doors open at 6 p.m., with the performance beginning at 7 p.m. The Museum's art galleries will be open from 6-6:45 p.m. for exploring before the concert begins. Food and drinks will be available for purchase from the Millstone Cafe.
Fish Harmonics is the new musical project by accordionist Rob Curto. Featuring Curto's mastery of the piano and diatonic accordions, coupled with rhythmic arco bass playing and groove-oriented drumming, they bring a unique free-wheeling and improvisational energy to both classic tunes and original compositions. Rob Curto (composer/songwriter, piano and diatonic accordions) has spent the last 8 years touring extensively with his band Matuto, known for its distinctive "Brazilian-bluegrass" sound. Mixing the roots Americana stylings of the great Bill Monroe with rhythmic and melodic elements from Brazil, Curto has been part of a movement to establish the accordion as a versatile and important instrument in contemporary roots music. In addition to Brazilian music, Curto has gained a reputation as an all-around master of the accordion and has been in high demand across genres. His musical collaborations include performing and recording with Latin Grammy award winner Lila Downs; Klezmer clarinetist David Krakauer; trumpeter/composer Frank London; Punjabi Indian singer Kiran Ahluwalia; and icon of Brazilian Forró, the great accordionist Dominguinhos. Curto is also an enthusiast of Irish button accordion and studies with acclaimed B/C box player and NEA National Heritage Fellow, Billy McComisky.
---
In the event of inclement weather, this event will be moved indoors.