Concerts in the Courtyard: Wicked Sycamore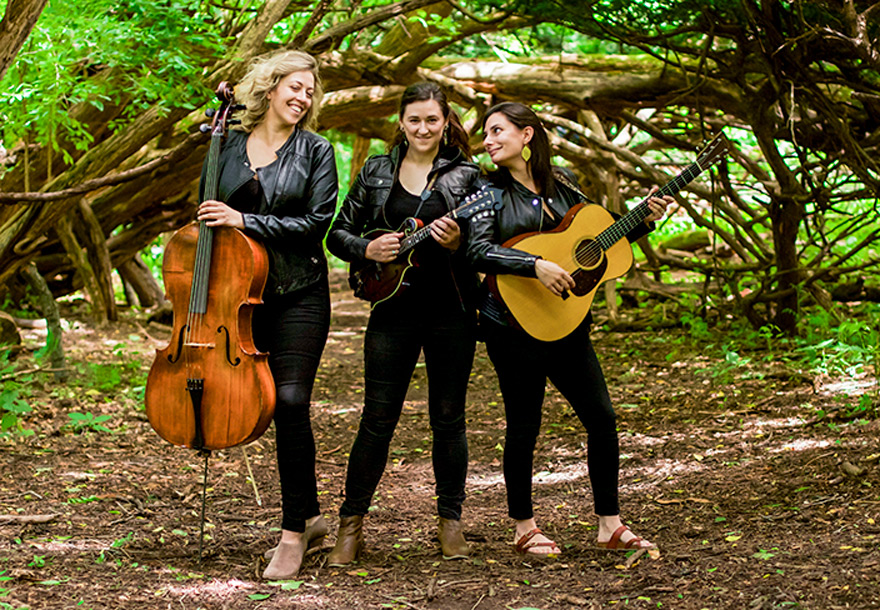 Enjoy a concert under the stars in the Museum's outdoor courtyard featuring Wicked Sycamore. The all-female trio plays contemporary folk with a mischievous edge that is grounded in traditional roots, Americana, and bluegrass.
Doors open at 6 p.m., with the performance beginning at 7 p.m. The Museum's art galleries will be open from 6-6:45 p.m. for exploring before the concert begins. Food and drinks will be available for purchase from the Millstone Cafe.
---
Hailing from the Baltimore/DC area, Wicked Sycamore consists of Juliette Bell on guitar, Lainie Gray on mandolin, and Madeline Waters on cello. They write original music ranging from fun and light-hearted sing-alongs to deep, introspective tunes for the ages. No matter the genre, their music relies heavily on thoughtful arrangement, instrumental prowess, and intricate vocal harmonies. By growing their presence as a collaborative force, they hope to increase female representation as both musicians and songwriters throughout the modern music landscape.
 
Wicked Sycamore won the Charm City Bluegrass band competition in 2019 and they were awarded two DMV-area WAMMIES in 2021 for Best Bluegrass Group/Artist and Best Bluegrass Album "In More Ways Than One." Wicked Sycamore has played around the Mid-Atlantic region at festivals such as DelFest, Charm City Bluegrass Festival, The Ladybug Festival, Kingman Island Bluegrass Festival, DOAH Festival, and Takoma Park Street Festival.