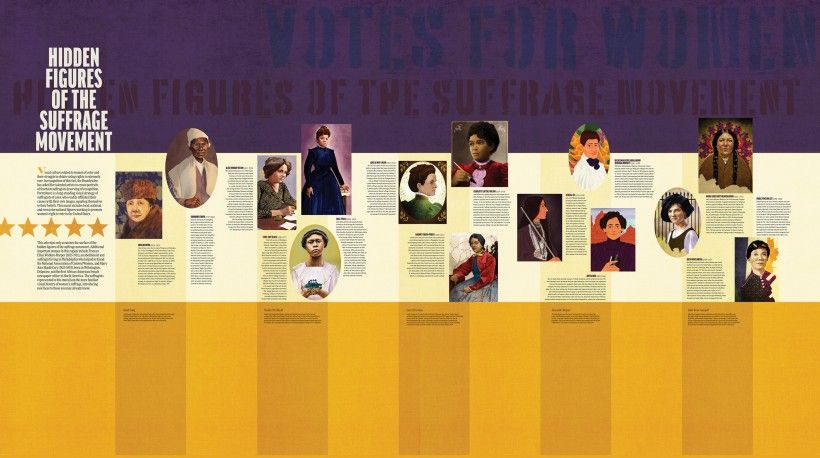 Visual culture related to women of color and their struggle to obtain voting rights is extremely rare. In recognition of this fact, the Brandywine has asked five talented artists to create portraits of fourteen suffragists deserving of recognition. Portraiture is a long-standing visual strategy of suffragists of color, who readily affiliated their causes with their own images, equating themselves to their beliefs. This mural includes local, national, and even international figures working to promote women's right to vote in the United States.
This selection only scratches the surface of the hidden figures of the suffrage movement. Additional important women in this region include Frances Ellen Watkins Harper (1825-1911), an abolitionist and suffragist living in Philadelphia who helped to found the National Association of Colored Women, and Mary Ann Shadd Cary (1823-1893), born in Wilmington, Delaware, and the first African American female newspaper editor in North America. The suffragists represented in this mural join the more familiar visual history of women's suffrage, introducing new faces to those you may already know.
---
Image

By Sally Wern Comport

Marie Louise Bottineau Baldwin (1863-1952)
Marie Louise Bottineau Baldwin, of the Turtle Mountain Chippewa tribe, became a nationally recognized spokesperson for Indigenous women's rights and suffrage over the course of her lifetime. She learned the power of advocacy through law from her father, who spent his life representing the rights of the Ojibwa/Chippewa Nation. In the 1890s, Baldwin and her father moved to Washington, D.C., from Minneapolis. Theodore Roosevelt appointed her as a clerk in the Office of Indian Affairs in 1904. She focused largely on the value of Indigenous cultures, arguing that Indigenous women should not have to renounce their heritage to participate in mainstream society. Baldwin was the first woman of color to graduate as an attorney from the Washington College of Law in 1913. That same year, she marched under the banner of women lawyers in the 1913 Women's Suffrage Parade in Washington, D.C.
---
Image

By Shadra Strickland

Ethel Cuff Black (1890-1977)
Ethel Cuff was born in Wilmington, Delaware, and studied at the Industrial School for Colored Youth in New Jersey, where she excelled in academics. She went on to Howard University, joining Alpha Kappa Alpha (AKA), the nation's first African American sorority. In 1913, twenty-two members of AKA, including Cuff, split from the organization and formed their own sorority. The new group, Delta Sigma Theta (Delta), devoted themselves to social activism and community service. Cuff was elected the sorority's first vice president and attended the Deltas' first public event, the Woman Suffrage Procession in Washington, D.C., in March 1913. Prominent suffragist Mary Church Terrell lobbied on behalf of the Deltas to win them a place in the parade, where they were the only African American organization represented. After college, Black went on to a career in teaching, working in several states and eventually returning to Delaware as a faculty member at Delaware State College.
---
Image

By Sarah Jung

Sofia de Veyra (1876-1953)
Sofia de Veyra moved from her native Philippines to Washington, D.C., in 1917. The Philippines were under American rule during this period, and de Veyra's husband represented the territory in the U.S. House of Representatives. A dedicated clubwoman, she immediately joined the Congressional Red Cross Unit and devoted close to 1,000 hours of service to domestic war efforts. During her six years in the United States, she lectured and wrote articles on Filipino history and culture. She wove her passion for women's rights into all of her speeches and articles and included her observations about the differences between women's lives in American and Filipino society. In 1925, de Veyra returned to the Philippines, where she founded, organized, and led multiple women's clubs and federations. Using this position of power, she organized and fought for women's suffrage in the Philippines until it was ultimately granted in 1937.
---
Image

By Alexandra Beguez

Wilhelmina Kekelaokalaninui Wideman Dowsett (1861-1929)
Wilhelmina Kekelaokalaninui Wideman Dowsett was a Native Hawaiian, member of the royal family, and suffragist who, upon the annexation of Hawai'i as a U.S. Territory in 1898, began to organize for women's voting rights. She created the Women's Equal Suffrage Association of Hawai'i and campaigned with other Native Hawaiian women. In March 1919, President Wilson signed a bill that allowed the territory of Hawai'i to decide for itself whether or not women would be enfranchised. Dowsett spearheaded the movement that petitioned, protested, and demanded suffrage. She began various grassroots movements that promoted suffrage and lobbied the Hawaiian government. The women of Hawai'i won the right to vote in 1920, but they were not granted full voting rights in the United States until 39 years later when Hawaii became the fiftieth state.
---
Image

By Laura Freeman

Harriet Forten-Purvis (1810-1875)
Harriet Forten was born to one of the most prominent and activist African American families in Philadelphia. She spent her life fighting for the rights of African Americans and women in the United States. In 1831, she married Robert Purvis, an abolitionist and advocate. At the time, women were excluded from membership in the American Anti-Slavery Society, so she and a dozen other women founded the Philadelphia Female Anti-Slavery Society. The group encouraged the boycott of certain products made with slave labor, which gave women a political voice through purchasing decisions. Along with Margaretta Forten, her sister, Forten-Purvis was a lead organizer of the fifth National Women's Rights Convention. After the passage of the Fifteenth Amendment, allowing African American men voting rights, Forten-Purvis joined with her friend Susan B. Anthony and the National Woman Suffrage Association to lobby for a constitutional amendment for women's suffrage.
---
Image

By Alexandra Beguez

Jovita Idár (1885-1946)
Born in Laredo, Texas, Jovita Idár was part of a family of political activists and grew to be one of the most influential voices for Mexican American rights. Working for a time as a teacher, she experienced first-hand the injustices of a segregated school system. Idár then entered the field of journalism, writing for her family's publication La Crónica, which was at the forefront of Mexican American civil rights. She wrote about working-class feminist struggles and supported women's right to vote. In 1911, she founded the educational advocacy group La Liga Femenil Mexicaista. In 1914, Idár joined the editorial staff of El Progreso, a liberal periodical that was forcibly shut down by Texas Rangers after she criticized the Wilson administration. Idár's main focus was always the empowerment of Mexican American women through education as a first step toward independence, equality, and enfranchisement.
---
Image

By Sally Wern Comport

Mabel Ping Hua Lee (1896-1966)
Mabel Ping-Hua Lee was a Chinese immigrant who lived in New York for most of her life. While studying at Barnard College and later at Columbia University, she advocated for women's rights both in the United States and China. She earned a Ph.D. in economics, the first Chinese woman to do so. Lee fought for suffrage alongside the women of New York state as an active member of the Women's Equality League and was a key leader in the New York suffrage parade of 1912. After the Nineteenth Amendment passed, however, Lee remained unable to vote due to the Chinese Exclusion Act, which prohibited Chinese immigrants from applying for citizenship. Only after the law was repealed in 1943 would Lee and other immigrants from China be eligible for citizenship and the right to vote.
---
Image

By Laura Freeman

Adella Hunt Logan (1863-1915)
Born to a free woman of color into a mixed-race family in Georgia, Adella Hunt Logan studied at the prestigious Bass Academy in Sparta and earned a teaching degree from the University of Atlanta. In 1883, Hunt Logan became the first librarian at the Tuskegee Institute. She led the Tuskegee Woman's Club, an affiliate of the National Association of Colored Women, eventually becoming chair of the NACW's suffrage committee. After hearing Susan B. Anthony speak in 1895, Hunt Logan joined the National American Woman Suffrage Association, where she advocated for the rights of African American women, to the opposition of many white women in the organization. She wrote about the injustices of the suffrage movement in The Crisis and Colored American. After an illness and a struggle with depression, worsened by the death of her lifelong friend Booker T. Washington, Hunt Logan took her own life in 1915, five years before the passage of the Nineteenth Amendment.
---
Image

By Shadra Strickland

Alice Dunbar-Nelson (1875-1935)
Alice Dunbar-Nelson grew up in a New Orleans family with African American, Anglo, Native American, and Creole roots. She earned a teaching degree from Straight University (now Dillard University) and began a career in education. She also earned a reputation as a writer of poetry and prose. After her first marriage ended in 1902, Dunbar-Nelson moved to Wilmington, Delaware, and taught at Howard High School, the State College for Colored Students (now Delaware State University), and other institutions. During 1915, she worked tirelessly on the Pennsylvania suffrage campaign, especially on appeals to African American women. During World War I she launched campaigns to support African American soldiers and sat on the Woman's Committee of the Council for National Defense, chaired by suffragist Anna Howard Shaw. After the passage of the Nineteenth Amendment, Dunbar-Nelson continued her activism, co-editing the Wilmington Advocate, a progressive African American newspaper, and campaigning for anti-lynching laws.
---
Image

By Sarah Jung

Sojourner Truth (1797-1883)
Sojourner Truth spent her life fighting for the rights of African Americans and women in the United States. She was born into slavery in upstate New York as Isabella Baumfree and was sold four times before escaping at the age of twenty. Deeply spiritual, she changed her name to Soujourner Truth and became an itinerate preacher and a passionate speaker for abolition. In 1850—unable to read or write—she dictated her memoir The Narrative of Sojourner Truth: A Northern Slave, which would become one of the most acclaimed texts on American slavery. Already a champion for abolition and temperance, she turned her extraordinary public speaking skills to the cause of women's rights, giving her famed "Ain't I a Woman" speech at the Women's Rights Convention of 1851 in Akron, Ohio.  In 1864, Truth met President Abraham Lincoln at the White House, a moment preserved in Charlotte Wilson's historic painting, which was used to promote suffrage in the African American community.
---
Image

By Shadra Strickland

Ida B. Wells (1862-1931)
Ida B. Wells spent her life exposing the flaws of American society through her revolutionary journalism. She was born into slavery and, after abolition, both of her parents were politically active. When they died of yellow fever, Wells began working as a teacher in Tennessee at age 16 to provide for her younger siblings. She later became co-owner of the Memphis Free Speech and Headlight newspaper and focused her writing on the lynching crisis in the South. After she wrote an exposé on an 1892 lynching, her offices were burned by angry citizens and Wells was driven out of Memphis. She moved to Chicago, where she continued her civil rights activism, founding the Alpha Suffrage Club in 1913. Wells openly criticized mainstream suffrage organizations for their exclusion of women of color as well as for their choice to ignore other, often violent, injustices affecting the African American community. 
---
Image

By Sally Wern Comport

Ruza Wenclawska (1889-1977)
Ruza Wenclawska, also known as Rose Winslow, was a Polish immigrant who came to the United States as a child with her parents. She lived in Pittsburgh, where she began working in factories at the age of 11. She later advocated for immigrant workers, especially women, in her role as a factory inspector and trade union organizer. She organized for the Congressional Union for Woman Suffrage, which later became the National Woman's Party, speaking in the streets and at rallies. She also educated working women to help them understand how the right to vote could improve their working conditions. Wenclawska often debated with suffrage leader Alice Paul about the movement's unfulfilled promises to immigrant and working class women. In 1917, Wenclawska was arrested for protesting at the White House as a "Silent Sentinel" and was jailed at the Occoquan Workhouse, where she went on a hunger-strike and was consequently force-fed.
---
Image

By Laura Freeman

Charlotte (Lottie) Wilson (1854-1914)
Lottie Wilson was a pathbreaking artist and suffragist born in Niles, Michigan, in 1854. She became the first African American student to graduate from the School of the Art Institute of Chicago. As an activist, Wilson spoke out on the rights of African American women. In 1899, she was a delegate to the National American Woman's Suffrage Association convention, where she proposed that the association protest the policy of separate railroad coaches for African American women in the South, a proposition which Susan B. Anthony staunchly opposed. Most of her paintings have been lost, but her 1902 interpretation of the meeting of Abraham Lincoln and Sojourner Truth survives and appeared on the cover of The Crisis magazine—in an issue devoted to women's suffrage—the year after Wilson's death.
---
Image

By Alexandra Beguez

Zitkála-Šá (1876-1938)
Just as the Fifteenth Amendment did not grant Native American men the right to vote, the Nineteenth Amendment did not enable Native American women to vote. A Yankton Sioux of South Dakota, Zitkála-Šá fought for Indigenous political rights throughout her life. She joined the pan-Indian movement in lobbying for the Indian Citizenship Act of 1924, which granted citizenship rights to most tribal peoples in the United States but did not guarantee all the right to vote. She founded the National Council of American Indians in 1926, which promoted citizenship rights, better educational opportunities, cultural preservation, and recognition for Native Americans. Zitkála-Šá worked tirelessly with other members of the Indigenous community to win civil rights for the Native peoples of the United States.
---
Artist Bios
Laura Freeman is a Coretta Scott King Illustrator Honoree. Her work on Hidden Figures, written by Margot Lee Shetterly, was recognized with an NAACP Image Award for Outstanding Literary Work for Children, and reached the New York Times Best Sellers list. Her art has been honored at the Society of Illustrators and in the Annuals for Communication Arts and American Illustration. She has illustrated over thirty children's books including A Voice Named Aretha and Dream Builder: The Story of Architect Philip Freelon.
Commissioned Portraits:
Charlotte (Lottie) Wilson
Harriet Forten Purvis
Adella Hunt Logan
Sarah Jung is an illustrator and children's book author. She graduated from Maryland Institute College of Art in 2017 with a BFA in illustration, book arts, and creative writing. Jung's work has been published in The Atlantic and her debut picture book When Father Comes Home will be published later this year by Scholastic.
Commissioned Portraits:
Sojourner Truth
Sofia de Veyra
Alexandra Beguez is an illustrator and cartoonist based in New Jersey. Her comics and illustrations appear or are forthcoming in Buzzfeed, The Nib, BOOM! Studios, Longreads, Chronicle Books, Abrams Books, The Robert Woods Johnson Foundation, and Locust Moon Press. Her work has been recognized by the Society of Illustrators, Latin American Ilustración, 3x3, and Creative Quarterly.
Commissioned Portraits:
Wilhelmina Kekelaokalaninui Wideman Dowsett
Zitkála-Šá
Jovita Idár
Shadra Strickland studied design, writing, and illustration at Syracuse University, and completed her MFA at the School of Visual Arts in New York City. She won the Ezra Jack Keats Award and Coretta Scott King/John Steptoe Award for New Talent for her work in her first picture book, Bird, written by Zetta Elliott. Strickland has illustrated numerous books and covers for children. She currently teaches illustration at Maryland Institute College of Art in Baltimore.
Commissioned Portraits:
Ethel Cuff Black
Alice Dunbar-Nelson
Ida B. Wells
Sally Wern Comport has been practicing art professionally for almost fifty years. Her studio practice has produced large scale public art, over forty-five illustrated book titles, and hundreds of publications. Comport was awarded a Gold Medal by the Society of Illustrators for her illustrated book cover Zora & Me. Her award-winning painting of Harriet Tubman was transformed into a life-size mural at the National Park Service's Harriet Tubman Underground Railroad Visitor Center in Maryland.
Commissioned Portraits:
Mabel Ping Hua Lee
Marie Louise Bottineau Baldwin
Ruza Wenclawska