Important Notice: Due to the latest weather forecast for this weekend projecting significant rain and strong winds in our area, we've made the difficult decision to cancel this year's Bike the Brandywine event.

These extreme weather conditions would be unsafe for our riders, along with our staff and volunteers working along the routes. While this is disappointing news to share, please know that this was a necessary decision to ensure rider safety—which is always our number one priority. Organizing an event of this scale—which covers a wide geographic area and supports hundreds of riders—is an enormous undertaking for our team and partners, spanning many months and long hours, so please know that this decision was not made lightly.
All registered riders have been emailed with further details and instructions. If you did not receive this email or have any additional questions, please contact [email protected]. We thank everyone for your continued support and understanding, and we hope to see you back for next year's Bike the Brandywine!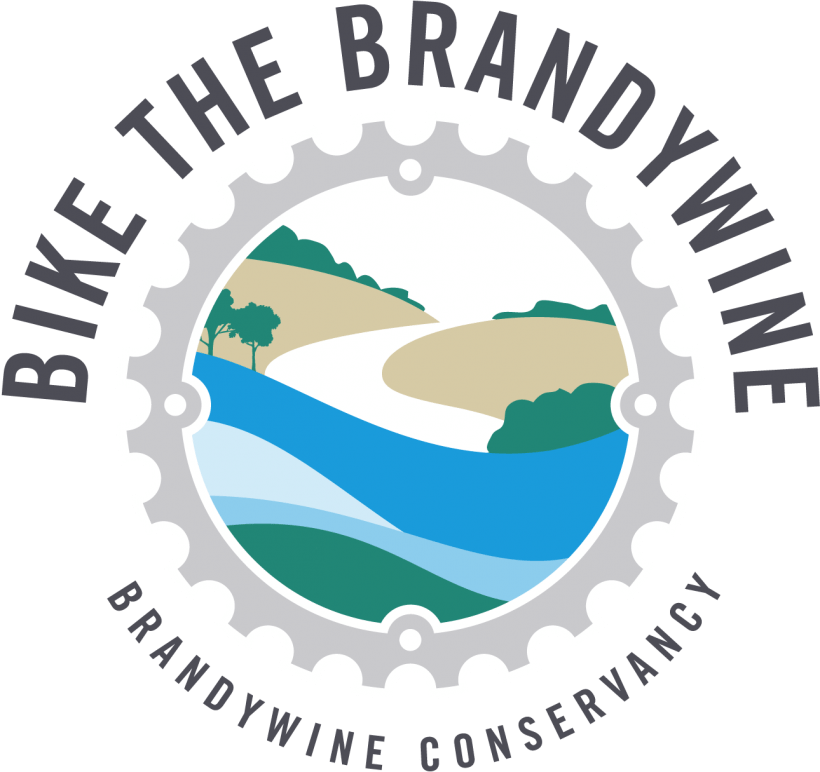 Saturday, September 23, 2023
Explore the scenery, glimpse the history, and discover the lure of the Brandywine.
Now in its sixth year, Bike the Brandywine is excited to present three scenic loops that take in the beautiful Brandywine Creek Greenway and surrounding countryside. Routes with distances of 25, 45, and 62 (Metric Century) miles will be offered, each with a unique and thrilling experience for both the recreational and more avid seasoned cyclist. 
The Brandywine Conservancy has dedicated itself to help preserve water quality and quantity in the region for over fifty years. Connect your wheels with water on this scenic and well-supported ride. Proceeds from the ride benefit the Conservancy's land and water conservation work.
Image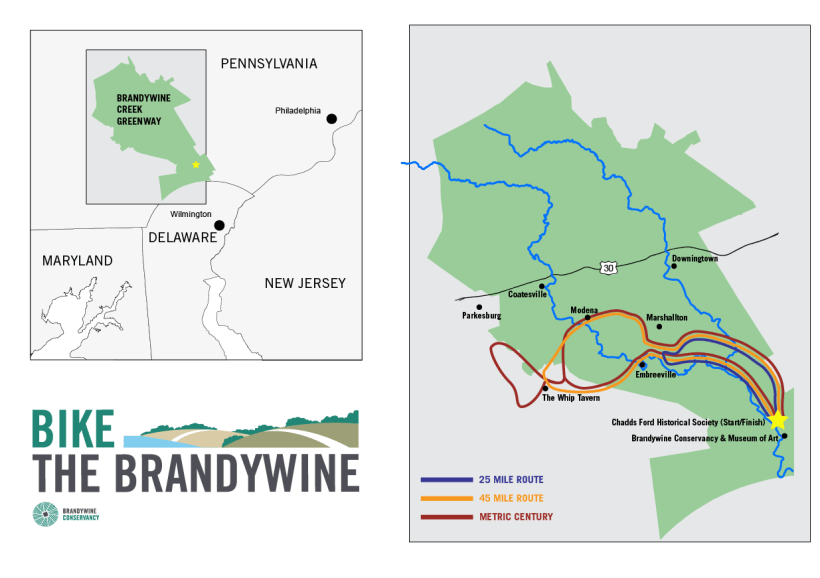 ---
Three loops available to riders – approximately 25, 45, and 62 miles (metric century)
Free lunch after the ride
Well-marked route and cue sheets provided to all riders
Support and Gear (SAG) assistance provided by Trek Delaware
Some of the most picturesque roads in Chester County
Friendly and helpful volunteers
Fully stocked rest-stops every 10-20 miles, depending upon the route
Free commemorative T-shirt
Start and End Location
Chadds Ford Historical Society
1736 N. Creek Rd.
Chadds Ford, PA 19317
PLEASE NOTE: the ride does not start or finish at the Museum site.
Early Packet Pick-Up
To make the morning of the ride go more smoothly, consider checking in and picking up your ride packets during early packet pick-up on the day before the ride. Riders can also register for the ride during this time.
Schedule
6:30 a.m. Check-in opens for 62-mile riders
7:00 a.m. Metric Century (62 miles) riders depart
7:30 a.m. Check-in opens for 25- and 45-mile riders
8:00 a.m. 25 and 45-mile ride departs
9:00 a.m. Rider departure final call
4:30 p.m. Ride support ends
PLEASE NOTE: The ride takes place rain or shine.
Rules of the Road:
While participating in the ride, please follow these rules of the road to ensure a safe and fun experience.
The ride utilizes public roads and trails. Riders who leave the designated right-of-way along the route at areas other than designated rest-stops risk trespassing on private property
Obey all traffic laws
Observe all traffic signals and stops
Do not ride more than two abreast
Ride single file in traffic
Stay to the right
Be courteous to all road users
Call out "on your left" when passing
Only pass on the left
Other Rules
Bike the Brandywine is open to riders 14+. All riders under 16 must be accompanied by an adult completing the same course route.
All riders must wear bicycle helmets and closed toe shoes for the duration of the ride.
All riders must sign and accept the terms of the release and assumption of risk.
The use of headphones, earbuds, cell phones, cameras, or phone cameras while riding is strictly forbidden.
For the safety of all participants, the use of pull-behind child trailers, child seats, or similar devices during the ride will not be allowed. While the majority of the roads we will travel are generally quiet country roads, several sections of road are unsafe for the use of such devices. We appreciate your understanding.
62 Mile (Metric Century)
Our metric century route offers everything the 45-mile route does but includes an additional 15+ mile loop in the scenic King Ranch and open agricultural lands just west of the famous Whip Tavern. This route will not disappoint! However, riders choosing this option should be aware that distances between rest stops will be longer, so we advise stocking up at rest stop 1. Water and some snacks will be available at The Whip Tavern for those completing this route.
45 Mile
The 45-mile route gives riders looking for a shorter Brandywine experience a route that follows the West Branch of the river. Also starting in Chadds Ford, this route follows the West Branch (and 62-mile route) to The Laurels and then explores more of the King Ranch before rejoining the West Branch in Modena. From Modena the ride will slowly wind its way to the historic village of Marshallton before returning to Chadds Ford. Experiencing the rich history, incredible vistas, and bucolic countryside, riders on the 45-mile route should expect to feel inspired by their journey and feel connected to our shared natural and historic heritage embodied by the route. Riders are encouraged to train appropriately for this athletic event to ensure the most enjoyable ride day.
25 Mile
The 25-mile route provides an exciting introduction to the Brandywine Creek Greenway for the recreational cyclist. Closely mirroring the early routes of both the 62- and 45-mile rides, the 25-mile route follows the West Branch Brandywine River through open farmland and scenic river valleys. A route that provides a trip through the historic village of Marshallton and its surrounding equestrian and farming landscapes, this ride is sure to excite the senses of any cyclist.
Q. Is this a race?
A. No. There is no timing of riders or awards for getting back first. The ride is designed to be enjoyed at a pace that allows you to take in the beautiful scenery and landscapes that you will pass along the way.
Q. Does the ride take place if the weather isn't great?
A. Yes. The ride takes place RAIN or SHINE. In the event of rain, you are advised to take extra care as roads may become slippery, especially going downhill or in areas of painted road. In wet conditions, gentle pumping of your breaks is safer than applying sudden and heavy force to your break. It is also safer to favor your rear break in wet conditions as you are less likely to lose control. During a storm that may produce lightning, riders are encouraged to take shelter until the storm passes. All support services will continue in wet weather.
Q. Does anything cancel the ride?
A. In the unlikely event of flooding and/or hurricane/tropical storm warnings, the ride will likely be canceled. Organizers will make every effort to keep riders informed in the days leading up to the ride if such conditions look likely. Be sure to follow the Facebook event page for the latest information concerning the ride. Unfortunately, registration fees are non-refundable if the ride is canceled.
Q. Will the roads be closed for the event?
A. No. This is an open road event so you can expect to be sharing the road with motorists. Event organizers have chosen a route that utilizes some of the quieter roads of the Brandywine watershed, so traffic should be relatively light. Event organizers will also post signs along some of the busier roads prior to the ride warning motorists that cyclists will be utilizing the roadways during the ride time. Major intersections will be policed by volunteers or a flagger force to help ensure the safety of riders.
Q. Are the rides hilly? And will I need to train for this event?
A. Those who are familiar with Chester County will know that we are blessed to live in an area with varied terrain. While the rides are not extremely hilly as we have tried our best to follow the Brandywine River as much as possible, there are several hills on all routes. However, these routes are less hilly than many other routes you could travel in the Brandywine valley. The general elevation gain for each ride is shown below:
25 Mile - around 1,500 ft. of elevation
45 Mile - around 2,750 ft. of elevation
62 Mile (metric century) - around 3,800 ft. of elevation
Riding 45 or 62 miles is a considerable undertaking, even for a seasoned cyclist, so you should plan on preparing in advance for the event with some training. Training over a course of a couple of months, with longer rides on the weekends, will put you in a position to enjoy the ride to the fullest. Those undertaking the shorter route should also plan on a training schedule to get the most from the day.
Q. I registered but am no longer able to do the ride. Can I receive a refund?
A. Sorry, but registration fees are non-refundable. You are still welcome to collect your t-shirt at either packet pick-up or the day of the ride.
Q. Are there maps and cue sheets for the ride?
A. Cue sheets will be made available on the website around a week before the ride. In addition, cue sheets for each route will be made available at both early packet pick-up and at check-in on the day of the ride. A downloadable .gpx file for use in gps devices (Garmin, Wahoo, etc.) will also be available on the website during the week leading up to the ride.
Q. What should I have with me for the ride?
A.
1) Helmet – all riders must wear a helmet to participate in the ride.
2) Water bottles or hydration pack. Rest stops and the start location will have water and Gatorade to refill your bottles or hydration pack.
3) Spare tubes, patch kit, tire irons, pump or compressed air – SAG vehicles will have some spare items but replacing items yourself will likely get you back on the road faster.
4) Ride-provided cue sheet. The cue sheet will help supplement ride signs and road marking along the way. It will also have emergency contact information.
4) Cell phone – this will allow you to communicate with ride organizers and/or the HELP number along the route. It'll also help you track your ride with Strava or other application.
5) ID and any medical cards – just in case of an emergency.
6) Appropriate clothing for the weather.
7) Sunscreen.
8) Any specific snacks you may want to enjoy between rest stops (or if you have dietary restrictions).
Q. What should I NOT bring with me for the ride?
A.
1) Headphones. Riding with earbuds or headphones is strictly forbidden on the ride and is also against the law.
2) Your own support vehicle – in order to minimize the number of additional vehicles on the ride route and to maintain safety for all riders, having personal vehicles follow riders on the route is prohibited.
Q. What support services can I expect on the ride?
A. There will be 1 to 3 rest stops, depending upon route. Rest stops will have hydration and nutrition available to riders, bathroom facilities, a first aid kit, and communication with both Support and Gear Vehicles (SAG) and ride headquarters.
Q. What if I have mechanical issues along the route?
A. All riders should carry spare tubes, a patch kit, tire irons, and either a pump or air canisters to fix flats along the way. SAG vehicles will be traveling the course to help with more serious mechanical issues, and they will respond as quickly as they are able to, but they may be tending to someone else when you need them. You may also contact the HELP number on your cue sheet and ride organizers will do their best to assist you. You should be aware that serious mechanical issues may result in you having to abandon the ride. If this is the case, a support vehicle will bring you back to the start location in Chadds Ford. Again, these vehicles will be covering a wide geography, so please be patient as it may be some time before a vehicle reaches you.
Q. What if I feel I can't complete the ride?
A. Your Cue Sheet contains a HELP number that you should contact if you feel that you are unable to complete the ride. Ride organizers will help in summoning a SAG or other vehicle to collect you and bring you back to the start. Given the wide geography of the ride, this may entail first being brought to the closest rest stop where another vehicle could collect you and transport you back to Chadds Ford. Support vehicles will also be traversing the route throughout the day and if they see a rider who is clearly in distress or in need of help, they will stop and provide whatever support is needed. Your safety and well-being are our top concerns.
Q. What happens if I have an accident on the course?
A. For serious accidents and injuries, your first response should be to call 911 (it is best to ride with a cell phone for this reason).
For minor injuries and accidents, please follow the advice given in the previous FAQ. If the injury is minor, and you feel you can continue onto the next rest stop, first aid kits will be available there, as well as communication to ride headquarters and SAG vehicles.
For information on volunteering with the ride, please send an e-mail to [email protected] or call 610.388.8377.
Presenting Sponsor:
Supporting Sponsors:
The Whip Tavern
Bessemer Equine
Anemoni Jewelers
Holly Gross Group of Berkshire Hathaway Home Services, Fox & Roach Realtors
Wegmans
Chadds Ford Historical Society
Trek Bicycle Delaware
2SP Brewing Company
Starbucks Coffee Company
---
Get your business noticed as a sponsor of Bike the Brandywine. Please email [email protected].