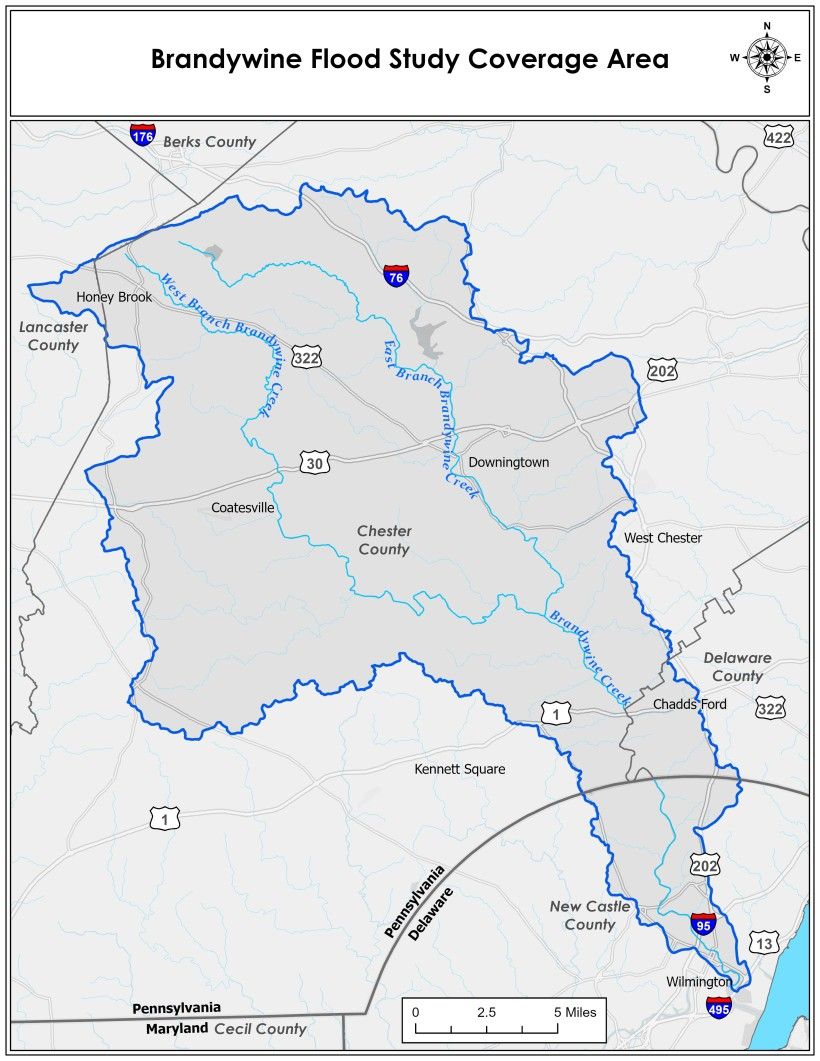 In response to more frequent and extreme flooding events impacting communities along the Brandywine Creek in both Pennsylvania and Delaware, the Brandywine Conservancy is excited to announce the launch of the Brandywine Flood Study—nearly two years after Hurricane Ida produced historic flooding that devastated the region. Conducted in partnership with the Chester County Water Resources Authority (CCWRA) and the University of Delaware Water Resources Center (UDWRC), the flood study is a coordinated effort to better understand where and why flooding occurs and identify the best approaches to protect our communities from future severe flooding events. 
The study will examine flood reduction to the main stem of the Brandywine Creek from the headwaters in Honey Brook, PA, to Wilmington, DE and key tributaries. The study will identify chronic flood sites, develop hydrologic and hydraulic watershed models using the U.S. Army Corps of Engineers' Hydrologic Engineer Center's River Analysis System (HEC-RAS), and provide recommendations for structural and nonstructural flood solutions. This work will provide a deeper understanding of what contributes to the flooding of the Brandywine Creek and what can be done to mitigate those measures.  
 
Once the flood study is completed, the partners are committed to working with impacted communities, elected officials, key funders, and government agencies to implement the study's recommendations so that the watershed and its residents in both states are better prepared, protected and equipped to rebound from future severe flooding events. 
Stay tuned for information on upcoming public workshops.
---
Flood Study Main Goals
Reduce flooding to main stem of the Brandywine Creek in Pennsylvania and Delaware
Coordination with Delaware flood mitigation efforts 
Identify projects for flood attenuation, including pilot projects on Brandywine Conservancy-owned properties that may serve as models for watershed-wide sites 
---
Project Tasks and Timeline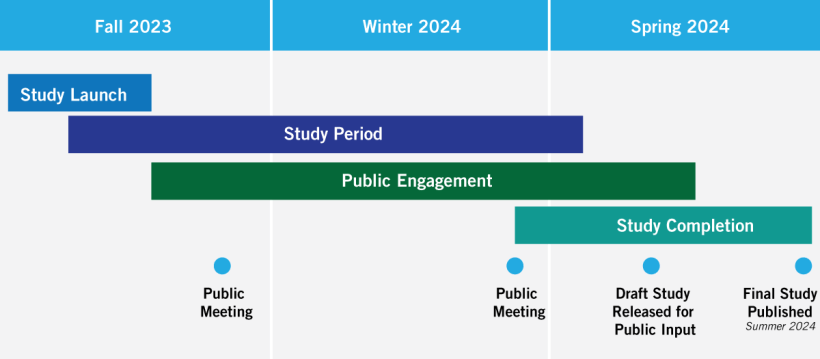 ---
Upcoming Public Meetings
Fall 2023 – Date TBD
Winter 2023 – Date TBD
Spring 2023 – Date TBD
To be informed about upcoming public meetings, please click here to join our email list.
---
Project Partners
Led by:

Additional partners include:
Stroud Water Resources Center, West Chester University, Meliora, Biohabitats, and CDM Smith.
---
Funders:
The Brandywine Flood Study is funded, in part, through grants from Chester County Government and Delaware County Council.
Image

---
Contact Us!
For more information about the Brandywine Flood Study, including progress updates and notifications about upcoming public meetings, click here to join our email list. You can also contact us directly with any questions at [email protected].
---
Header image: Courtesy of City of Wilmington Department of Public Works