Invasive Species Spotlight: Autumn & Russian Olive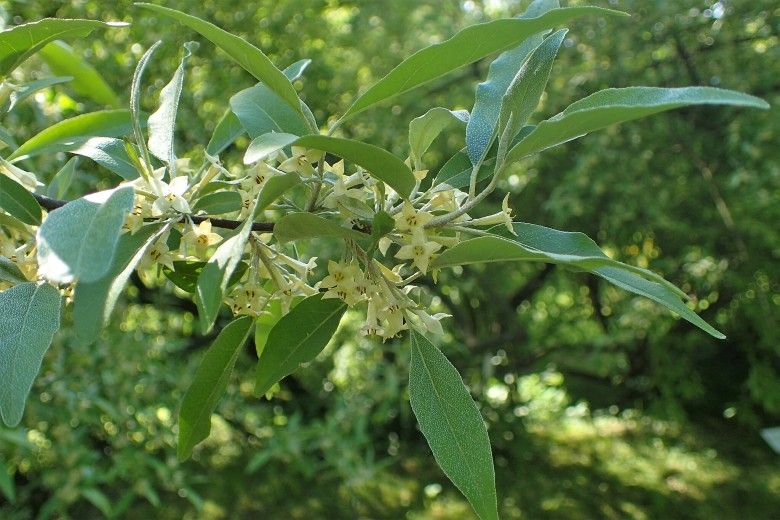 The genus Elaeagnus contains about 100 different species of shrubby trees. In this invasive species spotlight, we will look at two that have become invasive in large parts of the United States: Autumn Olive (Elaeagnus umbellata) and Russian Olive (Elaeagnus angustifolia). Although they have distinct differences, both species are often conflated due to similar growing habits and recommended control treatments.
Description
Autumn Olive and Russian Olive are often multi-stemmed and grow about 20-30 feet in height and width. Leaves are alternately arranged, elongate in shape, and about 2–4 inches long with smooth margins. The leaves on Autumn Olive have silvery scales on the bottom side, while Russian Olive has scales on both sides of the leaf. Bark is darkish brown to gray depending on age, while new stems can be burgundy with silvery scales. Stiff but somewhat blunt thorns can be present on both trees. Both species bloom in May or June with conical flowers that vary between white and pale yellow. Flowers are usually ½ to ¾ inches in length and appear in clusters of 4–6. Fruit appears in late summer and matures into the fall. Russian Olive fruit is more oblong and turns a burnt-orange color when fully mature, while the fruit of the Autumn Olive is more round and bright red with silver specs. Both fruits are edible and contain a single seed that is dispersed mainly by birds.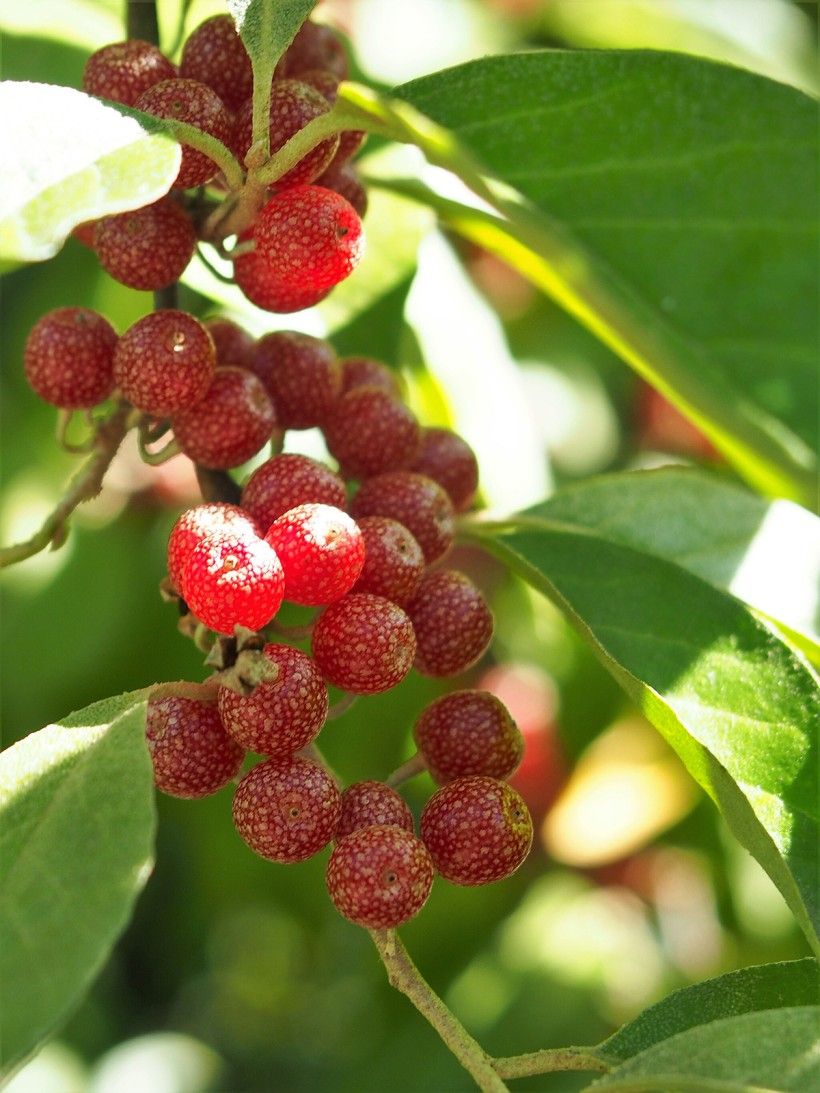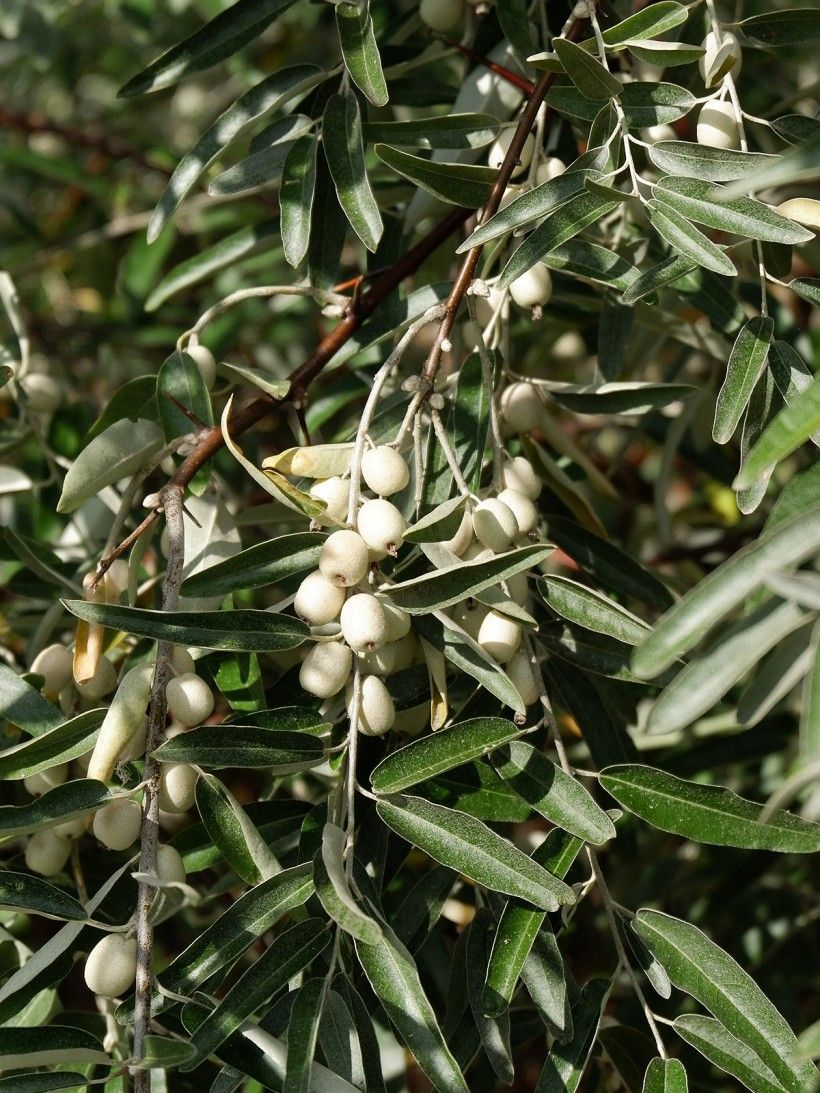 Origin
While Autumn Olive is native to eastern Asia and Russian Olive originated in western and central Asia, both trees were brought to the North America in the 19th century for horticultural purposes. Starting in the 1960s, Autumn Olive in particular was heavily promoted by the U.S. Department of Agriculture as a resilient tree that could be used for windbreaks, streambank plantings, or wildlife habitat on farms. Subsequently, both trees were planted on farms and ranches throughout the Mid-West and eastern U.S. 
Invasive Nature
Both species quickly escaped into the wild and began sprouting up in recently disturbed sites like forest edges, drainage ditches, and roadsides. They are very well suited for early successional areas and can tolerate a wide range of soil types and sun exposure. Once established, large numbers of trees will easily displace or shade out native vegetation. Both species are considered nitrogen-fixers—plants that have the important ecological role of hosting nitrogen-fixing bacteria in their roots. These bacteria convert atmospheric nitrogen into nitrates that are disseminated throughout the soil and become available for plants to absorb through their roots. If invasive nitrogen-fixers take over an area in large numbers, it can result in an imbalance of nitrates in the soil which in turn causes problems with local soil chemistry.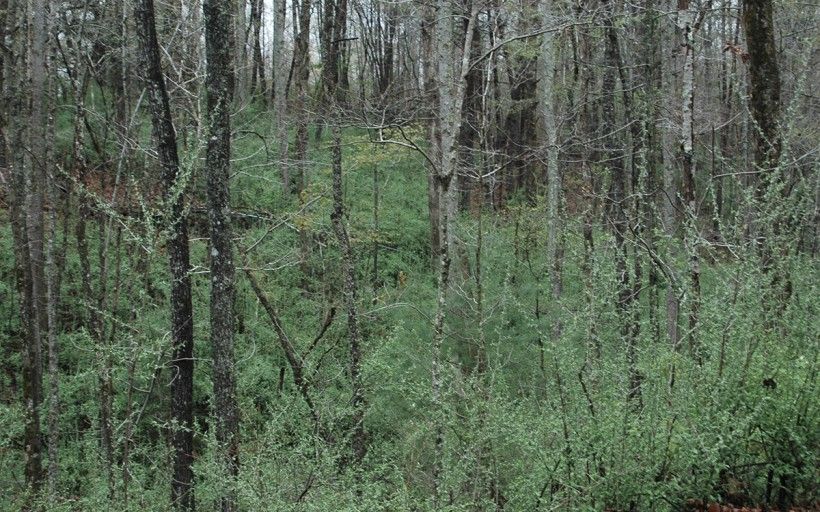 Control
Manually removing Autumn or Russian Olive can be effective if all the roots can be removed to prevent resprouting. However, the most common control method is the "cut-stump" treatment where the stem of larger trees is cut close to the ground then painted with an herbicide. Triclopyr products applied with a brush or spray bottle will do the job. This method is especially effective in autumn when the trees will be pulling nutrients into their roots in preparation for the dormant season. Ideally, herbicide applied at the right time will also be transferred to the roots, effectively killing the entire root ball and eliminating any chance of regrowth. Since Autumn and Russian Olive provide habitat and food for several native birds, it is very important to replace removed trees with a variety of native shrubs and trees that will continue to provide a food source to frugivorous birds. Studies have shown that diverse patches of native vegetation support a much wider variety of birds than a monotypic patch of Autumn or Russian Olive. A few possible replacements include chokeberry (Aronia spp.), Winterberry Holly (Ilex verticillata), and dogwoods (Cornus spp.).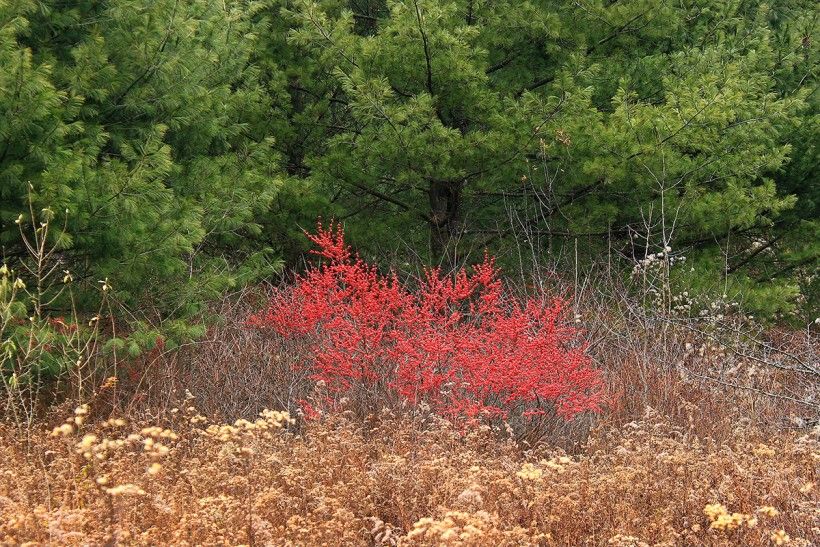 To learn more about Autumn and Russian Olive, check out our 1-sheet summary. 
References:
---
Header Image: Flowers of Autumn Olive (Elaeagnus umbellate). Krzysztof Ziarnek, Kenraiz, CC BY-SA 4.0, via Wikimedia Commons