Invasive Species Spotlight: Lesser celandine (Ficaria verna)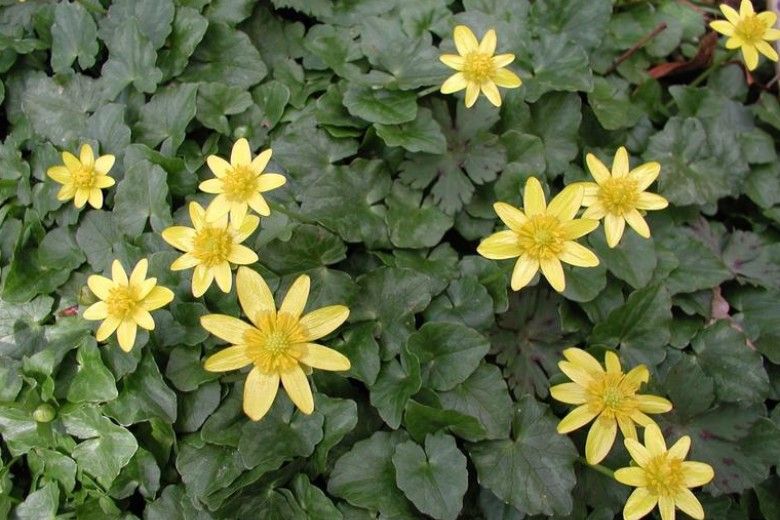 The blooming of ephemeral flowers is one of the early signs that spring has finally sprung, and warmer weather is—hopefully—here to stay. However, not all spring ephemerals are a welcome start to the season. Don't let the sweet buttercup appearance of lesser celandine fool you. This early, sprouting invasive species grows vigorously, quickly forming large mats and outcompeting native ephemerals before they even have a chance. Lesser celandine can wreak much havoc in its short lifecycle which makes early detection and control key to protecting our native nectar sources of spring.
Lesser celandine, Ficaria verna, is native to Europe and parts of northern Africa and Asia. It was introduced to the United States in the late 1860s as an ornamental plant. While it prefers moist soils in forested floodplains, thriving along stream and river banks, it can also grow in drier upland areas. Lesser celandine has been reported throughout the northeastern United States, as far west as Missouri, and even in to the Pacific Northwest. A member of the buttercup family, lesser celandine is a perennial flowering herbaceous plant. It is also known as fig buttercup. The leaves are a shiny, dark green kidney shape with wavy edges. The attractive flowers are bright yellow with eight to 12 petals and reach up to three inches wide. Lesser celandine is low growing, often forming dense ground coverage once established. The plant's shoots typically emerge as early as late January to February with flowers beginning to bloom in March and April. By June, the vegetation has died back and the plant becomes dormant.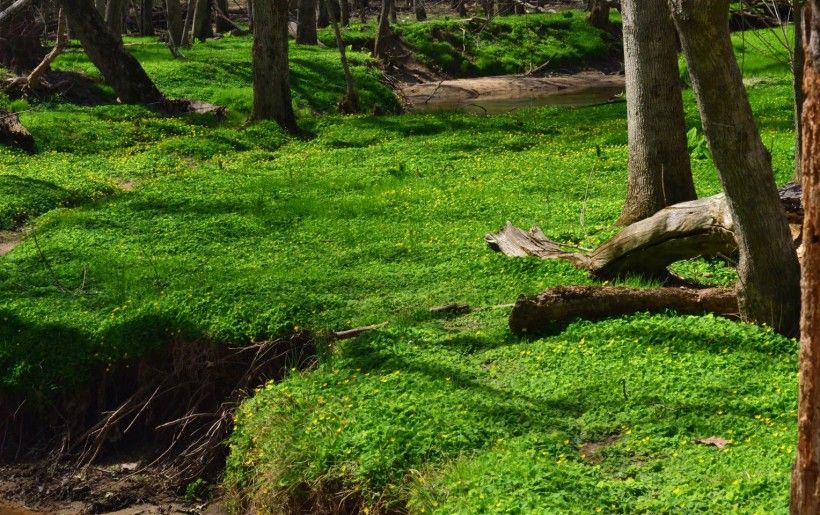 The early emergence of lesser celandine gives this plant a significant competitive advantage over many of our native ephemerals. Lesser celandine utilizes the open canopy for sunlight before trees begin to leaf out for spring. Once established, it will continue to spread, quickly forming a thick blanket covering forest floors. The dense growing pattern will shade out nearly all native ephemerals giving them little to no chance of survival. Insects, therefore, miss out on the important nectar source that native ephemerals provide during a time when other food sources are scarce.
The reproduction system of lesser celandine makes this plant a difficult one to control. It primarily reproduces through bulblets and underground tubers. The tiny bulblets are attached to the leafstalks. Underlying each plant is a mass of finger-shaped tubers that are produced by the roots. Disturbances by animals and environmental factors are what spread the bulblets and tubers. Since lesser celandine is often found along streams and river ways, flood events play a major roll in its spread.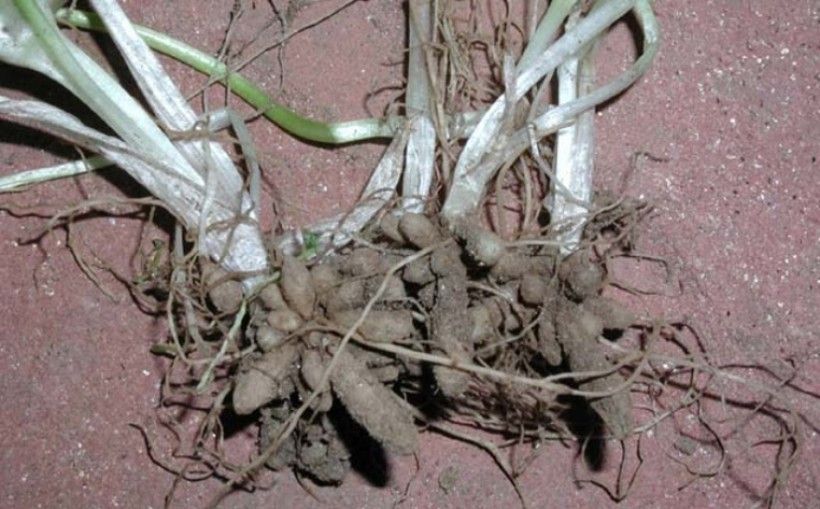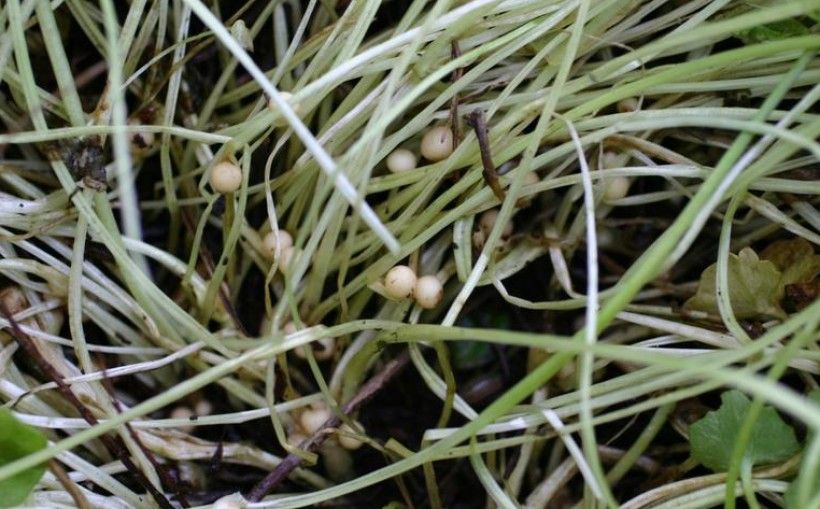 How to Treat:
With much persistence, lesser celandine can be controlled chemically or manually. A 1-2% glyphosate solution can be applied to the plant in March when temperatures are above 40 degrees Fahrenheit. It is important to use a wetland-approved concentration of glyphosate near streams or other waterways. Glyphosate will also impact desirable species, so precautions are necessary to target only lesser celandine. It is imperative to read and follow the herbicide labeling and state requirements. For a smaller-scale infestation, lesser celandine can be pulled or dug up by hand, making certain all bulblets and tubers are removed. Otherwise, the plant will continue to spread. Unfortunately, lesser celandine is still commercially available. All varieties should be assumed to be invasive.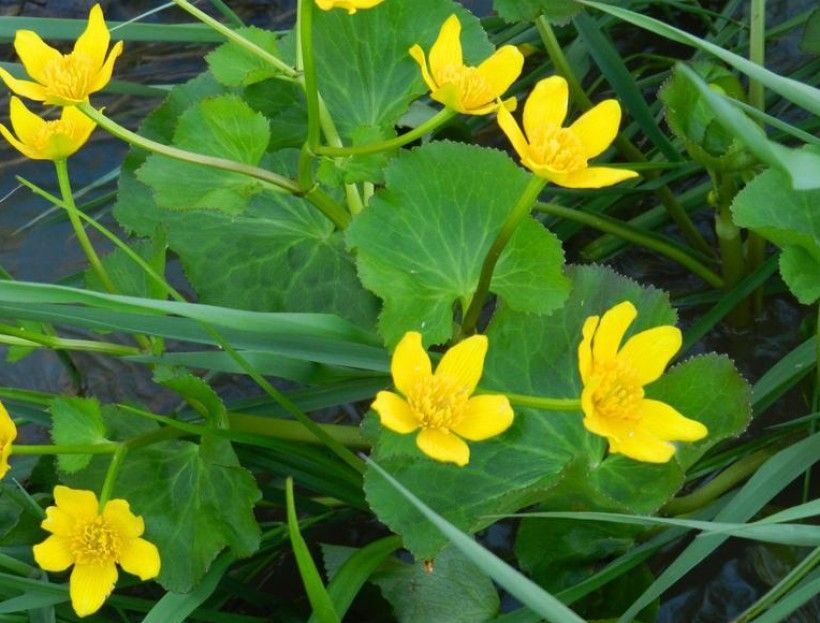 Replanting the area with native alternatives is a great way to help control soil disturbance while replenishing an important nectar source for insects. Lesser celandine is often confused with a desirable native wetland plant called marsh marigold (Caltha palustris). While they have similar leaf shapes and color, marsh marigold flowers only have five to nine petals and it does not produce tubers or bulblets. Other possible native alternatives include wild ginger (Asarum canadense), bloodroot (Sanguinaria canadensis), twinleaf (Jeffersonia diphylla), cutleaf toothwort (Cardamine concatenate), Dutchman's breeches (Dicentra cucullaria), Virginia bluebells (Mertensia virginica) and golden ragwort (Packera aurea). While the lifecycle of lesser celandine may be short, its early emergence and ability to grow and spread in a variety of habitats make it an aggressive invasive species to look out for.
Additional Resources: