Invasive Species Spotlight: Tree-of-Heaven (Ailanthus altissima) and Spotted Lanternfly (Lycorma delicatula)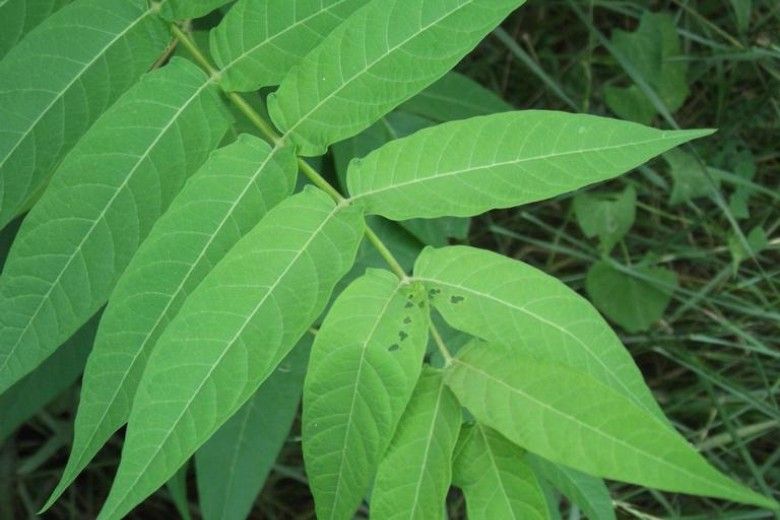 Tree-of-heaven (Ailanthus altissima) is an invasive tree from China. It is a frequent sight along roadways and disturbed forested areas in our region. A prolific seed producer and rapid grower, Ailanthus gains an advantage over other species by producing a toxin—distributed through its root systems—that inhibits the growth of other plants. In addition to its non-native invasive status, it may also serve to harbor an invasive insect species, the spotted lanternfly. 
The spotted lanternfly (SLF) (Lycorma delicatula) is an invasive pest, which is also found in China. It first appeared in the United States in Pennsylvania in 2014. It poses a major threat to our grape and tree-fruit crops, as well as the logging, nursery and landscape industries. The spotted lanternfly attacks fruit trees and other types of trees by feeding on the sap in trunks, branches and twigs. It leaves oozing wounds, indicated by a greyish or black trail along the bark of the plant. The SLF then excretes a substance known as honeydew that can attract bees and other insects. The honeydew and sap also provide a medium for growth of fungi, which can cover leaf surfaces, stunt growth or lead to plant death.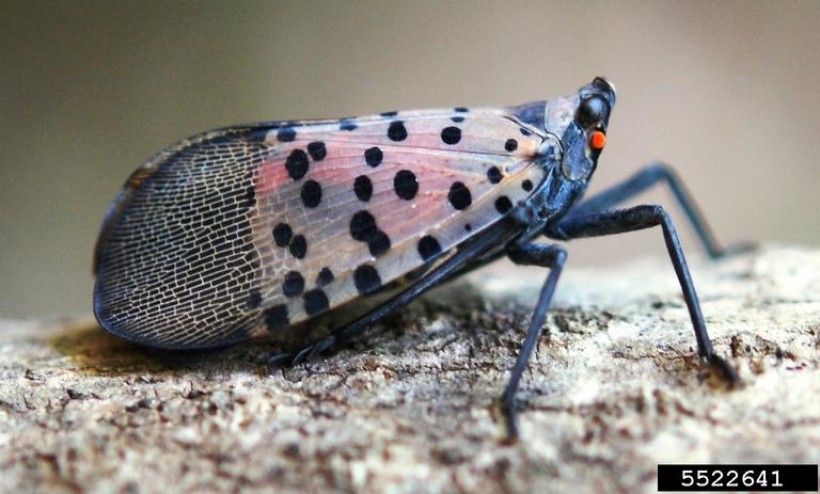 Strategies for controlling these invasive species
Spotted lanternflies show a strong preference for tree-of-heaven in the late summer and fall for feeding and laying their eggs. If you have tree-of-heaven and spotted lanternfly on your property, there are measures you can take to help control the populations of both of these invasive species. The Pennsylvania Department of Agriculture has been using Integrated Pest Management (IPM), which is a strategy to manage pests while reducing the potential pesticide exposure of non-target organisms. The strategy involves destroying approximately 90% of the tree-of-heaven trees on a property and using the remaining trees as "trap" trees. The trap trees are then treated with a systemic insecticide. When spotted lanternfly feeds on the treated trees, they will die. As always, you must apply the insecticide according to the label and at the right time of year for the trees to absorb it. Also, keep in mind that insecticides can be lethal to other insects— in particular, neonicotinoid insecticides are toxic to bees (which do visit Ailanthus flowers) and must be used with extreme care and attention to potential collateral damage.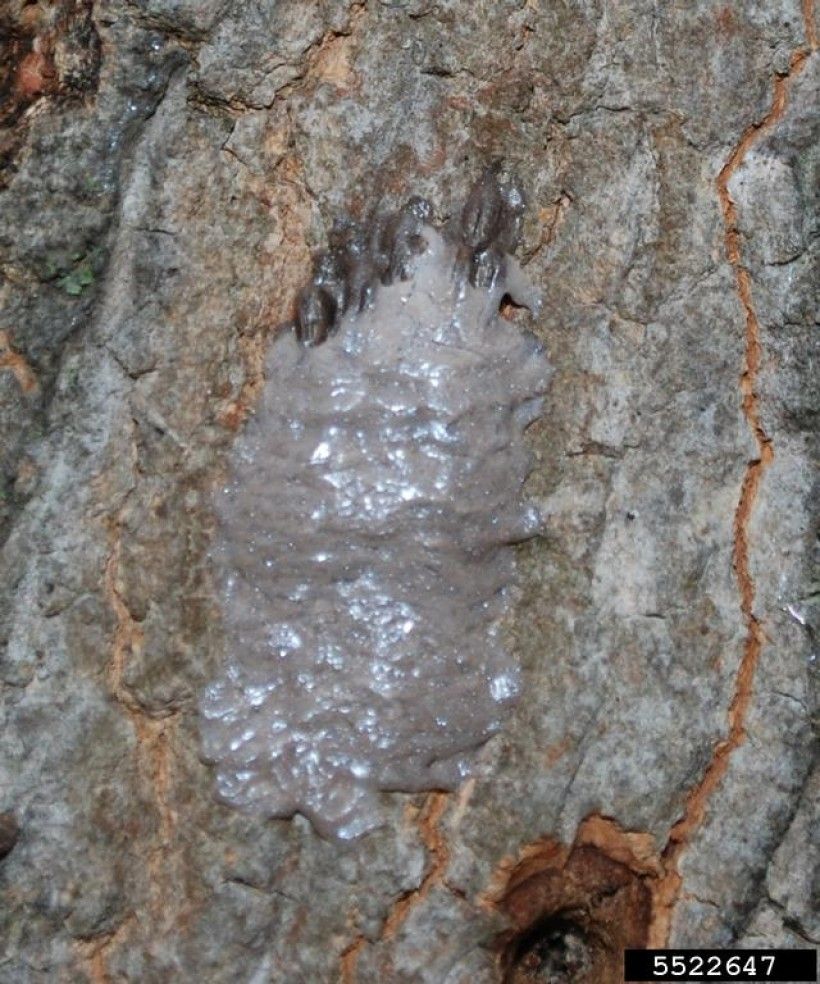 Whether you want to use IPM or just destroy all the Ailanthus trees on your property depends on how many Ailanthus you have, and what risk the spotted lanternfly poses to your agricultural and horticultural activities. If you grow fruit trees, for example, you may want to invest in the IPM method. If you just have a few tree-of-heaven and a few raised beds in your vegetable garden, you may be better off just eliminating the trees and not trying to use the "trap tree" method.
Tree banding is another control method. Sticky bands are wrapped around to trees to capture the insects, then the bands are removed and destroyed. This method is relatively passive and does not use toxic chemicals; however, the bands can capture other insects and creatures.
The Pennsylvania Department of Agriculture has classified the spotted lanternfly as a "public nuisance" because it poses a danger to forests, ornamental trees, orchards and grapes. The Department had previously issued a quarantine order applicable to a Zone that includes Chester, Delaware, Lancaster and Montgomery Counties. The Department very recently (May 25, 2018) issued extremely strong regulations requiring all property owners within the Zone to control or eliminate spotted lanternflies found on their property, by "tree banding, pesticide application, or removal of Ailanthus altissima trees, or any combination thereof, to reduce the available host of the Spotted lanternfly and to decrease the population of Spotted lanternfly." If a property owner does not comply, the Department may implement control measures at the expense of the property owner. Click here for the full text of the regulations.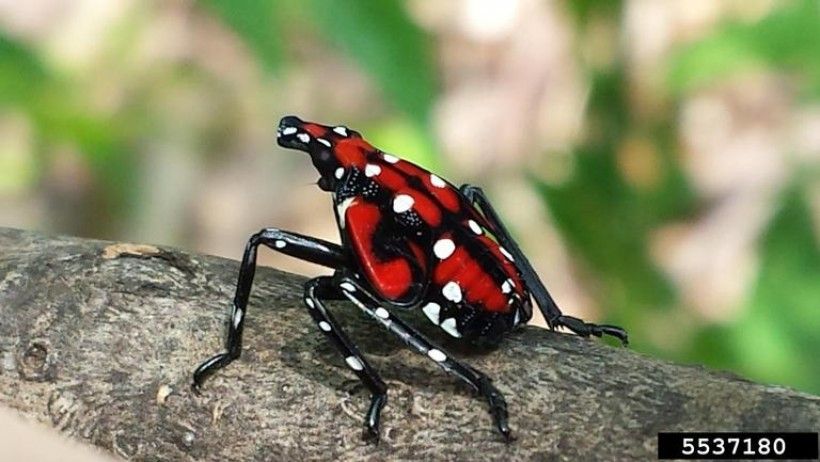 Additional Resources
For more information on what to do if you find the spotted lanternfly, including the IPM strategy, click here.
For more information on identifying tree-of-heaven and distinguishing it from look-alike native tree species, this video may be helpful.
For more on the Spotted Lanternfly, watch this video by Penn State Extension. Tree banding is described in more detail here.