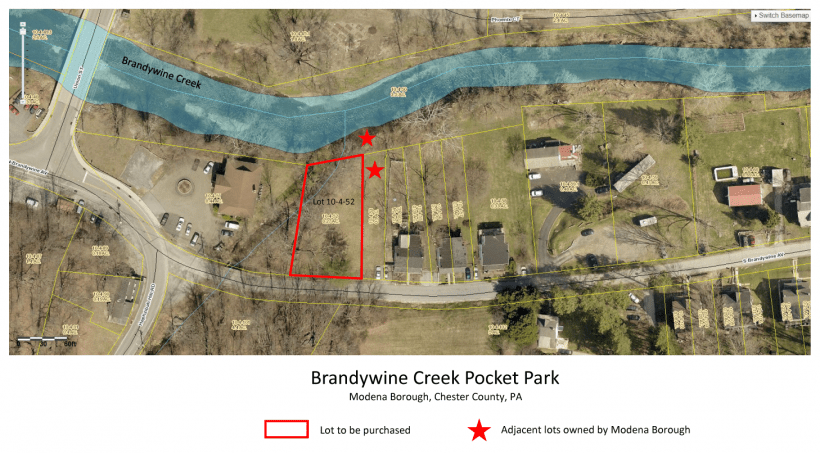 Modena Borough is nestled along the banks of the Brandywine Creek south of the City of Coatesville in Chester County. Despite its small population of 500, Modena is an active partner in the Brandywine Creek Greenway regional planning initiative of the Brandywine Conservancy. A key objective of the Greenway is to focus on urbanized areas, such as Modena Borough, to expand open space and recreational opportunities along the Brandywine.
In early 2019, the Conservancy became involved in a project that was 17 years in the making! In 2002, a fire burned down a private residence that occupied two residential lots in Modena Borough. The landowner soon decided to abandon the property and to convey both vacant lots to Modena Borough for open space protection. One parcel was successfully conveyed to the Borough but, for reasons unknown, the second parcel was never formally conveyed. For the next 17 years neither the landowner nor the Borough were aware of the situation with the second lot, and unpaid property taxes continued to mount.  A new Borough Council member discovered the issue in 2018. Fortunately, after all those years the landowner still wished to donate the parcel to Modena Borough, but neither the landowner nor the Borough had the resources to cover the back taxes.  
Conservancy staff learned of the dilemma of the orphaned 0.27-acre waterfront lot. In March 2019, the Conservancy submitted a grant proposal to the GreenWatch Institute on behalf of Modena Borough requesting funds to pay the outstanding taxes which totaled $6,228.98. In April 2019, the grant was awarded and Modena Borough immediately began proceedings with the landowner to pay the over-due taxes and take title to the orphaned lot. Now that the lot has finally changed hands, Modena Borough Council looks forward to turning it into a small municipal pocket park. The pocket park is adjacent to an additional 3.6 acres of municipal property. Thanks to its partnership with the Brandywine Conservancy and the Brandywine Creek Greenway, Modena Borough's residents and the public now can enjoy 3.87 acres of passive open space along the west branch of the Brandywine Creek in Modena.