5 Ways to Celebrate Andrew Wyeth's Birthday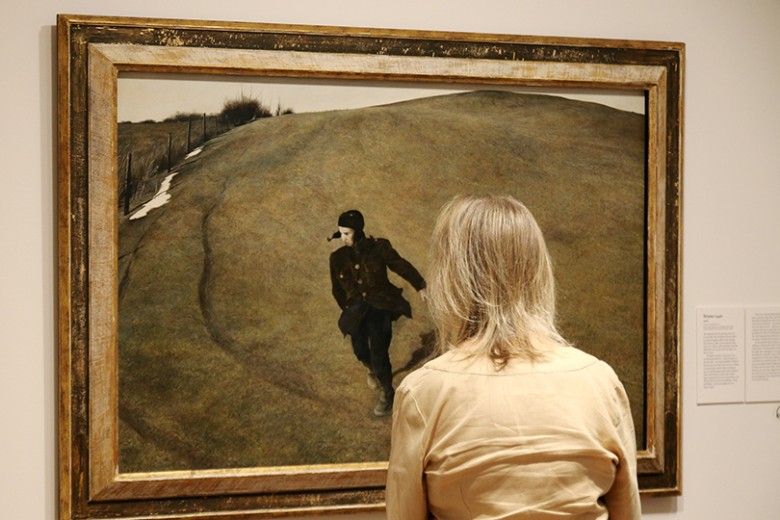 Around the middle of the summer each year, a glorious day arrives where we get to spend its entirety celebrating the life and work of artist Andrew Wyeth. Born right here in Chadds Ford, Pennsylvania on July 12, 1917, Wyeth went on to achieve international acclaim for his artwork—a majority of which focused on this beautiful part of the country and the people who call it home.
Here are five fun ways to celebrate the birth of Andrew Wyeth and his incredible legacy, whether you are in Chadds Ford or honoring him from across the globe:
According to artist Jamie Wyeth, Andrew's son, "The world of Andrew Wyeth is best understood by a visit to his studio."  
This studio—a National Historic Landmark—served as the artist's principal Pennsylvania workplace from 1940 to 2008. Thousands of paintings and drawings were created there, inspired by the people, architecture and landscapes of Chadds Ford. The studio still houses the furnishings, library and collections acquired by the artist, as well as examples of the art materials he used throughout his career. Given to the Brandywine River Museum of Art by the artist's wife, Betsy James Wyeth, the studio provides visitors with a unique opportunity to experience this very personal space.
WYETH, directed by Glenn Holsten, will be broadcast during PBS' American Masters on September 7, 2018 (check your local listings). Click below to view a sneak preview of this exquisite documentary!
"WYETH tells the story of one of America's most popular, but least understood, artists — Andrew Wyeth. While his exhibitions routinely broke attendance records, art world critics continually assaulted his work. Through unprecedented access to Wyeth family members, archival materials, and his work, WYETH presents the most complete portrait of the artist ever - bearing witness to a legacy just at the moment it is evolving." – www.AndrewWyethMovie.com
A Piece of the World by Christina Baker Kline is a powerful novel (and a great summer read) about the woman who inspired one of Andrew Wyeth's most famous paintings, Christina's World. The author weaves together fact and historical fiction while recounting the story of Christina Olson, her complicated relationship with her family and past, and her special bond with one of our greatest modern artists.
You can also add Christina's World to your collection as an art print or—for the serious collector—a limited-edition giclee print using archival pigment inks. These items, and many others, are available at our Museum Shop.
4. See Wyeth's artwork in person – with the one you love
Andrew met his wife Betsy on his birthday in 1939. What better way to celebrate the day than strolling through the galleries discussing Wyeth's incredible body of work with your special someone.
Museums and private collectors across the globe boast exciting collections of Andrew Wyeth's work but here are two that have a unique take on the artist's legacy:
Brandywine River Museum of Art
We may be tooting our own horn here, but the Brandywine features some of the artist's most iconic works, as well as renowned artwork by his father N. C. Wyeth (acclaimed master illustrator), his son Jamie Wyeth, and his sisters, Carolyn and Henriette Wyeth. Viewing artwork by the artist's family paints an incredible picture of his creative influences, home life, and how he ended up with his very specific color palette. You can also visit the house where Andrew Wyeth grew up and see family pictures, books and the studio where his father, N. C., and his sister Carolyn gave him his first art lessons.
Farnsworth Art Museum
Andrew Wyeth grew up in Chadds Ford, PA, but his family spent summers in Maine. At the Farnsworth Museum in Cushing, Maine, you can view artwork that reflects Wyeth's love of the fishing community the state is known for and even visit the Olson House, which is pictured in Christina's World.  Also, on view now through February 3, 2019, you can catch Andrew Wyeth: Temperas and Studies from the Wyeth Collection.
Andrew Wyeth lived to be over ninety years old and his life and travels are just as intriguing as his artwork. Check out this timeline from AndrewWyeth.com that showcases rarely seen archival photos from Wyeth's life including family pictures, awards, programs from various exhibitions, and some of his earliest artwork.