The Calming Nature of Yoga at the Brandywine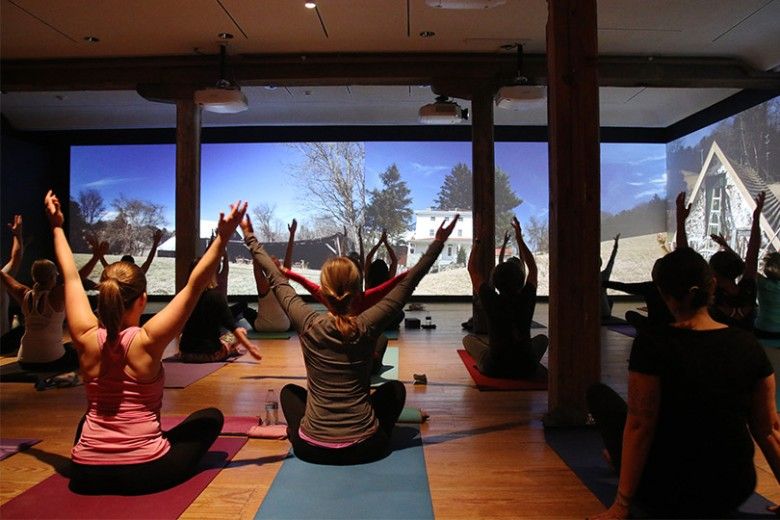 On November 9, a group of yoga enthusiasts met at the Brandywine River Museum of Art's third floor gallery for a session of restorative yoga surrounded by contemplative images of the Brandywine River.
The class laid out their mats and enjoyed an hour of calming, quiet yoga instruction surrounded by the stunning landscapes of rushing water, nuzzling horses, and falling snow all shot along the Brandywine River as a part of Dylan Gauthier: highwatermarks. The exhibition, which includes a sixty-foot long floor-to-ceiling video projection, is the culmination of a year-long residency by artist Dylan Gauthier who examined the river, the communities that surround and shape it, and the work the Brandywine Conservancy has done to protect the waterway.
If you missed the chance to attend this one-of-a-kind yoga experience we will hold another restorative class in our highwatermarks exhibition on December 7.
If you'd like to dive even deeper into the history of the Museum and the Wyeth family of artists who were vital to its founding, join us for Art, Nature and Yoga at the Brandywine December 3. This event will include a yoga class set against the backdrop of highwatermarks, followed by a light breakfast, a guided hike through the Brandywine Conservancy & Museum of Art's campus and Wyeth Artist Studio trails, private tours of the N. C. Wyeth House and Andrew Wyeth studio, and will end with a delicious lunch at our Millstone Café.
Though our November 9 class marks the first time we have offered yoga in our galleries, a committed group of yoginis gather year round at the Museum to engage in a peaceful yoga practice surrounded by the native gardens and winding trails that fill our campus.
Nora Sadler, longtime Brandywine Conservancy & Museum of Art gardener, organizes the group composed of staff and members of the community that has been meeting for close to ten years.  A small group of professional instructors rotate to lead each class including Sandy Hayes, who led our November 9 event. Hayes, pictured below with Sadler and another student, has practiced yoga for 15 years and taught for the past ten in Chester County. Her teaching skills are adapted to yoga practitioners of all levels, and she works with students to help them gain self-awareness, learn how to sense their own intuition, and grow more confident both on and off the mat.
Surrounded by the timeless beauty and stillness of our native plant gardens, the group meets Monday and Thursday afternoons from 5:15 p.m. to 6:30 p.m. at 10 Station Way Rd., Chadds Ford, PA – a property owned by the Brandywine Conservancy & Museum of Art and offers both drop-in rates for individual classes ($15) and rates for a set of ten classes ($100). Newcomers are welcome to attend their first class for free.
For more information regarding Brandywine yoga classes, please contact Nora Sadler at nsadler@brandywine.org or 610. 388.8104.
The Brandywine Conservancy & Museum of Art's weekly yoga class held on our campus at 10 Station Way Road, Chadds Ford, PA