Island Funeral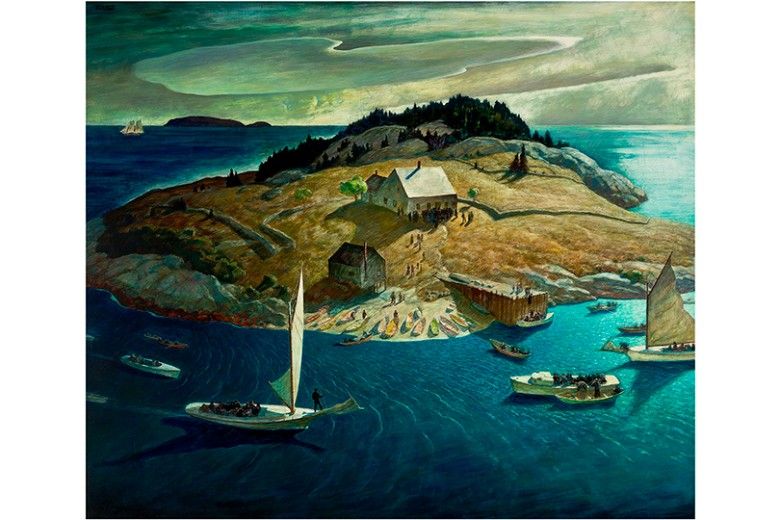 Among the many paintings, prints and drawings the Museum received in this 50th anniversary year, one of the most significant is N. C. Wyeth's magnificent Island Funeral, given by E. I. du Pont de Nemours and Company. Area residents may have seen the painting in the Hotel du Pont, Wilmington, where it hung for many years in the Christina Room. What's the story behind this amazing painting?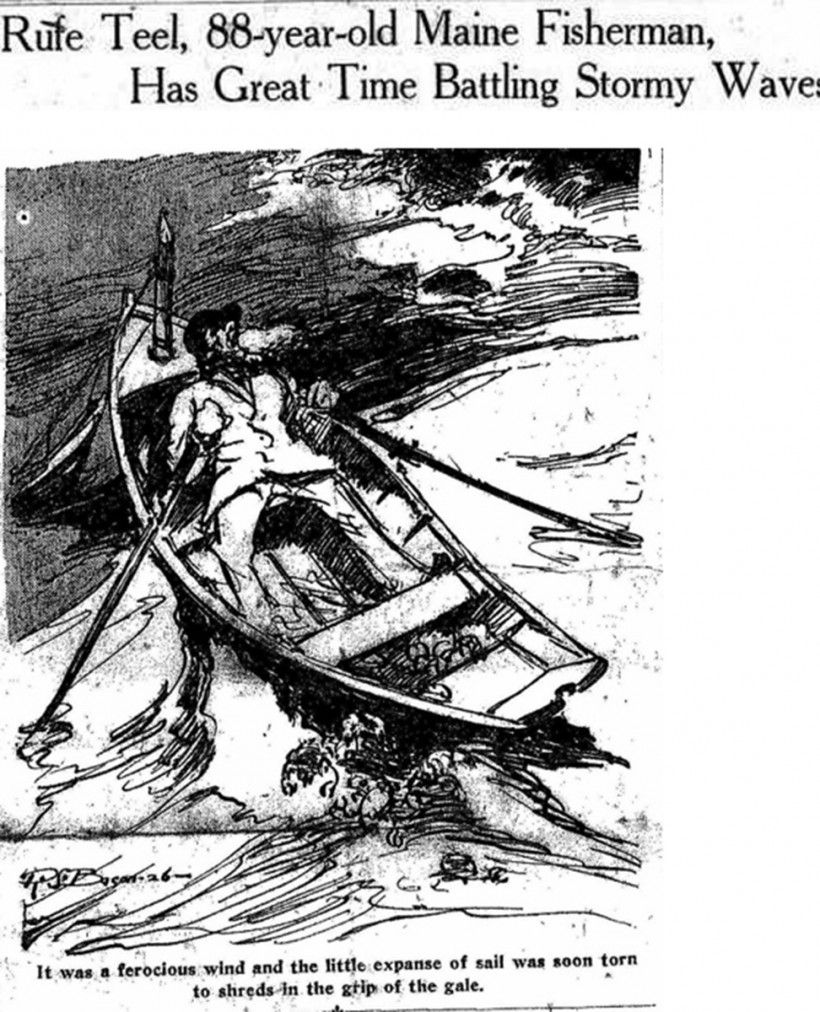 One day in September, 1935, the Wyeth family sat on the porch of "Eight Bells," their summer home in Port Clyde, Maine, and watched as a flotilla of boats passed on the way to nearby Teel Island and the funeral of Rufus W. Teel. Teel was born and lived his whole life, about 97 years, on the island, working as a lobsterman. Teel became somewhat of legend in mid-coast Maine, as an unidentified article from a 1926 newspaper proves.   
The visual imagery of the boats approaching Teel Island for the funeral stayed with N. C. Wyeth and he produced a quick sketch of a composition that he would develop into one of the most arresting paintings of his career.  While Wyeth would complete at least one more detailed, larger composition drawing, this first sketch has all the compositional elements of the final painting: the aerial perspective (called a "bird's eye view") that allowed Wyeth to depict the whole island, the light source from the right side of the image creating dramatic shadows, and a hint of the abstract cloud formation in the sky.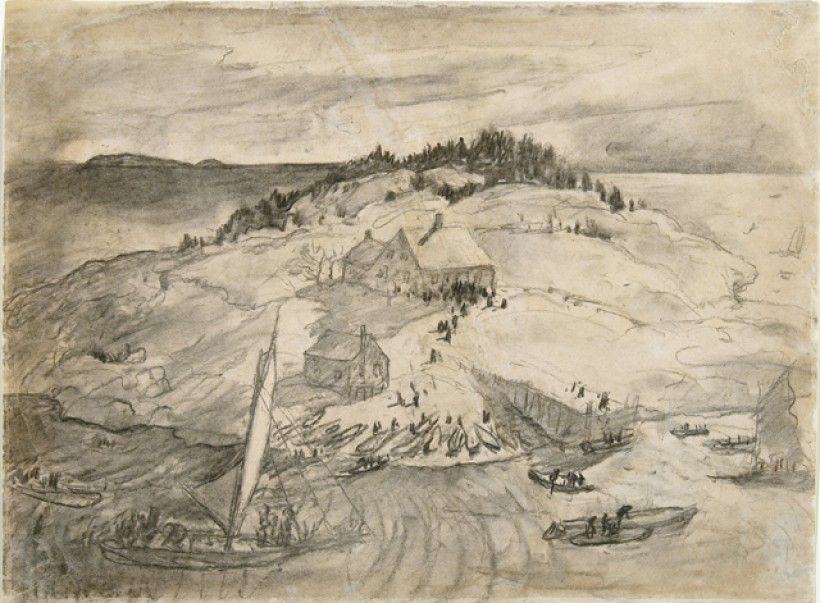 In his Chadds Ford studio, Wyeth decided to paint Island Funeral in egg tempera on a gesso panel. Part of the process involved texturing the surface of the gesso, which Wyeth did with a sharp point, such as a stylus or the end of a brush. In some areas, the gouged lines enhance the painted image; in other areas, the gouged lines are more randomly applied. The overall surface texture energizes the image and adds visual interest.
One of the most striking features of the painting is the intensity of the blues and greens Wyeth used. These colors were the result of an informal collaboration between the artist and the DuPont Company. Chemists employed at the company's Jackson Laboratory provided Wyeth with pigments made from "Monastral Fast Blue B" and "Monastral Fast Green G," two vibrant, light fast dyes that had been recently developed at DuPont.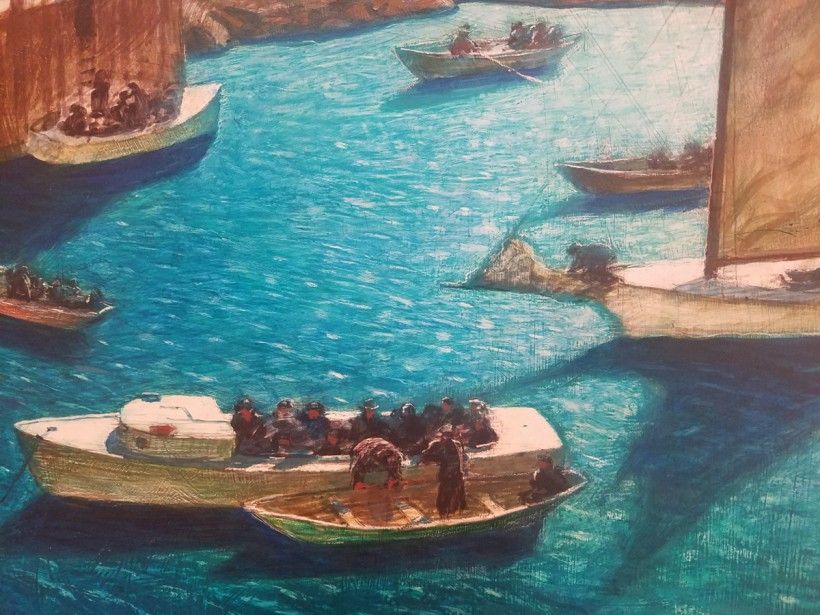 N. C. Wyeth organized his first and only one-artist gallery exhibition at New York's Macbeth Gallery around Island Funeral. The exhibition's purpose was to present Wyeth as an artist rather than an illustrator. All his life, he struggled to shed the pejorative connotations associated with illustration, and more than any other painting, Island Funeral, in composition, color and expression demonstrates his consummate artistry.  The painting is on display now at the Brandywine River Museum of Art.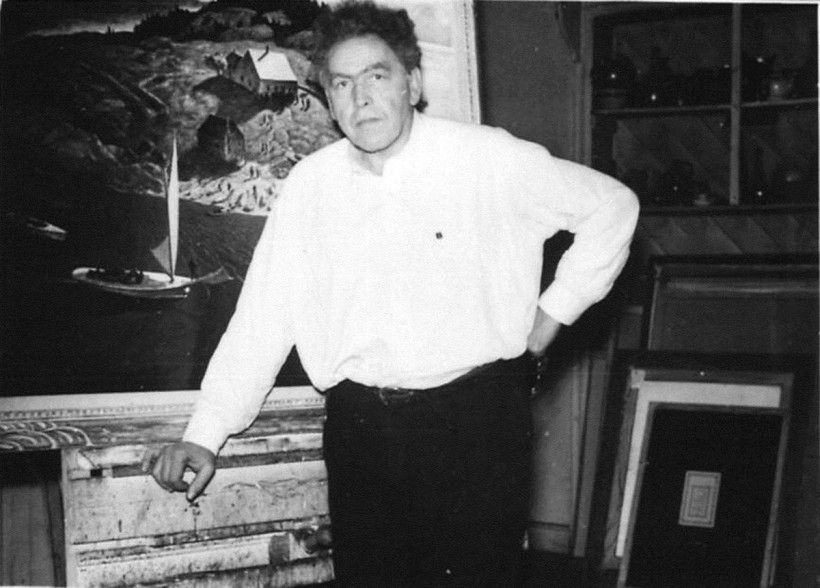 ---
Header Image: N. C. Wyeth (1882-1945), Island Funeral, 1939, Egg tempera and oil on hardboard, Gift of E. I. du Pont de Nemours and Company in honor of the Brandywine Conservancy and Museum of Art's 50th Anniversary, 2017