Dazzle Your Little One's Senses (or Keep Them Calm) at the Museum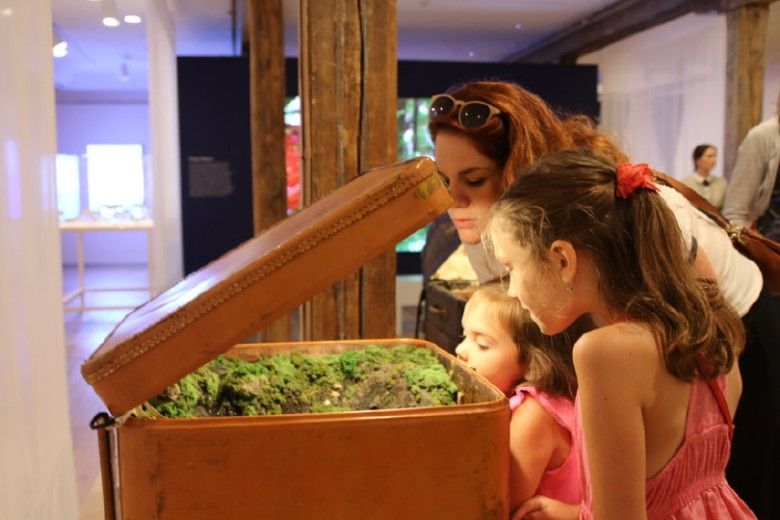 As guest curator, Suzanne Ramljak, points out, Brandywine's newest exhibition, Natural Wonders: The Sublime in Contemporary Art is a "wonderland" for the senses, offering bursts of color alongside intricate details, gentle sounds of water, and an array of enticingly tactile materials. Two specific areas feature works that change as you walk around them, encouraging movement, and several include elements of light.
Visiting this gallery with children – particularly children who are easily overstimulated - may seem daunting, but the experience of seeing these works firsthand is well worth it, and Brandywine provides resources to ensure that viewing the exhibition is an inclusive activity for all. 
Children are most comfortable when they know what to expect. (And frankly, aren't adults as well?) Brandywine has created a social story that provides a visual narrative of a visit to the museum (entering the building, buying tickets, encountering security guards, and more). The document is designed for individuals on the autism spectrum but it offers useful preparation for most children. In addition to reading the social story, it is helpful to educate children about how to safely view of a work of art prior to visiting. At home a family could practice how to take two steps back from an object. Then, in the gallery, parents can give their children a familiar "two steps back" reminder if they get too close to a work of art.
Brandywine also offers PECO Sensory-Friendly Museum Packs free of charge for families to borrow from the Visitor Services desk which tools to assist individuals who are prone to overstimulation. First, families will find a hand-held version of Brandywine's social story. They can flip through this to review how to navigate the building, where to take a break, and appropriate behavior in the galleries.
Each pack contains a sealed baggie of fidgets. Fidgets are small, hand-held toys to help with focus, attention, calming, and active listening. Along with their proven benefits for focus, fidgets are also great at keeping hands busy, particularly in an environment with objects that are tempting to touch.
Noise-cancelling headphones are also provided in the pack. Brandywine's three-story window-lined atrium offers a stunning view of the landscape, but for some visitors the open space permits too much sound to travel, causing distraction and sensory overload. Many visitors will find the sound of trickling water in the Natural Wonders exhibition peaceful, but for those who find it overwhelming – or for those who can't ignore the conversations of other visitors - the headphones can reduce the sound.
The packs also include a handout with questions and prompts that will encourage visitors to look at the art on view, think about it, and discuss it. The prompts can break down the act of looking into specific goals such as identifying colors or types of lines while giving the viewer an object to hold.
Lastly, Brandywine provides a comfortable seating area just outside the gallery for any necessary breaks. (And we all need breaks!) Comfortable chairs face the windows overlooking the Brandywine River allowing families to continue viewing the marvels of nature, which is what Natural Wonders is all about.
---
If you would like to learn more about sensory-friendly programs and initiatives at Brandywine or would like to join our community advisory committee, contact Laura Westmoreland at LWestmoreland@brandywine.org or 610-388-8120.