Grow Your Own Crystal Ornament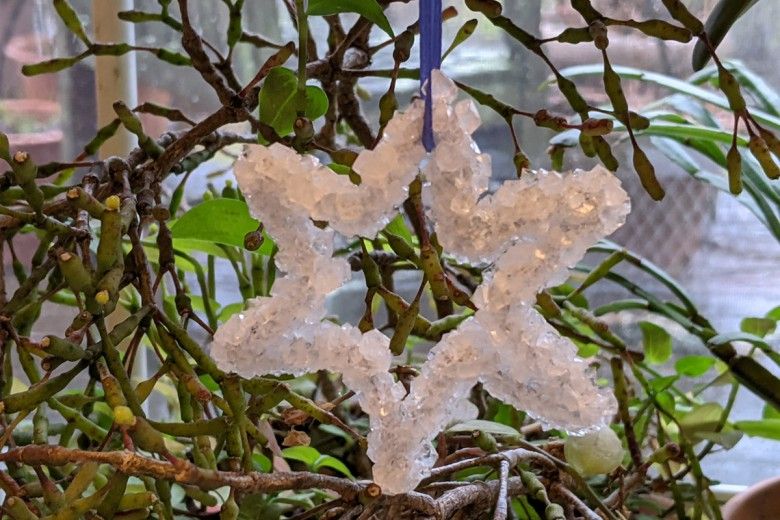 Grow your own crystals into shapes you design to capture the glittery sparkle of winter! This project is fun for all ages but children should ask an adult to help with the hot water.
Image

Supplies:
You will need:
Wide-mouthed glass jar
Boiling water (you will need enough water to almost fill your glass jar, and then set it aside)
Borax
Liquid measuring cup 
A tablespoon measure
Table knife or stirring stick
Pipe cleaner
Pencil
String
Food coloring (optional)
---
Image

Step 1:
Bend your pipe cleaner into whatever shape you would like for your ornament. Make sure your shape fits easily into your glass jar with extra room on the sides and plenty of space around the mouth of the jar. (Once the crystals have formed, the pipe cleaner shape will be a bit wider and will no longer bend so it will be harder to remove if you don't leave ample space.) Twist the pipe cleaner and cut off any extra length.
---
Image

Image

Step 2:
Tie a piece of string to the shaped pipe cleaner. Tie the other end of the string around the middle of a pencil so that the pipe cleaner shape can hang in the jar without touching the bottom when the pencil rests across the top of the jar.
---
Image

Step 3:
Take the shape out of the jar and measure how much water you need to fill the jar about ¾ full. If your water has cooled down you can microwave the jar of water for a minute or two. Remember, the jar will be very hot! Use oven mitts to hold or move the jar. Add 3 tablespoons of Borax for every cup of hot water you used. Use your table knife to stir until as much of the Borax is dissolved as possible. If you don't see any tiny pieces floating around you can add another tablespoon of Borax and stir some more to make a saturated solution. Optional: If you'd like to make a colorful ornament you may add a few drops of food coloring during this step. Colors will fade over time, however, leaving a white crystal.
---
Image

Step 4:
Hang your pipe cleaner shape in the jar so that it is completely covered by the solution and does not touch the sides or bottom of the jar. Let it sit in the solution overnight. 
---
Image

Step 5:
The next day, gently remove the crystal-covered shape and hang it in an empty glass or across two glasses to dry.
---
Image

Step 5:
Once dry, add some string and hang up your crystal ornament to enjoy as a decoration!