A Holiday Fantasy: The Ann Wyeth McCoy Doll Collection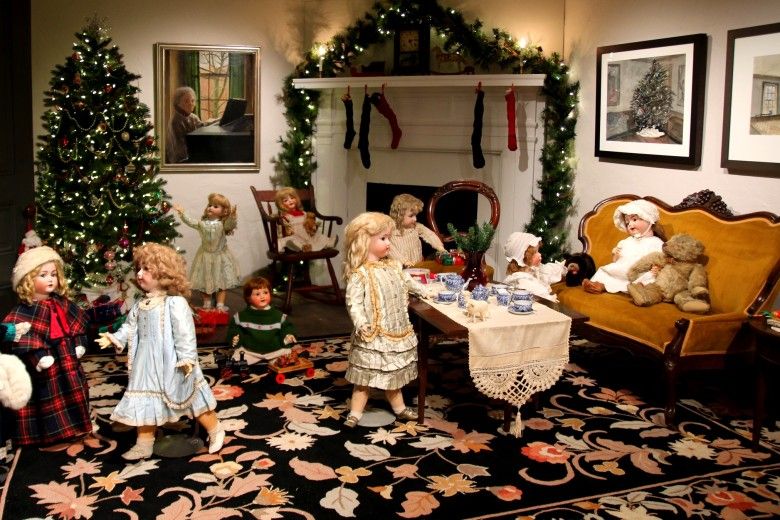 The Brandywine River Museum of Art is all "dolled up" for the holidays with our famous antique doll display on view now through January 8.
A stunning collection of antique dolls fills an entire gallery! On one side are six rooms from a large-scale dollhouse, featuring three dozen dolls "at home" with hundreds of miniature objects, remarkable in every detail. Larger dolls, up to 30 inches tall, are on view nearby in two holiday vignettes. The dolls are from the collection of artist and composer Ann Wyeth McCoy (1915-2005), who collected them throughout her life.
Building a Beautiful Collection
Ann Wyeth McCoy received her first dollhouse in 1966 from her husband, artist John McCoy. He renovated an outdoor shed, dividing the interior into two floors and six main rooms, adding a bow window, a chimney and a front porch.
Mrs. McCoy decorated the rooms and furnished them with every imaginable piece of furniture, rugs and other accessories. Some of the furniture was handcrafted by John McCoy and by Nathaniel Wyeth, Ann's older brother. Ann made rugs, curtains and bedding for the house and still other pieces were purchased from antique shops. Over the years, members of her extended family delighted in adding elements to her dollhouse vignettes: a tiny photo album assembled by her nephew, artist Jamie Wyeth; a painting by her brother-in-law, Peter Hurd; and an ornate Victorian-style bed given by her sister-in-law Betsy, are only some of the enchanting details to be discovered in the rooms. Mrs. McCoy especially enjoyed decorating the dollhouse for the holidays, and her taste is reflected in the display.
"I played with dolls all the time as a little girl, just the way my brothers collected their soldiers, and spent hours and hours on the floor with them," said Mrs. McCoy in an interview in the 1980s. She received her first bisque doll as a Christmas present when she was eight years old. For many years following, at Christmas or her birthday, a fine doll was a treasured gift. Many of these dolls are on view during A Brandywine Christmas.
Some clothes were designed by Mrs. McCoy using antique fabrics, although some dolls are dressed in their original clothes. The large dolls were a generous gift to the Museum by Mrs. McCoy's daughter, Anna B. McCoy. 
The Heartwarming History of the Large Doll Display
N. C. and Carolyn Wyeth gave their daughter Ann her first large doll on her eighth birthday in 1923; subsequent birthdays and Christmas holidays during her childhood and adolescent years were marked with additional dolls. As an adult, Ann McCoy focused on collecting antique dolls made between 1895 and 1925.
Most of the McCoy dolls in the museum's collection are bisque figures made by German and French manufacturers.
The dolls have been an important feature of the Brandywine's holiday exhibitions since 1972. Ann and John McCoy designed the early doll displays featuring a winter landscape and an interior tree-trimming tableau. After John McCoy's death in 1989, Ann recreated the doll display for nearly two more decades until her last exhibition in 2004. The Brandywine's exhibition recreates the spirit of the McCoys' holiday tradition.
Christmas with the Dolls
Have a young doll enthusiast in your family? Bring your favorite doll to the museum for a morning of creative crafts and light refreshments at Christmas with the Dolls December 17, 11 a.m. to noon. Participants will cut and color paper dolls based on Brandywine's Ann Wyeth McCoy doll collection, make matching bracelets for themselves and their dolls, and enjoy an informal tea party. Best for ages 3 and older accompanied by an adult. Reserve tickets online today!