Imagine Brandywine: A True Collaboration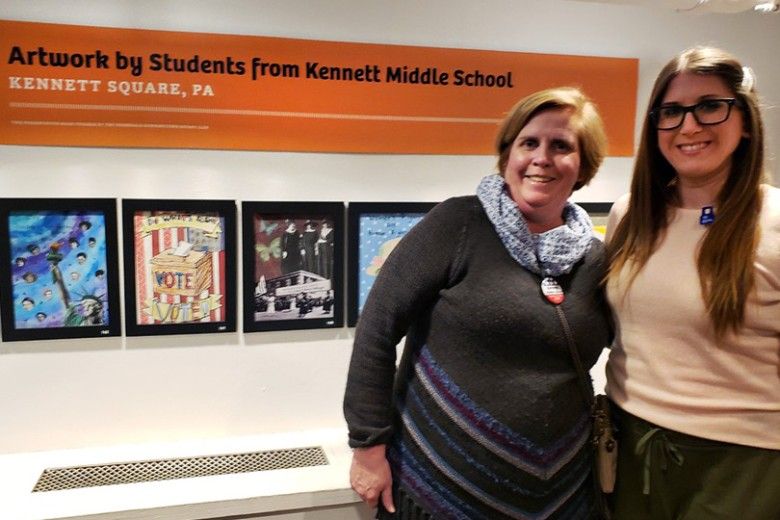 Brandywine's monumental Votes for Women: A Visual History exhibition presented a wonderful opportunity to collaborate with local teachers and students for an Imagine Brandywine exhibition. 
Votes for Women focuses on the 100th anniversary of the Nineteen Amendment to the Constitution which granted women the right to vote—although many voting struggles persisted for marginalized groups following its ratification. Since the exhibition presents interesting connections to both art and social studies curriculum, Museum staff reached out to Maryanne Uhl, the art teacher for Kennett Middle School, in Kennett Square, PA, who readily agreed be a part of the accompanying Imagine Brandywine exhibition.  
Over the course of many months, Amanda Burdan, Ph.D., the curator for Votes for Women, assisted Uhl by sharing historical information on the visual aspects of the Suffrage Movement. Uhl also collaborated with history teacher Shana Welch, who fact-checked the artworks and even offered those students who completed works extra credit in her class.   
For the exhibition, Uhl's students produced over 160 contemporary posters utilizing typography, drawing, painting, photo manipulation and collage. The students had the option to make their posters either for or against women's right to vote. Upon receiving the artwork from the school, education staff along with Burdan and her intern Sadie Patterson—a student at Avon Grove Charter School—began the process of organizing and designing the layout of the show. Burdan explained the history of the incredible imagery the students used in their projects. After deciding on the layout, education staff and Museum volunteers worked together to hang the final show.  
In early March 2020, the student artists, their family and friends, and the Kennett Middle School staff were invited to the Museum for an opening reception of their Imagine Brandywine exhibition. This event allowed students to see their work on view at the Museum—and enabled Museum staff and volunteers to mingle with the students and thank the artists for sharing their talents.   
This collaboration among Brandywine and Kennett Middle School staff and students resulted in a fascinating display of over 160 works of art that create a colorful and memorable experience for Museum visitors. The work by Kennett Middle School students will be on view through October 11, 2020.