Mandala Flower Vase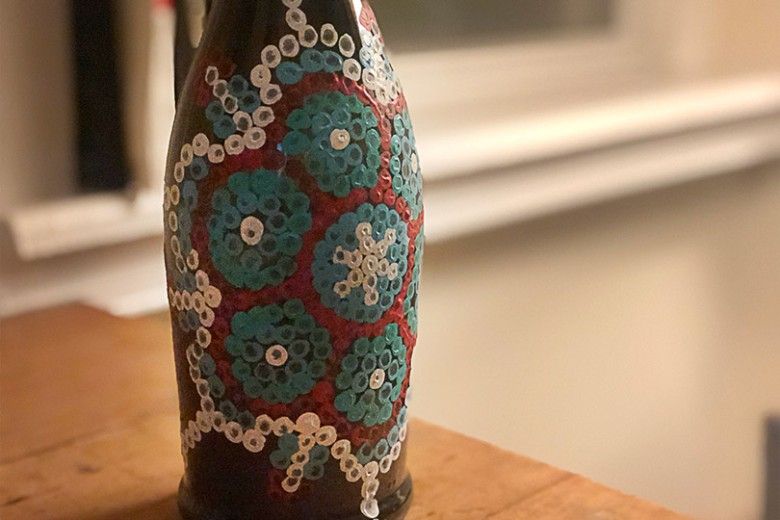 Mandalas are geometric patterns that are often used as symbols in a variety of spiritual traditions. Typically they feature a radial design that is made of intricate geometric patterns. Taking inspiration from mandalas, this DIY activity will help you think outside of the box about how successful art-making can be closer than you think! 
No need to look too far for supplies for this craft. To make this mandala-inspired bottle, just dig through your recyclables to find a glass bottle, and then gather some acrylic paint and a few Q-Tips.  
Image

Start by gathering your supplies. 
Clean, glass, bottle 
Q-tips 
Acrylic paint 
Palette for your paint (paper plates work wonderfully) 
---
Image

Step 1:
Find inspiration for the mandala that you paint onto your bottle. Feel free to use one of these images gathered from brusheezy.com.
---
Image

Step 2:
After you have gathered all of your supplies, begin by choosing where you would like the center of your mandala to be and then place a small dot with your paint using the Q-tip. 
Pro tip: Make sure your bottle is clean and label free. 
---
Image

Step 3:
After making your central dot, start building out by making dots that go around the center. In order to keep your mandala symmetrical, make sure you are using the previous row of dots as a guide as you build out.  
Pro tip: If you press your paint covered Q-tip too hard, the paint in the center of your dots won't stick; press lightly! 
---
Image

Step 4:
Experiment with different patterns and colors as you work your way around the center point. Once you are satisfied with your design, let it dry completely and then use it as a decoration for your home or even as a gift for a friend.
Pro tip: Think about the geometric shapes you can make by clustering colors together.