New bronze sculpture unveiled in front of Brandywine River Museum of Art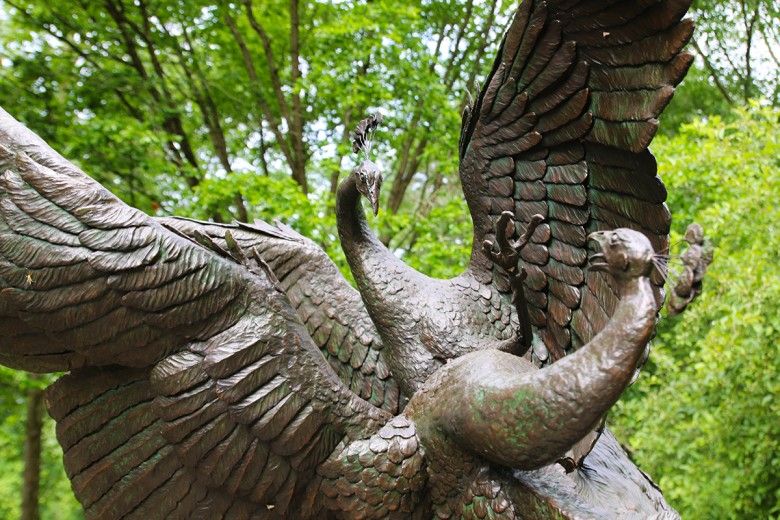 Visitors to the Brandywine River Museum of Art can now enjoy a towering new sculpture by local artist Rikki Morley Saunders as they walk up to the Museum's main entrance.
Titled Tipping Point (2019), the sculpture is cast in bronze and features two majestic and fearsome peacocks intertwined in mid-air battle. The life-sized sculpture measures almost seven feet tall with a length of six feet and a width of over five feet. 
Inspired by nature, Saunders focuses exclusively on animals in her sculptural practice, capturing the passion and spirit of various creatures in intricate detail based off her direct study. In Tipping Point, the artist's largest work to date, Saunders explores the drama of peacocks, conveying the complexities of a bird that is prized for its serene beauty—yet is also remarkably strong and fiercely territorial.
As portrayed in Tipping Point, peacocks fight by rising into the air on their massive wings and using their beaks and talons. Despite the weight of the bronze, Saunders created a buoyant, spiraling composition that reveals and obscures aspects of the two birds as you walk around it. 
The sculpture symbolizes defining moments—the tipping point referenced in the title is revealed here as the last moment in which an action can be stopped without repercussion.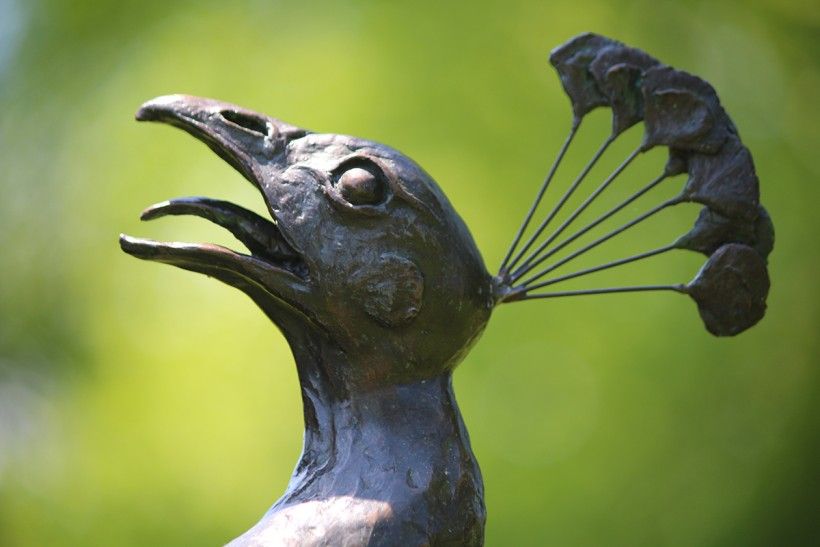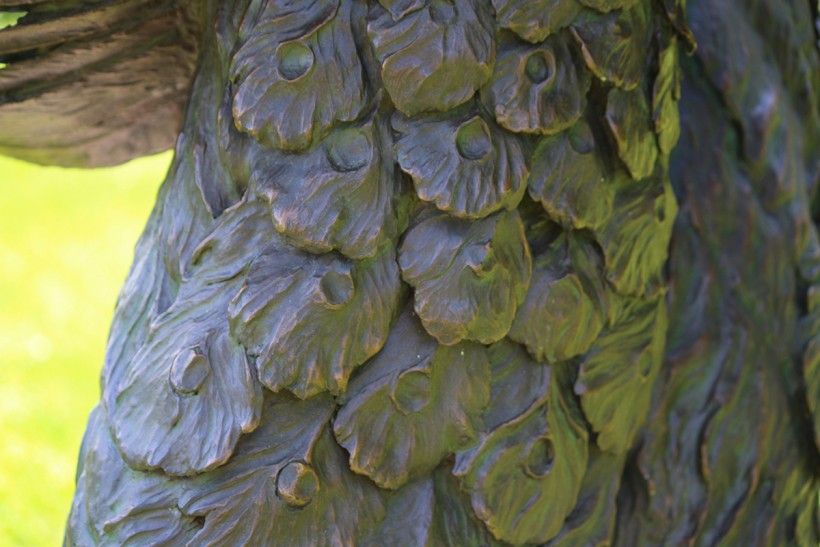 "I am and honored and thrilled to have Tipping Point in the Brandywine's collection," said artist Rikki Morley Saunders. "I have lived with and observed peacocks for over 30 years. I hope my sculpture conveys the raw beauty of these magnificent creatures—with their powerful, swirling aerobatic maneuvers and intense exploitation of feathers—that depicts a fleeting moment when the outcome of their impassioned encounter is still unknown."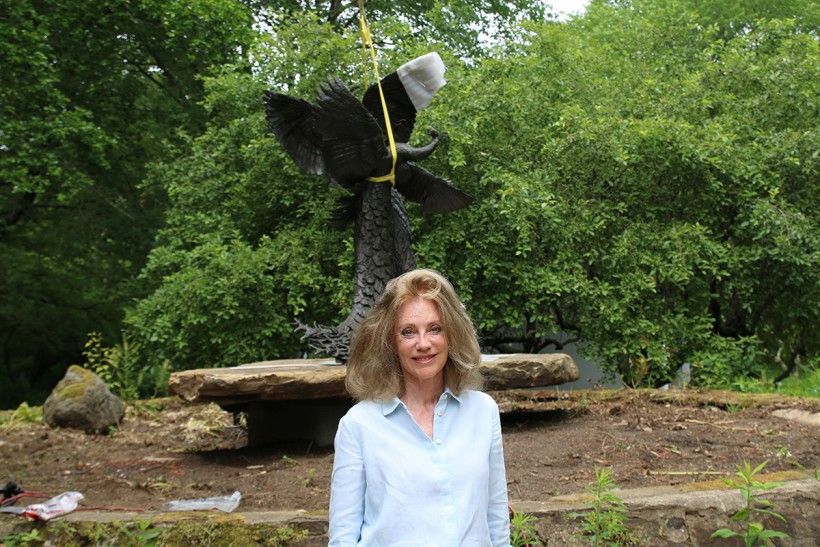 "Rikki is an artist with a remarkably astute sense of form," added Thomas Padon, The James H. Duff Director of the Museum. "Over the years she has created a large body of sculpture depicting animals. Through intense observation she captures these creatures in minute detail and infuses their spirit into each sculpture. Tipping Point is her most ambitious piece to date, and it is with great excitement that we now introduce this sculpture to generations of Brandywine visitors."   
Based in Chester County, Pennsylvania, the artist has exhibited at the Hudson River Museum, Yonkers, NY; the National Sculpture Society; Brookgreen Gardens; Murrells Inlet, SC; and The Philadelphia Show, presented by the Philadelphia Museum of Art, where her work was included in the collection curated by Martha Stewart. Saunders is also included in many prestigious private collections across the United States and Europe. A fellow of the Pennsylvania Academy of Fine Art, Saunders is an active member of the National Sculpture Society, the California Art Club, the Society of Animal Artists and the Audubon Society.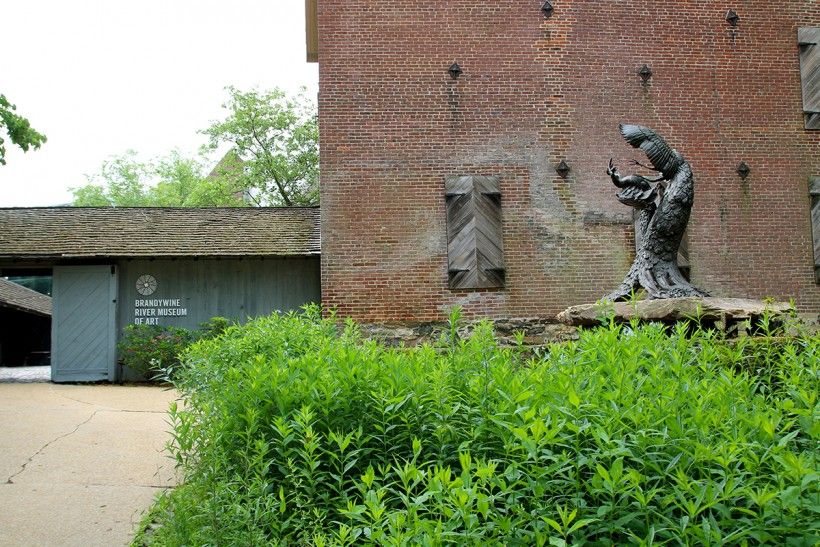 In addition to Tipping Point, the Museum's campus grounds are home to four other bronze sculptures: Boy with Hawk (1971), by Charles Parks (1922-2012); Miss Gratz (1984), by J. Clayton Bright (b. 1946); Helen (1989), by André Harvey (1941-2018); and R. B. (2004), by Dan Ostermiller (b. 1956).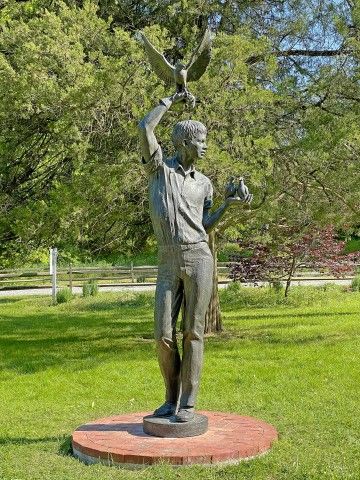 Formerly at the entrance to the Museum, Boy with Hawk was recently relocated to a new home on the Brandywine's campus overlooking its Monarch Migration Station, which features plantings of milkweed and other native flowers enjoyed by local pollinators. 
The late artist Charles Parks originally intended for this sculpture to be viewed at ground level so that visitors could interact spatially with the larger-than-life figure and could see the details of the doves and hawk. The sculpture's new location along the Brandywine's inner campus trail offers visitors a fresh perspective of this beloved sculpture surrounded by nature.
Be sure to save some extra time for exploring these sculptures along the Brandywine's campus gardens and trails during your next visit!