The Ones That Got Away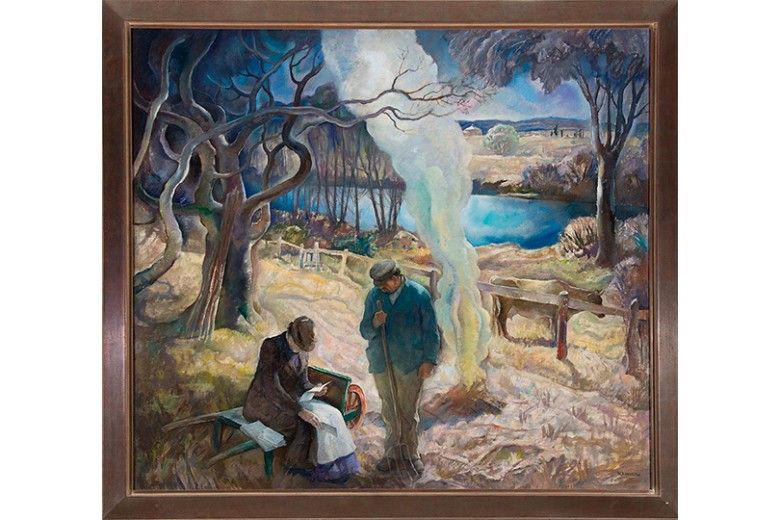 During the course of planning Rural Modern, before there was a confirmed checklist of paintings that will appear in the exhibition, there was a wish list. Just like Christmas, while you hope to get everything on your wish list, you know inevitably you won't.
One of the common reasons why the loan of a painting is turned down is because the work is promised elsewhere to another exhibition. Brandywine had some stiff competition for loans due to a high number of recent and upcoming exhibitions with related subjects. It is, however, good news. These works are circulating and being looked at anew by audiences, drawing attention to the themes they share with Rural Modern.
The Art Institute of Chicago has recently organized America After the Fall: Painting in the 1930s, which is now Paris and will be traveling later to London. It's a wonderful opportunity for international audiences to see American art, but it also means that Edward Hopper's Gas (1940, Museum of Modern Art) cannot come to the Brandywine.
American Epics: Thomas Hart Benton and Hollywood, a traveling exhibition organized by the Peabody Essex Museum in collaboration with the Amon Carter Museum of American Art and the Nelson-Atkins Museum of Art, is the first major exhibition of Benton's work in more than twenty-five years. Unfortunately, the exhibition's touring schedule meant that his painting Boomtown (1928, Memorial Art Gallery, University of Rochester) would not be available.
Last month, Reynolda House Museum of American Art exhibition Grant Wood and the American Farm. It looks to be a stunning compliment to the work that appears in Rural Modern, but alas, it means that their gorgeous painting Spring Turning (1936), as well as the National Gallery of Art's New Road (1939), are otherwise engaged.
Georgia O'Keeffe is having an international moment with the wildly successful retrospective of her work at the Tate Modern. The huge exhibition features over 100 works—that's 100 works that are usually on view in America having a star turn in London. I wish Black Mesa Landscape, New Mexico / Out Back of Marie's II (1930, Georgia O'Keeffe Museum) all the best.
There were two works by Edward Hopper that were "unavailable" not because of an exhibition but because of a very special loan. Cobb's Barns, South Truro and Burly Cobb's House, South Truro (both 1930-33, Whitney Museum of American Art) are currently on view in the Oval Office of the White House.
Brandywine did prevail, however, upon the Vice President, for the "loan" of N. C. Wyeth's Spring—1918 (1932). The museum actually owns the painting, but it has been on long term loan to the Vice President's residence in Washington D.C. The Bidens graciously arranged for the return of our painting in time for the opening of Rural Modern on October 29.
---
Header image:
N. C. Wyeth (1882-1945), Spring—1918, 1932, Oil on canvas, 48 1/8 x 52 5/16 in. Framed: 53 7/8 x 58 1/2 in. Brandywine River Museum of Art. Bequest of Carolyn Wyeth, 1996