Plant Critters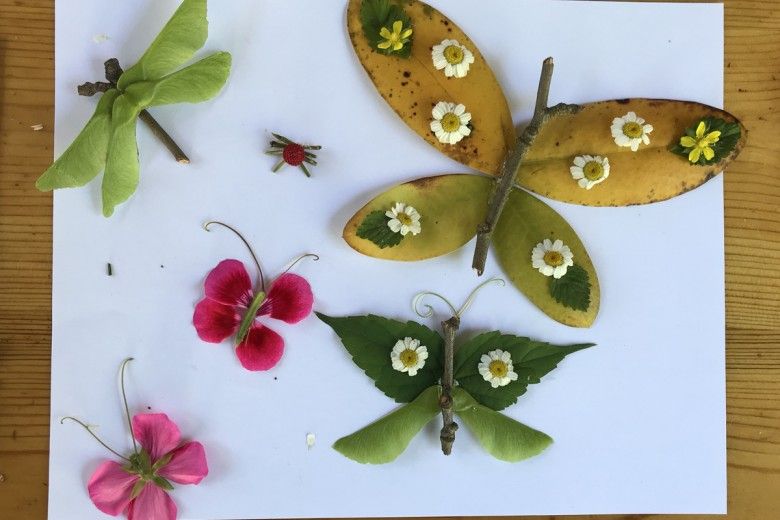 If you go outside during the day, keep your eyes peeled for the many different critters you can find around your neighborhood. You might discover a butterfly drinking nectar from a flower, a dragonfly zooming by, or maybe a little spider spinning a web. Use these fun moments exploring outdoors to find inspiration for this fun project that uses leaves, flowers and twigs to create your own critters and nature scenes! 
---
Gather Your Supplies: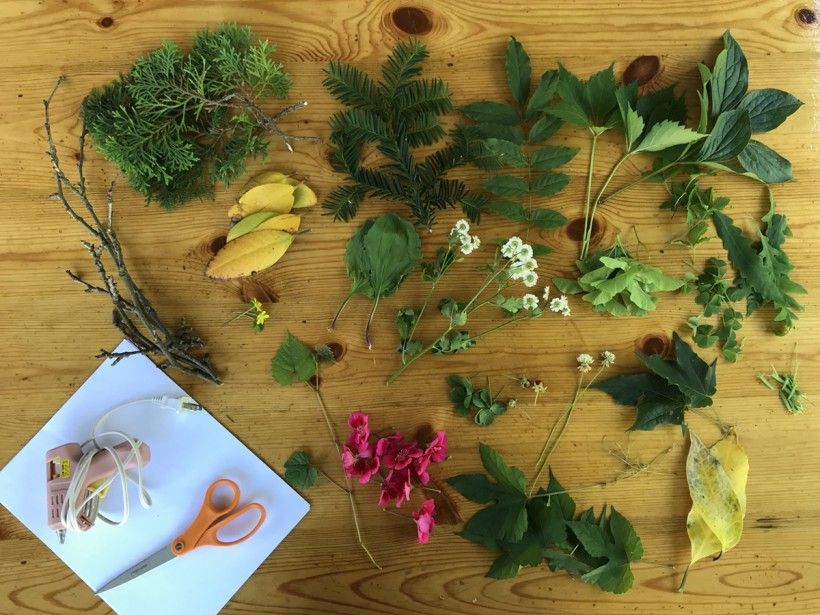 Leaves and flowers: Collect different leaves and plants from your backyard or from around your neighborhood; try looking for colorful flowers and leaves that look like wings. 
Twigs
Paper
Scissors
Hot glue gun (make sure you have an adult help you) or you can use Elmer's glue
---
Create a Butterfly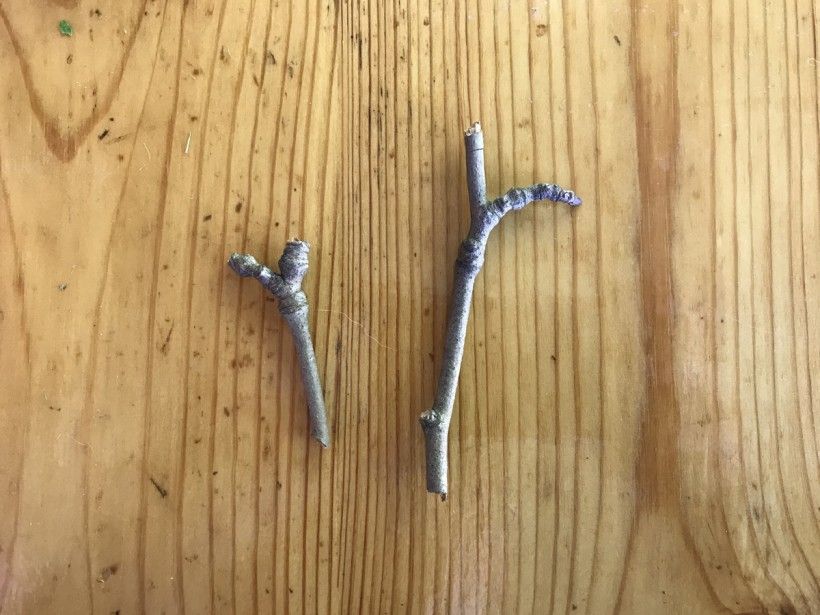 Look for twigs to use for the body of the butterfly. If you can, break off pieces until you create a shape that looks like a butterfly body with antennae on the top. Or, if you prefer, you can use a thin piece of vine or grass to add antennae later.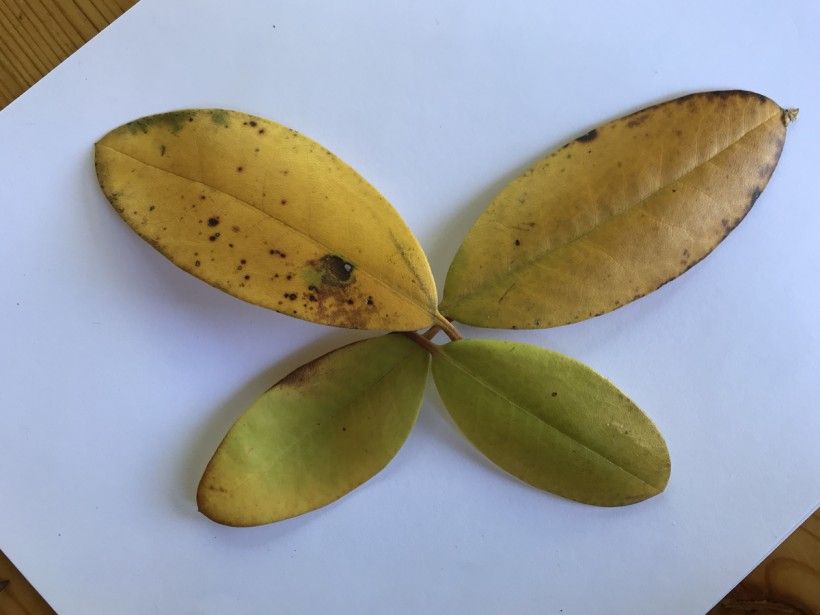 Lay out a piece of paper to help protect your workspace from getting glue on it. Arrange four leaves or petals to create the shape of butterfly wings. The leaves don't have to match perfectly, but the top ones are usually bigger and the bottom ones smaller on a butterfly.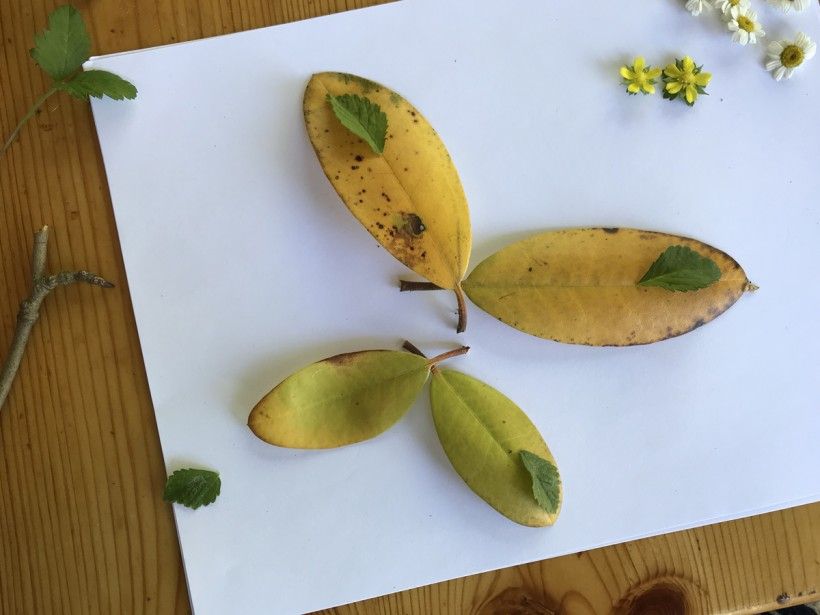 Time to get creative! Try out smaller leaves or flowers on top of the wings and find what you like. This example uses smaller green leaves in the corners for starters.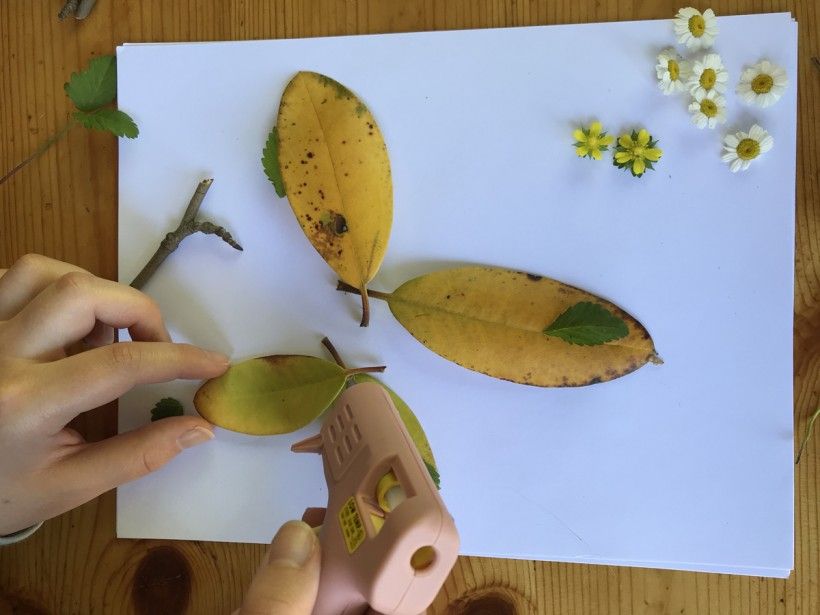 Glue the larger leaves together to create the wings. You may have to trim the stems off. This example uses hot glue, but if you don't have an adult to help you with this step, you can use Elmer's glue instead. It will just take a little while longer to dry.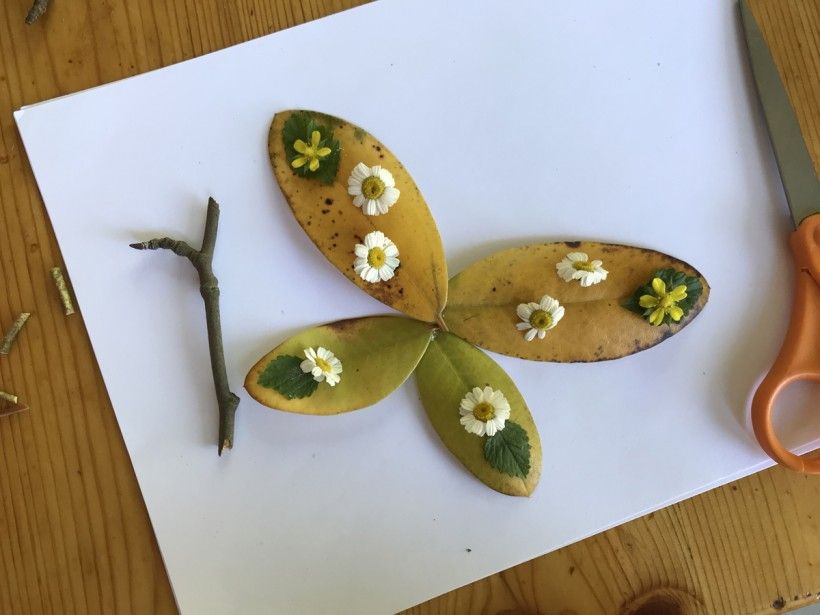 Now glue on the flowers or leaves you want to use to decorate the wings.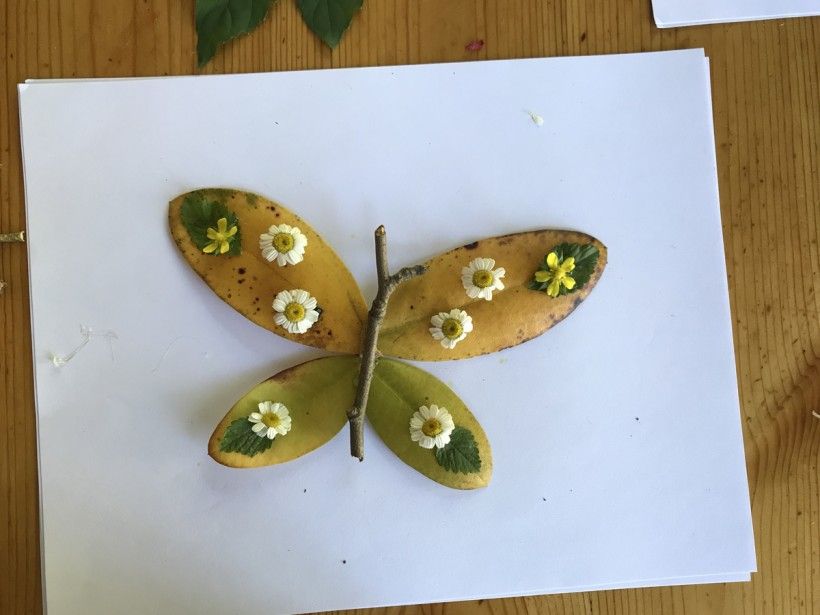 Lastly, glue the twig you found earlier to create the butterfly's body. If the twig doesn't already have the antennae on top, you can glue on a piece of vine or two blades of grass to create them now. Admire your artwork!
---
Create a Dragonfly: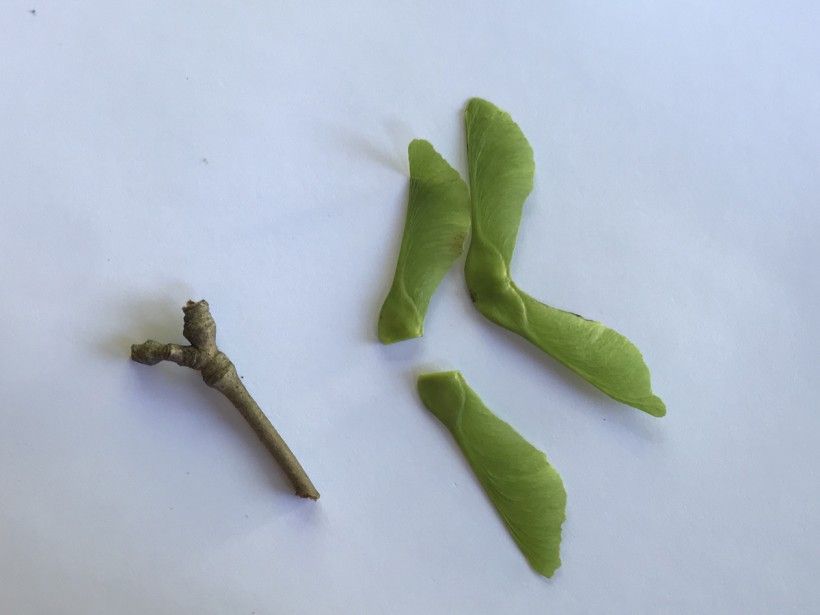 Find a twig that looks like a dragonfly's body with antennae. Choose some skinny leaves or seeds, like these maple seeds, for the wings.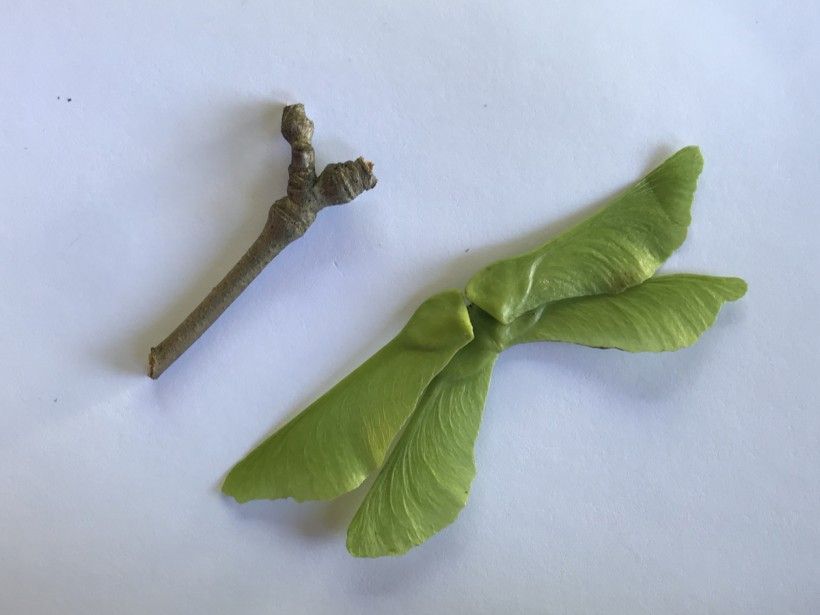 Decide how you would like the wings placed. In this example, we kept the bottom level of maple seeds connected and broke apart the top ones to angle them appropriately. Glue them in place once you have your wings positioned the way you like them.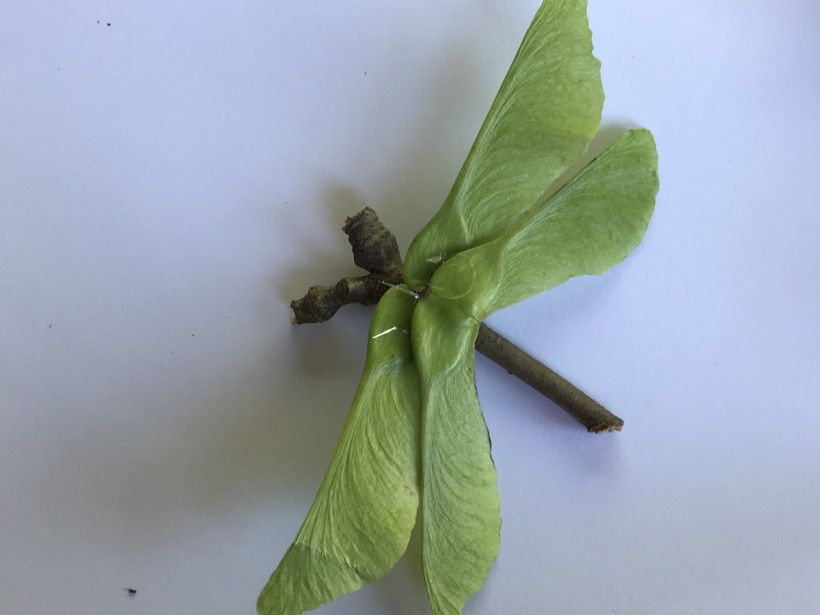 Glue the wings on top of the twig, and you have a finished dragonfly!
---
Other Plant Critter Examples: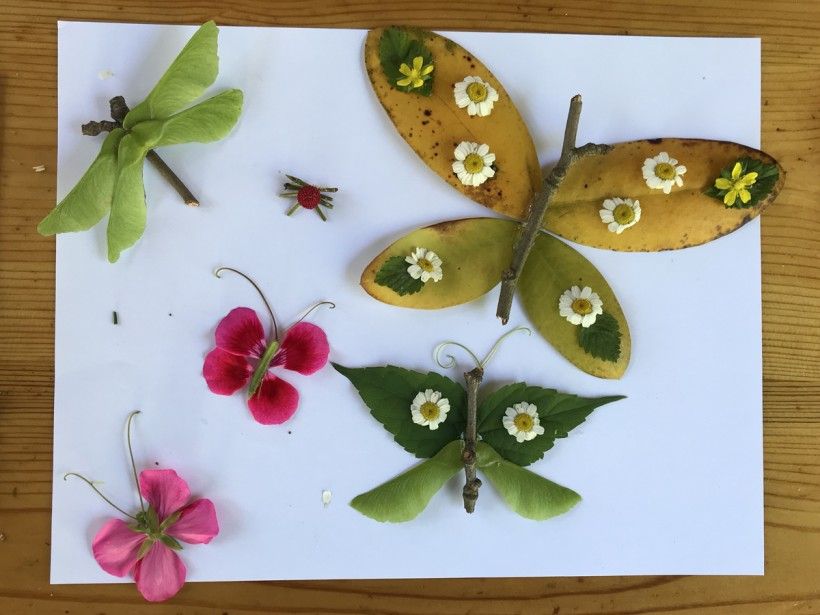 Use your imagination and create more critters out of your leaves and flowers! Try creating a tiny spider out of a berry. Or make some colorful butterflies using petals instead of leaves for wings. You can also create something completely different, like assembling a woodland scene by gluing the leaves and flowers directly to a piece of paper like the example below. Whatever you choose to create, have fun with it and let your imagination lead the way!