The Sea Calls You by N.C. Wyeth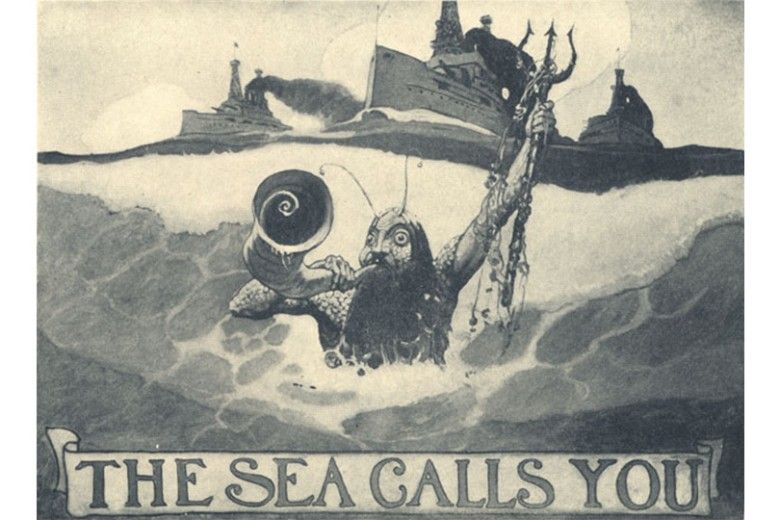 In early May, 1917, less than a month after the United States entered World War I, N. C. Wyeth wrote to his family in Needham that "the publicity Department of the U. S. Navy has asked for work--it must be rushed to be of service....Today I completed a large mural poster, 6 x 10 feet, of the call of Neptune to protect the freedom of the seas. The canvas has at least the virtue of being compelling."
The only known image of this canvas occurs in Recruiting Posters Issued by the U. S. Navy Since the Declaration of War, a small booklet issued by the U. S. Navy Recruiting Bureau in 1918.
Wyeth's design featured a reptilian, Neptune-like creature, arising from the sea with a trident in one hand and a conch shell horn in the other. Two years earlier, Wyeth had used a similar figure in his murals for the Submarine Grill of the Hotel Traymore in Atlantic City.
And he would use the figure again for a 1923 advertising calendar.
Only the three ships, silhouetted against a high horizon in the background of Wyeth's billboard, indicate that this is a war-related image.  The vessels are dreadnoughts, battleships of the period recognizable by their conning towers, gun turrets, and belching smoke stacks.  Since the sinking of the Lusitania in May 1915, American shipping had been menaced by the constant threat of German submarine attack.
According to various accounts in Wilmington newspapers, we know that Wyeth's billboard was used first during a rally in front of the Queen Theater on May 6, 1917, and then moved to the old Town Hall, where it presumably encouraged young men to enlist in the Navy. Unfortunately, there is no archival material that documents the final disposition of the billboard.
Wyeth's billboard, less bellicose and overtly patriotic than most other images of the time, makes a universal appeal for freedom of the seas, and reflects the artist's initial ambiguity with American involvement in the war.