I Dream of This World: Musician Catherine Marie Charlton on Her Wyeth-Inspired Album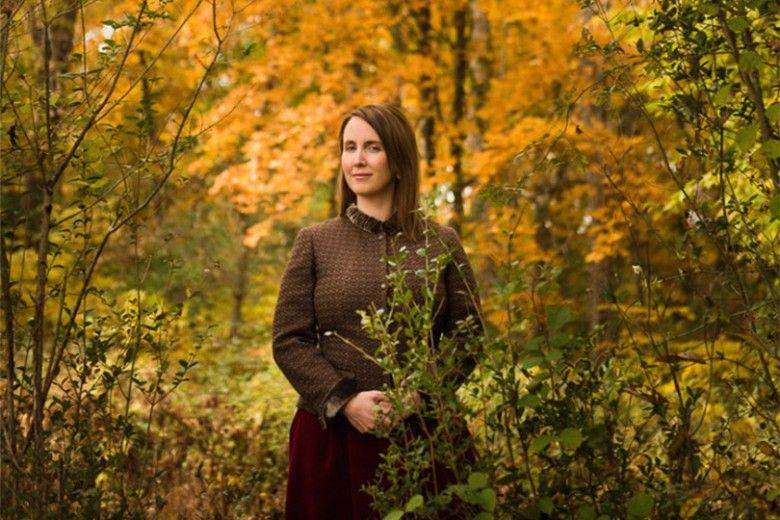 Pianist and composer Catherine Marie Charlton spent years immersing herself in the history and art of the Wyeth family, and maintaining a daily practice of "Wyeth Walks" in the scenic Pennsylvania Brandywine Valley, where Andrew Wyeth also walked every day throughout his life.
She set her inspiration to music with Grammy winning producer Phil Nicolo, creating a musical world where the listener can escape this "busy, bustling life," as N. C. Wyeth called it 100 years ago. I Dream About This World - The Wyeth Album, is available today, July 14  in our Museum Shop. The Museum Shop is now host to a listening station where you can preview the album which is comprised mainly of original works by Charlton but also includes "Helga Suite: Chorale" a world premiere by pianist-composer Ann Wyeth McCoy, Andrew Wyeth's sister. Charlton was gracious enough to sit down with us and discuss her process, her famous walks, and to take us down the road that led to her exciting new album.
1) When did you first become interested in the artwork of the Wyeth family?
CMC: I remember as a kid in Virginia when Andrew Wyeth's Helga paintings were at the National Gallery; a family friend brought the catalog to our house.  It wasn't until I moved to the Brandywine Valley after college that I became more aware of the family's works however.  When I first moved to the area I used to give a lot of concerts at the Wilmington Institute Library which had many N. C. Wyeth paintings - which started to creep into my consciousness.  And then I was a member at the Philadelphia Museum of Art and went to the Andrew Wyeth Memory and Magic show-more because I went to every exhibit at that museum at the time, and less because I knew much about Andrew Wyeth.  But I loved it- and later when I moved closer to the Brandywine River Museum and started visiting regularly, my Wyeth appreciation and fascination grew!
2) When did the Wyeth Walks begin?
CMC: January 2015, one year into my Wyeth Album project.  I wanted to delve deeper into the creative process.  I realized that Andrew Wyeth walked every day, and others in the family did as well, and I wanted to find out more about how following that practice could change my own art, which it did profoundly- but at the time they began I had no idea what would transpire.
3) Tell us how you came up with the idea for your album.
CMC: I've always used visual art, poetry, and nature as inspiration for my music.  It just happened that at the time I was looking for a direction for a new album that I had a series of daytime concerts lined up at the Brandywine River Museum - I put two and two together and decided to use the opportunity of coming to the museum to find out more about Andrew Wyeth and make an album about what I learned. I turned those early concerts into sharings of my composing process.  Again- I had no idea what I had gotten myself into, and the project very quickly became an exploration of the whole family, particularly N.C.'s influence on his children and grandchildren.  I had NO idea I would end up writing a book about the Wyeths to accompany my album, much less one with my own photography!
4) Tell us a little about the process of creating songs for this album, and if it differed from your other work.
CMC: My prior eleven releases are all improvisation, mostly solo piano, and all produced by me.  I Dream About This World - The Wyeth Album has 12 other musicians and several producers.  It is the ultimate in collaboration!  Several of the chamber works I wrote scored parts (as opposed to improvisations with no written music), for the first time in my life.  The Wyeth family really inspired me to want to challenge myself deeply as a composer.  The Wyeth Album also took several years to come to fruition, and I actually worked on three other albums concurrently that came out in 2015 and 2016 including my Maiden's Voyage jazz record with several musicians and my 2016 deep night ambient duo with Carl Weingarten - the act of working on Wyeth opened up doors to my creativity and collaborations in all aspects of my music.
5) What will you miss most about the process of creating this album, now that it is complete.
CMC: I'm not sure if my Wyeth Walks will continue in the same way, with Wyeth quotes and commentary- I think my walks and photography will evolve into something else, although I don't know what yet.  For sure I will miss picking up a Wyeth book every day for inspiration and quote seeking.  At this point I am wondering what my next project will be, and I can't imagine anything else that could ignite my passion so deeply for so many years.  However, I Dream About This World has proven to me that experiences and creativity will unfold in the most beautiful ways if I let them, and I am looking forward to seeing what transpires next.
6) Do you have a favorite Wyeth quote?
CMC: "Nothing I've ever done has scratched the surface of what I want to do." - Andrew Wyeth
7) What are you looking forward to seeing most in our upcoming exhibition Andrew Wyeth: In Retrospect.
CMC: I saw the exhibit twice so far- once at the member preview and again on opening day with my family.  I didn't go with any expectations, and frankly the first time I went in I found it utterly overwhelming, all these incredible paintings, so many of which I know the stories about intimately, all in one place, so close together.  I couldn't linger, the emotions were pretty strong.  I will for sure go back with more time to digest.  Even though I was in there for just a little bit, I definitely have a few favorites - including Thin Ice, which is an epitome of what my own "Wyeth Walk" photography has evolved into- these microcosms of beauty in nature, as well as Hoffman's Slough- which I wasn't familiar with, but I absolutely love the wide swaths of abstract vista.
We hope you'll also enjoy this trailer of the newly released I Dream About This World - The Wyeth Album which you can purchase now in the Museum Shop. We thank Catherine Marie Charlton for this glimpse into her process. You can view many of the paintings that inspire her work during Andrew Wyeth: In Retrospect, our once-in-a-lifetime exhibition to celebrate the centennial of Wyeth's birth on view at the Brandywine River Museum of Art now through September 17, 2017.