Sensory-Friendly Programs Come to the Brandywine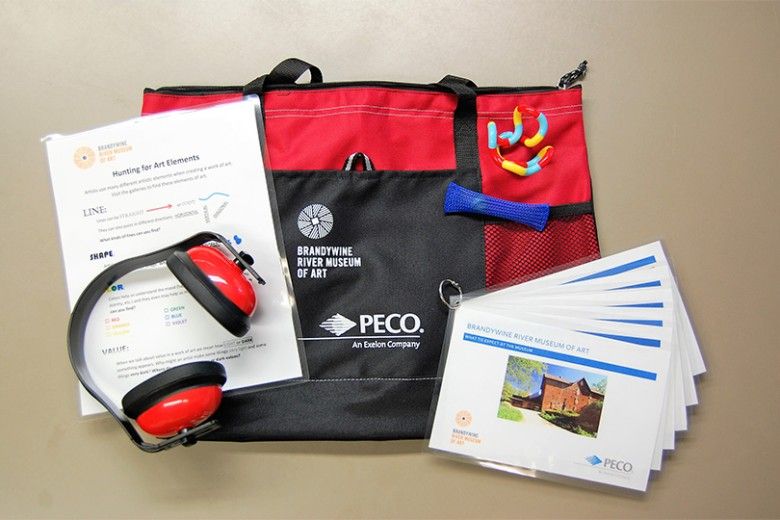 Most new education programs at Brandywine develop from ideas inspired by participant feedback from past events or conversations between staff and museum visitors. Others ideas develop simply by knowing, relating to, and understanding the interests and needs of those who are frequent visitors to the Brandywine River Museum of Art. 
This year when developing new programming we wanted to focus on the organization's commitment to becoming more accessible and opening its doors to new and broader audiences. This raised the question:  How does a museum create programs for audiences who are not already visiting?
One such audience for us was families with children on the autism spectrum and sensory processing disorder. While the Museum is no stranger to families and children – with popular programs such as First Sundays for Families and Children's Read-Aloud – there are aspects to visiting a museum that can be overwhelming to individuals who are sensitive to noise, crowds, and new environments. We found our answer by co-creating a program with a team of families and professionals who are already living and working with people on the autism spectrum and with sensory processing disorder. 
First inspired by impressive sensory-friendly programs at Walters Art Museum, Intrepid Sea, Air & Space Museum, and the Smithsonian Institution, we looked for colleagues at Philadelphia-area museums who already had programs like the one we wanted to create. Educators at The Franklin Institute invited me to attend one of their sensory-friendly events, and connected me with Dr. Fern Silverman and Andrea Tyszka from the Occupational Therapy program at Salus University. With generous funds granted by PECO, Brandywine hired Fern and Andrea as advisors to help us develop our own programs at the Museum.
For our next step, we used the power of social media to put out a call out for local families, therapists, educators, and other advocates to join a volunteer advisory committee. A broad and diverse representation from our community responded, allowing our web of resources and expertise to expand.  We held our first advisory committee meeting in February and listened to the needs and ideas of a variety of parents and professionals representing a wide array of sensory differences and their goals for visiting a museum. During this time I also received a tremendous outpouring of support and advice from other community members, including staff from other arts organizations working on accessible programming, leaders of local support groups, and advocates from the autism community.
With new ideas in hand and a strong corps of volunteers including occupational therapy graduate student from Salus University and education students from Neumann University, we offered our first PECO Sensory-Friendly Saturday in March. Ideas we implemented included opening the museum early to reduce crowds, providing hand-held fidgets and tactile experiences in the galleries, visually communicating information before and during the event, and giving families options for how to participate. Because members of our advisory committee felt shared ownership of the program, they provided some of best advertising for the first event, through sharing information within their own professional circles and through word of mouth between families.
Our time spent listening to and planning with our team of experts paid off and the event was a success. Families knew that program had been created with them, not only for them. This summer we have continued to use feedback from our new friends in the community to develop Sensory-Friendly Museum Packs, which provide families tools and tips for when they visit the museum during general hours. We are also preparing for our second PECO Sensory-Friendly Saturday on Saturday, October 14, and we plan to give families early and sensory-friendly access to the Museum's famous train display on Saturday, January 6.​
Including the voices from our advisory committee and colleagues was an invaluable resource in creating a meaningful new program at the Brandywine River Museum of Art for people with autism and sensory-processing disorder. But better yet, as we continue to plan programs for the larger and more general population, we will now have more diverse voices chiming in. 
If you'd like to participate in this community effort or learn more about Brandywine's sensory-friendly programs, you can contact me at 610-388-8120 or LWestmoreland@brandywine.org. Learn more about accessibility at Brandywine here.