DIY Nature Paint Brushes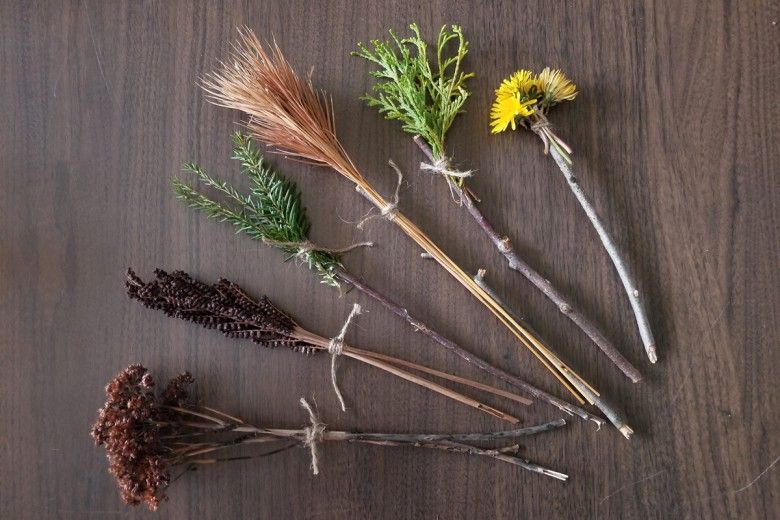 The textures of nature provide ample supplies for creating unique paint brushes. Turn your next backyard adventure or trail hike into a gathering mission for natural materials that can be used in this fun art project. The end result leads to awesome artwork and hours of fun! 
Image

Gather Your Supplies:
Any natural material that would make for cool paint brush bristles. Try pine boughs, arborvitae branches, dried grasses, fern fronds, dandelions, etc.
6-8" sturdy sticks equal to the number of brushes you wish to make (though some items might have handles built in!)
Twine
Scissors
Non-toxic paints
Lid or a plate for the paints
Paper
---
Image

Step 1: 
Collect the natural materials needed, including items for the "bristles" and sticks for brush handles.
---
Image

Step 2: 
Cut small pieces of twine to wrap and secure the natural bristles to the brush handle. 
Note: While tape or glue would also work for ths step, be sure to consider how you'll dispose of the brushes. By using twine, you won't be adding non-compostable materials to the environment! 
---
Image

Image

Step 3: 
Bundle and lay the "bristles" against the stick and use the twine to secure them together, wrapping it several times and securing with a knot.
---
Image

Step 4: 
With your nature paint brushes ready to use, dip them in paint and have fun making art! Again, be mindful as to what paint you use and how you'll be disposing of the brushes. Non-toxic paint is recommended.