Emerald ash borers threaten extinction for our region's ash trees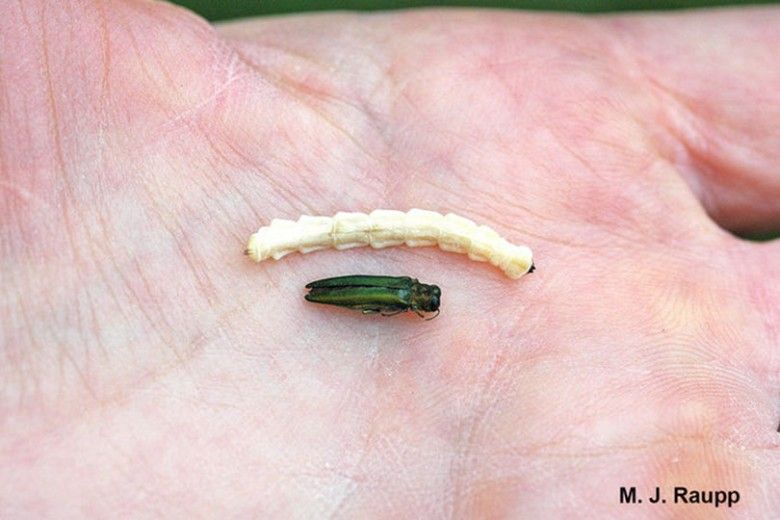 The emerald ash borer (EAB), which kills virtually all ash trees that it infests, has been making its way toward our region for about 15 years. The EAB was first officially detected in Chester County this past November.  For landowners and tree lovers, now is the time to prepare for the inevitable:  identifying and protecting the ash trees you want to save, and making sure you are ready to deal with the demise of others.
What is emerald ash borer?
Emerald ash borer (EAB), Agrilus planipennis, is an insect native to northeastern Asia. The ½-inch long, metallic green beetle was first identified in North America in 2002.  
The EAB adult eats ash leaves, but it is the EAB caterpillars (larvae) that have a destructive impact on trees. The larvae hatch in summer from eggs laid on the outside of the tree. They tunnel through the bark into the tree's sapwood layer where they eat through the phloem (the layer of the tree that conveys sugar and nutrients).  The larvae consume the phloem for several weeks, making S-shaped tunnels as they go. Fattened up and ready for winter, the larvae pupate within the tree and emerge as adult insects in spring. 
As numerous larvae eat through its phloem layer, a tree becomes riddled with larval tunnels.  These tunnels interrupt the flow through the phloem, starving the tree.  Within 3-5 years of infestation the tree will be dead.
How much of a problem?
Prior to EAB's arrival in Pennsylvania,  there were an estimated 300 million ash trees.  In southeastern Pennsylvania and northern Delaware the two dominant species are White ash, Fraxinus americana and Green (or black) ash, Fraxinus pennsylvanica).  Both are large trees with deeply furrowed bark and compound leaves.
Ash trees are common landscape trees, favored for their long life and stately habit.  The ecological value of ash trees in the forest is great as well. Ash seeds provide food for many birds and small mammals, and sites for cavity nesters such as wood ducks, nuthatches, woodpeckers, owls and squirrels.  Its leaves provide food for 150 species of butterflies and moths.
What can you do?
Ash trees that are not yet infested with EAB may be treated with preventive insecticides. However, insecticide application must be repeated to maintain the tree's defenses into the future.  Some insecticides can be applied by homeowners, but some can only be applied by a licensed commercial pesticide applicator.
It is a good idea to take an inventory of your ash trees, whether they are in the landscape or in woodlands. Identify and prioritize trees that might create a falling hazard, such as those next to residences or driveways. These trees are good candidates for treatment.  So are trees that do not pose a hazard but are significant to you for their beauty, history, or conservation value. Treated trees will also benefit from extra care to support their health, such as watering during a drought.
Should you decide that treatment is not an option, consider removing trees that might cause a hazard if they were to lose limbs or topple due to weakened condition.  If located near structures, driveways, walkways, play areas or other places where people congregate, they can create a falling danger. 
Woodland trees typically do not pose a hazard, but landowners can still consider treating ash trees so the trees can continue to provide conservation value. Retaining a stock of ash trees may ultimately aid in extending the life of the species if scientific research succeeds in identifying preventive measures or enables resistance to the insect.
Extending the life of the ash trees would help other species as well.  Nearly 100 insect species depend on ash trees, including moths that specialize in feeding on ash nectar.
Pollinator safety  
Unfortunately, the insecticides available to combat EAB are non-specific. They affect all insects Including bees and other pollinators, which feed on the nectar and pollen produced by ash. Certain insecticides are more readily taken up into pollen than others.  To reduce the potential harm to pollinators from treatments, follow these guidelines for treatment:
Use insecticides that are directly injected into the trunk, rather than those applied to soil around the tree. Sprays can get onto other flowering plants.
Avoid use of neonicotonoids such as imidacloprid, which are highly toxic to bees and are taken up into pollen.  A commonly used non-neonic is emamectin benzoate.
Timing is critical. To minimize impact on pollinators, wait until just after the tree has flowered to apply any insecticides.
No insecticide that is used against EAB has been shown to be completely harmless to bees and other pollinators, even botanical or organic insecticides including Tree-Azin, an extract from neem tree seeds.  Even if an insecticide is not toxic it may have what are called sub-lethal effects, which affect insect behavior and can ultimately cause sickness or death.
New trees for the future
If you remove an ash, or if it dies, plant a tree in its place, especially another native hardwood tree that will perform similar functions: protecting water quality, providing wildlife habitat and cooling and cleaning the air.  While you're at it – plant another one!  If any good can come out of the extinction of the ash tree species, it will be the proliferation of more native trees and the attention paid to their care.  http://www.emeraldashborer.info/replanting.php
More information:   
http://www.emeraldashborer.info
http://ento.psu.edu/extension/trees-shrubs/emerald-ash-borer/factsheets/...
 http://www.cambridgema.gov/~/media/Files/publicworksdepartment/Forestry/...
http://labs.russell.wisc.edu/eab/signs-and-symptoms/
---
Conservation Landowners Notice: If your property is subject to a Conservancy easement, removal of trees—whether in the landscape or the woods—may be prohibited or permitted only with Conservancy approval, even if the tree is diseased or dead. Application of insecticides may also be restricted in certain environmentally sensitive areas such as within a wetland. Be sure to review your Easement prior to taking either action. This notice should not be construed as an approval for any action taken by an individual landowner. Please do not hesitate to contact the Conservancy's Easement Management staff if you have any questions or concerns. We are happy to help.