Penn's Woods: 50,000 Trees Stronger Thanks to You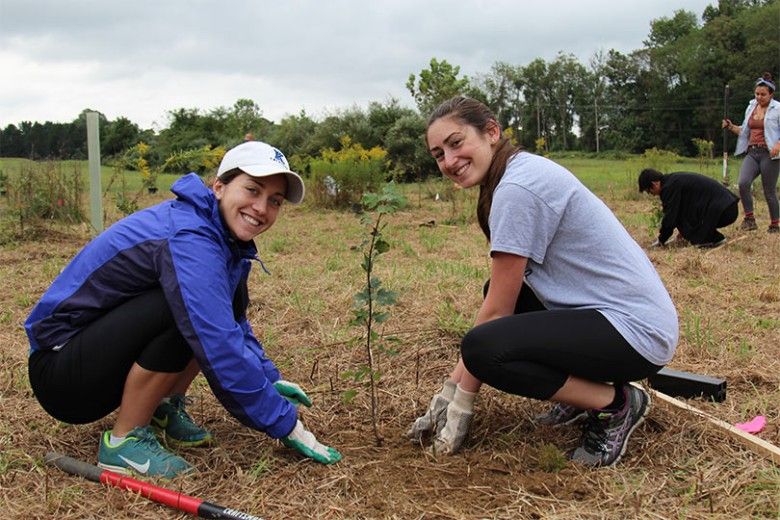 It should be no surprise that Pennsylvania, which means 'Penn's Woods', was that originally 95% covered in forested lands. Streams, birds, insects, mammals, and ecosystems all developed in balance with a forested landscape. Although those days are long past, the Brandywine Conservancy works each year to plant thousands of trees that will reduce flooding, protect clean drinking water, and provide a home for local wildlife.
The Brandywine Conservancy is coming to the end of our largest ever reforestation campaign to plant 50,000 trees within the Brandywine-Christina Watershed. We started this project back in 2009, with the goal of planting 25,000 trees by the end of 2014. When we completed that goal way ahead of schedule, we decided to push ourselves to plant 50,000 by 2017 to celebrate the 50th Anniversary of our organization.​
So far we have planted over 45,000 trees with the help of hundreds of volunteers. Each fall and spring, volunteers from local community groups, schools, and local residents come out to dig new homes for these thousands of tiny trees that will eventually grow to help protect our water and land and create new homes for wildlife, not to mention help make a more stunning scenery for all to enjoy.
This Giving Tuesday, with our last year of planting just around the corner, we'd like to invite you help us reach our goal. Whether you join our mailing list to receive emails about volunteer tree plantings, join our Bike the Brandywine ride in 2017, or provide a donation, you can bring us one step closer to ensuring this beautiful landscape will continue to flourish for generations to come.