Director's Report
Dear Readers,

It's March: In like a lion, out like a lamb. We are experiencing the lion and I'm sure many of you are patiently waiting for the lamb!

In this issue of Environmental Currents, the staff of Brandywine Conservancy are calling your attention to the Chester County Landscapes3 comprehensive policy plan. I serve on the steering committee for Landscapes3, along with many colleagues, and it truly is an exciting, thorough, engaging and professional process. If you live or work in Chester County, we hope you all get involved in the planning process during this time of public comment to establish a county-wide vision for the next 20 to 30 years.
As you read on, I hope you'll take a glimpse into spring with an article about "Herp" Awakenings in the Brandywine Region, and save the date for an upcoming opportunity to help us plant trees in Pocopson Township. The dates for all of our upcoming events, including of course Bike the Brandywine, are also detailed in this newsletter. There's so much to do this spring—please join us!

We are always looking for ways to improve staff efficiency, improve data quality and reduce our paper usage. To this end, Conservancy staff has been working together to identify new technologies. You can read about these exciting advancements spearheaded by our GIS team.

And finally, as we gear up for better weather and the start of easement visits, please take a moment to meet our Easement Team and read about all that they do. If you're an easement landowner, hopefully you can become better acquainted with our staff during their yearly visit.

The mission of the Brandywine Conservancy is to conserve and protect the land, water, natural and cultural resources of the Brandywine-Christina watershed—with you! We hope you enjoy this edition of Environmental Currents.
 
Ellen
Ellen M. Ferretti
Director, Brandywine Conservancy
 
Landscapes3 – What's in it for my Municipality?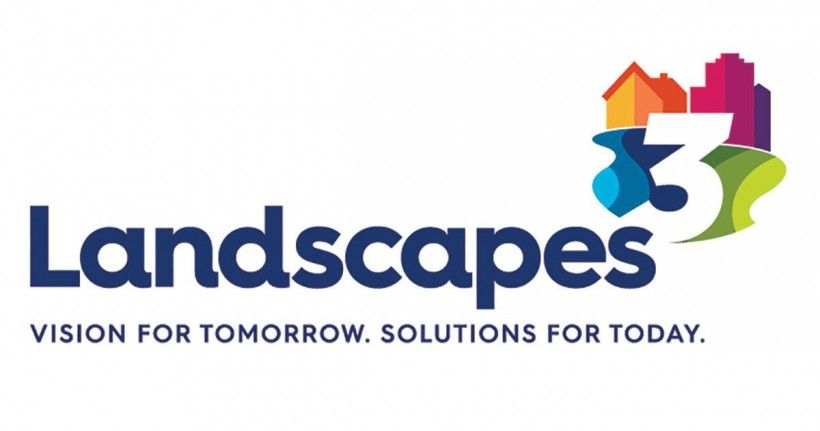 The Chester County Commissioners' update of their award-winning Landscapes2 comprehensive policy plan is well underway, with formal public hearings and plan adoption scheduled for late 2018. Not surprisingly entitled Landscapes3, or "LS3" for short, this plan will establish a county-wide vision for the next 20 to 30 years, as well as new goals, objectives and recommendations for the plan's implementation. The Chester County Planning Commission staff is working with a Commissioner-appointed steering committee consisting of 27 representatives from the Chester County community—including Brandywine Conservancy Director Ellen Ferretti. As the County staff prepare for a set of regional public input meetings, the Conservancy encourages your municipality to begin reviewing published draft components, compare them with your municipality's planning goals, and participate in these upcoming meetings.
County Planning Commission staff have posted on the LS3 webpage a set of draft documents that you and your fellow supervisors, council members and appointed planning commission members should closely review. In addition to a draft vision, six goals and supporting objectives are proposed under the headings of: Preserve, Protect, Appreciate, Live, Prosper and Connect. The first three LS3 goals are preservation-oriented; the second three are growth-oriented. In addition, a new Livable Landscapes map of the county is proposed. This map is similar in nature to a municipal comprehensive plan's future land use map, and depicts the location of six Landscapes: Urban, Suburban Center, Suburban, Rural Center, Rural and Agricultural. The first four landscapes reflect existing and planned growth areas; the last two landscapes reflect the county's existing and planned natural resource areas. The Draft Interactive Landscapes Map webpage contains many user-friendly features that clearly explain proposed changes between LS2's Livable Landscapes map and the changes proposed for LS3. In the top right-hand corner of the page menu, a handy "swipe tool" allows the two Livable Landscapes maps to be easily compared. 
According to County Planning Commission staff, there are only a few significant differences between LS2 and the proposed LS3. For example, LS2's Rural Center Landscape is now listed as one of the four Growth Area landscapes. Several Urban Center Landscapes in and around the County's urban areas have decreased in size, corresponding to an increase in the size of Suburban Center Landscapes. This reflects a change in developed land use character that's more reflective of the Suburban Center Landscape. The total acreage in Rural Landscapes has also decreased slightly through staff's designation of these areas to either Agricultural or Suburban Landscapes. From a closer look at the LS3 map, we have noted that in a few instances some of the proposed Landscape designations may have municipal planning and implementation implications worth further investigation and discussion with County Planning Commission staff.
Municipalities in Chester County know from participating in the Chester County Commissioners' Vision Partnership Program that associated planning grant funds awarded through this program are linked to the implementation of the adopted Landscapes policy plan. The Commissioners' planning grant program, available to all County municipalities, is unrivaled in Pennsylvania. Hundreds of projects initiated by municipalities and funded through this 20+ year program have contributed to the high-quality of place offered throughout Chester County. The County Commissioners should be commended for continuing to allocate a portion of its annual operating budget each year to this program, and the County's municipalities should also be praised for their ongoing support and active participation. Once awarded County planning grant funds, municipal projects—when completed—must be found to be generally consistent with the County's adopted policy plan in order for municipalities to be eligible for grant reimbursement. Equally important, municipal and county planning goals should ideally be aligned whether related to land use, open space preservation, economic development, or infrastructure expansion, etc.
We strongly encourage Chester County's municipalities to evaluate their planning, open space and other goals in light of the proposed LS3 documents, including the Livable Landscapes map. This effort should be done now, while the County's regional public input meetings—designed to encourage questions, provide initial feedback and record input— are being offered. The Brandywine Conservancy's Municipal Assistance Program staff can help MAP Subscriber program members with their evaluation. Although the Chester County Commissioners can entertain future revisions to their adopted Landscapes map when warranted, now is a far better time for your municipality's planning goals to be addressed by the County Planning Commission staff.
The County Planning Commission's Schedule of Landscapes3 public input meeting dates, locations and times is below:
Northern Region
Tuesday, March 6th
5:30 p.m. to 7:30 p.m.     

Henrietta Hankin Library
215 Windgate Drive
Chester Springs, PA 19426

Southern Region 
Tuesday, April 10th 
5:30 p.m. to 7:30 p.m.         

New Garden Township Building
299 Starr Road
Landenberg, PA 19350

Eastern Region
Tuesday, May 1st  
5:30 p.m. to 7:30 p.m.    

Penn State Great Valley
30 E. Swedesford Road
Malvern, PA 19355

Western Region
Wednesday, May 16th    
5:30 p.m. to 7:30 p.m.   

Public Safety Training Campus
137 Modena Road
Coatesville, PA 19320
For more information, contact Grant DeCosta at [email protected]. You can also visit Chester County's website, or contact Susan Elks of the Chester County Planning Commission staff at [email protected].
---
Upcoming Calendar of Events
Stewardship Series: Amphibians and Reptiles Awaken lecture
Thursday, April 5
Wildflower Walk at the Laurels Preserve
Saturday, April 14
Spring Migrant Bird Walk at the Laurels Preserve
Wednesday, April 25
Stewardship Walk at the Laurels Preserve
Saturday, April 28
Tree Planting
Saturday, April 28
Community Read: A Passion for Pollinators
Wednesday, May 2
Clean Water: A Bi-state Solution
Thursday, May 3
Spring Garden Walk
Friday, May 4
Bird Walk along Harvey Run Creek Trail
Wednesday, May 9
Tree Identification Walk
Saturday, May 12
88th Radnor Hunt Races
Saturday, May 19
Benefiting the Brandywine Conservancy
Invasive Plant ID Walk
Saturday, June 9
Conserved Land Tour
Saturday, June 23
---
New Tech Streamlines Data Collection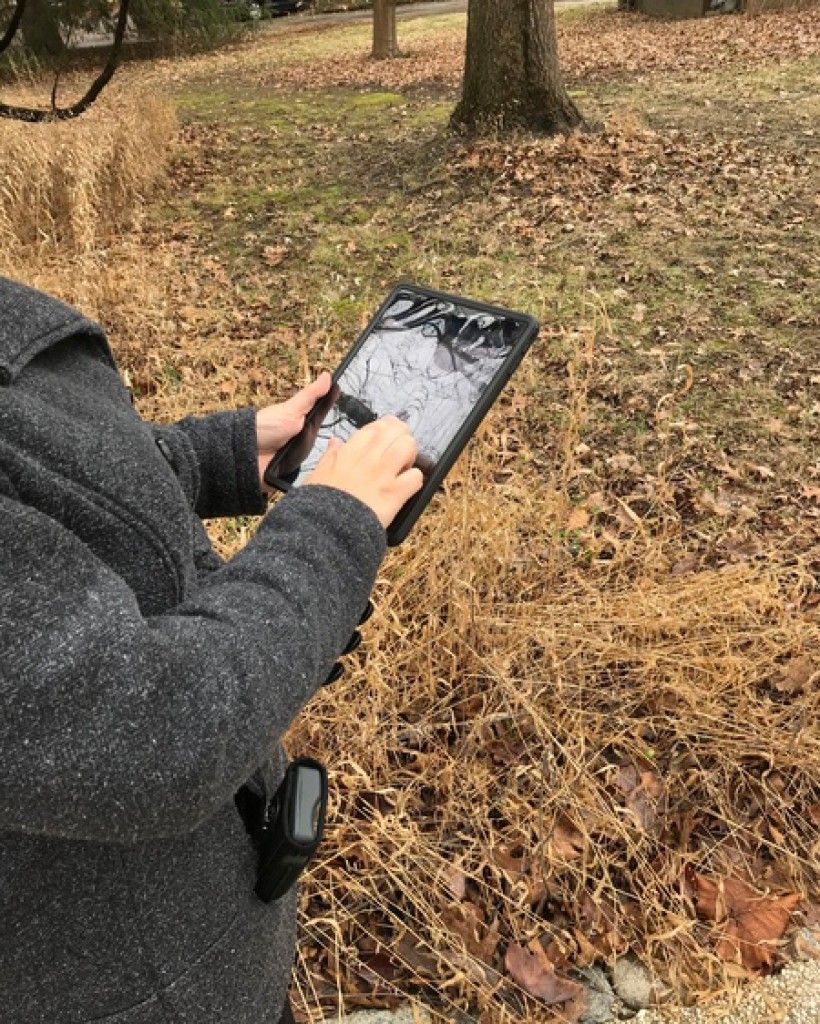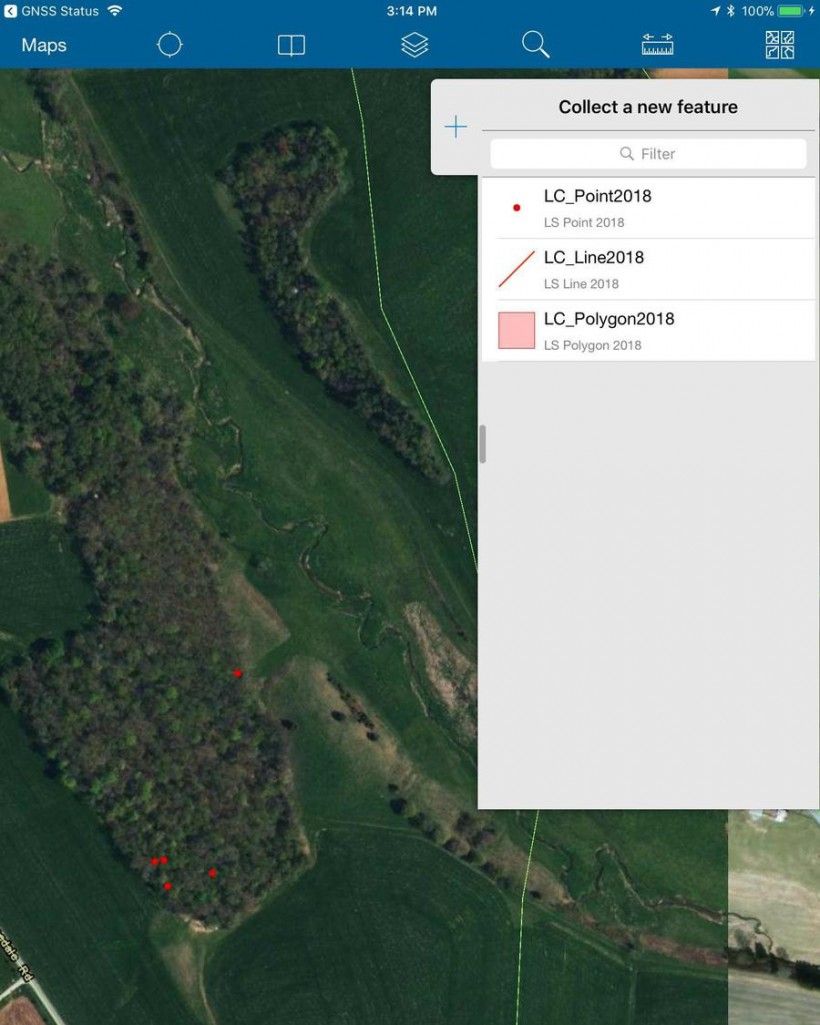 The Brandywine Conservancy's GIS team recently implemented the use of iPads and a high-accuracy GPS receiver to assist staff in data collection in the field and across its various programs. Using an app called "Collector for ArcGIS," staff can load data files, including property and easement boundaries, aerial photographs, and trail maps, before a site visit and use these files as a baseline once they are ready to collect data. Once data is collected, it can be uploaded in real-time to a cloud-based environment and instantly viewed in the office, or downloaded to be used within GIS mapping software.
Land Conservation staff currently use the Collector app as part of the easement baseline process, which includes collecting data such as photo point locations (and photographs), survey monuments and other pertinent features to be noted as part of the easement mapping procedure. Similarly, Land Stewardship staff members are currently using the Collector app as part of their yearly monitoring program. Digital versions of the easement document, easement map and prior inspection maps can be loaded onto the tablet, lessening the need for paper copies to be printed. The Collector app is also used to assist staff in locating easement boundaries, locating house sites and documenting any features of interest. Municipal Assistance Program staff members also utilize the iPads with an app called "Survey 123" as part of an ongoing grant project to inventory riparian buffers within the White Clay Creek. GIS staff created a survey template within the software and data was collected entirely on the tablet.
Transitioning to new hardware has allowed the Conservancy to increase staff efficiency, improve data quality and reduce paper usage. Brandywine Conservancy is now at the forefront of data collection at land trusts, utilizing the most cutting edge technology to focus on what really matters: conserving land and protecting water.
---
Meet the Easement Team!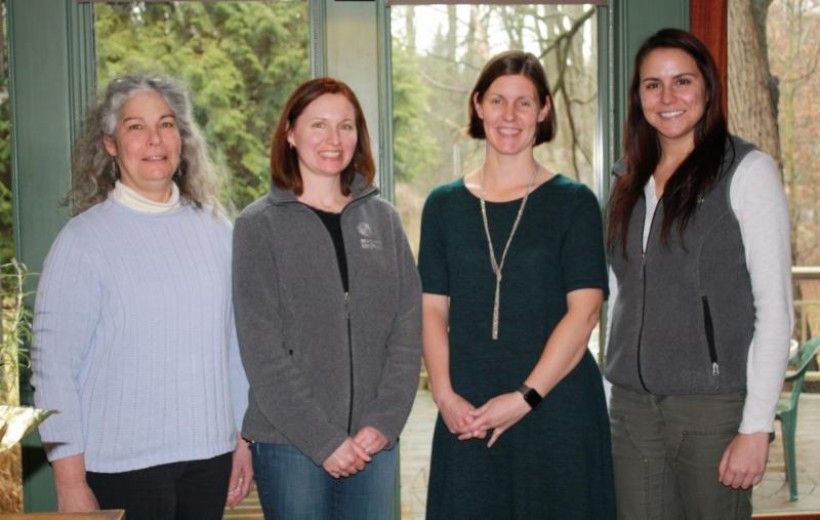 As easement monitoring season approaches, meet the members of our team who are your partners in land stewardship. From left to right: Susan Charkes, Easement Steward; Lela Burke, Program Assistant; Kristen Frentzel, Easement Manager; Jillian Pyle, Easement Steward. If you are an easement landowner, we hope to connect with you during our annual visit to your property!
When the Conservancy is granted a conservation easement for a parcel of land, it must ensure that land remains permanently protected. We enter into a cooperative partnership with the landowner to see that the property's natural and water resources are cared for and conserved. Each year, the easement stewardship team visits every one of the 1,400 parcels of land subject to our easements. Between annual visits, we also assist landowners by providing free consultations on land management, reviewing construction or forest management plans, and sharing information and resources on land stewardship.