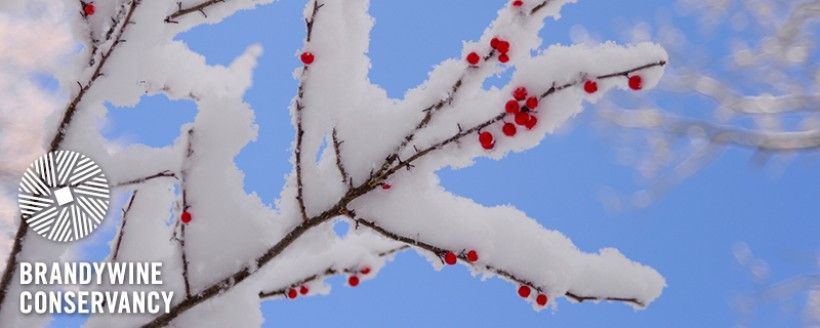 Director's Report
Dear fellow conservationists,
The winter season is almost upon us with its holidays and the ushering in of a new year. 
If we indulge ourselves with the opportunity to sit still for a moment or two and look around us, this time presents quiet and stunningly beautiful occasions to truly enjoy and appreciate the efforts we put forth all year to preserve and share the beauty and culture of this region.  
Winter is beautiful in its simplicity. Seasons are a gift. 
If I could have one wish for you—our supporters in conservation—as we wind up 2019, it is this: That at least once each day, you find time to discover goodness and gratitude in your lives. Goodness abounds. Beauty abounds. It's there for the finding. May you find yours.
From all of us at the Brandywine Conservancy, we hope you enjoy this latest edition of Environmental Currents.
My best wishes for a truly wonderful Holiday Season,
Ellen
Ellen M. Ferretti
Director, Brandywine Conservancy
---
Advocating for Conservation: Q&A with Andy Loza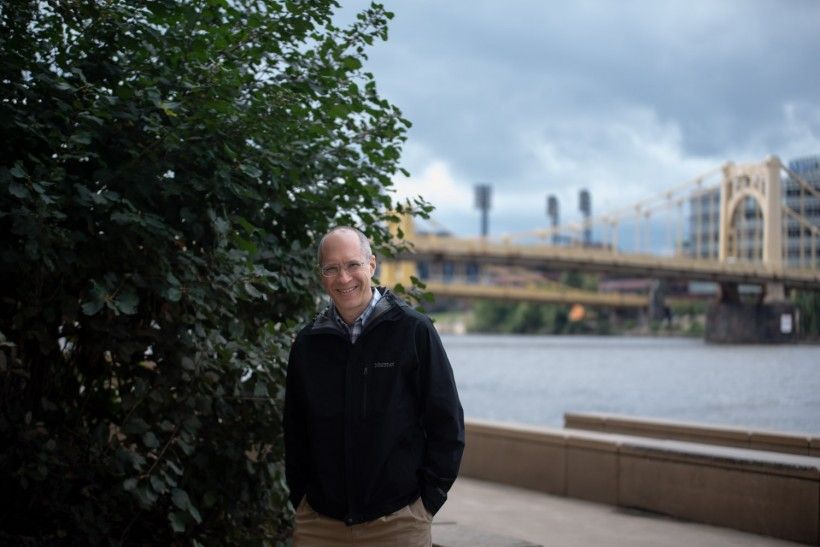 In the interview below with Andy Loza, executive director of the Pennsylvania Land Trust Association (PALTA), learn about the role PALTA serves in this region, how it impacts the work of the Brandywine Conservancy, and the valuable assistance it provides to land trusts. Loza has served as PALTA's executive director since 2000. In this role he advocates for government policy conducive to conservation, develops technical guidance, and implements assistance, training and education programs that advance conservation efforts across Pennsylvania. Previously he served as executive director of a Pittsburgh-based land conservation organization and led conservation, planning and development initiatives for county government.
What is the Pennsylvania Land Trust Association (PALTA)?
The Brandywine Conservancy and other land conservation organizations across the state created the Pennsylvania Land Trust Association (PALTA) a quarter century ago to take on challenges to land conservation that no single community-based organization could effectively handle on its own. Today, the Brandywine Conservancy and 70 other PALTA member organizations elect PALTA's governing board and set the purpose of the Association.
What is the Association's purpose?
PALTA helps people conserve the lands needed for healthy, prosperous and secure communities—the forests, farms, parks, urban gardens and other green places that safeguard our drinking water, prevent flooding, protect wildlife, provide recreational and economic opportunities, and preserve scenic beauty and community treasures. To accomplish this, PALTA specializes in providing organizations like the Brandywine Conservancy with technical guidance and other resources to be more effective and efficient in achieving their conservation work. PALTA also continuously works to ensure that the framework of state and federal laws in which the Brandywine Conservancy and others work is friendly to conservation.
Why does the Brandywine Conservancy have to be concerned with state laws?
This past year, lawmakers sought to reduce annual state investments in park and land conservation projects by $30 million. PALTA successfully fought back this legislative attack as it has similar attacks over the years. Most recently, these state investments have provided crucial support to the Brandywine's conservation work on Octoraro Creek and at the Brandywine Battlefield.
Up until 2018, the protections delivered by the Brandywine's conservation easements could be undone by poorly considered use of eminent domain. PALTA and allies advocated to change state law and now conserved lands can only be taken as a very last resort. Before that, some local governments and developers sought to reshape state law so that local parks could be sold to raise cash. PALTA successfully fought back these efforts in the legislature and courts. The examples go on and on.
What kind of technical guidance does PALTA provide the Brandywine Conservancy?
PALTA develops technical guides (130 to date) and model legal documents (20) to ensure that organizations have the best, most thoroughly researched and vetted tools available to do their conservation work. The broadly adopted models provide common platforms for users to share ideas, experiences and innovation. For example, the Conservancy uses PALTA's model conservation easement document, a tool that countless organizations and individuals have helped refine by sharing their experiences in using the document over its seven editions. A few years back, PALTA and the Conservancy collaborated in the development of the model riparian buffer protection ordinance that the Conservancy has been helping local governments adopt.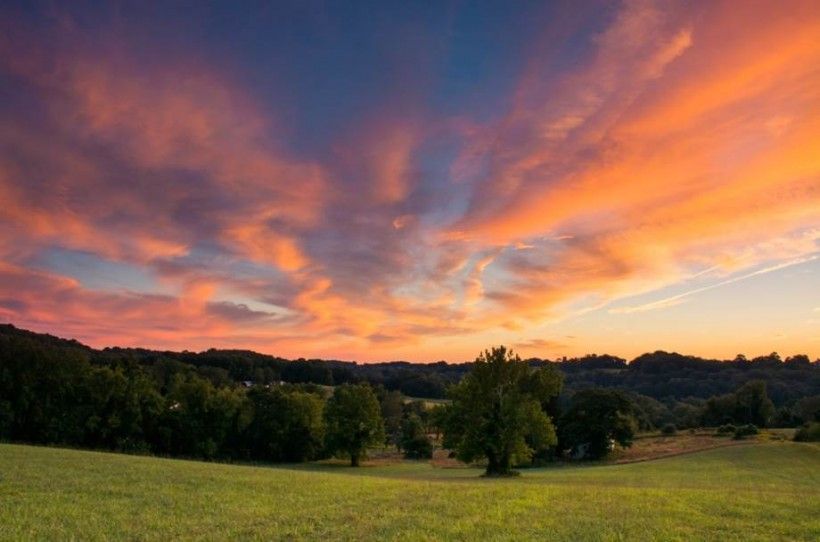 What is your favorite Brandywine Conservancy moment?
Whenever I drive around the Brandywine-Christina watershed, I'm blown away by the beauty of the land. It's easy to take for granted, but I know that its existence is no accident. The Brandywine Conservancy played a crucial role in it and has a still greater role in ensuring that future generations will enjoy it, too. 
If you could talk to a conservation hero of the past or present, who would it be and why?
Tough question. I'll go with William Penn, who determined that those who took title to portions of Pennsylvania must leave one acre wooded for every five they cleared—an extraordinary conservation vision for 1682. Penn was chockful of innovative, democratic ideas; he was also full of flaws. All in all, I think it would be fascinating to spend some time with him.
---
Restoring a Historic Icon: The Brinton 1704 House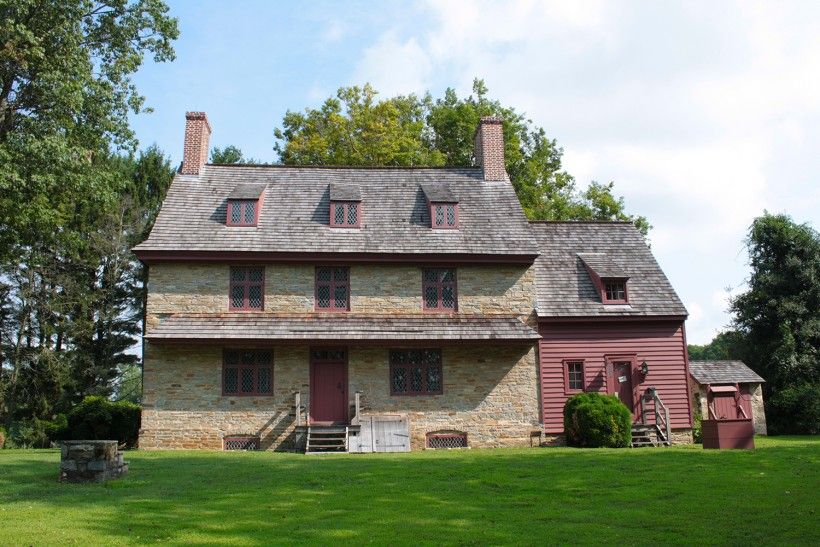 Anyone who has driven the back roads of Chadds Ford Township will recognize the iconic Brinton 1704 House. Listed as a National Historic Landmark in 1967, the home sits on the remaining 13 acres of Brinton land that was granted in 1686 by patent from a representative of William Penn. Located on Oakland Road, the property was preserved via a perpetual conservation easement with façade protections by the Brandywine Conservancy in 1993. Thanks to careful restoration work by a group of partners committed to protecting our shared history for future generations, this site is an excellent example of the intersection between historic preservation and land conservation.
Constructed in 1704 by William Brinton, Jr. for his family, the house is one of several remaining buildings in the area that was standing during the Battle of Brandywine on September 11, 1777—the largest single-day battle of the Revolutionary War.
William Brinton, Jr. was the son of William and Ann Brinton, Quakers who immigrated to the colony in 1684. The house remained in the Brinton family or its direct descendants until 1860. In 1947, Francis D. Brinton and Deborah G. Brinton, also descendants of the original Brintons, purchased the house and conveyed title to the Chester County Historical Society.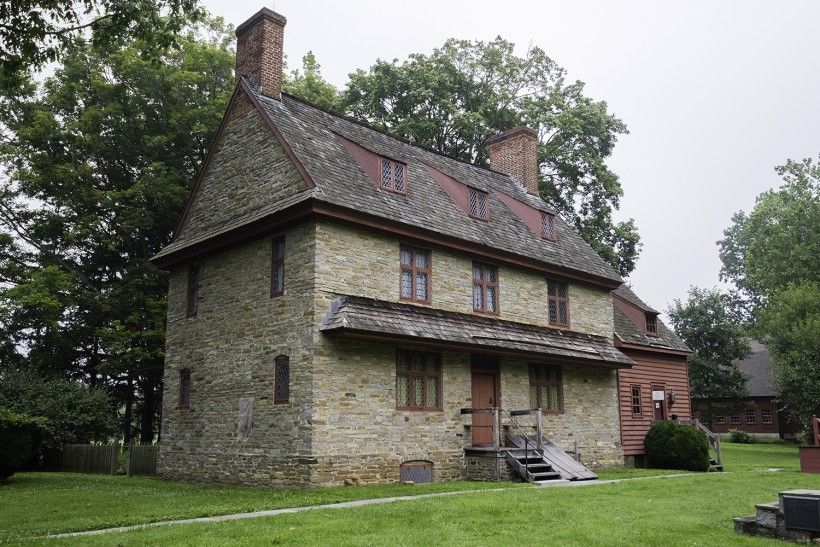 The house was originally restored in 1954 by G. Edwin Brumbaugh, a local architect who focused on the restoration of early vernacular Pennsylvania architecture. His restoration methodology was based on extensive research, investigation and documentation that made him a well-known preservation architect in southeastern Pennsylvania and New Jersey in the mid-20th century. Brumbaugh's trademark architectural and historic investigation methodology was also applied to the Brinton 1704 House restoration. Taking four years to complete the project, Brumbaugh carefully removed many added non-historic alterations over the previous century. The house as you see it today is an educated 1954 interpretation of its 1704 appearance.
Over 60 years later, the house needed comprehensive repair work. The wood shingle roof was leaking and needed a replacement. The exterior stone masonry wall surfaces and brick chimneys had water damage. The wood windows had deteriorated and the wood cornices needed to be stabilized and repaired. Upgrades to the existing electrical system to a safe condition were also needed.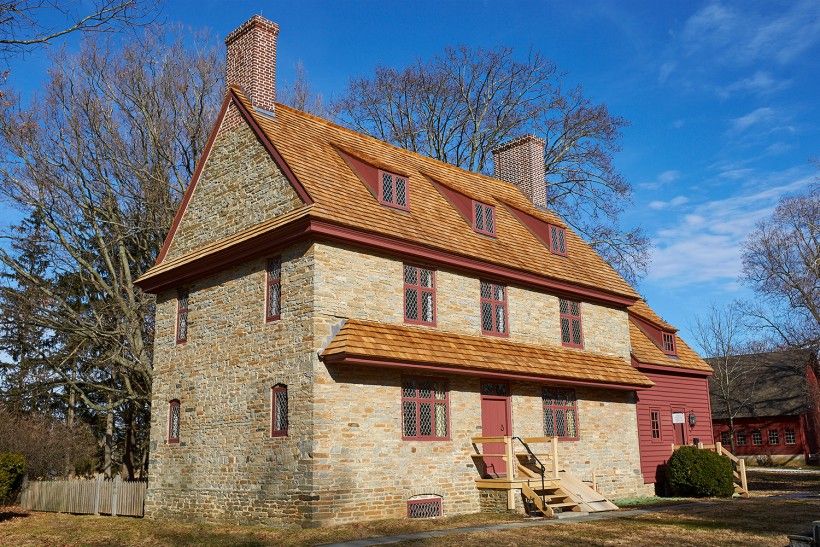 Since 1993 the Brinton Association of America has owned and cared for the property. In 2017 one of its board members, architect John Milner—who believed that the organization's primary responsibility is preservation of its principal artifact (the house)—prepared a scope of work for restoration.
Accomplishing the restoration process required exacting detail. Griffiths Construction, the main contractor for the project, took on the challenge to complete the project to the highest standard.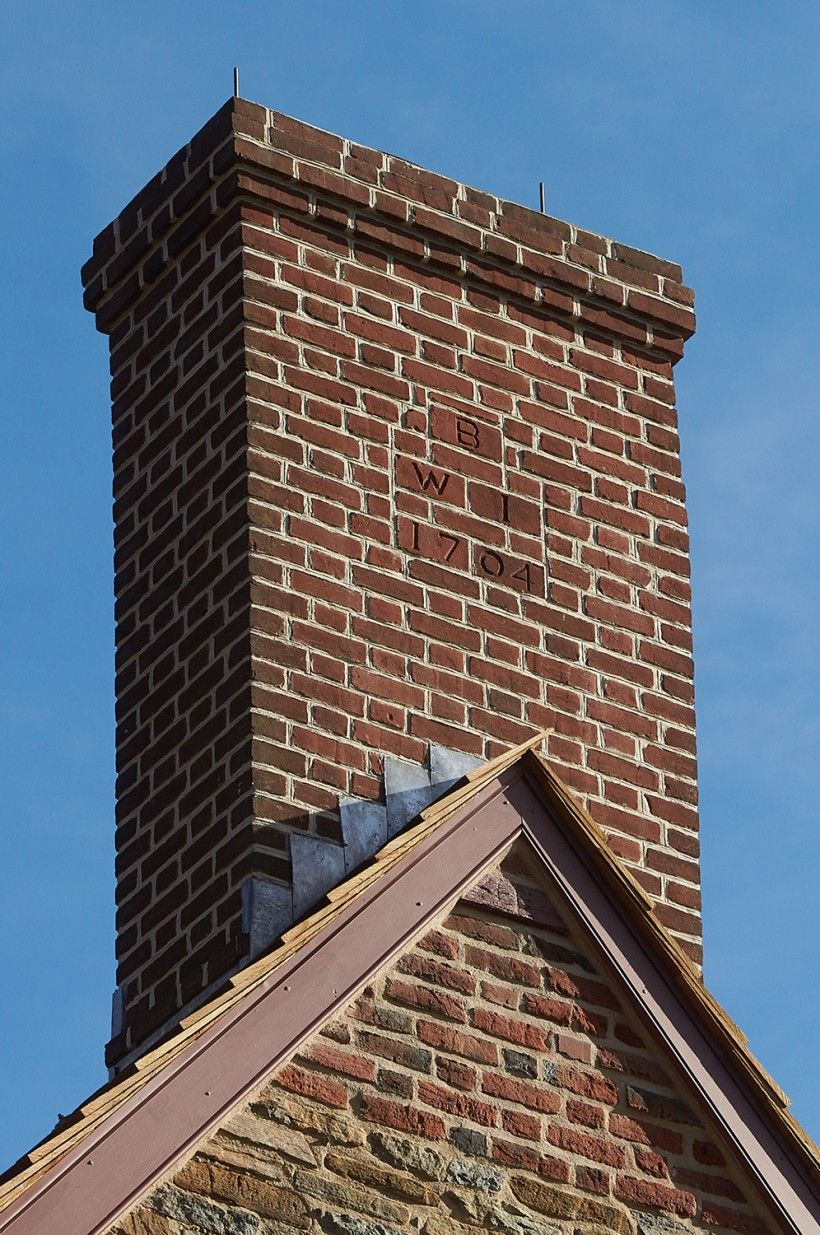 John Milner took research trips to Winterthur Museum Library in Greenville, Delaware, where Brumbaugh's drawings are housed, to study the original architectural plans of the Brinton 1704 House. Milner felt doing the research personally was essential to "walk in the shoes" of Brumbaugh and ensure the restoration work was completed in Brumbaugh's original vision.
Using local materials like the builder would have historically used, Brendan Prestileo of Northridge Masonry got permission from the Conservancy to take sand samples from the banks of the Brandywine to make 10 different mortar samples in order to create the perfect match with the existing mortar for repointing.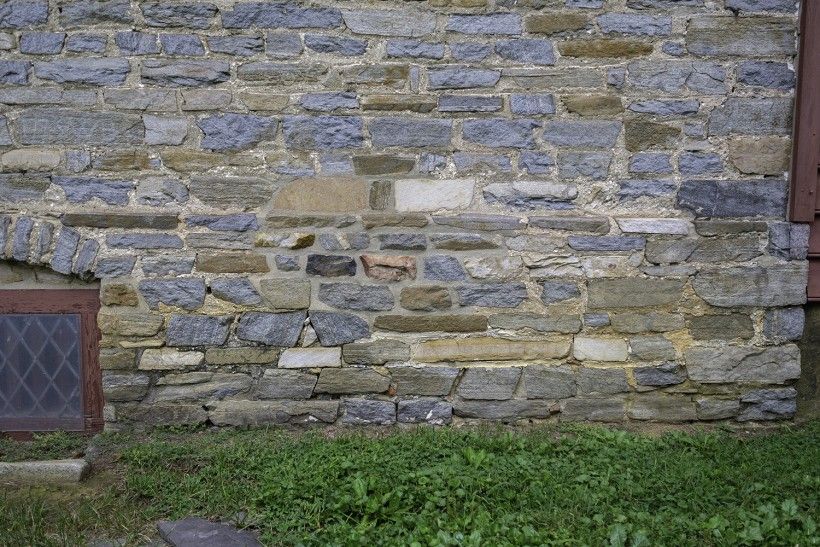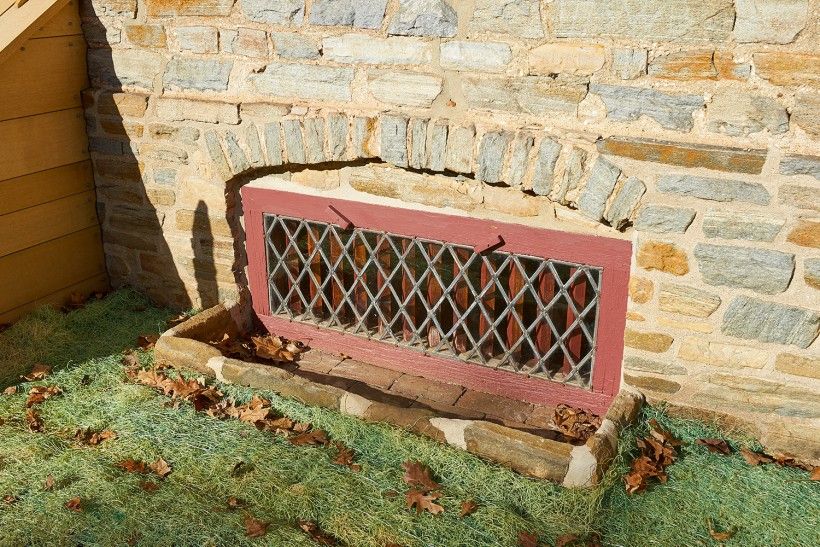 Construction started on September 25, 2017 and was completed on December 22, 2018. In addition to the time-consuming research and restoration work, the project was also reviewed by Chadds Ford Township and the Brandywine Conservancy. The Conservancy's review ensured that the proposed changes were in line with the original restrictions in the 1993 easement.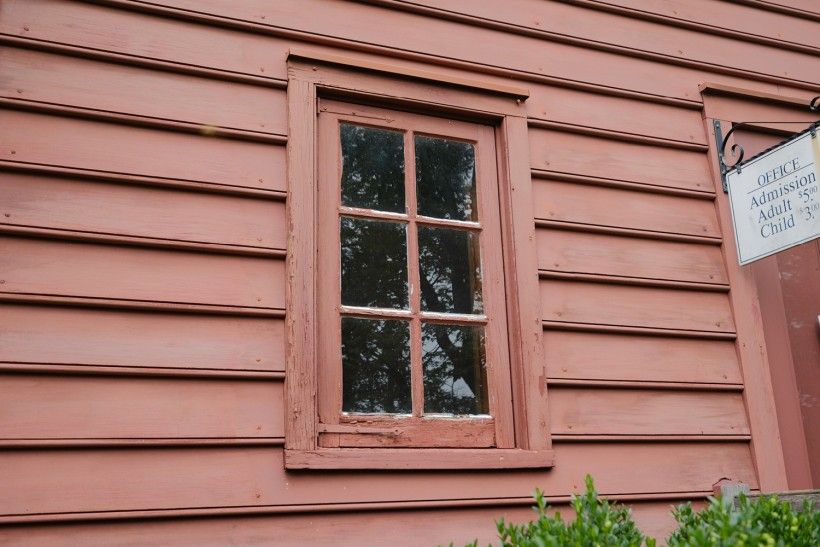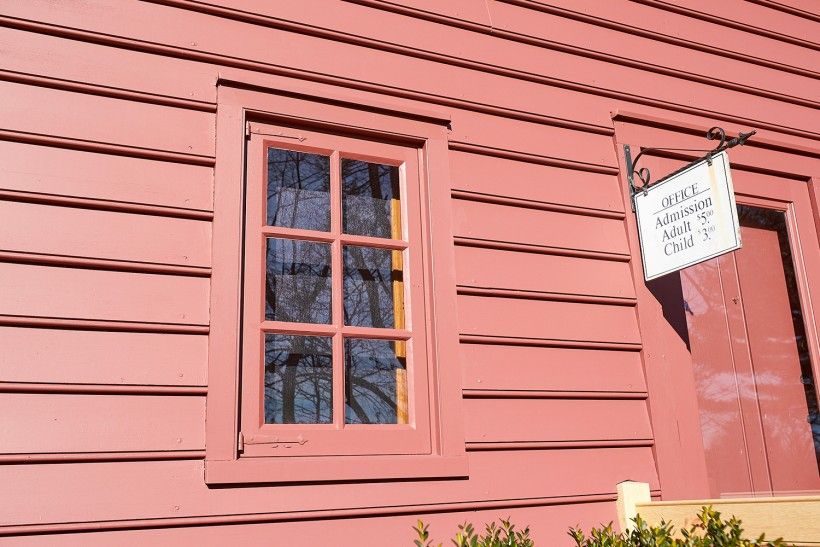 "I was truly awed by the quality of work performed by the artisans who had the passion to complete the work in a most professional manner. That was obvious when they returned for the celebration of the work's completion," said Francis Jacobs, President of the Brinton Association of America. "With this important initiative, it has garnered enthusiasm for a new chapter in the implementation of an enhanced visitor's experience focusing on the Brinton Family, the Battle of Brandywine and the Lenape Nation that helped the family survive the winter of 1684."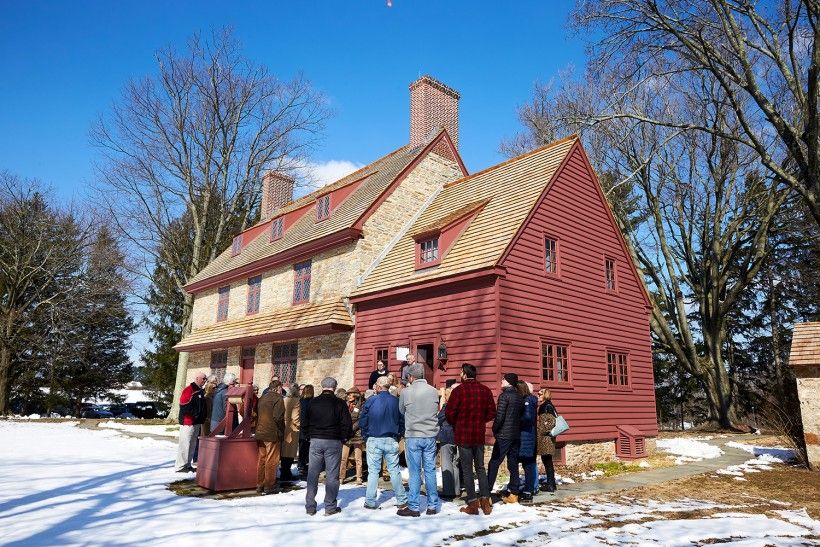 Interested in seeing the restoration work? The Brinton 1704 House is open on Saturdays and Sundays, from May 1 to October 31, or by appointment.
---
Upcoming Calendar of Events
---
Stewardship Series: Planning for Your Property Recap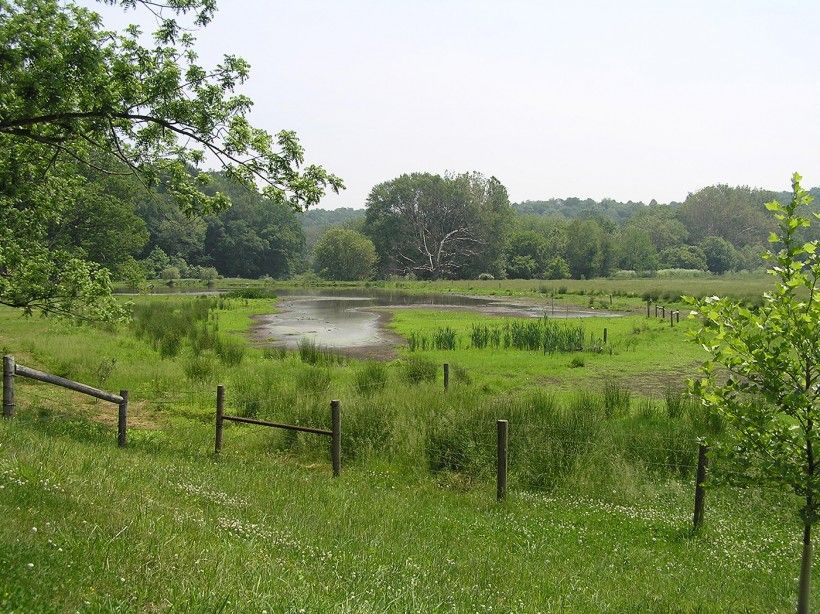 On November 12 the Brandywine Conservancy's Land Stewardship staff hosted a panel program titled "Stewardship Planning for your Property" for its easement landowners, Brandywine members and the public. Panelist Matthew Sarver, ecological consultant, emphasized that in the face of ongoing catastrophic global species declines, private property owners can make a real difference by stewarding their land to support diverse plants and wildlife.  The Brandywine's Grant Folin, Laurels Preserve manager, described effective approaches to managing land, including patience, persistence, and a sense of humor (since Mother Nature has one, too). Panelist Roger Mustalish, easement landowner, described the "stewardship journey" that he and his wife have enjoyed over several decades of caring for their wooded farm property, using a holistic approach founded on respect for land, adapting to change and living with your land not "on" it.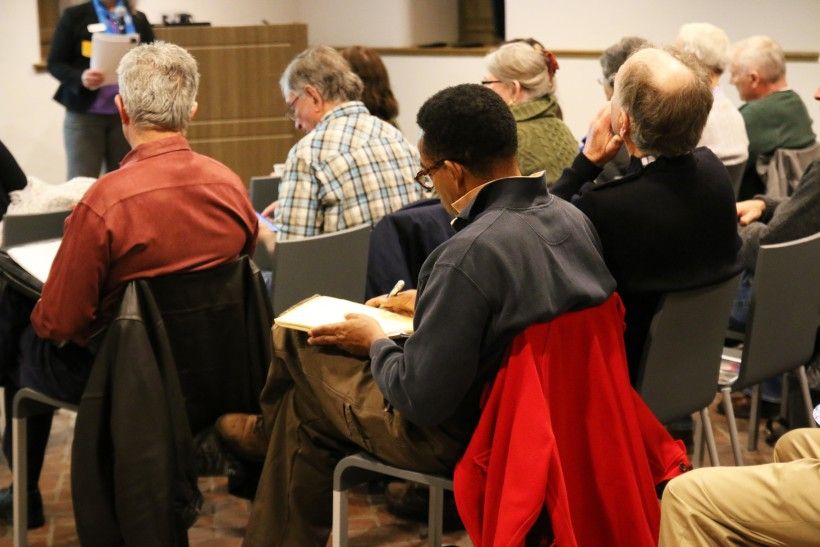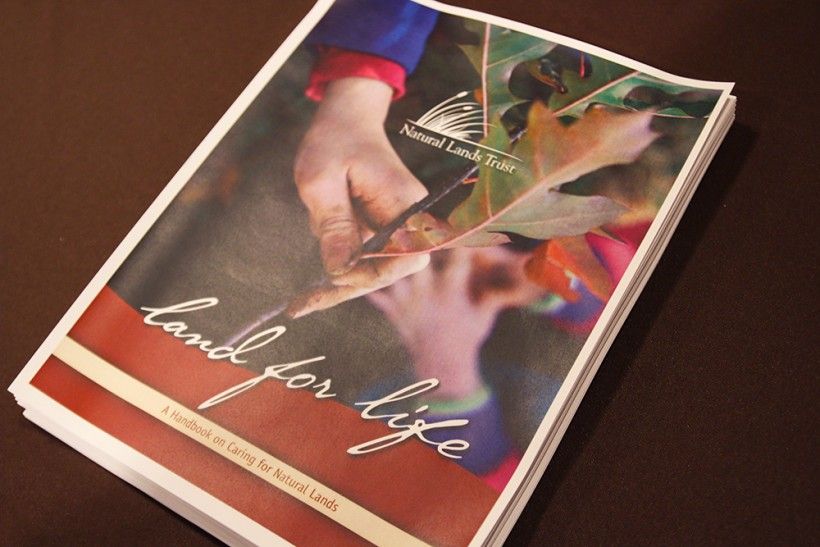 As described in the stewardship planning handbook "Land for Life" that the program referenced, stewardship is ultimately about creating and nurturing a relationship with your property, requiring similar approaches as human relationships, and based ultimately on love for the land.
---
Fourth Annual Bike the Brandywine Welcomes More Than 500 Riders for a Sunny Day Along the Brandywine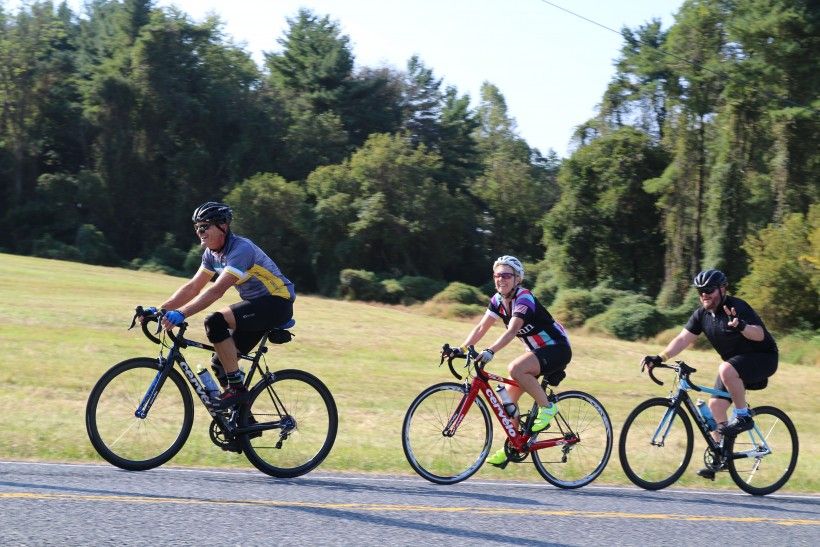 The Brandywine Conservancy celebrated its fourth annual Bike the Brandywine fundraiser on Saturday, September 28 with more than 500 cyclists enjoying a sunny day along the Brandywine Creek Greenway and surrounding countryside. This year's event featured four routes, including a new metric century option (100 kilometers/62 miles), with stunning views of rural landscapes, rich history and active farmland—much of which the Brandywine Conservancy has helped permanently protect and conserve over the past 50 years. Proceeds from the ride benefited the Brandywine's clean water programs.
"Now in its fourth year, Bike the Brandywine continues to be a great way to engage the community in the work of the Brandywine Conservancy," said director Ellen Ferretti. "With the stunning Greater Brandywine Valley serving as a scenic backdrop, cyclists were able to connect firsthand with the land, water and historic sites that the Conservancy works hard to protect. In addition to the riders who joined us this year, we are especially grateful for the continued support of our generous sponsors, including the William Penn Foundation, as well as our incredible staff, volunteers and municipal partners who help make this event a success each year."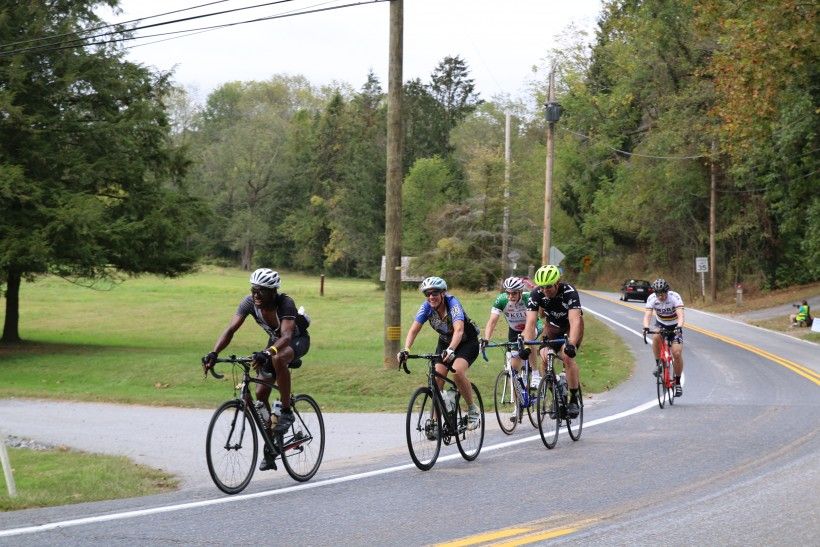 Participating cyclists chose from distances of 25, 45, 62 (Metric Century) and 80 miles, with each loop beginning and ending at the Chadds Ford Historical Society. Riders on the 80-mile route traveled along both the East and West Branches of the Brandywine River, continuing to the headwaters in Honey Brook Township. The Metric Century and 45-mile routes took cyclists through the rolling hills of Unionville, PA, with scenes of bucolic countryside and historic sites, then winding through Modena and the historic village of Marshallton. Cyclists on the 25-mile route followed along the West Branch of the Brandywine through open farmland, scenic river alleys and stunning equestrian landscapes.
"Bike the Brandywine is a wonderful opportunity for riders to explore the Brandywine Creek Greenway," said Sheila Fleming, manager for municipal assistance at the Brandywine Conservancy. "As part of a shared vision with our many municipal partners, our goal for the Greenway is to emphasize the scenic, cultural and recreational resources of the area by creating connections among open space, parks, river access points and area attractions. Bike the Brandywine provides a perfect expression of this vision. As we conclude this year's event, we are ever appreciative of our municipal partners for their continued partnership in expanding and enhancing the recreational opportunities up and down the Greenway."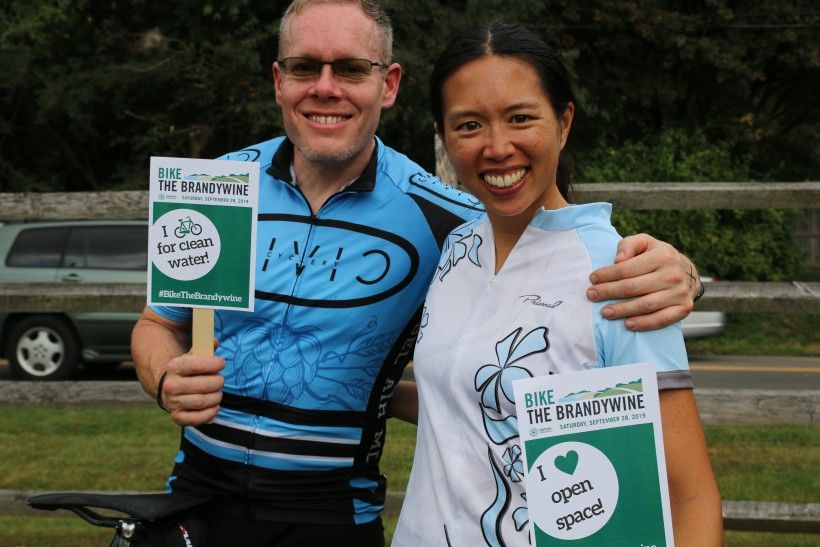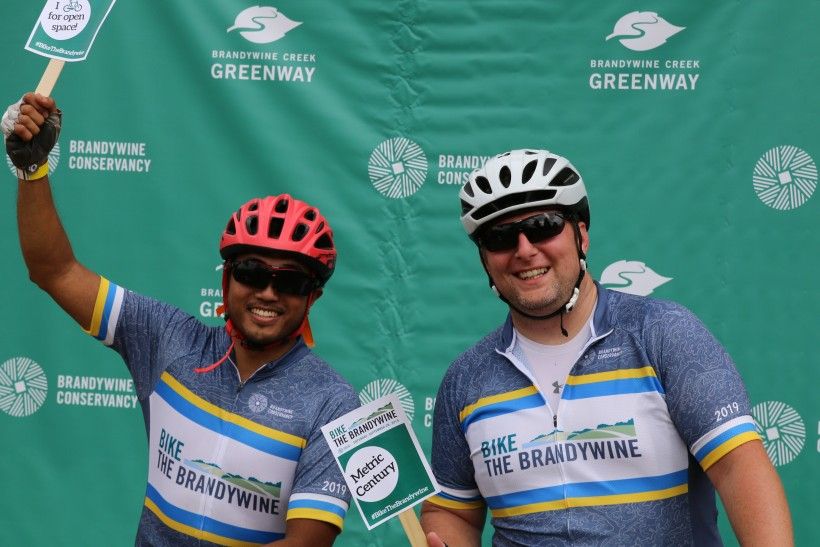 Upon returning to Chadds Ford, cyclists were welcomed back with a complimentary lunch by Chef Mike Kline—Executive Chef of the Brandywine River Museum of Art's Millstone Café—plus celebratory drinks from Victory Brewing Company, and a post-ride stretching station provided by ANCHOR life + fitness. Bike the Brandywine is generously sponsored by the William Penn Foundation, Victory Brewing Company, Chadds Ford Historical Society, L.L.Bean, Trek Bicycle, Western Chester County Chamber of Commerce, For Fox Sake and The Whip Tavern, Willowdale Town Center, Penn Medicine Lancaster General Health - Parkesburg, Wegmans, Voler, Starbucks, Honey Stinger, and Trail Creek Outfitters.
---
Penguin Court Hosts its Inaugural Master Naturalist Class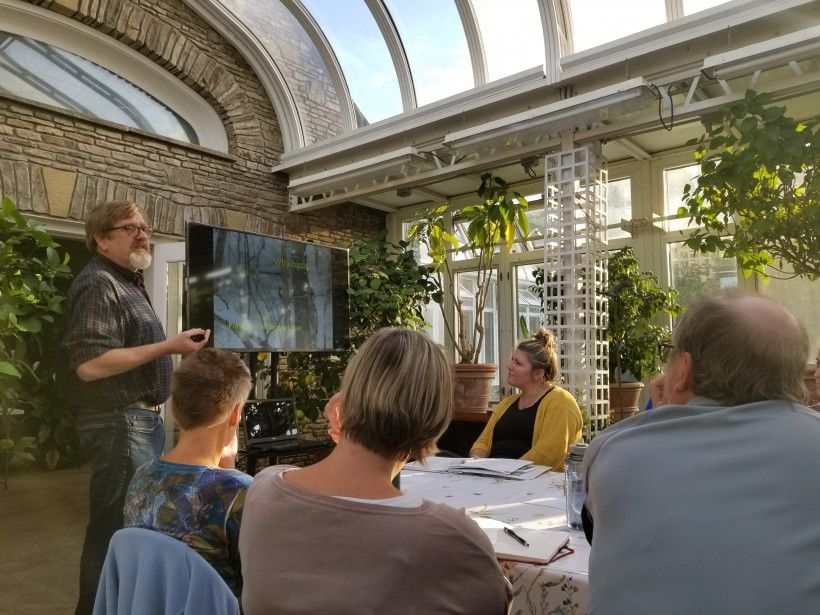 In the fall of 2018, the Brandywine Conservancy's Penguin Court Program Manager began working with the Pennsylvania Master Naturalist (PMN) program to host its first PMN training in the Laurel Highlands. This statewide program works with community and conservation organizations to develop a corps of trained volunteers to take leadership roles in their communities, educate and engage citizens in natural history, or address conservation and restoration needs.
During the initial core training, which is a 12-week program, PMN participants acquire 55 hours of education in several topics including geology, ecology, native flora and fauna, resource management, nature interpretation and much more. For the training held at Penguin Court, which ran from August through October 2019, 11 adults were selected to participate. Penguin Court was responsible for coordinating the logistics of the training classes in its conservatory, as well as securing instructors for each week's class and the four Saturday field trips that expanded upon lessons learned in the classroom.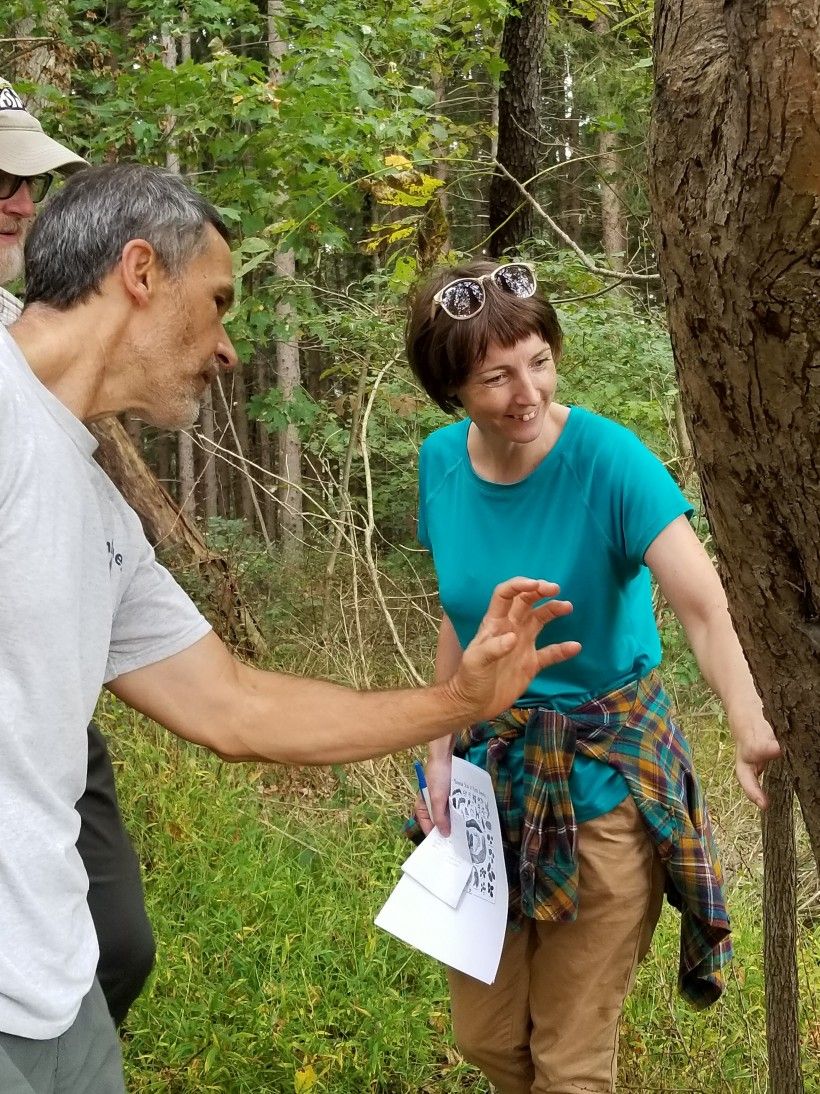 Participants were inspired by the enthusiasm and knowledge of each presenter and learned a great deal about Pennsylvania's woods, waters and wonders. They learned how to share their knowledge and of volunteer or citizen science opportunities in which they may become involved. All participants formulated a "capstone project" that they may pursue over the next year in the spirit of PMN.
"The PMN program was beyond my expectations," noted PMN Trainee Deb Phillippi. "I learned so much about the importance of the interconnectivity between ALL living things. There's humanity in nature. We're a part of a huge, intricate system that we need to respect and preserve and sustain, and the program made this fact very clear. I'm grateful for this opportunity, and I plan to apply what I've learned daily!" 
For one year after the initial training, PMN participants are considered "Trainees" until they complete eight hours of advanced training and 30 hours of approved community service. Then, they graduate at PMN's Annual Meeting in November and must acquire 12 hours of advanced training and 20 hours of community service each year to maintain their PMN certification.
Training programs are tailored to each eco-region across the Commonwealth. An eco-region looks at the patterns and composition of an ecosystem and groups them according to their similarities in living and non-living components. Penguin Court, a Preserve of Brandywine Conservancy located in Laughlintown, Westmoreland County, falls within the Central Appalachians eco-region. The Allegheny Front is the eastern boundary of this region, which is characterized in part by the rugged Allegheny Plateau, high gradient streams, significant forest cover, sandstone, shales, coal and a few limestone valleys, lots of rain, and a relatively short growing season.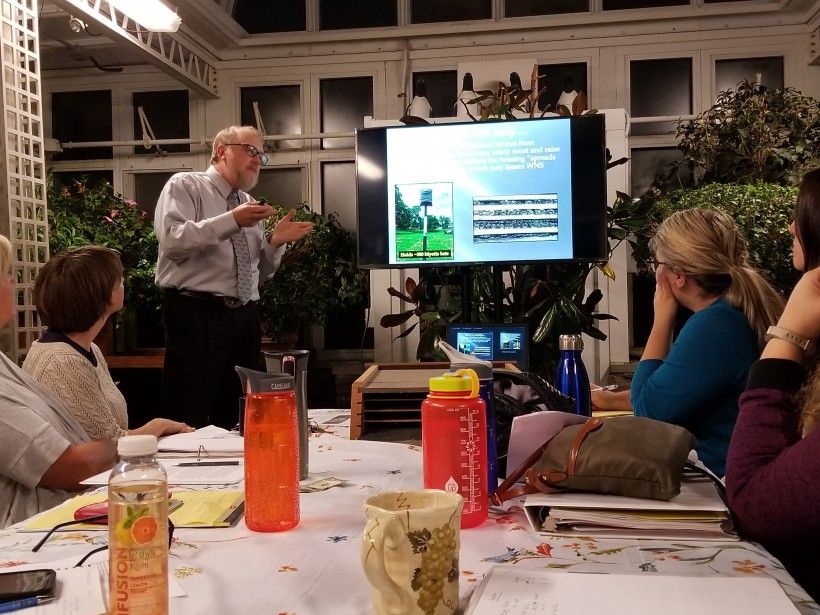 Penguin Court will host the PMN training every fall as long as interest in the program remains strong. For more information on PMN and to apply, visit www.pamasternaturalist.org.
---
30 Years of Preserving Chester County Farmland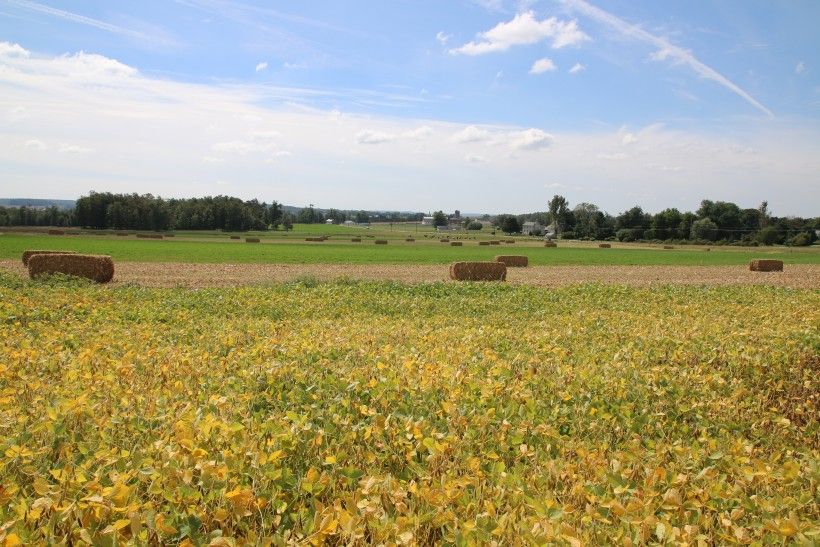 Agriculture is a leading economic engine in Chester County, which is home to some of the most productive agricultural soils in the nation. But it needs land to survive. Whether it's growing corn or pasturing livestock, one fact holds true—"No Land, No Food". That's why for the past 30 years the Brandywine Conservancy staff have worked with our local farmers to help them preserve their land, primarily through the Chester County Farmland Preservation Program.   
In 2019, the Conservancy staff helped 18 landowners, with over 1,213 acres, apply to the Chester County Farmland Preservation Program to sell their development rights to keep their farms in agricultural use forever. Of the 22 farms preserved through the county's program in 2018, 10 were farms where the Conservancy staff assisted the landowner with their application. 
The process from application to preservation takes time. The farm must be in an agricultural security district; have an up-to-date farm conservation plan; and out-rank competing applications. Applicant farmers should be following the recommendations of their conservation plan. These plans are tailored to the farm's operations and how those operations should interact with the land and surface waters.
The goal of a conservation plan is to help the farmer keep their soil and nutrients in place and working for the plants—not eroding into and polluting local streams. Sometimes the plan will list new farming methods to be followed or new facilities that should be installed to further mitigate adverse impacts surface waters. If new practices or facilities are needed—such as stream-side buffers, field terraces or manure containment systems—the Conservancy often helps the landowner with the design and planning process and even with their applications to grant programs to help fund the cost. This work can take a year or more to complete but will greatly improve the farm's ranking in the county scoring matrix.
Since 1989, when the county established its program, Conservancy staff have facilitated the protection of 274 farms involving 21,775 acres with county agricultural easements. While the Conservancy also protects farmland independent of the county, Chester County plays an essential role in conserving agricultural lands and keeping farming at the forefront. We are happy to be their partner in conservation.
---
William Penn Foundation Visits Key Sites in the Brandywine-Christina Watershed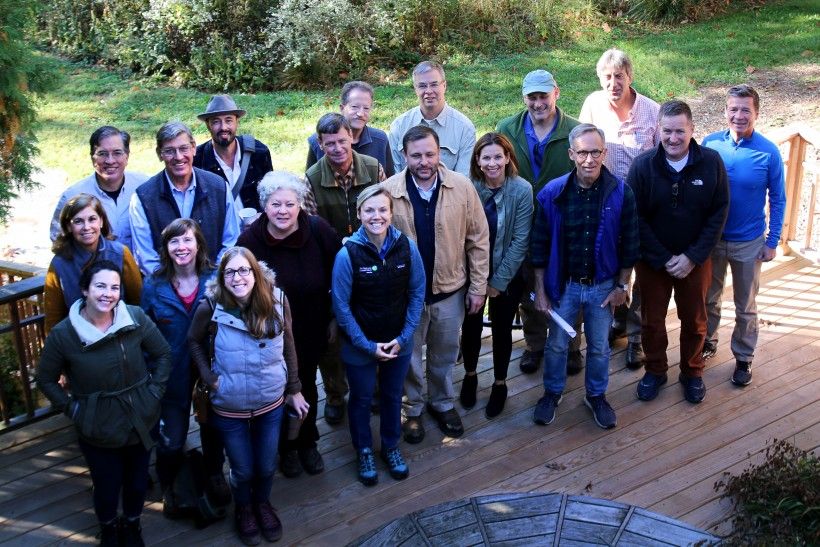 This fall the Brandywine Conservancy and its Brandywine-Christina Watershed Partners were pleased to host the William Penn Foundation for a discussion and all-day tour of selected water quality restoration project sites. During the tour, the group discussed the efficacy of various tactics being employed by the Partners in protecting and restoring surface water quality of Brandywine-Christina Watershed. Many strategies were outlined including improved stormwater management techniques, implementing agricultural Best Management Practices (BMPs), and assisting municipalities in enhancing water protection policies and ordinances. The tour was also joined by representatives from the Academy of Natural Sciences and the Center for Watershed Protection.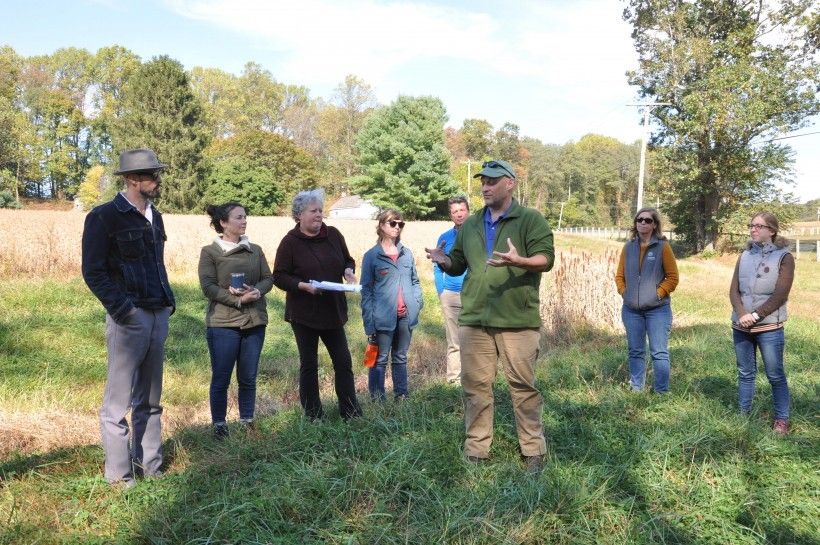 The Brandywine-Christina Watershed Partners are a collaboration of six nonprofit organizations, funded by the William Penn Foundation through the Delaware River Watershed Initiative (DRWI), working together to protect and restore water quality. The Partners are comprised of the Brandywine Conservancy, Brandywine Red Clay Alliance, Natural Lands, Stroud Water Research Center, The Nature Conservancy in Delaware and the University of Delaware Water Resources Center. The Brandywine-Christina Watershed is one of eight targeted watersheds in the Delaware River Basin identified by the DRWI as priority areas where interventions could significantly safeguard or improve clean water. The watershed encompasses over 565 square miles in parts of Delaware and Pennsylvania, including the Brandywine River, Red and White Clay Creeks, and the Christina River. Streams and rivers in the Brandywine-Christina Watershed provide 100 million gallons of drinking water to more than 500,000 people each day.
 
---
Header photo by Jim Moffett Photography.