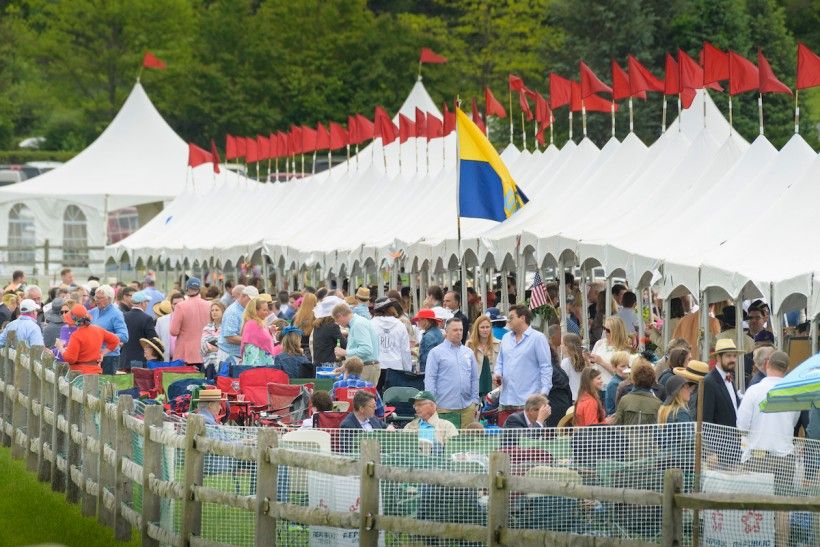 GENERAL
The Radnor Hunt Races are held annually on the third Saturday in May. This year the Races will be held on Saturday, May 20, 2023.
The Radnor Hunt Races take place on the W. Burling Cocks Memorial Racecourse at Radnor Hunt, 826 Providence Road, Malvern, PA 19355.
Gates open at 9:00 a.m. Opening Ceremonies will tentatively begin at 1:00 p.m. Post-time (the start of the race) for the first race is tentatively 1:30 p.m.
Tickets are not sold on the day of the event—there is no Will Call area. All patron ribbons and parking passes must be purchased and received in advance of May 20, 2023. There are no refunds.
Children 12 and under are admitted for free when accompanied by an adult in all tailgating areas.
Patrons must be 21 to purchase a Patron ribbon, parking passes, or tailgating spot.
Guests should keep their Patron ribbon with them at all times in credentialed areas.
No vehicle larger than a mini-van, SUV, or standard size pickup truck will be allowed in the parking spaces. All vehicles in reserved parking spaces must fit within their designated space.
For your safety and the safety of horses and riders, the races are a NO DRONE ZONE. Unauthorized drones are not permitted and are subject to confiscation.
Arrive early to avoid getting caught in traffic. Please plan to arrive by 11:30 a.m.
RACES
There are five (5) sanctioned races throughout the course of the day, in addition to one side-saddled event. 
Each race is a different length and has challenges, such as the type of track (brush or timber) and the number of jumps.
Post time for the first race is tentatively 1:30 p.m. and there is a race approximately every 30-40 minutes. Expect the races to end at approximately 4:30 p.m. Please note the race schedule is subject to change.
For your safety, as well as that of the riders and horses, the track crossings are closed at the start of each race and will not reopen until the official permits. Your patience and understanding are greatly appreciated.
TAILGATING
The sale or promotion of merchandise or services is strictly prohibited except by the Radnor Hunt Races Committee or authorized by the Committee as part of a sponsorship. 
The Radnor Hunt Races is a fundraiser for the Brandywine Conservancy and its open space and clean water programs. The raising of funds or use of a party at the Radnor Hunt Races as a fundraiser for any other organization is strictly prohibited. 
ALCOHOLIC BEVERAGES
Please drink responsibly. Please do NOT drink and drive.
Please make transportation plans in advance with members of your party, a taxi service, or a rideshare. 
The Radnor Hunt Races has a zero-tolerance policy for underage drinking. Please be prepared to show identification.
No kegs or drinking games.
NO GLASS CONTAINERS OR DISHES OF ANY KIND.
ANIMALS
Absolutely no pets are allowed on the grounds except for service animals. 
CREDENTIALS AND PARKING
Guests should keep their patron ribbons with them at all times; be prepared to show credentials at all entrances.
All vehicles must display the appropriate parking pass for their designated space.
If you leave the event early, your parking pass will be collected as you leave. While you can leave at any time, those in the infield must wait to leave between races.
Any duplication or counterfeiting of credentials may result in removal from the event.
NO buses, limousines, motor coaches, trailers, or other vehicles are permitted without prior consent from the Radnor Hunt Races office. 
Patron parking passes are required to enter the grounds and are included with all patron packages. If you are a patron already, you can purchase a limited amount of additional passes for $100 per pass. 
Patron ribbons are also part of a patron package. If you are a patron already, you can buy additional ribbons up to the maximum permitted per area for $100 per ribbon. Please note, Box holder cannot purchase extra ribbons because there are only 4 seats in a box.
Many parking areas where you drive directly to your reserved parking spot are ADA accessible. Patrons parking around the clubhouse should show the parking staff their Disability Parking Placards and they will guide them to the accessible parking area. Please note that many areas around the course require traveling over unpaved or uneven ground. 
ATTIRE
Please wear clothing and shoes that are suitable for the day's weather. The races are held on a grassy field. Flat shoes are recommended.
Traditionally, the level of dress at the event changes with proximity to the clubhouse, where the attire often skews more towards sports jackets and dresses. Please feel free to dress at your comfort level!
Don't forget to wear a hat and/or sunblock! Please plan to wear rain gear if we are expecting inclement weather. Note that it is usually breezy on race day in all kinds of weather. 
CONDUCT
No one who appears intoxicated will be admitted to the grounds. Any guests who are intoxicated may be asked to leave the grounds.
Please be courteous of your neighbors who are also enjoying the day's events.
No amplified bands or DJs are permitted. In-vehicle sound systems must be kept at acceptable levels.
No inflatable devices such as climbing walls, slides, or obstacle courses are permitted.
No fireworks, pyrotechnics, or firearms of any kind are permitted. 
No display of advertising banners or signs.
No propane, gas, charcoal grills, or open flames (candles) or any kind are permitted.
No trailers.
MEDICAL AID AND SECURITY
If there is a serious medical or security emergency, immediately call 911.
If you do not have a phone, ask your neighbor or seek out the nearest uniformed Boy Scout. There is a response team on site.
For less serious emergencies, there is an ambulance and first aid station located on the hillside near the information tent.
TRANSPORTATION
Rideshare pickup and drop off is located at either Gate 1 or Gate 5. Please call the Radnor Hunt Races office at 610-388-8383 or visit the ticketing section of this website to purchase a Rideshare pass.
No cars may be left on the grounds overnight. Any vehicles on the grounds overnight are subject to towing at the owner's expense.
Failure to honor Radnor Hunt Races policies or the statutes of the State of Pennsylvania will result in expulsion from the grounds.