DIY Craft: Pressed Plant Designs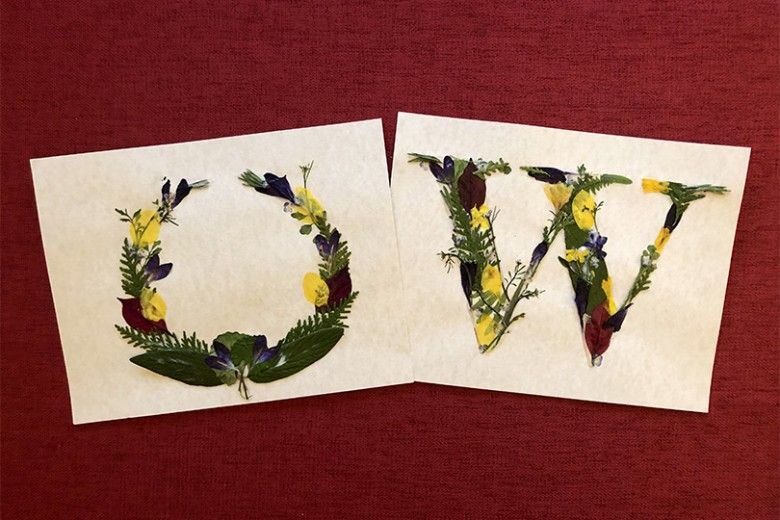 Capture the colors of early spring in a collage of pressed leaves and flowers. This simple and versatile project can be done individually or as a family. Discover what colors are in your own backyard!
Image

Gather your supplies:
Freshly picked leaves and flowers
A flower press or a heavy book with scrap paper
Heavy-weight, light-colored paper
Decoupage glue (such as Mod Podge) or slightly watered-down white glue
Paint brush
Optional: pencil for drawing out design
---
Image

Step 1:
If using a heavy book to press your plants, insert two pieces of scrap paper between pages and arrange your plant material between them with space around each plant/leaf. Fill as many pages as needed to press all of your collected plants. Close the book and stack it beneath other books or a heavy object so the material is pressed tightly. Allow it to press for at least four days.
---
Image

Step 2:
If desired, while your plants are being pressed draw or trace a design lightly in pencil to guide the placement of your plant material.
---
Image

Step 3:
After your plants have been pressed, gently remove them from the book and begin to lay them out on your paper until you find a composition you like.
---
Image

Step 4:
Working with one leaf or flower at a time, begin to apply your glue using a brush to the paper where that piece will go.
---
Image

Step 5:
Press the plant onto the glue and gently apply more glue to the top of the plant with your paintbrush to seal it in place. The glue may appear white at this stage, but it will dry clear.
---
Image

Step 6:
Add additional plant pieces to your design! Continue applying glue to your paper, placing the plants on top and coating with another layer of glue until you are happy with your finished design.
---
Image

Step 7:
When you are finished, allow your glue to fully dry, and enjoy your one-of-a-kind floral collage! Happy spring!