Invasive Species Spotlight: Japanese Angelica Tree (Aralia elata)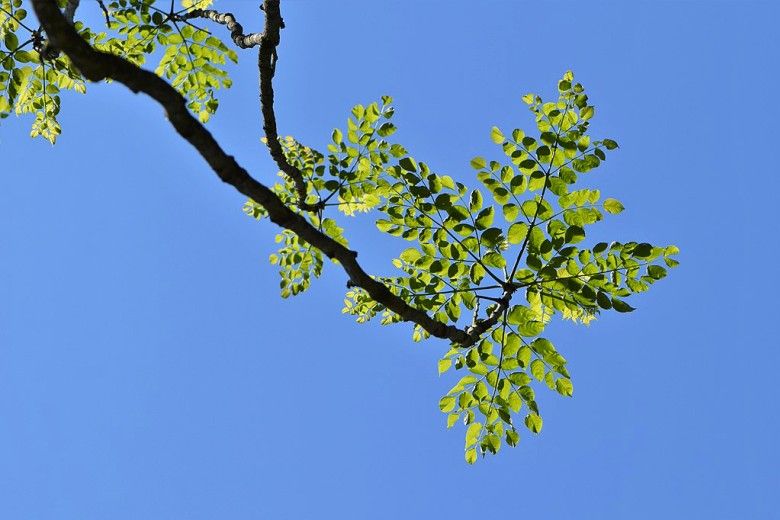 The Japanese angelica tree (Aralia elata) is an invasive species that is relatively new to the Mid-Atlantic states. It is hard to know exactly when this species escaped into natural areas, but it likely went undetected for some time because of its close resemblance to the native species Aralia spinosa (also known locally as "devil's walking stick" or the "Angelica tree").
Now that it is well established in both Pennsylvania and northern Delaware, the Japanese angelica tree has started outcompeting native species with its vigorous growth and lack of natural predators. This species is also thought to be capable of hybridizing with the native Aralia spinosa, which could threaten the genetic diversity and survivability of one of our more unique native trees.
Origin
This tropical-looking tree was first introduced to North America in 1830 as an ornamental species from Eastern Asia and Japan. Although it likely naturalized shortly after its introduction, the invasive tendencies of Aralia elata in the Mid-Atlantic states were only first observed in the early 2000s. A study that took place in Wissahickon Valley Park in Philadelphia revealed how this tree outcompetes most native plants in a forest understory and was displacing its native counterpart, Aralia spinosa. Japanese angelica tree is most prominent in the urban areas and disturbed forests of southeastern Pennsylvania but this invasive has been reported in other parts of the state as well as Delaware, New York, New Jersey and Ohio.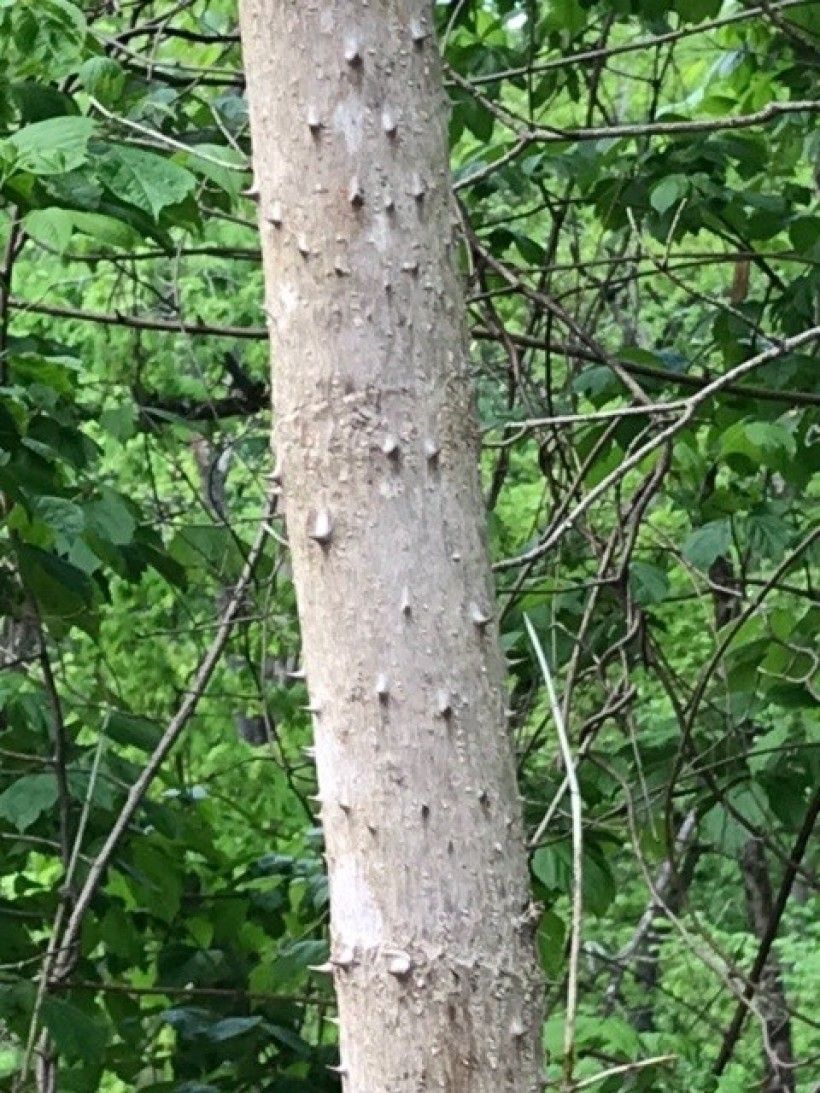 Characteristics
Aralia elata is a small, broad-leaf, deciduous tree, reaching about 30 feet in height at maturity. Individuals usually have multiple spindly stems that form dense stands. They can grow in full sun or part shade and prefer moist soil but will tolerate drier areas. The leaves are tri- or bi- pinnately compound and can grow up to three feet long. Cream-colored flowers grow in large panicles and bloom in late summer. The flowers quickly give way to small, dark-purple berries. This tree is also famous for the extremely sharp spines that cover the stems and petioles.
All these physical traits are nearly identical to our native Aralia spinosa. Telling the two species apart in the field can be very difficult, but the most reliable way to identify the species is to compare the flowers. While the flowers themselves are almost indistinguishable, the shape of the inflorescence—otherwise known as the entire flowering body—is quite different. In Aralia elata, the inflorescence is roughly 30 to 60 cm tall and usually more wide than tall. The inflorescence on Aralia spinosa is about twice as tall at an average of 100 cm. The inflorescence is much taller than it is wide and is usually elevated above the leaves.
See the photos below for a comparison between the two: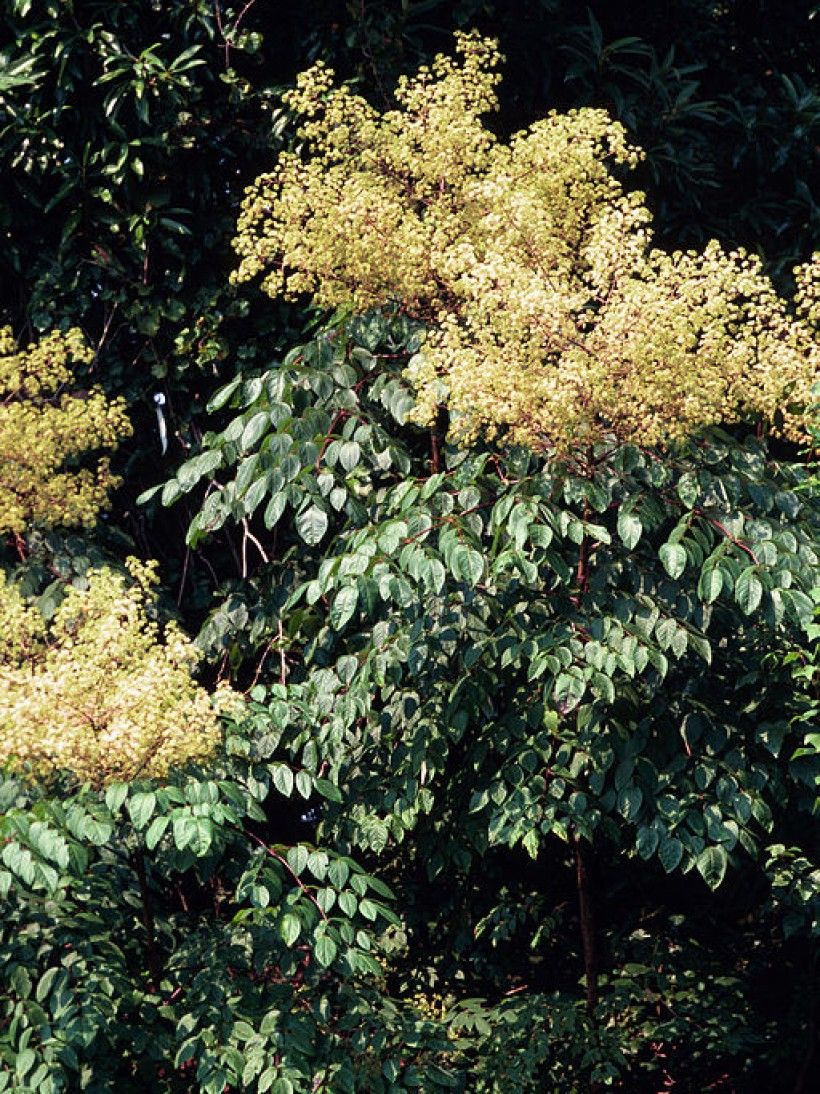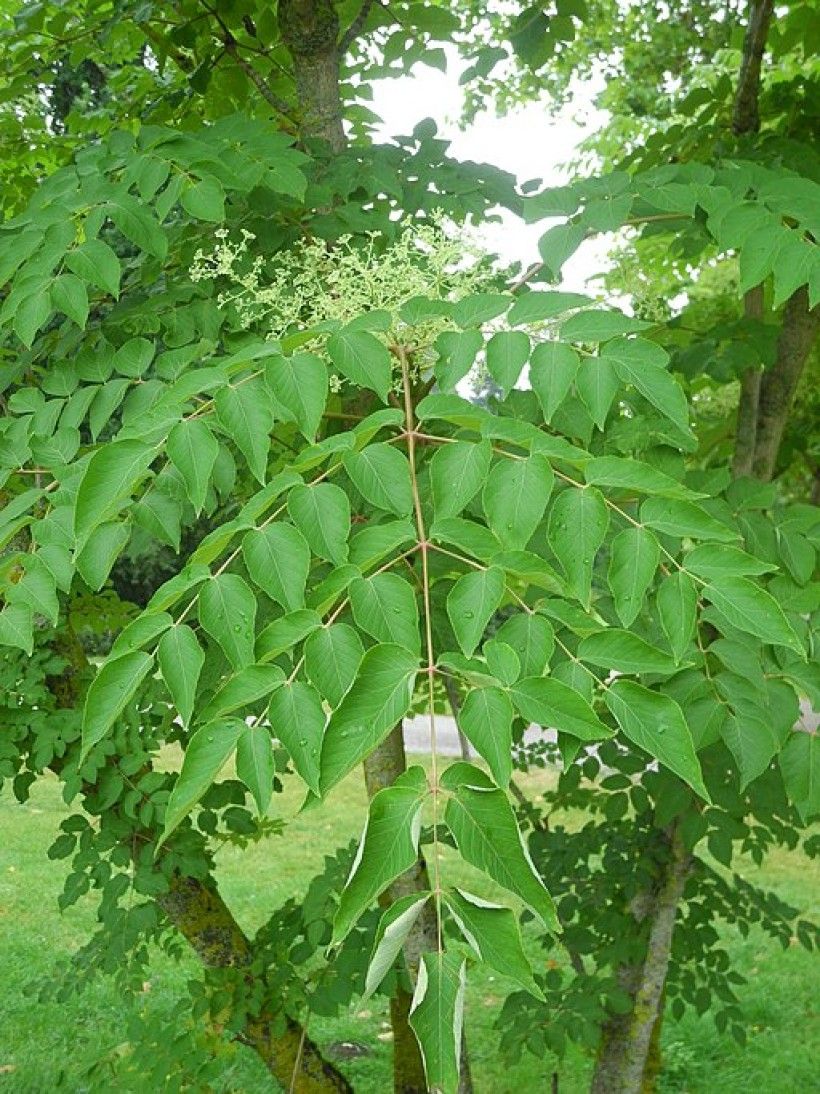 Control
Correctly identifying a population of Japanese angelica tree is the first and most complicated step to controlling this invasive. You don't want to accidentally kill a stand of native trees because of a case of mistaken identity. Using context clues can be very helpful for identifying the invasive tree during the early summer or spring. If you find a tree growing aggressively in recently disturbed earth or the edge of a forest, it is probably safe to assume you have the invasive Aralia species on your hands. These areas are where invasive species thrive. If you want to be more certain, the best bet is to compare the flowers when they bloom in the late summer as described in the previous section.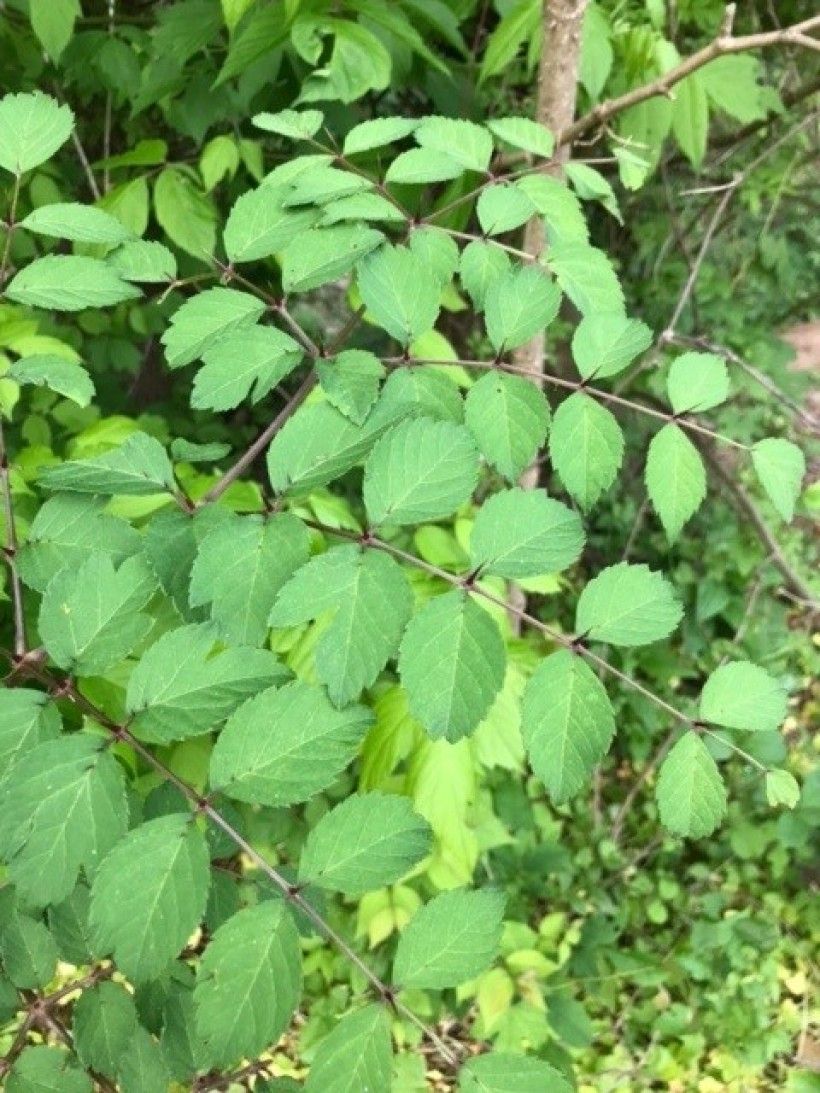 If you find that you have a population of the invasive Aralia elata, be sure to cut the flowers off before they turn to fruit. This tree spreads quickly when birds eat the fruit and disperse the seeds. The preferred method for removing Aralia elata is to cut the stems in the spring or early summer. Next, you can paint the top of the cut stem with an herbicide, like triclopyr, to kill the root system. Alternatively, you can wait for the leaves to resprout later in the summer and then spray the leaves with a foliar herbicide, like glyphosate. Be sure to follow the instructions on the label and be extra cautious when applying herbicide near a wetland.
References
Mistaken Identity? Invasive Plants and their Native Look-Alike: An Identification Guide for the Mid-Atlantic
Invasive Plants in Pennsylvania: Japanese Angelica Tree via the Pennsylvania Department of Conservation and Natural Resources
Bugwood Center for Invasive Species and Ecosystem Health: Aralia elata
Maryland Invasive Species Council—An Unreasonable Facsimile: Japanese Angelica Tree
---
Header Image:
Aralia elata. Photo by Krzysztof Ziarnek, Kenraiz, CC BY-SA 4.0, via Wikimedia Commons.