Image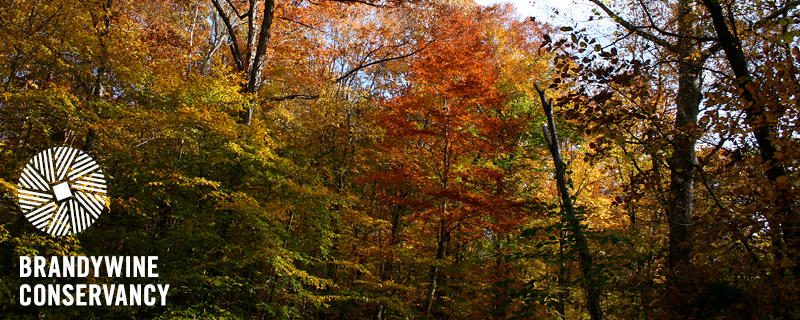 Directors' Report
Dear Fellow Conservationists,
The past two weeks are showing the telltale signs of autumn—falling temperatures, rustling leaves, and the harvesting of crops. And after experiencing the hottest summer on record globally, it is more important than ever to embrace our community's efforts to improve the environment for ourselves and the next generation.
This issue of Environmental Currents focuses on how people understand, interact with, and enjoy nature, all while providing benefit to the environment. There are a variety of ways to get involved, allowing you to choose your own way of connecting with nature. Below, learn about recreational opportunities to connect with the world around you—whether it be enjoying East Bradford Township's new boat launch at Shaw's Bridge Park or signing up for some of our fall programs, including our bird migration walk at Birmingham Hill Preserve. We have also announced a new round of our mini-grant program for municipalities and partners to assist projects that will support and advance the goals and objectives of the Brandywine Creek Greenway's Strategic Action Plan, such as trail design, engineering, and signage or environmental improvement projects—applications are due by September 29! And those with an artistic flair will enjoy the photos from our third Pennsylvania Pollinator Photo Challenge contest—an inspiring way to see how people see and capture the beautiful life cycles of the environment. 
Those who are ready to act should check out our Native Plant Pocket Garden Staff Challenge update. As we reported in the Directors' Report this past spring, staff across all program areas at the Brandywine Conservancy & Museum of Art came together to plant their own native plant pocket gardens. We are pleased to report that over 30 staff participated in the challenge! We love to lead by example and are proud of our results, and hope that you will join us in transforming a small piece of your own yard next year.
As we close on this warm summer, we also have some fall technical advice for implementation—including our picks for 10 trees to plant in a changing climate and guidance on how to tackle Russian and Autumn Olive, two often conflated invasive species.
While you are choosing your own way of embracing our environment personally, the Conservancy is working hard to holistically address our region's environmental challenges into the future. After the devastating impact of Hurricane Ida to our community in Pennsylvania and Delaware, the Brandywine Conservancy and its partners recently announced the launch of the Brandywine Flood Study which will help us better understand where and why flooding occurs and identify the best approaches to protect our communities from future severe flooding events. The study is expected to be completed by June 2024, and we will need your assistance to gather information and feedback. We hope that you will participate in this important, groundbreaking process, as we address flooding needs into the future together.
 
Happy reading!
— Stephanie and Grant
Stephanie Armpriester, Director of Conservation and Stewardship
Grant DeCosta, Director of Community Services
---
Agriculture Spotlight: Fall Harvest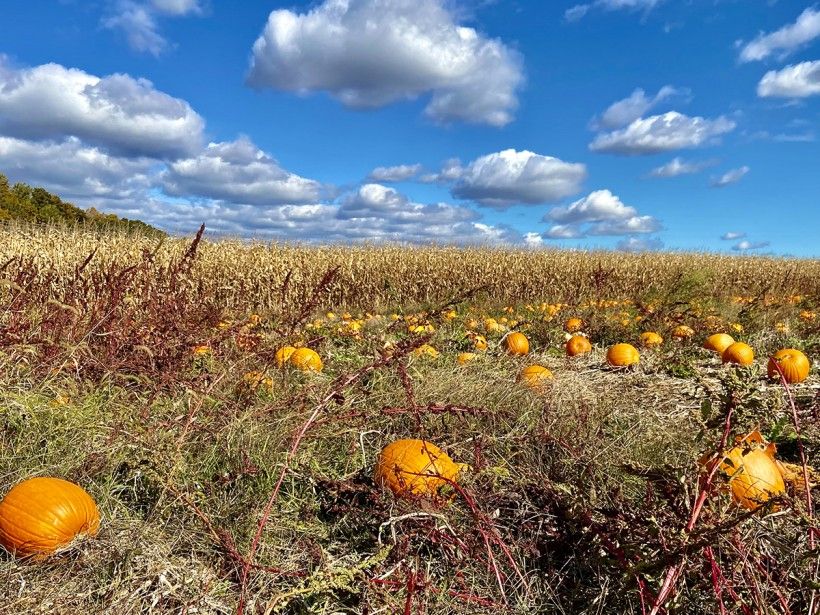 It's that time of year again when the air becomes cooler, the leaves start to change color, and crops are ready to be harvested. Autumn wouldn't be the same without a bounty of corn, apples, and pumpkins at your local market, and we have our local farmers to thank for it. But there's a lot that needs to happen both before and after that harvest bounty hits your table.
Read on below to learn how crops are harvested, what farmers do to protect the soil over the winter months, and ways you can support your local farm this fall. 
---
Invasive Species Spotlight: Autumn & Russian Olive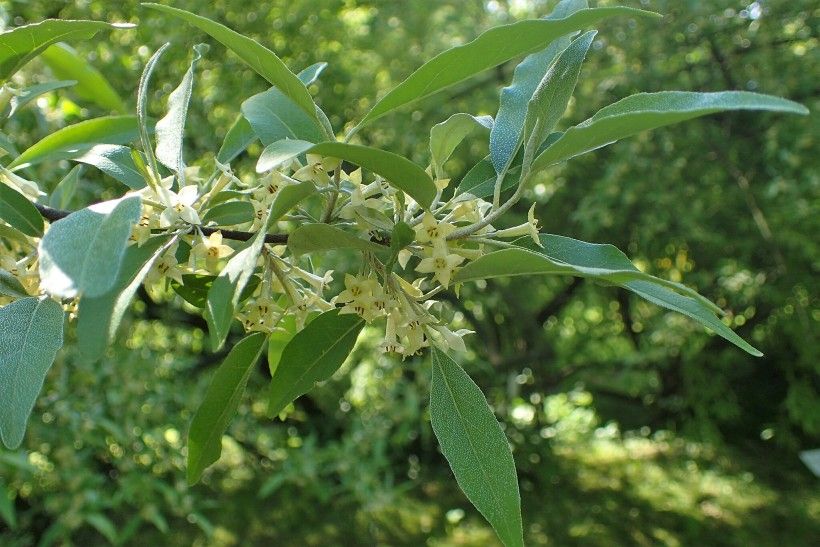 The genus Elaeagnus contains about 100 different species of shrubby trees. In this invasive species spotlight, we will look at two that have become invasive in large parts of the United States: Autumn Olive (Elaeagnus umbellata) and Russian Olive (Elaeagnus angustifolia). Although they have distinct differences, both species are often conflated due to similar growing habits and recommended control treatments.
---
Brandywine Conservancy and Partners Launch the Brandywine Flood Study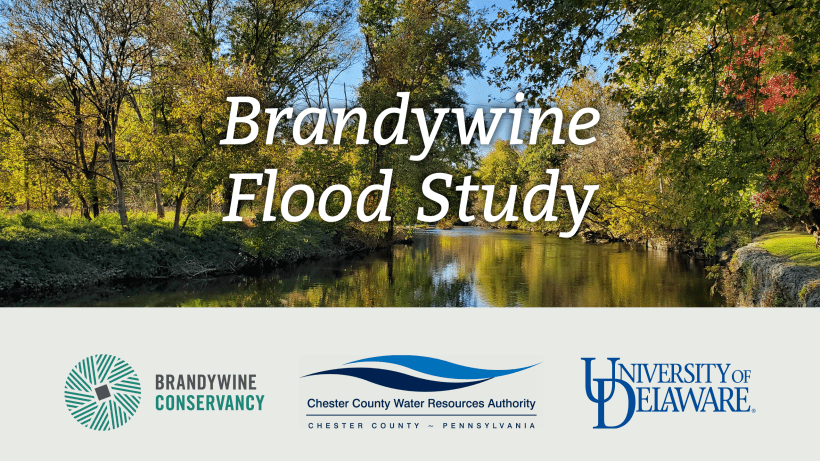 In response to more frequent and extreme flooding events impacting communities along the Brandywine Creek in both Pennsylvania and Delaware, the Brandywine Conservancy recently announced the launch of the Brandywine Flood Study—two years after Hurricane Ida produced historic flooding that devastated the region. Conducted in partnership with the Chester County Water Resources Authority (CCWRA) and the University of Delaware Water Resources Center (UDWRC), the flood study is a coordinated effort to better understand where and why flooding occurs and identify the best approaches to protect our communities from future severe flooding events.  
Encompassing the mainstem of the Brandywine Creek and key tributaries in Chester and Delaware Counties in Pennsylvania and traveling downstream to impacted areas over the Delaware state line, the flood study aims to identify options for reducing flood impacts to improve public safety and lessen property damage. The study will be funded, in part, through grants from Chester County Government and Delaware County Council.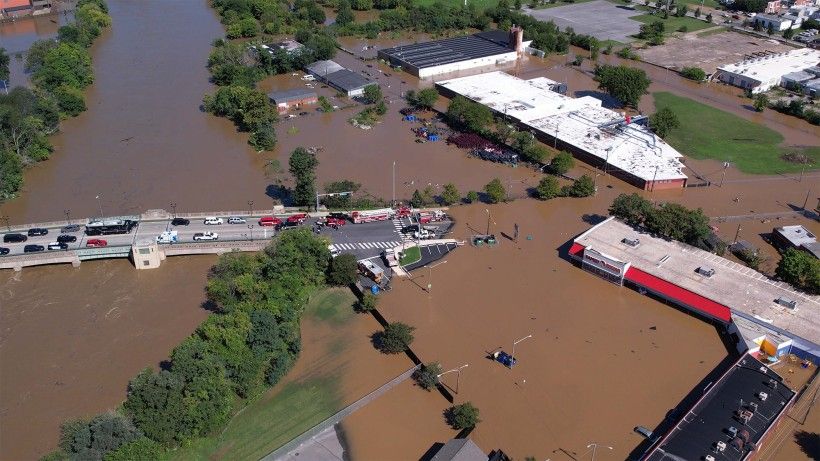 "Following the two-year anniversary of Hurricane Ida, which caused significant threats to public safety and emergency services, along with over $100 million in flood damages to public infrastructure in our region—including more than $10 million in damages to the Brandywine Conservancy & Museum of Art's 15-acre campus in Chadds Ford—there is an urgent need for this flood study," said Grant DeCosta, Director of Community Services for the Brandywine Conservancy. "In order to identify the best strategies for mitigating the impact of future flooding events, we need to better understand all of the factors that contribute to flood levels along the Brandywine Creek and its tributaries. Given the increasing likelihood of future severe weather events, the Brandywine Flood Study is key to our community's health and safety." 
Led by the Brandywine Conservancy, CCWRA and UDWRC, the study will evaluate the Brandywine Creek's flow regimes during intense storm events, along with the scale and potential impact of subsequent flooding. The study will also include Stroud Water Research Center, West Chester University and other technical experts as key partners.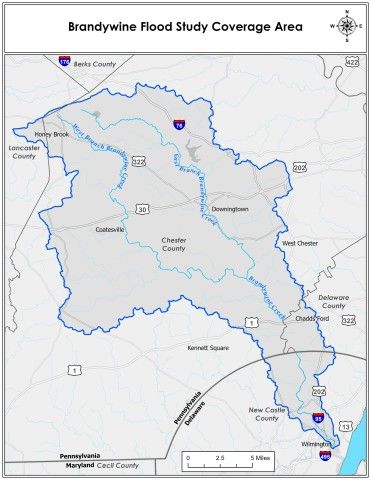 One of the first tasks of the flood study will involve refining the study area to determine all the streams and tributaries with flow regimes that contribute to major flood events. The study partners will then evaluate the designated area's storm event and climate data, population, land use, water quality, natural areas and cultural resources. Historical and present flooding data will also be evaluated, and then the partners will develop hydrologic and hydraulic models of the Brandywine Creek using the U.S. Army Corps of Engineers' Hydrologic Engineer Center's River Analysis System (HEC-RAS). Using these models, the partners will identify problems associated with the geography and hydrology of the flood study area. This process will also include public workshops and field reconnaissance of the defined study area.  
Following the data gathering and field study phase, the partners will begin site assessment for improvements to the flood study area to mitigate future flooding. The recommended solutions will be evaluated for various factors, including impact and cost, in order to facilitate strategic implementation throughout the study area.  
The study is expected to be completed by June 2024. A series of public workshops will be held during key stages of the flood study process to engage with impacted communities and gather feedback. The partners also plan to form a flood advisory committee made up of key stakeholders along the watershed. The public can stay informed on the flood study progress, along with upcoming public meeting dates and locations, at brandywine.org/flood-study. 
Once the flood study is completed, the partners are committed to working with impacted communities, elected officials, key funders and government agencies to implement the study's recommendations so that the watershed and its residents in both states are better prepared, protected and equipped to rebound from future severe flooding events.  
---
Upcoming Chester County Sustainability Summit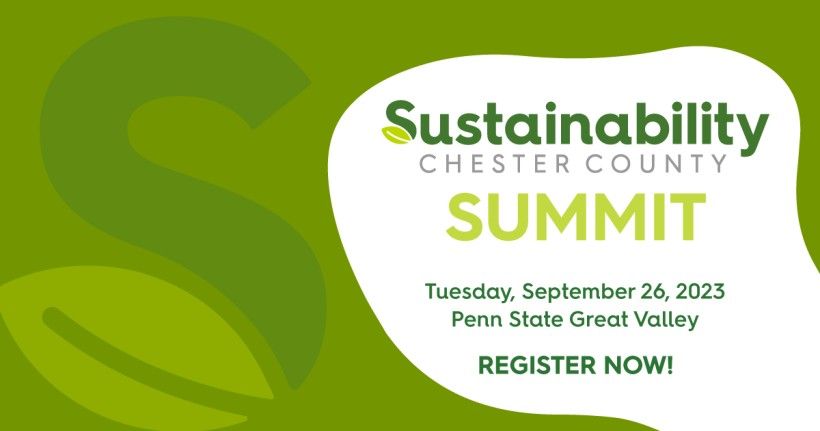 On September 26, Chester County is hosting their first-ever Sustainability Summit. This free event is one of the many steps Chester County has taken to support the implementation of their Climate Action Plan, and it will provide an opportunity for local government officials, business owners, educators, students, and anyone dedicated to advancing sustainability to connect with fellow leaders.
When: Tuesday, September 26, 2023 from 7:30 a.m. - 1:30 p.m. 
Where: Penn State Great Valley Conference Center 
Cost: Free (lunch provided for all registrants) 
For more details and to register for this event, click here.
Since the development and adoption of their Climate Action Plan, Chester County has formed an Environmental and Energy Advisory Board (EEAB), which includes the Brandywine Conservancy's Sarah Sharp. Additionally, the County created a new Sustainability Department which organized the Sustainability Summit and other key projects that support sustainability in the County.  
---
10 Trees to Plant in a Changing Climate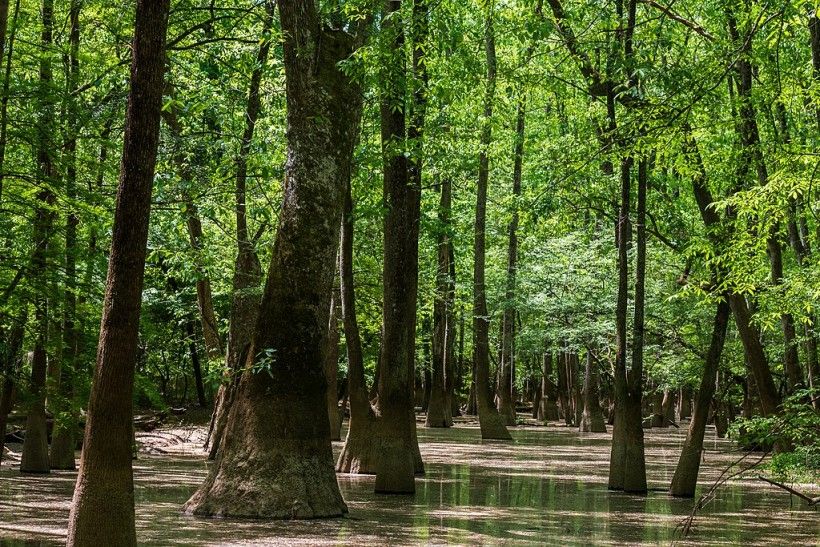 As greenhouse gas emissions increase global temperatures at even quicker rates, various tree species are expected to shift farther north in search of appropriate habitats, which could dramatically alter the species composition of our landscape. Fortunately, we can make decisions today to keep the diversity of our forests intact while assisting species as they migrate towards cooler climates. Whether you want to plant street trees, add some wildlife value to your backyard, or reforest an abandoned field, selecting native trees that are suitable for an impending climate is imperative. Planting a diverse array of climate-appropriate trees will go a long way in creating climate resilient green spaces for both humans and wildlife.
---
Greenway Mini-Grants: Round 3 Recipients and New Funding for 2024 Announced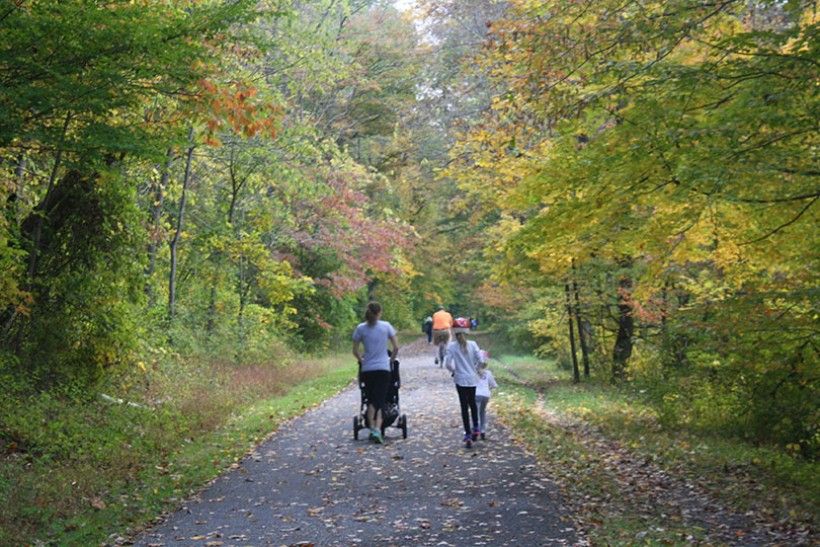 The Brandywine Conservancy is pleased to announce the recipients of Round 3 of the Brandywine Creek Greenway's Mini-Grant Program, and the launch of another round of funding for 2023–2024!
Both Round 3 and Round 4 of this program are funded by grants of $85,000 from the Pennsylvania Department of Conservation and Natural Resources' Community Conservation Partnership Program Environmental Stewardship Fund, administered by the Bureau of Recreation and Conservation. With these funds, the Brandywine Conservancy is able to grant awards of $2,000 to $25,000 to projects that will support and advance the goals and objectives of the Greenway's Strategic Action Plan. 
Brandywine Creek Greenway Mini-Grant Recipients for Round 3:
Caln Township – Design and Engineering for Beaver Creek Trail Segment 4 ($7,500)
East Bradford Township – Water trail signage for Shaw's Bridge Canoe Launch ($5,000)
Kennett Area Park Authority – Ash Grove Forestry Project ($16,000) 
West Caln Township – Layton Park stone wall restoration project ($7,500) 
Applications for Round 4 is now open!
The fourth round of grant funding is now open with applications due by September 29, 2023. The mini-grant program will fund small projects that improve parks, open space, and community trails, and will advance priority conservation and recreation projects identified in the Greenway's Strategic Action Plan, plus other publicly vetted municipal planning documents. Eligible applicants include Pennsylvania non-profit organizations with tax-exempt status 501(c)(3), municipalities, counties and some educational institutions. Non-profit organizations must submit proof of non-profit status and be registered with the PA Department of State Bureau of Charitable Organizations.
Mini grants may not be used to fulfill match requirements for other DCNR-funded grant projects. The maximum grant award is $25,000; any amount greater will require approval by DCNR. All projects, related costs, and funding must conform to the guidelines of the PA DCNR Community Conservation Partnership Program.
Grant application materials are available on the Brandywine Creek Greenway's website.
Important application dates for Round 4:  
Application Deadline: September 29, 2023, by 4 p.m. 
Grant Awards Announced: November 20, 2023  
Contracts Executed: December 4, 2023  
Projects Begin: December 2023   
Projects Completed: October 2024  
Final Site Inspections by Mini-Grant Local Project Coordinator: October 2024  
Final Payments: Issued upon project completion, satisfactory final site inspection and DCNR approval  
For questions about funding for Round 4 please contact Elena Hadley at [email protected]. For general questions about the Greenway Mini-Grant Program and previous grant rounds contact Sarah Sharp at [email protected].
---
Piedmont Vegetation Spotlight: Dry Oak – Mixed Hardwood Forests
Image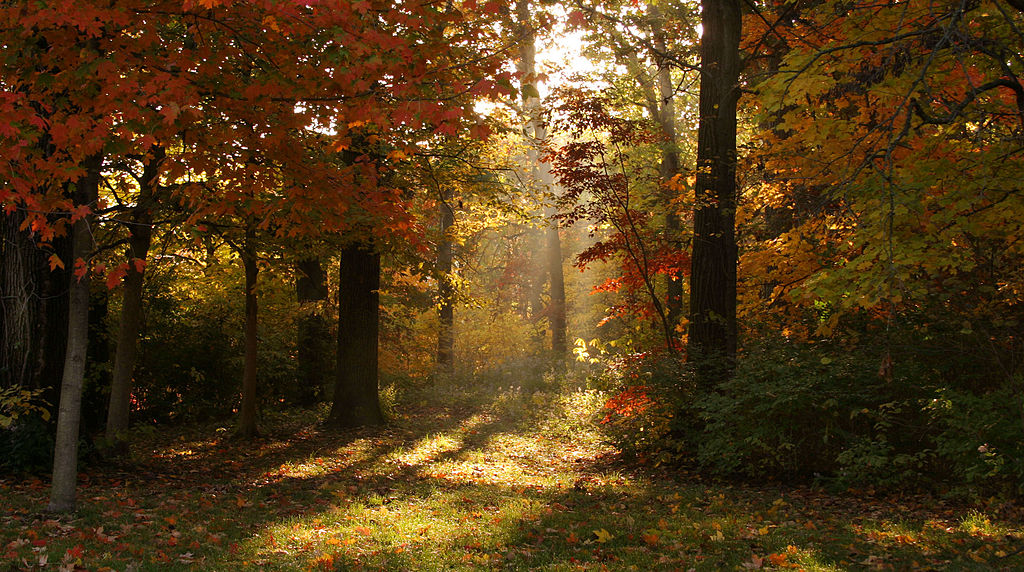 Join us as we continue our exploration of the vegetative communities of the Piedmont region of the Eastern United States. In this new series of blogs, we'll be spotlighting specific vegetative communities, define their historic structures, describe the processes that created them, examine past and ongoing threats to their survival, and provide suggestions for long-term, sustainable forest management to help steward them into the future. In this spotlight, we'll discuss "Dry Oak – Mixed Hardwood Forests," which were historically abundant throughout the Mid-Atlantic and the Piedmont region, where they were both economically and ecologically valuable. Decades of exploitative logging, fire suppression, and under-management, combined with pressure from forest pests and pathogens, altered many of these communities and challenge their future health. 
---
Staff Native Plant Pocket Garden Challenge Highlights
Image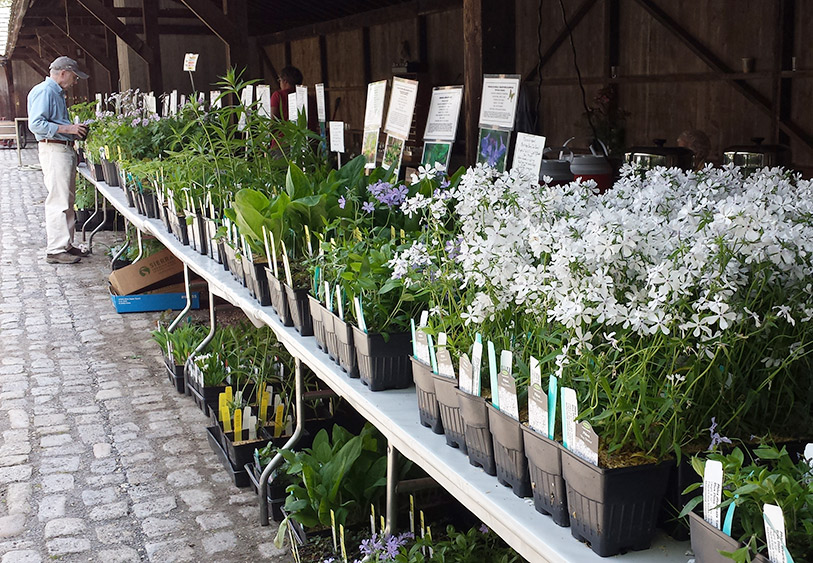 Interested in incorporating more native plants into your space but don't know where to start? This year, Brandywine Conservancy is leading a blended virtual and in-person native plant pocket garden series to take gardeners on a step-by-step journey, with the goal of giving audiences of all abilities the tools and confidence to find creative ways to use smaller spaces for achievable results. To spark inspiration, all Brandywine Conservancy & Museum of Art staff were recently invited to participate in an organization-wide challenge to plant their own native plant "pocket gardens" at home. To make it accessible to all, the "pocket garden" could be as small as a container to a space as large as 150 square feet, and participants were presented with a voucher to use at Brandywine's annual Wildflower and Native Plant Sale (pictured above) to get their garden started. Over 30 employees joined the challenge and shared the results of their efforts.
This project has been a learning experience and a source of inspiration through small, intentional steps. Read on below for a collection of short stories and photos shared by Brandywine's staff, highlighting why they joined the challenge and their garden goals, along with images of their spaces after planting.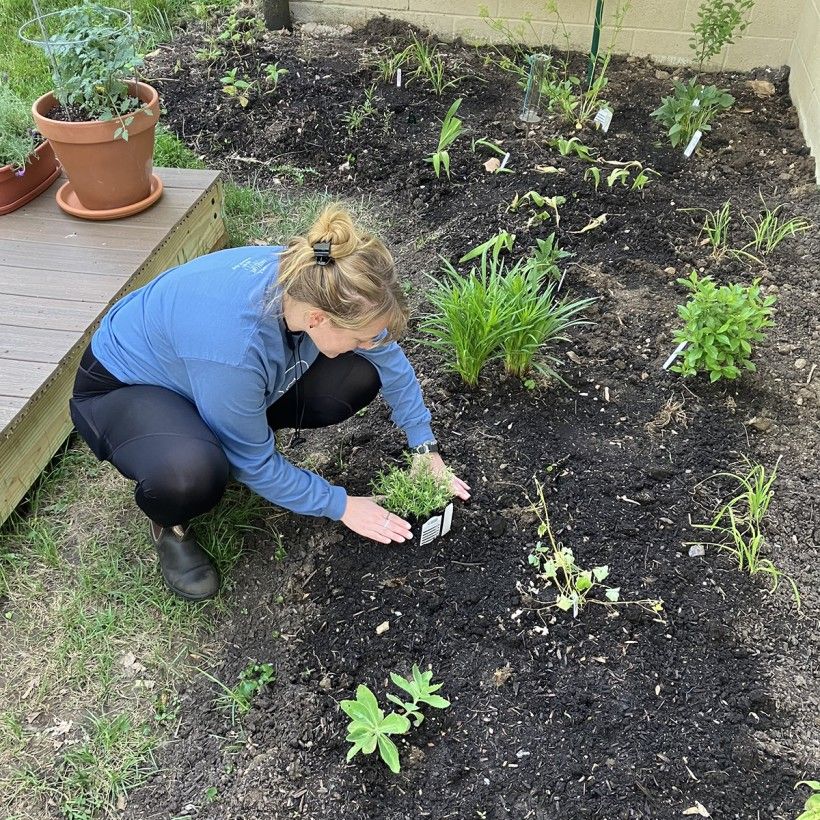 Native interest for a new space 
"We added a deck, so the garden will help soften the space and add some pollinators. Also, our kitties will enjoy watching the birds and bugs from the window." Plants varieties from the sale include: Lyre-leaved Sage (Salvia lyrata 'Purple Knockout'), Showy Coneflower (Rudbeckia fulgida var. speciosa), Winterberry Holly (Ilex verticillata 'Berry Poppins'), Golden Alexanders (Zizia aptera 'Heart-leaved Zizia'), New Jersey Tea Plant (Ceanothus americanus), and Creeping Phlox (Phlox subulata 'Snow Flake').
– Sarah Sharp
A pollinator garden with aesthetics and future goals in mind 
"I chose to participate in the pocket garden series because there are so many options for beautiful landscapes that can be created with native plants. Over the last few years, I have been removing invasive species from our yard that were planted by the previous homeowners and replacing them with native species. I have already installed several garden beds planted with native species and want to continue that trend through the rest of the property. The only non-native I removed from my site was garlic mustard, which is done every year. To finish it off, I went with a natural bark blend mulch. This was a fun project and great addition to the yard. One day the entire yard will be all native pollinators and wildflowers!" Plants include: Blue Fortune Agastache (Agastache foeniculum); Great Blue Lobelia (Lobelia siphilitica); Phlox 'Emerald Pink' & 'Emerald Blue' (Phlox subulate); Autumn Goldenrod (Solidago sphacelate); and Black Truffle (Lobelia cardinalias)."
– Caleb Meredith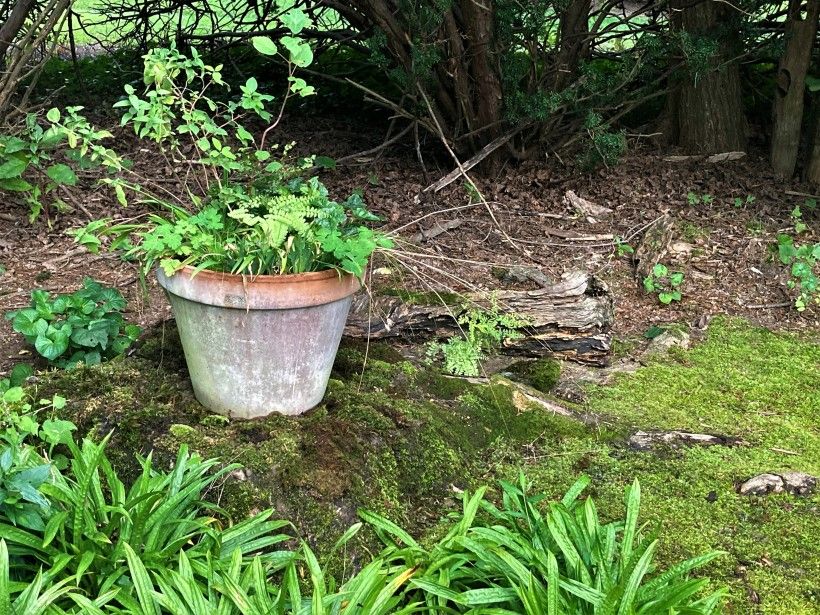 Giving new life to existing garden spaces 
"I chose to participate in the challenge because it's a chance to experiment with new combinations of native plants, allowing me to learn by seeing what critters will frequent my selections, and because I love creating native plant designs and trialing new species I have not grown before. I chose this planting spot because the opportunity presented itself when my Viburnum did not leaf out this year and I knew I wanted to reinvigorate this container since it is so highly visible to me and my neighbors. I am a renter and have many, many plants in containers so I chose to renovate an old terra cotta pot planting that was looking tired and tattered. The new-and-improved container was designed to sit atop a stump that was formerly an ailing Norway Maple in my moss garden. I chose this site because I have been wanting to plant moss on this stump and I thought a container in the middle would provide interest where the tree trunk once was.
I utilized Seersucker sedge (Carex plantaginea) and Mountain mint (Pycnanthemum sp.) that I salvaged from the old container planting. New additions were 'Little Lanterns' Columbine (Aquilegia canadensis), Appalachian sedge (Carex appalachica), Crinkled hair grass (Deschampsia flexuosa), Dwarf iris (Iris cristata), Foamflower (Tiarella cordifolia), Northern maidenhair fern (Adiantum pedatum) and Hydrangea for the center. The mosses I planted came from a few flats I had lying around from various projects, Lobe-leaved tree moss (Climacium americanum), Pincushion moss (Leucobryum glaucum), common fern moss (Thuidium delicatulum), Baby tooth moss (Plagiomnium cuspidatum) and Windswept moss (Dicranum scoparium). I also added a mossy rock and log and planted another Northern maidenhair fern just behind the container. I chose plants that will do well in a lower light condition, provide a mixture of foliage textures and colors, and multi-season bloom interest. I love the way it came out and can't wait to see it next spring when my mosses will have knitted together, and my spring bloomers will be popping."
– Emily Tinalli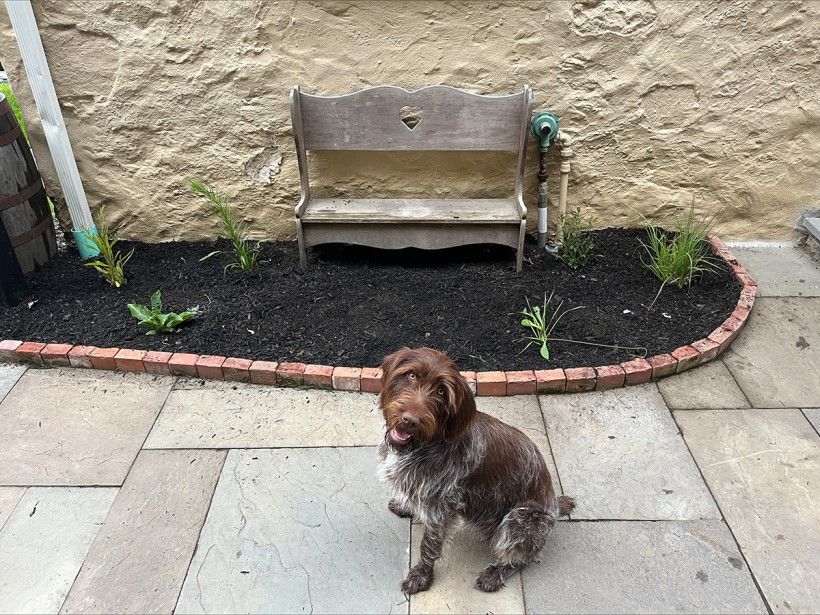 Feeling empowered by native plants 
"I signed up for the staff challenge because I have absolutely no gardening skills, although I have dreams of growing a huge garden one day. This program will help build my gardening skills from square one! I'm empowered because this is the first outdoor gardening project I have started on my own with the help of fellow Millworkers. I found this sunny, south-facing space to have lots of rocky terrain to dig through. My dog was thrilled about the opportunity to help dig these holes, but to my dismay she bit off one of the nodding onion bulbs in the planting process." Plants include: Allium cernuum; Andropogon virginicus; Lia- tris spicata; Parthenium integrifolium; Solidago nemoralis; and Solidago rugosa 'Fireworks.'  
– Becca Simpson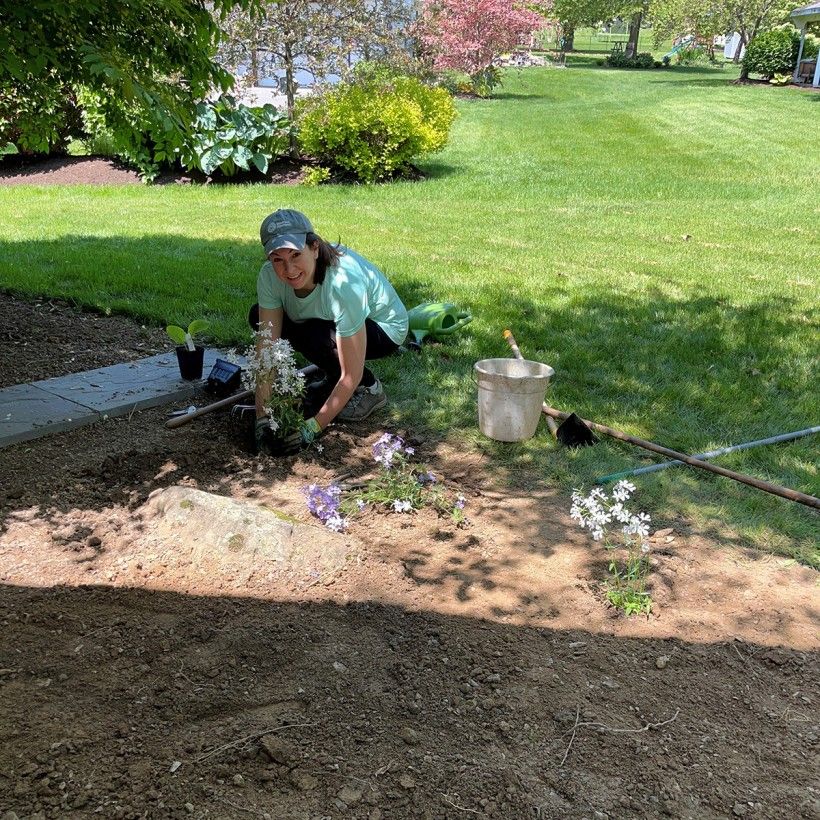 Planting in challenging places to provide value 
As a relative newcomer to the native plant sphere in the past few years, I joined the challenge so I could have a space to connect with others on challenges and questions. I have a mostly bare stone area in my backyard on the north side of the house that has provided zero ecological value since I moved here. I've always wanted to plant something native and shade-loving that will also support habitat value. I'm excited to finally transform the space! This area is located on the north side of my house and only gets part sun. I planted sensitive fern (Onoclea sensibilis), Solomon's seal (Polygonatum biflorum), Evergreen wood fern (Dryopteris marginalis), and blue phlox (Phlox divaricata). I do have one non-native though–a variegated Solomon's seal. The phlox got more sun than expected so I'll be looking to replace it with a more sun-friendly native next year. I'm so happy with the transformation!"  
- Stephanie Armpriester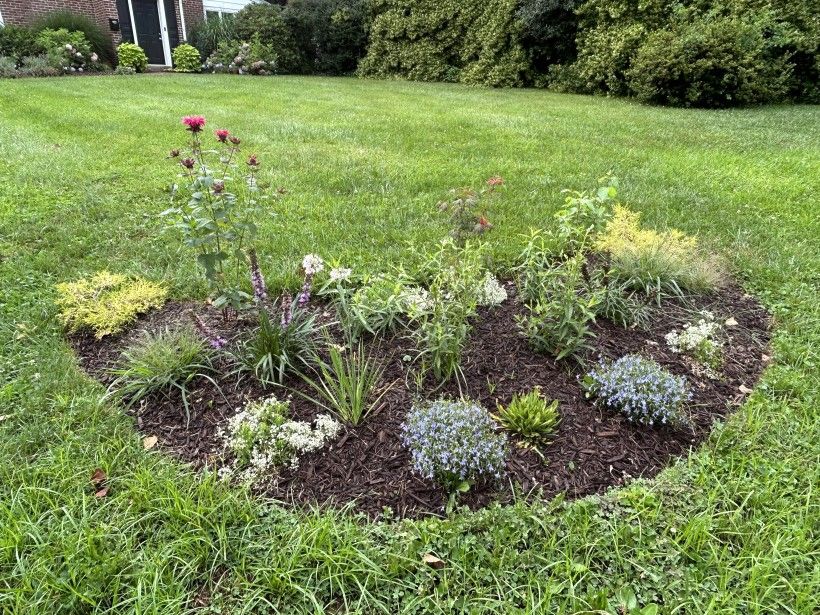 Interplanting has purpose! 
"Since the garden is in the very front of my yard, I wanted to add a little formality by adding some non-native evergreen shrubs. I also have a couple annuals in there because I wasn't sure how it was going to look this season. I will not be adding annuals next year. There is also a non-native maple tree that is a great-grandchild of one of my grandfather's trees that my parents gave me."  Plants include: Willow-leaved bluestar; Garden phlox; Wild pink, Wherry's Catchfly; Dense blazing star; Purple love grass; Bee balm; Short muhly grass.
- Lisa Timbers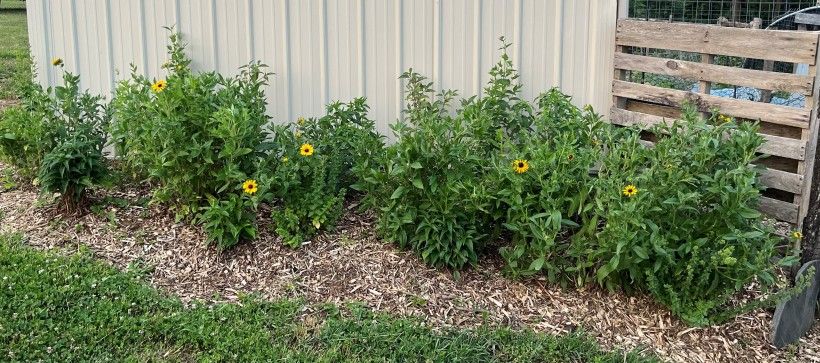 A dedicated space to enhance plant and wildlife health 
"Aiming to be both a growth-minded and resourceful vegetable gardener, I am always looking for ways to support the health of the plants that I consume and native wildlife that visit my yard. I gave myself a second challenge of trying not to purchase any plants and instead got creative by dividing Purple coneflower (Echinacea purpurea) and Bee balm (Monarda fistulosa) that was already established in another bed, and transplanted Black Eyed Susan (Rudbeckia hirta) that had self-seeded from previous years. I added Virginia mountain mint (Pycnanthemum virginianum) that I grew from seed for the 2021 virtual native plant series, "Getting Started with Native Plants" and Coral honeysuckle (Lonicera sempervirens) sourced from Brandywine's Native Plant Sale. I was also pleased to see that the Red Twig dogwood (Cornus sericea) cuttings I took last fall had rooted, so I incorporated those too.  I'm pleased with the progress and excited to edit with shorter varieties towards the front of the bed next year!"  
- Julia Steiner
If we can do it, so can you! For more information on how to construct a native plant pocket garden to improve the ecological function of your yard, sign up to receive notifications about upcoming native plant programs or watch past programs in the series for resources to support your new growing space. And don't miss the next program in our native plant series on November 15, 2023, where you'll have the opportunity to ask the experts about all of your native plant questions.
---
New Boat Launch Unveiled at Shaw's Bridge Park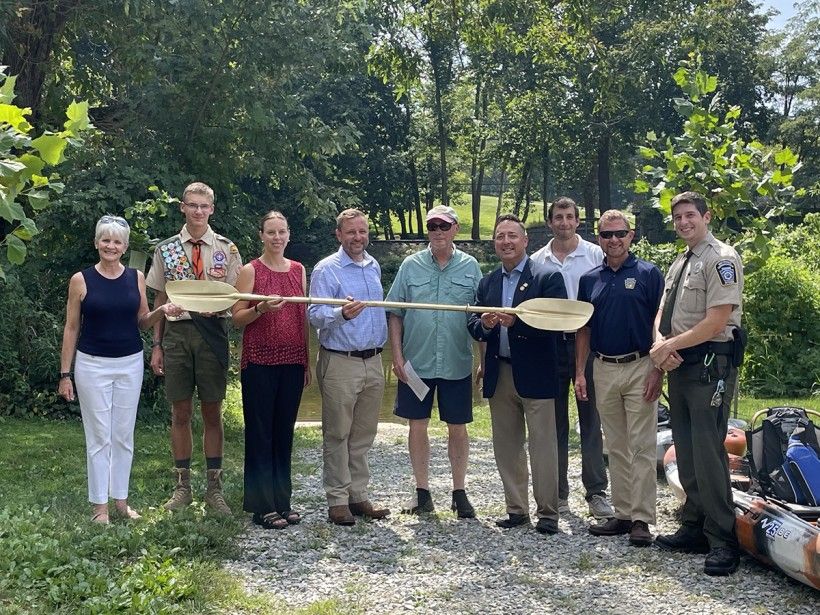 The Brandywine Conservancy was thrilled to attend the recent ribbon-cutting ceremony for the newly constructed boat launch and kiosk at Shaw's Bridge Park in East Bradford Township, which we partially funded through the Brandywine Creek Greenway's William Penn Grant. The boat launch will allow water lovers to have better access to the East Branch of the Brandywine Creek, connecting the community with opportunities for fishing, canoeing, and kayaking.
This much-need community resource was also funded by the Pennsylvania Fish and Boat Commission and through Natural Lands PECO Green Region Grant. We are also excited to announce additional funding was just awarded through round three of the Brandywine's Mini-Grant program to install additional signage to guide creek users to and from the launch. The PA Fish and Boat Commission also announced a new round of funding to be offered next year, with $1 million worth of Boating Facility Grants to further projects like these!
---
Third Pennsylvania Pollinator Photo Challenge Winners Announced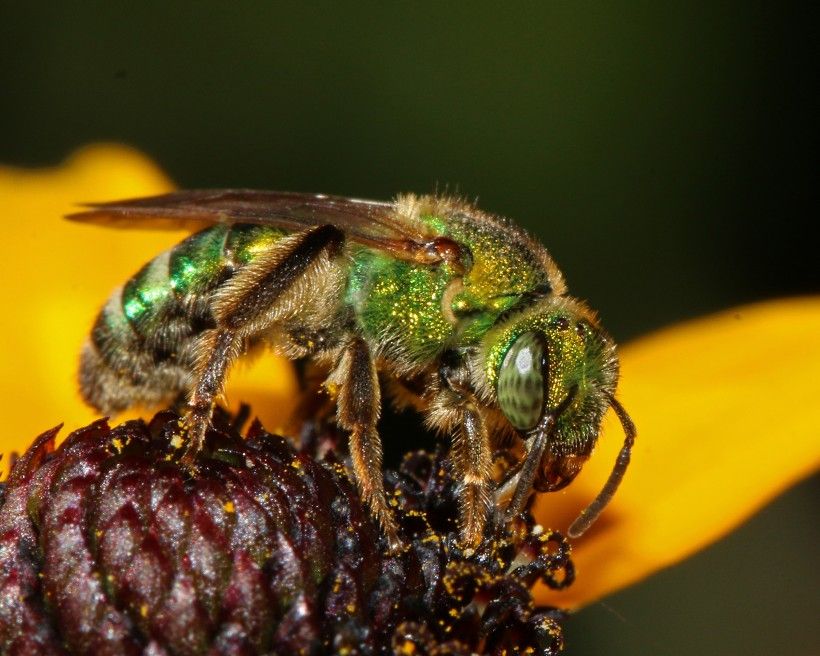 Stunning images of bees, butterflies, flies and more were submitted to the third annual Pennsylvania Pollinator Photo Challenge. Hosted by the Brandywine Conservancy's Penguin Court Preserve and the Westmoreland Pollinator Partners, the contest received 237 images from 97 adults and 28 submissions from 12 youth of pollinators found and photographed in Pennsylvania. 
Awards were given in both adult and youth categories, as well as a new category dedicated to monarch butterflies in all their life stages. 
---