Please note: Due to the COVID-19 pandemic, in-person school trips are suspended through at least the end of 2020. Please see our virtual tour offerings or email

[email protected]

for more information.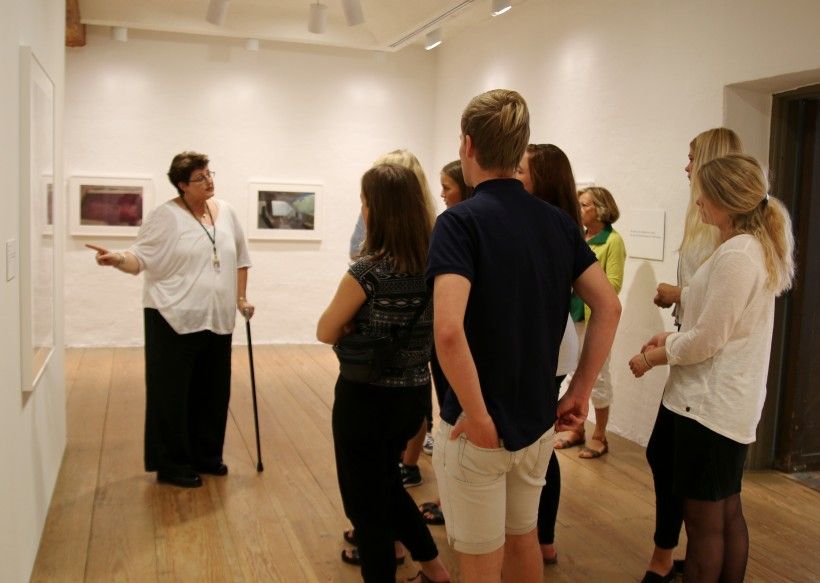 To request a school trip visit, please click the link below.
For questions, please e-mail [email protected] or call 610.388.8382.
---
Hours
School programs are available by appointment Monday through Friday, 9:30 a.m. until 3:30 p.m.
Group Admission
$6/student, $10/adult. One complimentary adult pass is given for every 10 students. Admission must be paid upon arrival by cash, check or credit card. No refunds will be issued for overpayment.
School and Community Access Program:
Financial assistance is available to schools in need for admission and transportation costs. Please contact the education office for more information.
Home School Groups
Organized groups of homeschoolers are welcome to schedule guided tours of the Museum, using the program themes offered to school groups. Multiple themes may be selected for multi-age groups. An optional hands-on art activity related to tour themes is available for an additional cost of $4 per student
Chaperones
One adult for every ten students is required.
Self-Guided Groups
Groups who visit on their own must make reservations.
Lunch
The Museum does not have an area designated for students to bring bag lunches. Lunches may be purchased in the Museum's Millstone Café by advanced reservation only; contact the restaurant manager at 610.388.8374 for reservations. If weather permits, schools may use the picnic tables at the Brandywine Battlefield, located one mile north of the Museum on Route 1. Please call ahead at 610.459.3342, as the Battlefield's operating hours and policies have changed recently.
Access
The Museum is accessible to all students. Please alert us if your group has special needs.
When arriving at the Brandywine River Museum of Art in a tour bus, school bus, or shuttle van, please have the driver follow these directions:
From Route 1, turn (red arrow) onto Hoffman's Mill Road and enter the Museum parking lot (first right.)
Proceed to the second left, turn and proceed to the next left to the drop off area in front of the Museum for both the accessible and main entrances.
After all visitors have exited the bus or van, the driver should proceed to the first left
(black arrow) to return to Hoffman's Mill Road, then left to the Museum parking lot area to park.
The designated parking area for buses and vans is in the last bay on the right, near Route 1. Most drivers prefer to back in to this parking space so the vehicle is facing the Museum building and can easily pull forward to the front of the Museum when it is time to pick up passengers at the entrance when the visit is complete.
When leaving the Museum, follow the path of the green arrow to travel South on Route 1; or turn left (blue arrow) back onto Hoffman's Mill Road to turn right onto Route 1 North.
GPS ADDRESS: 1 Hoffman's Mill Road, Chadds Ford, PA 19317