Uncovering Secrets of the Forest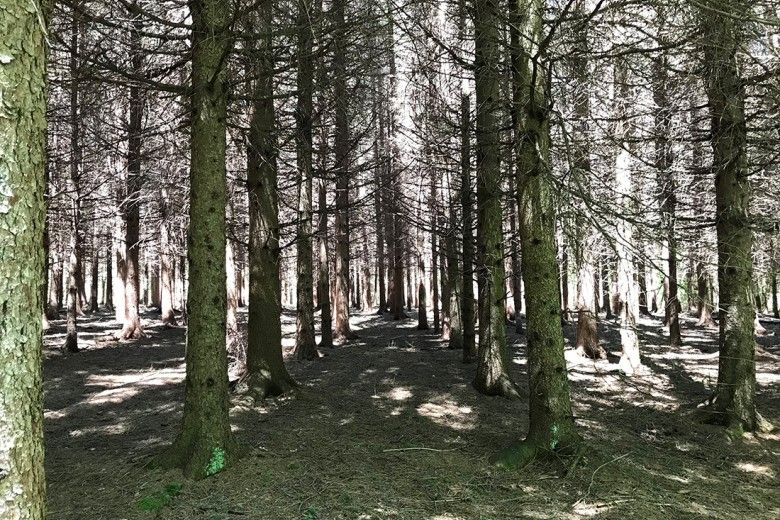 Have you ever wondered what kinds of stories a tree could tell? If only we shared a common language, trees could regale us with tales about the lands they have occupied for decades, or in some cases, even centuries. Fortunately, we don't necessarily need to speak with trees to learn from them. Trees can provide all sorts of information simply through visual features. If you know what to look for, studying the visual features of a tree can reveal hundred-year-old clues about the history of a landscape.
"The story of a place comes forth as the landscape reveals its experience through our careful attention," writes Tom Wessels, terrestrial ecologist and author of the book, Reading the Forested Landscape.1 Wessels may understand how to read the features of a tree better than anyone. A professor at Antioch University New England, Wessels has dedicated a large part of his career to teaching people how to give historical and ecological context to the most subtle features of a tree.2 In his book he describes how a tree's shape, size, growth pattern, orientation, and scar tissue, can tell a story about the history of a place. Of course, this book explores much more than trees as they are only one component of a functioning forest ecosystem. By looking at things like topography, rock formations, species composition, abandoned agricultural fields, and ruins, one can begin to piece together a much richer history of a landscape that encompasses not only human history but also a history of weather events, fire events, animal activity and evolution.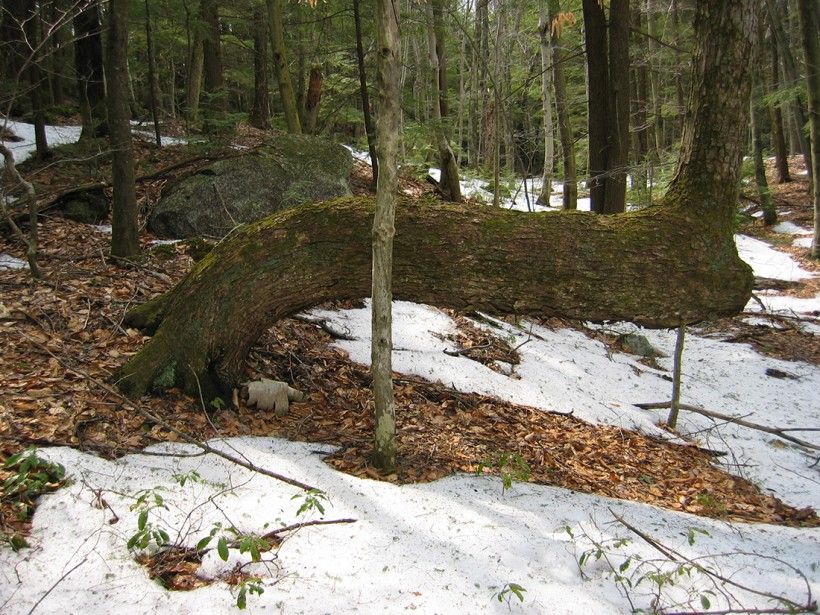 Wessels followed up Reading the Forested Landscape with 2010's Forest Forensics, which compacts much of the information from his previous work into a handy field guide full of pictures and short descriptions. This guide is meant to be used almost as a dichotomous key while observing the features of a forest landscape. The user answers yes or no questions about the forest ("Is the ground flat?", "Are there multi-stemmed trees and stumps present?") which lead to answers about how different features were formed and what that means for the history of a particular site. Although the guide is designed specifically to be used in the forests of New England, many of the concepts apply to the forests of the Brandywine Valley, where—just like New England—most landscapes were dominated by logging or agriculture activities at some point in the last 300 years. Due to this shared history, both regions have some similar landscape features, one of the most notable examples from Wessels' guide is the wolf tree.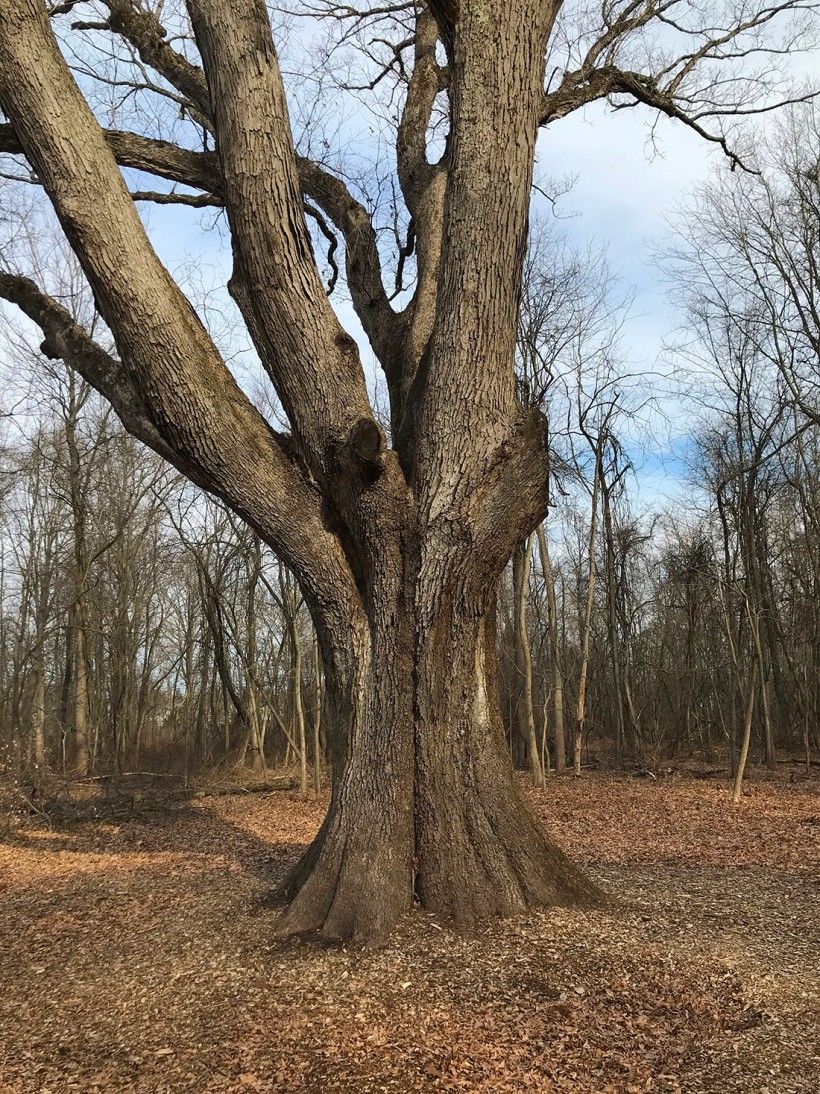 You may be familiar with a wolf tree if you ever came across a tree in a forest that is exceptionally larger than all the surrounding trees. Wessels explains that this is a sign the forest you are standing in was once a pasture. When forests are cleared to create pastureland, farmers will often leave a few solitary trees to serve as shelter for their livestock. With plenty of open space and no competition from other trees, these pasture trees are free to grow very large and wide to take advantage of all the sunlight available. When a pasture is abandoned, the forest will slowly begin to reclaim the land around the pasture tree. The result is a lone wolf tree surrounded by a forest of much younger trees. This phenomenon has left us with a fairly reliable indicator of past land use.3
We should be thankful that some of these relics have survived as long as they have. Foresters once scorned wolf trees for their low timber value and the perceived notion that these trees hoarded valuable space and sunlight from young timber stands. Today, researchers are now beginning to understand how important wolf trees are to an ecosystem. With their complex branch structure, hollow cavities, and fissured bark, wolf trees exhibit characteristics of an old growth forest habitat, of which there is very little remaining in southeastern Pennsylvania and Delaware. Studies have shown that wolf trees support a greater diversity of birds and mammals when compared to younger trees more commonly seen in this area. In a way, wolf trees can replicate small pockets of the habitat a late succession forest would provide—a habitat that is used by many species but is largely missing from our heavily developed landscape.4    
Unfortunately, many of the wolf trees in our area were planted in the 19th century or earlier and are now coming to the end of their life cycle. With them we lose not only valuable habitat but also some of the character that make forests so enjoyable. For this reason, it is essential that we preserve the habitat these trees provide where we can, but also that we usher in the next generation of old growth trees through responsible and resilient forest management. Doing so will require the most intimate understanding of a forest's history, coupled with the realization that the decisions we make will reverberate throughout the forests of tomorrow. Wessels' work provides us with the tools needed to understand how humans have shaped the forests we interact with and rely on today. What we do with that information will inevitably determine what kinds of stories the next generation will hear when they walk through the forest.  
If you are interested in learning more on this topic, Brandywine Conservancy will be hosting Tom Wessels for a virtual seminar on April 13, 2022. You can register for the event here. Tom will be interpreting a series of photos of forest landscapes from the Brandywine Valley. Attendees are encouraged to submit their own photos to be used during the seminar. To submit your own photos please use this form, or send your photos directly to [email protected]. Be sure to include your name and the location of your photo.
---
References:
Wessels, Tom. Forest Forensics: A Field Guide to Reading the Forested Landscape. Woodstock, VT: Countryman, 2010. Print.

Gaige, Michael H. "The Legacy of Shade: Use of Abandoned-Pasture-Trees by Birds and Mammals in Second-growth Forests of Vermont." Thesis. Antioch University New England, 2009. Print.