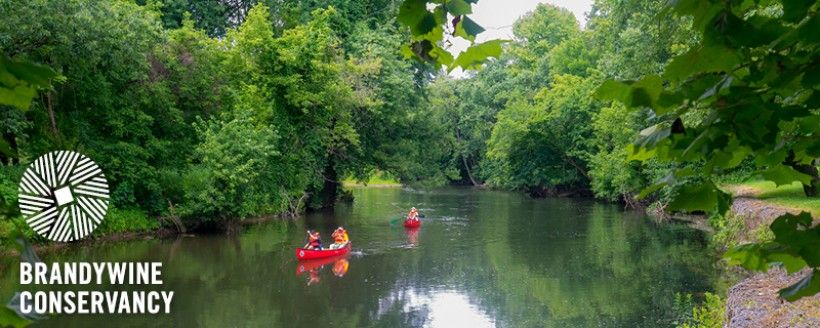 Director's Report
Dear fellow conservationists,
This year marks a landmark achievement of 30 years of open space preservation in Chester County. On behalf of the trustees and staff of the Brandywine Conservancy, we are so excited to share in this celebration. Long ago Chester County citizens prioritized funding for the preservation of open space—thanks to a voter referendum in 1989—which allowed for the creation of one of the most comprehensive open space preservation programs in the country. Over the years, the Brandywine Conservancy and other non-profit conservation organizations and municipalities have collaborated with the County in its efforts—as a result, nearly 29 percent of land in Chester County is now permanently preserved for current and future generations to enjoy.
In commemoration of 30 years of open space success, we asked Chester County Commissioners Michelle Kichline, Terence Farrell and Kathi Cozzone to share a few top accomplishments below and where the program is headed in the future.
After 30 years of preserving open space, what are some of the top accomplishments to date? 
Building strong relationships with the Plain sect communities, helping our partners assemble numerous large clusters of preserved and connected land that is open to the public, and contributing to the preservation of the culturally—and historically-significant—Battle of Brandywine lands are examples of some of the County's major accomplishments over the years. Below are some numbers that demonstrate these successes:
28.8% of the County's land is preserved, which is nearly 140,000 acres. Chester County has more land preserved than the entire City of Philadelphia.
505 preserved farms and 599 completed partnership projects.
$215+ million County funds spent to preserve and provide public access to open space in the county, leading to an additional $424+ million in funds leveraged to preserve open space in the county.
County's average cost of $3,800/acre to preserve and/or improve.
What is on the horizon for the Open Space Preservation program, and where do you see things headed over the next 30 years?
The opportunities are significant for the Open Space Preservation program over the next 30 years. It is important that we continue to build on past accomplishments and the foundation that has been laid, so that we do not lose what it is that makes Chester County a remarkable place. It will be important for the County to find ways to facilitate the anticipated population growth in a balanced approach with preservation efforts, especially taking a pro-active role to support and collaborate with municipalities and developers for future growth while simultaneously working with the land conservancies and other agencies to identify critical natural resources and preservation opportunities. Reviewing the growth areas identified in Landscapes3 will be critical for the successful facilitation of development and its relationship with open space preservation.    
 What sets Chester County apart from other open space programs in the country?
The overwhelming support from the community to have open space as a key priority really is unique. When rapid growth began chipping away at Chester County's beautiful green spaces and farmland—at a rate of 30,000 acres between 1982 and 1987—it became evident to everyone that something needed to be done to stop it. Chester County was the first in the region to formally set aside funds for a rigorous open space preservation program—to blaze a trail in saving land. Over the years we have become the envy of the state—and the nation—in how we manage our growth with our preservation, and it has even become the basis for our 10-year economic development strategy, VISTA 2025. 
Chester County's conservancies are respected and strong—historically and in numbers—and our business community truly appreciates the value of open space in locating companies here and attracting employees. 
What truly sets it apart is the strength of partner relationships and the consistent financial commitment that has continued over the past three decades.  The incredible working relationships with our land conservancies and municipalities over the years has allowed for the program to flourish.  And the consistent financial commitment year after year has allowed the Department of Open Space Preservation to develop into a robust program that can leverage funds and be a fundamental catalyst in the larger efforts for open space preservation.
—Chester County Commissioners Michelle Kichline, Terence Farrell and Kathi Cozzone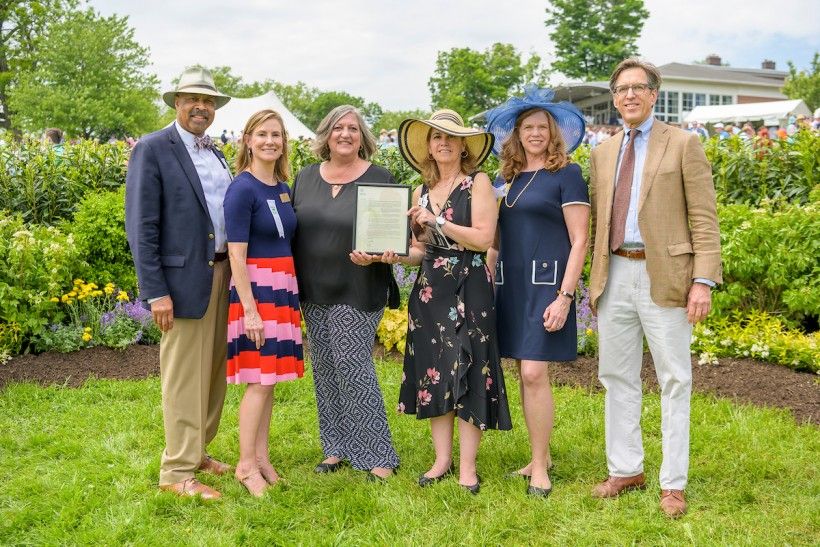 Chester County recently partnered with the major land conservancies active in Chester County, as well as the Chester County Economic Development Council and Chester County Association of Township Officials, to produce an updated Return on Environment report that estimates the economic impact of the County's robust open space preservation initiative. Protected open spaces provide substantial economic, environmental and health benefits to surrounding communities, but these benefits are often overlooked or undervalued in policy debates and investment decisions. Click here to view the Return on Environment report.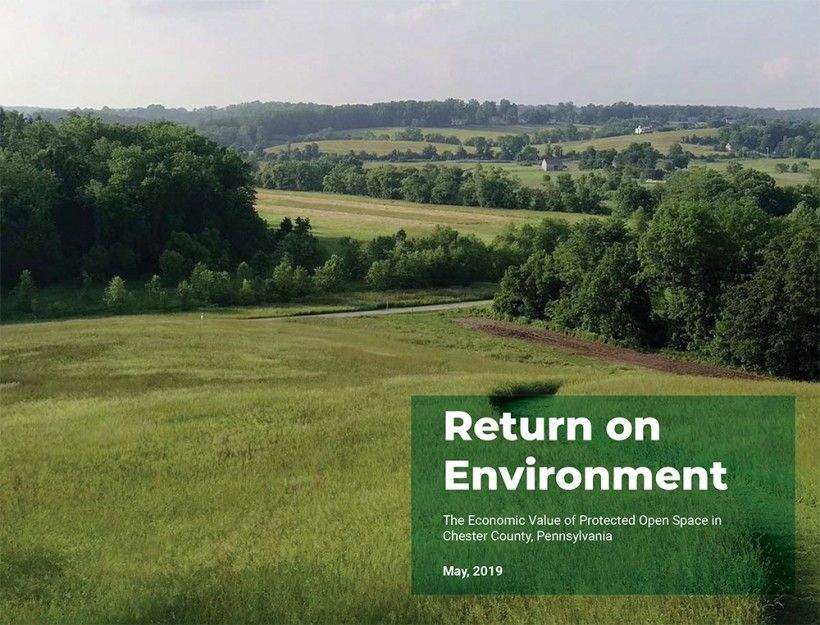 We extend our sincere gratitude to the Chester County Commissioners for their long and esteemed history of supporting natural resource conservation, watershed protection, outdoor recreation and farmland preservation in Chester County and we look forward to our continued partnership.
Ellen
Ellen M. Ferretti
Director, Brandywine Conservancy
---
Saving the Mode House – Modena, PA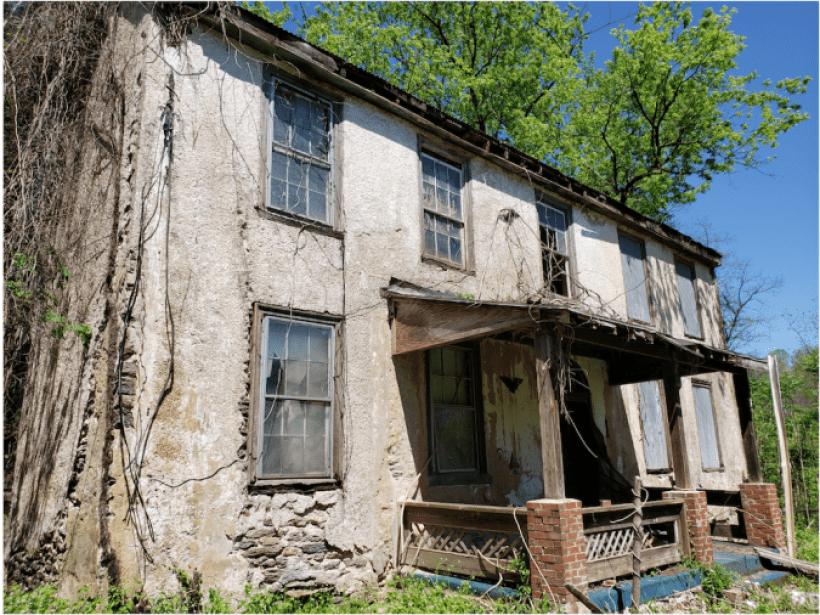 The Borough of Modena is a great municipal partner in the Brandywine Creek Greenway. The Borough has been given a once-in-a-lifetime opportunity to save a prominent historic house and property that helped shape early Modena. Built in the late 18th century, the Mode House—now more commonly referred to as the McCain Property—once held a distinguished position in Modena's economic and historic landscape. Left abandoned for many years, the property shows considerable signs of age and deterioration, but with the possible purchase of the property comes the hope that the house can be restored and once again hold a distinguished position in Modena and its future.
The Mode House is thought to have been originally built in the late 18th century by William Mode, a well-respected Quaker and descendent of some of the earliest settlers in the area. He was also a member of the prominent family from which the name of the Borough is derived. The home sat near a Brandywine-powered mill—which processed grist, wood and wool—established and run by the Mode family. At the time, the Mode family owned several hundred acres in the vicinity of Modena, and William Mode's strong commitment to his Quaker faith led him to establish the Fallowfield Friends in nearby Ercildoun. In the early 19th century, William's sons, Alexander and William, learned how to manufacture paper and converted the mill for this purpose. They continued to operate the mill in this fashion until its purchase by the Megargee Brothers in 1882. Paper and paper-related manufacturing continues to this day in the Borough of Modena.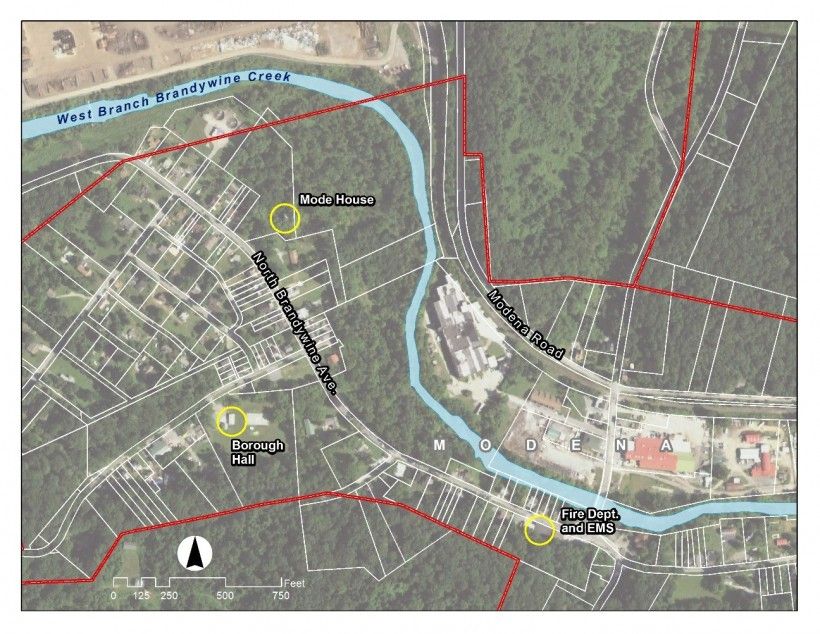 In 2018, the property the home sits on was purchased by Four Brothers Empire, LLC with the plan of sub-dividing the 2.5-acre lot and building two, double-family units on the property. If this plan had moved forward, it would have resulted in the demolition and loss of the historic Mode House. Upon learning of the proposal to develop the property and lose this historic house, officials with the Borough of Modena sought to meet with the developer to gauge their interest in either conveying or selling the property to the Borough for public use. After a site visit had been arranged, the two parties—along with representatives from the Brandywine Conservancy—met to discuss possible scenarios for preserving the property. Recognizing the importance that the property held for the Borough of Modena, Four Brothers Empire graciously agreed to suspend development activities and enter into a Memorandum of Understanding (MOU), effective May 1, 2019, that would provide the Borough with six months to raise the funds in order to purchase the property. A purchase price of $52,000 was agreed upon as part of the MOU.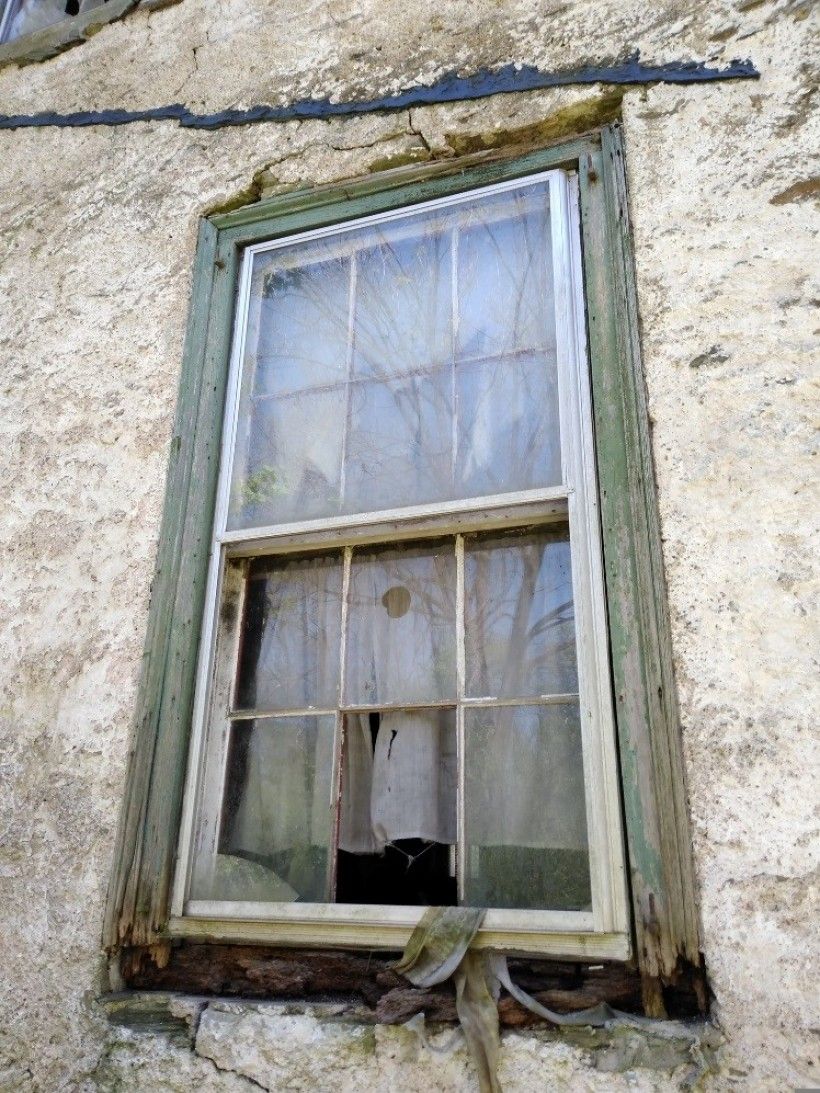 Unfortunately, the Borough is without the funds in their operating budget to immediately purchase the property, so a combination of grants, donations and fundraising efforts are planned to raise the required funds. A Friends of the Mode House Facebook page and a fundraising page on ioby.org have been created to raise awareness and solicit funds for the purchase.
The Future of the Mode House
Upon the completion of a successful fundraising campaign and conveyance of the property to the Borough of Modena, the Mode House and surrounding acreage will offer a variety of opportunities for the Borough and its residents. First and foremost, it will represent the successful preservation of a key historic structure that played an important role in Modena's history and industrial legacy. The property the house sits on will also provide opportunities for Borough residents to passively recreate, meet and enjoy the outdoors as part of a future Borough Park. The potential to also fully restore the Mode House itself offers opportunities to house a future Borough Hall and office, host public meetings and events, as well as providing space to present historical interpretation of the building and the Borough of Modena more generally.
---
First Subscriber Meeting of the 2019 Year
On the evening of June 6, the Brandywine Conservancy's Municipal Assistance Subscriber program will hold its first lecture series event in 2019 at the Brandywine River Museum of Art. The program, entitled "No Time Like the Present for Climate Adaptation and Mitigation Planning!", begins at 7 p.m. and includes three area leaders in community sustainability who will share their expertise and successful efforts at regional, community and watershed levels. Expected to be of great interest to our municipal Subscribers, this event is free to 2019 MAP Subscribers and returning 2018 Subscribers. All other municipal officials, planners and others are more than welcome to attend for a $5 registration fee per person. For more information or to RSVP, please contact Elissa Manuele at [email protected]. 
"No Time Like the Present for Climate Adaptation and Mitigation Planning!"
Thursday, June 6
7 p.m.
---
Upcoming Calendar of Events
---
Save the Date!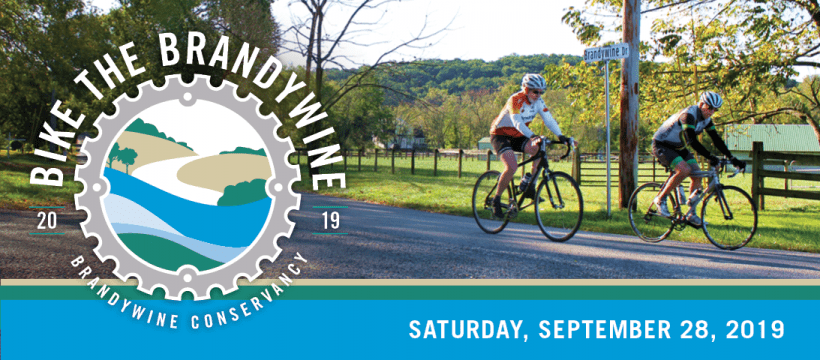 Bike the Brandywine will be held on Saturday, September 28, 2019. Riders can choose from distances of 25-, 45-, 62- (Metric Century) and 80-mile routes through the majestic Brandywine Creek Greenway and surrounding area. The ride begins and ends along the banks of the Brandywine River and participation supports the open space and clean water initiatives of the Brandywine Conservancy. Registration is now open!
---
DRWI Transportation Roundtable Recap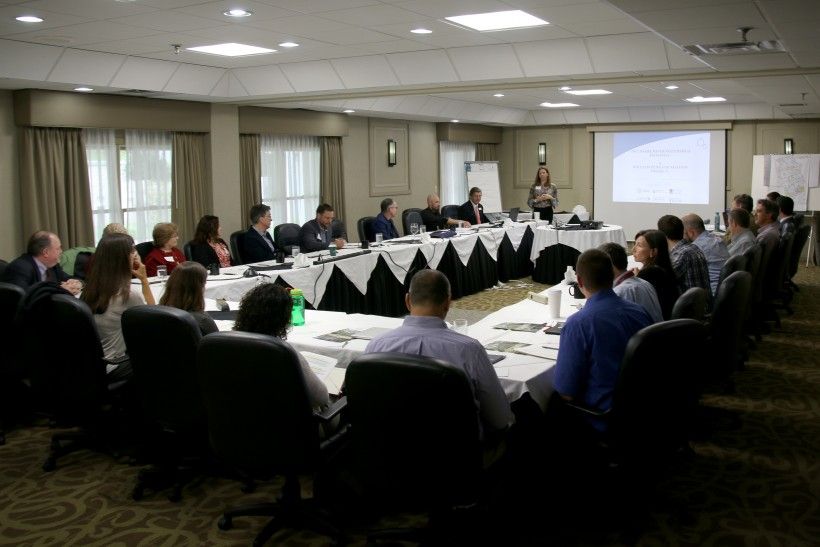 On May 10, 2019, regional transportation groups and the Brandywine-Christina Watershed Partners met for a lively roundtable discussion regarding roads and stormwater runoff. Key stakeholders, including state and local government, highway departments and regional transportation groups within the watershed, joined the conversation to address their shared concerns with road runoff and regulations and how the groups could work together in the future to better protect streams and creeks within the watershed. The roundtable included representatives from Delaware DOT, New Castle Conservation District, City of Wilmington, Chester County Planning Commission, Chester County Conservation District, Pennsylvania DOT, Chester County Water Resources Authority, PA Turnpike Commission, WILMAPCO, White Clay Wild and Scenic, and the Center for Watershed Protection.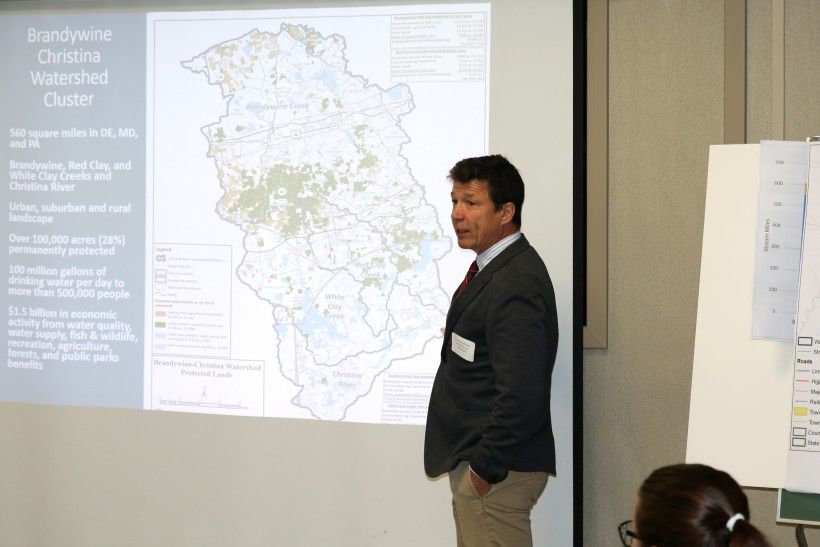 The transportation roundtable meeting was the first step in a series of on-going discussions resulting from last year's Clean Water Conference—hosted by the Brandywine-Christina Watershed Partners—where road runoff was highlighted as a key concern impacting the health of the watershed. The Partners are comprised of six nonprofit organizations, brought together and funded by the William Penn Foundation's Delaware River Watershed Initiative (DRWI), including the Brandywine Conservancy, Brandywine Red Clay Alliance, Natural Lands, Stroud Water Research Center, The Nature Conservancy in Delaware and the University of Delaware Water Resources Center. The Brandywine-Christina Watershed is one of eight targeted areas identified by the DRWI as priority areas where interventions could significantly safeguard or improve clean water. Together as part of the DRWI, the Partners are working to protect and restore water quality within the watershed, which encompasses over 565 square miles in parts of Delaware and Pennsylvania, including the Brandywine River, Red and White Clay Creeks, and the Christina River. Streams and rivers in the Brandywine-Christina Watershed provide 100 million gallons of drinking water to more than 500,000 people each day.
---
Intentionality: Communities Succeeding in the 21st Century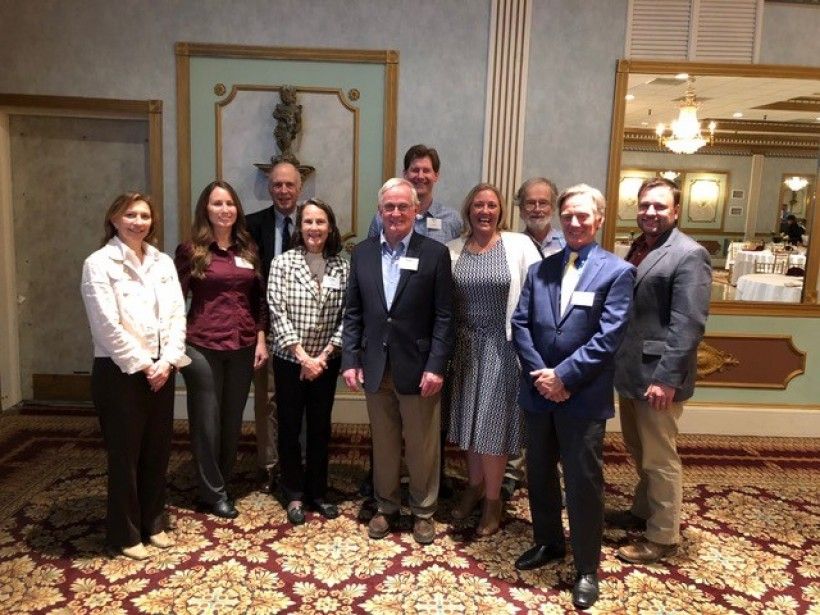 This past April, members from
Safety, Agriculture, Villages & Environment (S.A.V.E.)
and the
Delaware Valley Smart Growth Alliance (DVSGA)
presented "Intentionality: Communities Succeeding in the 21st Century," featuring keynote speaker Tom Murphy at the Mendenhall Inn, Mendenhall, PA. Murphy is a former three-term mayor of Pittsburgh (1994-2006), eight-term member of the Pennsylvania State Legislature (1979-1983) and current senior fellow at the Urban Land Institute. The Urban Land Institute provides leadership in the responsible use of land and in creating and sustaining thriving communities worldwide. In this capacity Murphy shared his expertise on the keys to a successful community in changing times, with the key component being deliberate action. Great cities and towns don't happen by accident. Further, Murphy implored "when a decision is made to build something, build something great," reflecting the title and theme of the event. To remain great, or become great, all places must address the six key issues facing community planning today: globalization, environmental regulation, technical innovation, demographics, the recruitment of talent and finding the money to pay for all of it.
Murphy's demonstrated real-life examples of public government partnerships with private enterprises. These included developers, entrepreneurs and corporate chain retail establishments. Other collaborations for revitalization included cultural, arts and historical preservation organizations. Together they helped transform the Pittsburgh of the late 90s—losing 50,000 residents per year and 22% employment—to a vibrant city with a new identity and new challenges (such as housing affordability). The willingness to take risk was crucial to the successful revitalization of Pittsburgh and Murphy stated that "cities all over the world who are making the right choices and taking risks are succeeding. Those who are trying to protect the status quo are struggling."
This message was especially poignant as it was delivered following introductory remarks by S.A.V.E. Board Member Lou Kaplan, who welcomed attendees and updated those in attendance on PennDOT projects to improve Route 41 at two of its most dangerous intersections—Route 841 in the village of Chatham and Route 926 in Londonderry Township. Both improvement projects are in various stages of implementation following Phase 1 improvements in the Village of Chatham (the installation of traffic calming village gateway features). PennDOT is planning for additional meetings to update the public in the Summer of 2019. Project information is available at http://www.pa41.com/.
Following Kaplan's Route 41 updates, he introduced the attendees to Sonia Huntzinger, the Chester County Department of Community Development's Economic Development Administrator for the 2nd Century Alliance. The Alliance is a public-private partnership aimed at developing and executing a strategy to build the City of Coatesville's capacity to improve current conditions, stabilize the socio-economic stature of the City, foster economic development and bring resources and community partners together for these purposes. Huntzinger discussed the status of the Alliance's strategic action plan.
---
Invasive Species Spotlight: Common Reed (Phragmites australis)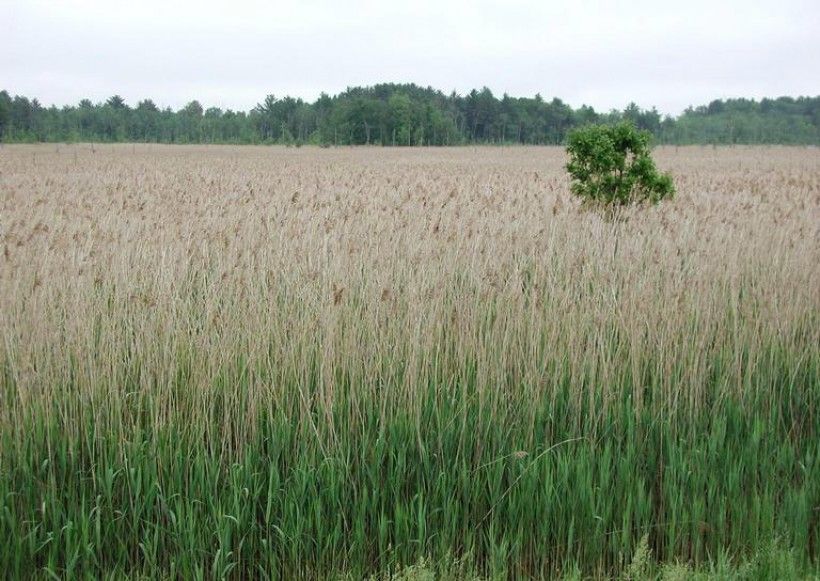 Many invasive species become such a large and familiar part of our landscape that we stop noticing them. Common Reed or 
Phragmites australis 
may be one of these plants. It lines highways, fills drainage basins, dominates floodplains and in some places covers thousands of acres. It is so common that even though it often grows to well over 10 feet, we barely notice it. In the northeastern United States and Canada this one plant has cost millions to state and local economies. Phragmites fills picturesque ponds making them impenetrable to boats or swimmers and impassible for fish. It clogs drainage structures, causing flooding. It obscures waterside vistas. It can even block lines of sight on roadways. It is a fire hazard, as the large volume of dieback it produces every year easily catches fire. Phragmites' effects on ecosystems can be staggering. It forms dense monocultures where once there were hundreds of different plant species, greatly reducing the number and variety of wildlife an area can support. It even changes the hydrology of the areas it invades; drying wet areas, slowing currents, vastly changing how the water and land interact.  
Click here to read more and learn how it can be controlled.
---
From Conservancy Intern to Full-time Staffer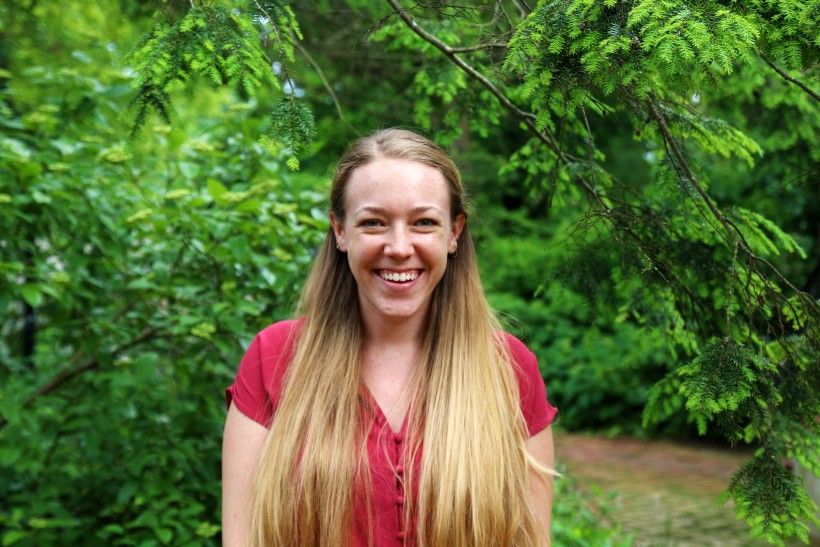 Earlier this spring, Sarah Sharp joined the Conservancy staff as a new Assistant Planner in its Municipal Assistance Program. Sarah previously worked at the Conservancy as a planning intern for three months prior to accepting her full-time position. She is currently finishing up course work at West Chester University for a dual Master of Science in Geography/Urban and Regional Planning. In the interview below, we sat down with Sarah to discuss her new role, what it's been like transitioning from student intern to full-time planner, and what she is most looking forward to as she begins her career at the Conservancy. 
Prior to accepting a full-time job with the Conservancy, you interned with our organization for a few months. Tell us about your experience transitioning from a student intern to a full-time staffer in a professional workplace?
My transition from intern to full-time staffer has been very smooth, thanks to the support, encouragement and confidence of my colleagues. Great care has been given to making sure my workload is balanced with a diverse set of projects, without being overwhelming. My first couple months full-time have been spent learning from the many experts I now work with, and I have also been trying to absorb as much information as possible. I jump at any chance I get to work on a new project or in a different capacity so that I can keep building on my experience. Over these last few months, I have learned so much; yet, there is still so much to keep learning and I am very excited to continue this learning processes. 
What first got you interested in planning and conservation work?
I have been interested in conservation work since college, where my studies focused on topics like human use of the environment, nature and society, environmental justice and different conservation practices, both in the US and globally. A study-abroad trip to South Africa brought me up close to many different conservation techniques being used. While in South Africa, classmates and I also studied the impacts of certain techniques on the surrounding rural communities and their access to traditionally used natural resources. This research really showed me how interconnected people and their natural environments truly are. 
After graduation I searched for jobs and internships at national or state parks and at nonprofit organizations, even checking openings here at the Conservancy. Either the job market must have been competitive, or my timing may have been off, but despite my best efforts and countless applications, I could not find a position related to this field. Although conservation work was always in the back of my head, I began to look for any job I could get—and when that proved unsuccessful, I decided to go back to school for a Masters in Geography. 
It was in my master's program where I was first exposed to the field of planning. Here I took several courses in planning and found that it really melded all my skills and interests. While in school, I was also approached by my local township, Chadds Ford Township, to help as an intern. This internship further exposed me to the field of planning. After my internships at the Township and at the Conservancy, I decided to pursue an additional master's degree in Urban and Regional Planning. 
What aspects of your new job are you most excited about? And what do you find most challenging?
I am truly excited to make a difference in the communities where we work. It is comforting to know that protected landscapes I grew up enjoying will remain for generations to come, and I want to provide that same comfort to others. I am also excited to help provide spaces for people to enjoy and make memories, further enhancing their connections with their local landscape. 
I think it will be challenging at times to be patient. Many planning projects can take years to come to fruition and I think it may be hard for me to wait when I am so passionate about a project. 
As a longtime resident of Chadds Ford, what is it like to live here from a planning and conservation perspective?
As a fourth-generation Chadds Ford resident, pieces of my family history are closely interwoven with the landscapes protected by the Brandywine Conservancy. The house next to N. C. Wyeth's studio, where my Grandmother was born and raised, is still there; the hill across from Kuerner Farm, where my Dad grew up sledding, became my favorite place to sled; and the river I loved to drift down as a child is still the place where many can relax on a hot summer day. Although all of Chadds Ford cannot remain unchanged, these protected landscapes will always be connected to my childhood memories. 
Now that I am working here, I can see what happens behind the scenes to ensure that the character, culture and landscapes of communities are protected, and I am excited to help do this in other communities.  
What did you study in school for your particular career path?
When I first went to College, I had so many interests and the only major I could find that encompassed everything was Geography—literally the study of Earth and everything in it. I graduated from Penn State University with a BA in Geography and minors in Environmental Inquiry; Science, society and the environment in Africa; and International Studies. I went on to get a Post-Baccalaureate certificate in Geographic Information Systems (GIS). After a little break from school and a year-long volunteer trip around the world, I decided to go back yet again for a MS in Geography from West Chester University and a certificate in nonprofit administration. After my two internships with Chadds Ford Township and the Conservancy, I decided to add yet another degree to my pile and am now completing a duel master's in Urban and Regional Planning, also at West Chester University.   
What advice would you give to current students who might also be interested in this type of career?
I would encourage current students to be patient and to seize every opportunity. It took me several years, and many dead-end jobs, to find the right path. Yet, without trying out different opportunities, I would have never ended up here. You never know where an opportunity will lead, so even if it isn't your dream job, it might lead to one. 
---
Stewardship Series: What Would You Like to Learn More About?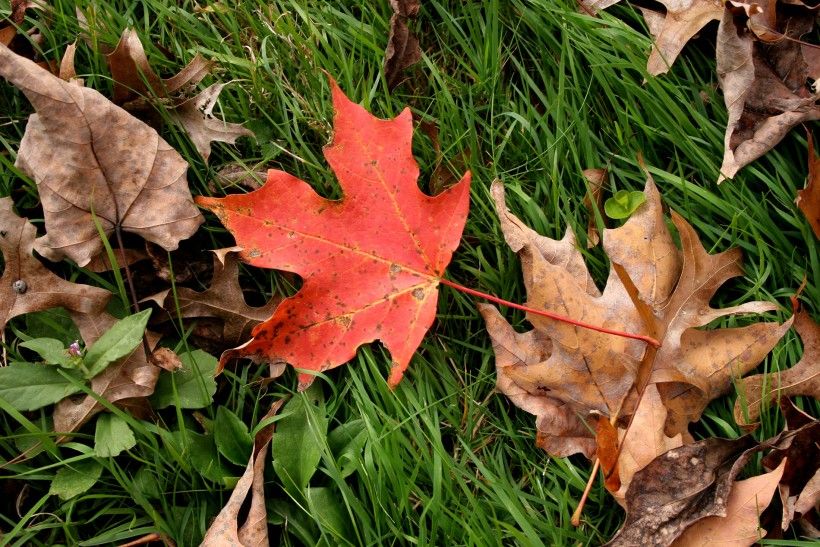 The Brandywine Conservancy's Stewardship Series is a twice-a-year program that informs the public about the natural world and helps all of us—landowners, property managers and community residents—become better stewards of land. Recent programs have covered Bird Migration, Bees/Pollinators, Amphibians/Reptiles, Woodlands, Trails and Bats. In planning for upcoming topics, please share with us your ideas for future Stewardship Series programs.
---
Penguin Court in the Classroom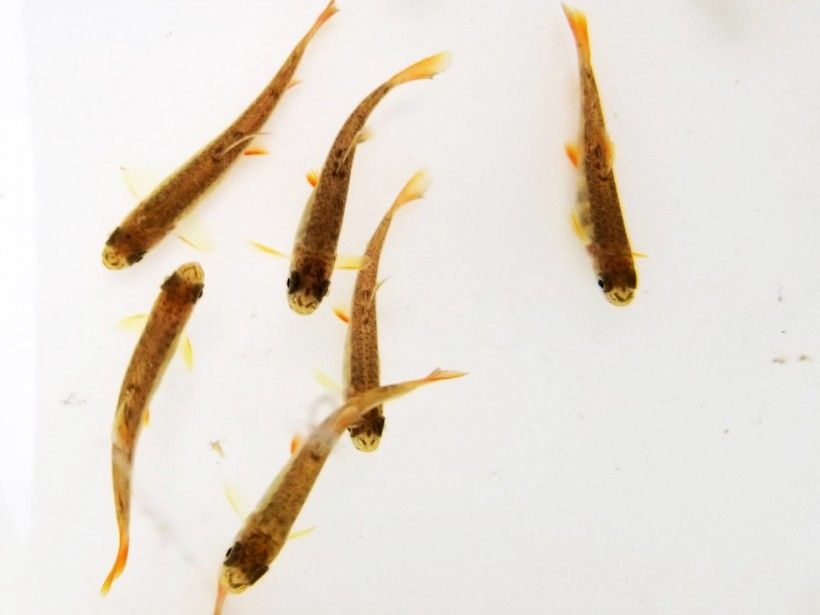 Trout in the Classroom
 is a national program that came to Pennsylvania in 2006. Since then, the program has ballooned in popularity across the Commonwealth. Trout in the Classroom (TIC) allows students to raise brook trout—Pennsylvania's state fish—throughout the school year in a classroom aquarium, complete with a chiller to cool the water to around 52˚ F.  Each year, the Pennsylvania Fish and Boat Commission ships eyed-eggs to participating schools around Election Day in November, and those eggs soon hatch to become sac-fry. By the holidays, the yolk sac that fed the fry is absorbed, and the trout start swimming to the surface—which is when students may begin feeding them. Students are responsible for the daily care and maintenance of the trout and aquarium system, and they get to observe the trout throughout their early growth stages. Teachers incorporate the project into their curriculum and highlight the significance of these trout to our waters. By the end of the school year, trout are between 2-5 inches long and can be released into a state-approved body of water.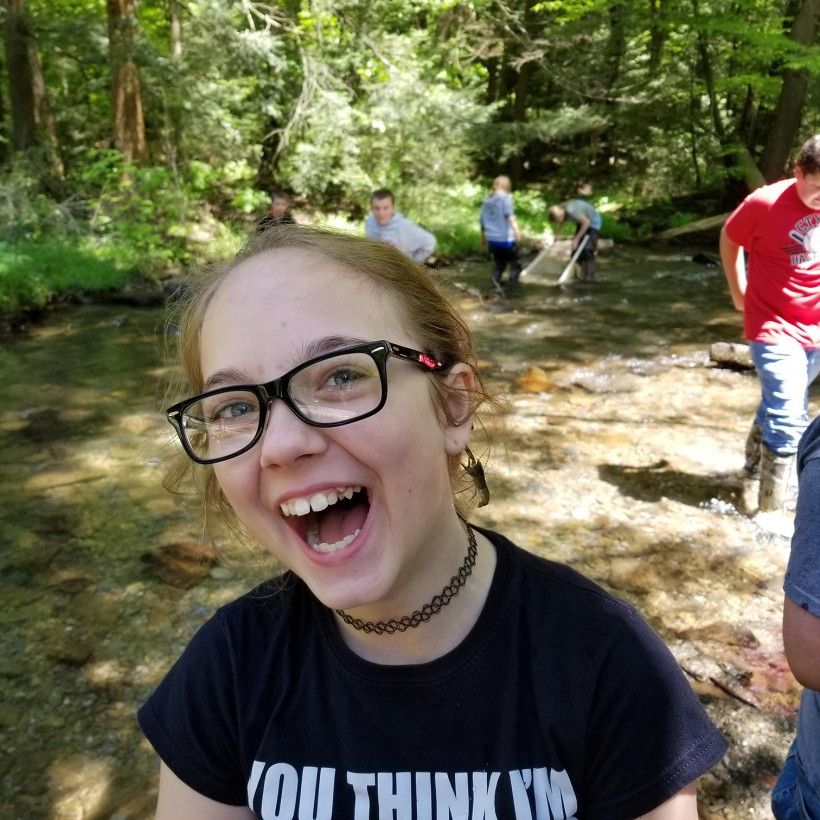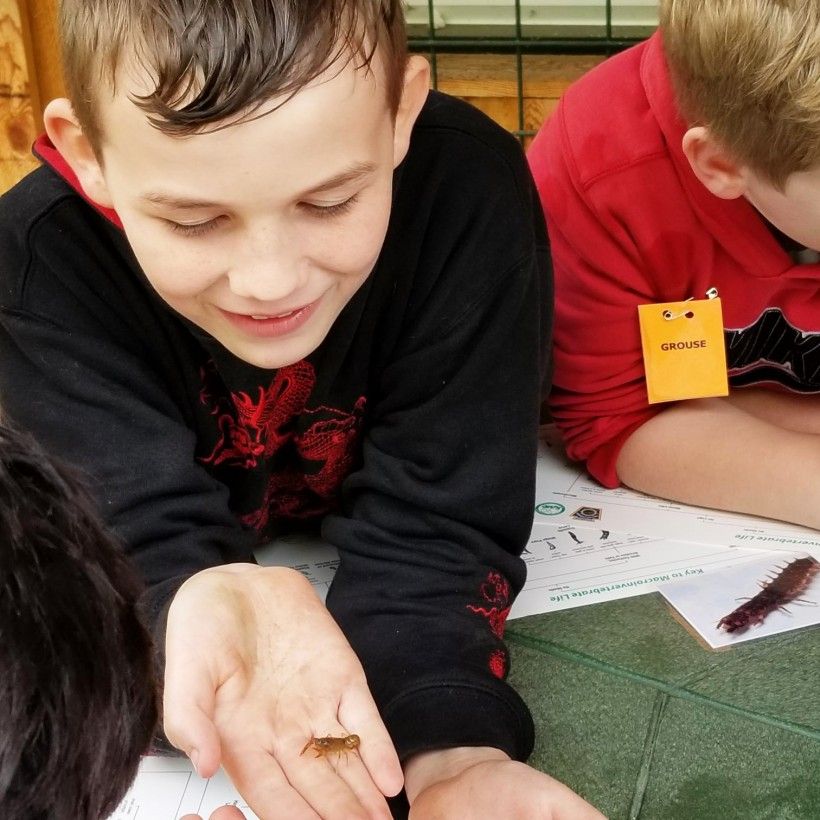 Melissa Reckner, program manager of the Brandywine Conservancy's
Penguin Court
, has been involved with TIC since 2006. She currently works with nine schools, providing technical assistance and coordinating their Release Day activities. Since a bus and substitute teacher are nearly always required to transport the trout and students to an appropriate release site, an educational and fun field trip is planned to maximize the day. Usually, three to six partnering organizations, staff or volunteers will lead a 30-40-minute Outdoor Discovery Workshop that teaches a concept touched on in the classroom or that is more easily conveyed outside. In small groups, students participate in these workshops and may collect and identify macroinvertebrates, go on a tree or wildflower walk, play a game about riparian buffers' role in pollution control or about aquatic invasive species, try their hand at fly casting, and much more! It's a memorable day for all and allows Penguin Court to directly connect with over 480 students in grades 4-12.